App Developer? Take the Vision Mobile Developer Economics Survey!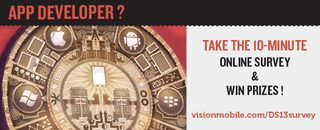 Developer? Take a 10-minute online survey and you could win great prizes! Results will be freely available in June via @visionmobile.
Our friends at Vision Mobile reached out to let us know they're once again running their Developer Economics survey.
The Developer Economics research series, now in its 5th year, examines top mobile platforms, app monetization & many more key issues for developers today. The results from the surveys are released as publicly available reports.
If you're an app developer, take the new Developer Economics 10-minute survey, have your say on the latest trends in mobile development and you can also win great prizes!
Prizes this year include a Samsung Galaxy SIII, a BlackBerry Z10, Lumia 920, AR Drone, Nest thermostat and Nike Fuel band up for grabs!
Take the Survey!
I think they have over-estimated the concentration span of internet users.

Sad it doesn't render correctly on a mobile device. Tables are off

Why are idiots still using the old WP logo?? Makes me sick like when they say Windows Mobile.. Lol!

Whats the difference, Microsoft doesn't seem to listen to the people when it comes to certain aspects of the OS, luke there going to give two craps about what some survey results are.

Actually, they do listen, and for the most part implement our ideas.. You have to at least give them that.. The problem is that it takes them FOREVER!! LOL!

Yes... On the day WP8 was announced, I think I got 3 or 4 emails from MS saying that X user voice request was closed as implemented. They listen, but they listen slowly.

I'd love to reply on Uservoice more immediately, but I can't update items until things are disclosed, unfortunately. But we review the suggestions and internally respond at least monthly. So a better way of putting that is that we listen, but the ack takes some time.

Stupid question, but you're on the WP team??

I am...and the UV site is one of my personal projects/babies.

Hmm... Well at the end of the survey it kept asking me questions about Blackberry... Also, sponsored by blackberry. I said I maybe interested in the future but the only platform I develop for currently is Windows Phone and it asked more questions about blackberry than WP. To be fair, I said I was testing BB10 out, but also Android and it didn't ask me a single question about Android...

Well, sponsors get to ask their questions...but, to be fair, BB10 needs all the feedback they can get. ;)
Windows Central Newsletter
Get the best of Windows Central in in your inbox, every day!
Thank you for signing up to Windows Central. You will receive a verification email shortly.
There was a problem. Please refresh the page and try again.