New AdDuplex data reveals a 5.7-inch Windows 10 phone, gains for Lumia 535, and details on India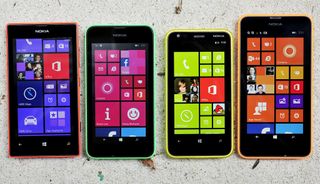 AdDuplex, who run an exclusive ad-network on Windows Phone and Windows devices, has cobbled together their monthly stats for April, 2015.
This month, the numbers reveal some interesting trends, including in India, Indonesia, and how well BLU is doing (hint: very well). Additionally, a new Windows 10 phone has been spotted with just a few details to whet your appetite.
Windows 10 Flagship spotted?
Let's get the Windows 10 phone reveal out of the way first. A device with model number RM-1085 with a 5.7-inch 1080P display running Windows 10 exclusively has been spotted on the AdDuplex network. It is not clear if a 1080P display on a 5.7-inch Windows Phone implies a flagship device, but as AdDuplex notes, it is the highest we have seen since the release of the Lumia 930.
Unfortunately, no other details can yet be discerned. Naturally, more will be revealed later this year as Windows 10 for Mobile wraps up development.
For now, we are not expecting Microsoft to divulge details next week at Build.
Windows 10 Technical Preview ramps up
With the wider release of the Windows 10 Technical Preview for phones a few weeks ago, it is no surprise to see a jump from 0.1 to 0.7 percent of Windows Phone users trying out the developing operating system.
The change is a rather substantial increase, one that will likely continue as more stable builds with newer features are released over the coming months.
BLU dominates the 'other' Windows Phone manufacturers
While Lumia phones occupy nearly 97 percent of all Windows Phone devices , with HTC and Samsung making up the majority of the rest, how are those other OEMs fairing?
As it turns out, BLU is doing quite well in comparison to its white-label competition like Archos, Cherry, and XOLO.
Indeed, BLU makes up 34.20 percent of the other category for Windows Phone. No doubt this is due to high sales of their Win HD and Win JR lines of phones and their close ties to Microsoft, who sell them direct through their stores.
This trend will likely continue with the release of the Win HD LTE and Win JR LTE, two outstanding devices now hitting the market in the US. Reviews for those devices coming soon.
Lumia 635 continues to grow in the US
The LTE-enabled Lumia 635 grabbed another 3.4 percent of the Windows Phone market share over last month. This figure brings the total number to 26.8 percent for the budget-friendly Lumia 635.
Decreases in users of the Lumia 822, Lumia 920, Lumia 520 and Lumia 520 we also noted as consumers move on to newer phones in 2015.
Meanwhile, the 'other' category has increased by 0.8 percent for a total of 20 percent of Windows Phone market share in the US. No doubt, devices from companies like BLU, mentioned above, are to thank for that change.
Interestingly, there are more Lumia 928s on the market (3.7 percent) than Lumia 1520s (3.3 percent) or Lumia 1020s (also 3.3 percent).
India: Lumia 535 catches up to Lumia 520
Heading to India, it looks like the Lumia 535 (20.5 percent) is nearly on top of the aging Lumia 520 (21.8 percent). The figure reveals that the first Microsoft-branded Lumia has some legs in that market.
The Lumia 730 is also doing quite well with nearly 7 percent, making it one of the higher-end Lumias with mass appeal and affordability.
Argentina and the EU5
AdDuplex notes that Argentina is dominated by cheaper, lower-end Lumias with the Lumia 520, Lumia 630, and Lumia 635 making up more than half of all Windows Phone market share. These stats were the first look back at Argentina since July 2014.
In the big five European countries (France, Germany, Italy, Spain, and Great Britain) we see the Lumia 520, Lumia 530, Lumia 630, and Lumia 635 sharing a total of 53 percent of the Windows Phone market. The rest are evenly divided amongst the Lumia 920, Lumia 930, Lumia 535 and Lumia 925.
Lumia 535 also huge in Indonesia
Looking at Indonesia for the first time since November, and the Lumia 535 has jumped to 21.6 percent of the Windows Phone market there. As AdDuplex remarks, that phone now makes up one out of every five Windows Phones.
Meanwhile, the Lumia 520 has declined by 9 percent, as consumers move on to newer technology.
Conclusions
The spotting of a Windows 10 phone should be too surprising. A 5.7-inch 1080p display also fits in with the current thinking of the Lumia 640 XL and its display. While 6-inch phones are nice to have, bringing the size down to 5.7-inches seems to be the sweet spot for consumers.
Clearly the Lumia 535 is one of Microsoft's strongest devices to date for emerging markets. We see steady growth of the phone in nearly every market it has been introduced, signaling what consumers are looking for in a budget device.
Finally, it is good to see companies like BLU pick up some significant share of the Windows Phone pie. Their phones are exceptionally well priced and featured an eye-catching design that resonate with consumers. We can only imagine that trend to continue as they launch their new LTE line of Windows Phone.
More details of the AdDuplex report will be posted tomorrow on the AdDuplex Blog.
Daniel Rubino is the Editor-in-chief of Windows Central, head reviewer, podcast co-host, and analyst. He has been here covering Microsoft since 2007 when this site was called WMExperts (and later Windows Phone Central). His interests include Windows, Microsoft Surface, laptops, next-gen computing, and for some reason, watches. Before all this tech stuff, he worked on a Ph.D. in linguistics and ran the projectors at movie theaters, which has done absolutely nothing for his career.
Indeed and I think OEMs like Samsung and HTC should learn from BLU rather than half arsing their phones.

I want to see blu release a high end model. They truly are amazing compared to HTC and Samsung piss poor efforts when it comes to support this platform.

HTC 8x was not piss poor. It's one of the best looking phones.

I prefer the look of the HTC 8S, though.

Looks alone wont help the 8S, the puny 4 GB internal memory made it pretty much unusable apart perhaps for Senior Citizens. As far as the 8X goes, its the best looking Windows phone ever made. If I get the 16 GB blue model, I might pay up to a 120 dollars for it even now !

The HTC 8X was a sleek and great looking phone, but it was hampered by low storage and just a mediocre camera.

Yeah it really is beautiful. I love mine. But HTC barely supports it at all. I doubt if it even gets an official Win 10 update, and after the firmware disasters on the 8X with the 8.1 DP, I would not be eager to run unofficial software on it again.

Exactly my thought. The HTC 8X is quite an elegant piece of hardware.

16 gb fixed memory... No thanks and then 8s with 4gb internal, and then HTC wondered why the devices failed.

Yeah right, from that 16 GB you get 13.5 GB and the OS with preinstalled apps takes like 4 GB of storage leaving you only 9.5 GB. But yeah, I love my HTC 8X.

They should've made a 16GB version of the win HD Lte

Same here. They need to relase it globaly also. We have BLU phones here in Serbia, just Andy ones. Would like to see WP BLU phones.

Been seeing lot of 730s around in Delhi, I use a white version

The developer preview for Windows 10 has a higher adoption rate than that of Android 5.0 weeks after it was officially released. :D

You mean in relation to other WP OS's?

I was thinking this too =). Lol. Pre-beta Windows 10 for phone has more adopters than official release Android 5.0 weeks into it.

No it doesn't. Not even close. You are looking at percentages, not total numbers. Moving the percentages is tougher when you already have over a billion devices out in the market!

1080p 5.7 inch, I bet its Lumia 830xl with new awesome Qualcomm 410 processor.

Haha yeah! :D I use 830btw. Which is a rare phone to spot. Proud of it. ;)

Wait till L540, L640/L640XL start flexing their muscle, the pie charts will look quite different.

Now, all I want to know is when?! End of July?! That would be amazing!


Probably more like October/November. If I had the Denim update for my Lumia 830 by the end of July I'd be shocked!

Where are you that you don't have Denim on your 830? Mine came with it pre-installed.

Yeah they all came with a lite version of Denim but no Lumia Camera 5 with Rich Capture. An updated full version of Denim is needed for that cool stuff. US on AT&T. Not sure when they will get around to releasing it.

Check for update, on my L830, am running the latest version, enjoying all the features from Lumia camera

Indonesia is not the same country as India? O_O My mind just got blown. I always thought India was short for Indonesia.

You Sir, Kill yourself.. !!! :D

Some comments should just not be posted

Are you serious or was that a retarded joke.

I always thought Austria was Australia cause of mispronunciation. Also who knew Americans are from America, not North America?!

I am sure US people would stab you if Canadians, Mexicans or other latinamerican countries call themselves "Americans" ;)

The most retarded comment of the year award goes too.......

Oh my god, is this serious?

Even your name is Ingiomar..

Hahaha. If you take their currencies (or our to be exact. I'm Indonesian)... You will tought that even more. India Rupee (INR) and Indonesia Rupiah (IDR). There you go... More similarity... :p

Because you don't have brain

I see someone here with arrears in geography

Hahaha! Cool one Tony! :D

Apparently 34% of 3% of 2.7% qualifies as "doing well" nowadays ;)

...by comparison to other white-label OEMs, that's the important part

Oh I get that, but I just found it funny to say it that way. I am curious though about how some of these companies like BLU and Cherry breakdown their own market shares between Windows and Android. I wouldn't be surprised if BLU was 15/85 considering the way Microsoft promotes them in their stores.

500px app will be discontinued from windows phone and windows store at the end of april I just got their email

Worldwide and 1 percent of anything worldwide is a lot

Well, boss of BLU definitely makes much more money than you even with 34% of 3% of 2.7%

It's a bit sad that wp's aren't very popular, but 2.7% out of few billion aint so bad... At least for wp :D

3% of a national or global market is still a shit ton.

Well still problems in touch of 535

The new ones are totally fine. I have tested like 10 of them. Yeah but I agree about the older ones.

also apps need better scaling for the new 960x540 resolution.
most of them look pathetic. with so much pixelated graphics and that black bar at the bottom.

Have a 535 (newer ones) and trying to scroll is still horrible... Really takes some getting used to...

Use matte finish screen guard. It ends the touch problem.

That's 940 XL, bet your ass;)

Maybe 740 XL? Or 840 XL? Flagship phablet should have at least 2k.

Why??? The battery is just great in a FHD screen!

No thanks, 1080p will always remain the best resolution for people who don't use their phones half an inch from their eyes.

Nah it's not. 940XL would presumably be the best Microsoft can muster in 2015. The best ISN'T 1080p resolution. It would be 2k if not more. This is probably a 740XL as rumored.

Loll 2k or 4k of resolution on a phone is useless even if it was 720p on a 6" you won't even see a slight difference!! 1080p will be enough as long that we can record video in 4k for watching in a big 4k tv i dont care !!

Thats nice and all but that's not how things work. When your competitors are all coming out with above 1080p resolutions in their phones, you can stay behind under the reasons being "doesn't matter, you can't see it anyway". If we had that logic, we wouldnt have 4k TVs right now

Well if they put device with 2 or 4k resolution im off that will drain too much battery a 4k tv it is plug to a wall so we dont care how much enegy it take, but wise companies stay with 1080p for a reason, the customers dont want to charge their phone 3 time a day and there is not a lot of competitors who offer 2k resolution of a small screen because its stupid !!

There are 2k android phones out there with fairly large batteries which get just as good battery life as windows phones. Open your mind bro lol

Their biggest competitor and the most successful phablet is the iPhone 6+ with a 5.5" 1080p screen. Do they really need more pixels than that?

IPhones highest resolution is 1080p. Hows it doing?

Flagging these replies in my email, so that when their true flagship is announced with above 1080p resolution, I throw it in yall faces

1080p belongs in the 2K -range.

As long as we can still get a 6" Lumia 1520 replacement.... Please don't let 5.7" be the only option....

No.... That's what I want... If you don't like it then ignore it. But, no. I'm not catering to you. Sorry.

Get over it Rodney..... 6 inch windows phone is dead now...... 5.7 inch is what you will get 5.7 inch only................ Take it or Leave it.........

Do you have evidence of that❓
........
If not, and you don't like my opinion, then grow up, and accept it, or ignore it... But, don't bother me with your emotional issues.

Yes! Rodney all the new Lumia phablet announcements and leaks are only 5.7 inch. .......... so you can keep crying for 6 inch plate but you won't get it baby.. ......... so grow up, get over it and accept it... .......... And i will keep bothering you, free speech motherfuckaa...... :)

Sorry, I can't help you...
.........
Ok. Now, I'm asking you to stop harassing me. Will you stop❓

5.7 is better fit for more people hehe

Yeah, and I would never argue that because that's a stupid argument when it's something that's based on facts...
.........
A lot of us just don't want to "downgrade" to a smaller screen.... That's all.

If you 6" guys make enough noise, MS may come out a L940XXL model with 6.2" screen. :-) But I really think that 5.7" size screen will appeal to much larger crowd (Me included).

Yeah, we need a 1520XL.............