New AdDuplex data reveals a 5.7-inch Windows 10 phone, gains for Lumia 535, and details on India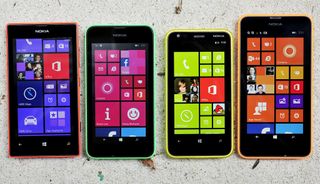 AdDuplex, who run an exclusive ad-network on Windows Phone and Windows devices, has cobbled together their monthly stats for April, 2015.
This month, the numbers reveal some interesting trends, including in India, Indonesia, and how well BLU is doing (hint: very well). Additionally, a new Windows 10 phone has been spotted with just a few details to whet your appetite.
Windows 10 Flagship spotted?
Let's get the Windows 10 phone reveal out of the way first. A device with model number RM-1085 with a 5.7-inch 1080P display running Windows 10 exclusively has been spotted on the AdDuplex network. It is not clear if a 1080P display on a 5.7-inch Windows Phone implies a flagship device, but as AdDuplex notes, it is the highest we have seen since the release of the Lumia 930.
Unfortunately, no other details can yet be discerned. Naturally, more will be revealed later this year as Windows 10 for Mobile wraps up development.
For now, we are not expecting Microsoft to divulge details next week at Build.
Windows 10 Technical Preview ramps up
With the wider release of the Windows 10 Technical Preview for phones a few weeks ago, it is no surprise to see a jump from 0.1 to 0.7 percent of Windows Phone users trying out the developing operating system.
The change is a rather substantial increase, one that will likely continue as more stable builds with newer features are released over the coming months.
BLU dominates the 'other' Windows Phone manufacturers
While Lumia phones occupy nearly 97 percent of all Windows Phone devices , with HTC and Samsung making up the majority of the rest, how are those other OEMs fairing?
As it turns out, BLU is doing quite well in comparison to its white-label competition like Archos, Cherry, and XOLO.
Indeed, BLU makes up 34.20 percent of the other category for Windows Phone. No doubt this is due to high sales of their Win HD and Win JR lines of phones and their close ties to Microsoft, who sell them direct through their stores.
This trend will likely continue with the release of the Win HD LTE and Win JR LTE, two outstanding devices now hitting the market in the US. Reviews for those devices coming soon.
Lumia 635 continues to grow in the US
The LTE-enabled Lumia 635 grabbed another 3.4 percent of the Windows Phone market share over last month. This figure brings the total number to 26.8 percent for the budget-friendly Lumia 635.
Decreases in users of the Lumia 822, Lumia 920, Lumia 520 and Lumia 520 we also noted as consumers move on to newer phones in 2015.
Meanwhile, the 'other' category has increased by 0.8 percent for a total of 20 percent of Windows Phone market share in the US. No doubt, devices from companies like BLU, mentioned above, are to thank for that change.
Interestingly, there are more Lumia 928s on the market (3.7 percent) than Lumia 1520s (3.3 percent) or Lumia 1020s (also 3.3 percent).
India: Lumia 535 catches up to Lumia 520
Heading to India, it looks like the Lumia 535 (20.5 percent) is nearly on top of the aging Lumia 520 (21.8 percent). The figure reveals that the first Microsoft-branded Lumia has some legs in that market.
The Lumia 730 is also doing quite well with nearly 7 percent, making it one of the higher-end Lumias with mass appeal and affordability.
Argentina and the EU5
AdDuplex notes that Argentina is dominated by cheaper, lower-end Lumias with the Lumia 520, Lumia 630, and Lumia 635 making up more than half of all Windows Phone market share. These stats were the first look back at Argentina since July 2014.
In the big five European countries (France, Germany, Italy, Spain, and Great Britain) we see the Lumia 520, Lumia 530, Lumia 630, and Lumia 635 sharing a total of 53 percent of the Windows Phone market. The rest are evenly divided amongst the Lumia 920, Lumia 930, Lumia 535 and Lumia 925.
Lumia 535 also huge in Indonesia
Looking at Indonesia for the first time since November, and the Lumia 535 has jumped to 21.6 percent of the Windows Phone market there. As AdDuplex remarks, that phone now makes up one out of every five Windows Phones.
Meanwhile, the Lumia 520 has declined by 9 percent, as consumers move on to newer technology.
Conclusions
The spotting of a Windows 10 phone should be too surprising. A 5.7-inch 1080p display also fits in with the current thinking of the Lumia 640 XL and its display. While 6-inch phones are nice to have, bringing the size down to 5.7-inches seems to be the sweet spot for consumers.
Clearly the Lumia 535 is one of Microsoft's strongest devices to date for emerging markets. We see steady growth of the phone in nearly every market it has been introduced, signaling what consumers are looking for in a budget device.
Finally, it is good to see companies like BLU pick up some significant share of the Windows Phone pie. Their phones are exceptionally well priced and featured an eye-catching design that resonate with consumers. We can only imagine that trend to continue as they launch their new LTE line of Windows Phone.
More details of the AdDuplex report will be posted tomorrow on the AdDuplex Blog.
Daniel Rubino is the Executive Editor of Windows Central, head reviewer, podcast co-host, and analyst. He has been covering Microsoft here since 2007, back when this site was called WMExperts (and later Windows Phone Central). His interests include Windows, Microsoft Surface, laptops, next-gen computing, and arguing with people on the internet.
Indeed and I think OEMs like Samsung and HTC should learn from BLU rather than half arsing their phones.

I want to see blu release a high end model. They truly are amazing compared to HTC and Samsung piss poor efforts when it comes to support this platform.

HTC 8x was not piss poor. It's one of the best looking phones.

I prefer the look of the HTC 8S, though.

Looks alone wont help the 8S, the puny 4 GB internal memory made it pretty much unusable apart perhaps for Senior Citizens. As far as the 8X goes, its the best looking Windows phone ever made. If I get the 16 GB blue model, I might pay up to a 120 dollars for it even now !

The HTC 8X was a sleek and great looking phone, but it was hampered by low storage and just a mediocre camera.

Yeah it really is beautiful. I love mine. But HTC barely supports it at all. I doubt if it even gets an official Win 10 update, and after the firmware disasters on the 8X with the 8.1 DP, I would not be eager to run unofficial software on it again.

Exactly my thought. The HTC 8X is quite an elegant piece of hardware.

16 gb fixed memory... No thanks and then 8s with 4gb internal, and then HTC wondered why the devices failed.

Yeah right, from that 16 GB you get 13.5 GB and the OS with preinstalled apps takes like 4 GB of storage leaving you only 9.5 GB. But yeah, I love my HTC 8X.

They should've made a 16GB version of the win HD Lte

Same here. They need to relase it globaly also. We have BLU phones here in Serbia, just Andy ones. Would like to see WP BLU phones.

Been seeing lot of 730s around in Delhi, I use a white version

The developer preview for Windows 10 has a higher adoption rate than that of Android 5.0 weeks after it was officially released. :D

You mean in relation to other WP OS's?

I was thinking this too =). Lol. Pre-beta Windows 10 for phone has more adopters than official release Android 5.0 weeks into it.

No it doesn't. Not even close. You are looking at percentages, not total numbers. Moving the percentages is tougher when you already have over a billion devices out in the market!

1080p 5.7 inch, I bet its Lumia 830xl with new awesome Qualcomm 410 processor.

Haha yeah! :D I use 830btw. Which is a rare phone to spot. Proud of it. ;)

Wait till L540, L640/L640XL start flexing their muscle, the pie charts will look quite different.

Now, all I want to know is when?! End of July?! That would be amazing!


Probably more like October/November. If I had the Denim update for my Lumia 830 by the end of July I'd be shocked!

Where are you that you don't have Denim on your 830? Mine came with it pre-installed.

Yeah they all came with a lite version of Denim but no Lumia Camera 5 with Rich Capture. An updated full version of Denim is needed for that cool stuff. US on AT&T. Not sure when they will get around to releasing it.

Check for update, on my L830, am running the latest version, enjoying all the features from Lumia camera

Indonesia is not the same country as India? O_O My mind just got blown. I always thought India was short for Indonesia.

You Sir, Kill yourself.. !!! :D

Some comments should just not be posted

Are you serious or was that a retarded joke.

I always thought Austria was Australia cause of mispronunciation. Also who knew Americans are from America, not North America?!

I am sure US people would stab you if Canadians, Mexicans or other latinamerican countries call themselves "Americans" ;)

The most retarded comment of the year award goes too.......

Oh my god, is this serious?

Even your name is Ingiomar..

Hahaha. If you take their currencies (or our to be exact. I'm Indonesian)... You will tought that even more. India Rupee (INR) and Indonesia Rupiah (IDR). There you go... More similarity... :p

Because you don't have brain

I see someone here with arrears in geography

Hahaha! Cool one Tony! :D

Apparently 34% of 3% of 2.7% qualifies as "doing well" nowadays ;)

...by comparison to other white-label OEMs, that's the important part

Oh I get that, but I just found it funny to say it that way. I am curious though about how some of these companies like BLU and Cherry breakdown their own market shares between Windows and Android. I wouldn't be surprised if BLU was 15/85 considering the way Microsoft promotes them in their stores.

500px app will be discontinued from windows phone and windows store at the end of april I just got their email

Worldwide and 1 percent of anything worldwide is a lot

Well, boss of BLU definitely makes much more money than you even with 34% of 3% of 2.7%

It's a bit sad that wp's aren't very popular, but 2.7% out of few billion aint so bad... At least for wp :D

3% of a national or global market is still a shit ton.

Well still problems in touch of 535

The new ones are totally fine. I have tested like 10 of them. Yeah but I agree about the older ones.

also apps need better scaling for the new 960x540 resolution.
most of them look pathetic. with so much pixelated graphics and that black bar at the bottom.

Have a 535 (newer ones) and trying to scroll is still horrible... Really takes some getting used to...

Use matte finish screen guard. It ends the touch problem.

That's 940 XL, bet your ass;)

Maybe 740 XL? Or 840 XL? Flagship phablet should have at least 2k.

Why??? The battery is just great in a FHD screen!

No thanks, 1080p will always remain the best resolution for people who don't use their phones half an inch from their eyes.

Nah it's not. 940XL would presumably be the best Microsoft can muster in 2015. The best ISN'T 1080p resolution. It would be 2k if not more. This is probably a 740XL as rumored.

Loll 2k or 4k of resolution on a phone is useless even if it was 720p on a 6" you won't even see a slight difference!! 1080p will be enough as long that we can record video in 4k for watching in a big 4k tv i dont care !!

Thats nice and all but that's not how things work. When your competitors are all coming out with above 1080p resolutions in their phones, you can stay behind under the reasons being "doesn't matter, you can't see it anyway". If we had that logic, we wouldnt have 4k TVs right now

Well if they put device with 2 or 4k resolution im off that will drain too much battery a 4k tv it is plug to a wall so we dont care how much enegy it take, but wise companies stay with 1080p for a reason, the customers dont want to charge their phone 3 time a day and there is not a lot of competitors who offer 2k resolution of a small screen because its stupid !!

There are 2k android phones out there with fairly large batteries which get just as good battery life as windows phones. Open your mind bro lol

Their biggest competitor and the most successful phablet is the iPhone 6+ with a 5.5" 1080p screen. Do they really need more pixels than that?

IPhones highest resolution is 1080p. Hows it doing?

Flagging these replies in my email, so that when their true flagship is announced with above 1080p resolution, I throw it in yall faces

1080p belongs in the 2K -range.

As long as we can still get a 6" Lumia 1520 replacement.... Please don't let 5.7" be the only option....

No.... That's what I want... If you don't like it then ignore it. But, no. I'm not catering to you. Sorry.

Get over it Rodney..... 6 inch windows phone is dead now...... 5.7 inch is what you will get 5.7 inch only................ Take it or Leave it.........

Do you have evidence of that❓
........
If not, and you don't like my opinion, then grow up, and accept it, or ignore it... But, don't bother me with your emotional issues.

Yes! Rodney all the new Lumia phablet announcements and leaks are only 5.7 inch. .......... so you can keep crying for 6 inch plate but you won't get it baby.. ......... so grow up, get over it and accept it... .......... And i will keep bothering you, free speech motherfuckaa...... :)

Sorry, I can't help you...
.........
Ok. Now, I'm asking you to stop harassing me. Will you stop❓

5.7 is better fit for more people hehe

Yeah, and I would never argue that because that's a stupid argument when it's something that's based on facts...
.........
A lot of us just don't want to "downgrade" to a smaller screen.... That's all.

If you 6" guys make enough noise, MS may come out a L940XXL model with 6.2" screen. :-) But I really think that 5.7" size screen will appeal to much larger crowd (Me included).

Yeah, we need a 1520XL.............

They made us get used to 6" and we won't take anything less... Nowadays any phone less than 6" is just too small for me

Yeah.. That's exactly how I feel... What a slap in the face that would be.... Like I said, it would be a serious downgrade for us 1520 users... Pray there's a worthy upgrade, and forget these haters.... They sound like Android fans.

1520xxl? Lol. I'd buy a small touch screen t.v. then. :P And I do get your point Rodney, but you know, for many people, 6" is too big. 5.7" somehow just fits perfectly in hands. I agree about the point that you guys would feel like a downgrade... But I am sure, Microsoft would be giving other features much better in the new phone, so that the users don't feel bad about the size compared to 1520.
I believe in Microsoft, no matter how much they screwed up. And trust me, 5.7" and 6" sizes aren't much different. 5.7" is way more easy to hold. :)

Im a 1520 user and i dont really care there is not a big difference between 5.7" and 6" and if rodneyrj want bigger than 6" well he should buy a real tablet, but nobody want answer to a call with a brick who cant get out of our pocket because he stuck there, more than 6.5" its a tablet !! Or maybe rodneyrj always bring with him a banana bag who know

True. Even I thought about that banana bag thing. :P

1520 fits perfectly in a normal pocket, what's the matter with a banana bag?

Nobody's talking about 1520. We are talking about phones with sizes more than 6".
And you are not wrong, but frankly, it's personal view of yours. But in practical life, 5.7" is perfect. And if people don't like it, they'll leave windows phone. No problem in that. There are millions of users who would love the 5.7" screen. :)

6" is not a big phone, we are just saying 1520 successor should be at least 6", they way 1520 was designed it feels small in hands, people assume it is a big phone;it's not...

But what we are saying is that 5.7" is a better size in terms of general usage.
Coz except existing 1520 users, anyone who buys this new phone will be having a size which he has never used before.
And just compare once... 5.7" and 6". Not much difference at all. In fact it's more comfortable.

Nobody is saying that MS shouldn't sell a 5.7" high end device... That's what you guys doing understand.... We're just saying that we don't want one.... Is that ok❓
.......
And, if you think there's not much difference then it's obvious that you haven't held both side by side.... When was the last time you did a physical comparison❓ I do pretty much everyday. Trust me. There's a big difference, especially when you get in this size range... MS still needs to offer the larger size.

I have a Lumia 1520 at home. It's my brother's. And my dad uses note 3.
So the last time I did the physical comparison was just some moments ago.
You are not the only one with phones around you my friend.
And yes. It works for me. If Microsoft makes a 5.7" phone, you don't buy it. Pretty cool. And yes. Specifications can compensate for the size. No doubt about it. 1020 is a proof for that. And you feel 1520 is big enough coz its screen is wide.
If this phone with 5.7" screen has larger width, then I guess you will take all your comments back.
Oh wait. You are rodneyej. No matter how wrong you are, you don't give up on your point. Anyways, my point is clear. If you don't buy it, your problem. People are gonna buy.
If you want another big screen phone, then wait for another bigger flagship or switch to android. Or ios. Or buy a tablet and find an engineer to add a sim card slot in it. As simple as that❕❗❕❗

You're seriously hard of understanding.... And it seems like you'll never understand...
......
We're not against a 5.7" device, and we actually think it's a good idea... Why is it so hard for you to understand that❓ How many times does it have to be said to you❓ Nobody here is comparing the two... Let me say that for you again........
...........
""We're not against a 5.7" device, and we actually think it's a good idea. Nobody here is comparing the two"""
...........
We are just saying that we still want a 6" option because we don't want to downgrade.. Get over it... If it bothers you that much about what others want then maybe you should talk to a professional about it, or learn to ignore comments that upset you this much... Nobody needs your selfish advice, and just worry about what YOU want... Now, that you know I don't care about you caring obsessing over my opinion,,, just ignore me indefinitely... Deal❓

Lol. I am hard of understanding? Hahahahha. Look who's talking! And when on earth did you mention that it was a "good idea"? All you were crying about is that its a downgrade. How can you call a phone a downgrade based on its size? Lol... Its like I have a Samsung galaxy grand, and I get an iPhone 5... So its a downgrade? Lol. Its not me who isn't understanding. Its you. I had no problem when you mentioned that you would rather want a 6" or bigger phone. But the moment you say "downgrade"... That's wrong. And you call this as "my" opinion? Lol. Open your eyes and look around you. Its only you who is stuck on the "downgrade" thing. Let me say that to you again. "I had no problem when you mentioned that you preferred a 6" or + sized phone, and were hoping that Microsoft launched one.
What I have problem with is that you call then entire phone a downgrade without even knowing about it! Nobody needs your selfish advice. You just worry about what you want. Now that you know that I care about what you say about windows phones, I suggest you stop caring about others' comments coz no matter you care or not, you don't understand a bit.
Anyways...
I'd love to ignore you indefinitely. Coz that's worth it. And you deserve that much.
But well, as said above, I have the right to speech. So I will speak. And again... Look around you. Its not me who is wrong here. Its you. Good night.

Exactly... Tell em what's up..

Buy a tablet... That's the oldest, most unhelpful, comment ever...
........
Is a tablet a smartphone❓ SMDH.

With all due respect, it's comments like yours that are the most annoying, and don't help.... Especially since you're just repeating what has already been said, and what we already know...
..............
You obviously haven't been using a device over 5" the past 16 months.... I know what a 5.7" device feels like compared to my 1520, because I have many around me.. And, trust me,,, it's a big difference... Maybe not on paper, and maybe you wouldn't understand, but trust me.... And, do you think new features are a substitute❓
................
Bottom line, if you haven't used a 1520 for significant amounts of time then instead of trying to make up excuses why we shouldn't care, just hope they have a larger option for us.
Like I said before, the 1020 is just as Niche, so does that mean they should not make it as well❓

Till this comment, I agreed completely with you. It should be the "only" option. But below this, you made a complete mess.

No... 5.7" is not the only option. You have phones ranging from 4" :-P

That might be the Lumia 740 XL.
If not, then it would be disappointing for a flagship class phone in 2015. Agreed, you'll get more battery life but people care more for raw specs.

Nice..5.7 inch flagship...i thought 5 inch was the sweet spot

That is actually the rumored size for L940 according to the Nokia PowerUsers' info source. It could be a 5.2" screen fitted in a 5" case with thin bazel. That would be great.

6.0 is for some..... It depends on the user.. I hate that one size fits all mentality..

How many different phones do you want them to build? There has to be a compromise between all. It becomes less and less profitable to produce a phone when the sales of said phone are cut into by another phone, even when you're manufacturing both phones. I'm surprised you don't understand that, since you seem to believe you're the local business analyst for Microsoft.

6" display with 2k or 4k resolution is a must. I can't believe here's people defending this 1080p rumor. How can you people complain about battery life where there is multiple android devices that has 2k 4k displays with great battery life! I thought wp was more power efficient than android? Geez this feels like the dual core story all over again!!!

I'm not gonna complain over .3", it's not a big deal. If it sells more phones, than I'm all for it. As for multiple 2k displays on android with great battery life, about how many are there really? I'm not being argumentative, I'm generally curious. I can only think of like 2, and I'm not even sure they have 2k. The s6 and note 4.

Man, a lot of these WP fans are no different than closed minded iDroid fans...
.......
That's not how it used to be.. Now, we have all these women, with baby hands, talking about comfort...

I don't know, the only closed minded person in here I've seen is yourself. "I want what I want and nothing else will be ok" so, dude, relax...

Ummm, you make it sound like wanting what you want is a bad thing.... It's not like we are asking for something outrageous..
......
If downgrading is ok with you then that's you, but you can't expect for everyone to be like you... You obviously don't care for larger devices, and don't have one, so your opinion, and those like you, really doesn't mean much to me...
......
The fact is when WP fans want a feature, specification, or form factor, why would you open your mouth.. Just worry about what you want, and quit being against what others want... That's how YOU are definitely closed minded... Because, any real fan, who isn't pathetically biased, would say that it sucks for current 1520 users, and that they hope everyone gets what they want... Instead you're selfish, and say "deal with it".... Seriously, forget people like you... Not, a real fan.

It's sad to see how ignorant you are. I do own a 1520, and I love it. Best phone I've ever owned. I also own a 635, and an 830. A smaller screen isn't a downgrade, if the resolution is equal or above, it's actually an upgrade. A higher dpi is an upgrade. As I said in a previous post, I won't notice .3" in favor of a phone that more users will actually use. Fragmentation is terrible for a manufacturer, so if you're so in love with your 6" screen, keep it. But don't cry when a company try's to do something crazy, like increase profit margin so they can keep costs of phones down. Thus allowing more people to buy them outright. So not only am I a huge fan, I'm a fan of seeing the platform prosper. I also have the business sense to understand what that means.

Dude, just because you feel a certain way about a device, does that mean that I have to feel the same way❓
.........
Everything you mentioned is YOUR OPINION ABOUT YOUR DEVICE... Do you really expect me to care❓ And, tell me where I ever said a 5.7" device is bad... Show me. I think 5.7" devices are a terrific idea...
.........
But, I don't give a flip if MS makes, or doesn't make, a 5.7" device.. This has nothing to do with that... My point is about what I want... Don't continue to waste time letting what I want ruin your day... Get over it, and ignore it if necessary, but please don't nag about it anymore...
A lot of us want at least a 6" screen,, and that's all. Now get over it.

Lumia 1530 or go home Microsoft. We need a worthy 6-inch successor flagship to the 1520.

Exactly.... Forgot the hatters. 6" is nice.

Yes it is indeed nice, for 3.3% of WP users.

I don't even think that much.....
........
Doesn't mean we shouldn't get a new 1020 though.... Or, according to your logic, should we❓

That's it, blu win lte is mine!

Need to hurry it up with the flagship

Y not compare against Android n isheeps?

Hey we're trying to feel good about ourselves!

Of corse blu's doing better because they have distribution agreements everywhere unlike the other small OEMs.
As for this mysterious phone its kinda sad its only 1080i my guess is support for uhd is being pushed back

one thing to note here is that many apps on WP are not even optimised for 720p displays, let alone 1080p displays.
if you bring in a QHD or UHD screen, do you realise how poor the experience will be? not to mention that it is not really essential on a phone.

Agreed! And if it improves battery life I'm all for it.

It could possibly be a mid-range device.

QHD on a phone is unnecessary and battery-draining. Even 1080p is barely needed on a screen as small as a smartphone's.

I concur. 480 to 720 was noticeable. 720 to 1080 is very hard to notice. I would need to see the screens side by side to pick which one is 1080. This frantic move to 2K on sub 6 inch screens is pure spec race that consumers (and reviewers) fall for.

Yey, ARGENTINA! I hope MS to make a higher bet on us. Nokia is still well viewed but common people are afraid of having a phone with no Android in it.

Give me 5" flagship and u get my money... 5.7"..... Dnt want to smash that gorilla glass on my face when m in supine position :p

I guess microsoft in India is just inches behind micromax to get beaten. Samsung is still the leader in India. Microsoft might beat them soon. Windows phone has a steady growth in India. The 640 and xl will rock in India. Those both phones can take wps market share to a great level.

I'm interested in getting the blu win HD lte but I'm afraid they'll decide to ditch Windows Phone at some point and not update or support. What do you think?

I think they will support it because in a promotional image I saw on the Windows Central article it said upgradable to Windows 10.

I was worried about that too but I've seen blu release more frequent firmware updates than Lumia.

Just bought my wife the win blu HD lte this past weekend. We couldn't be happier. She needed a replacement phone but didn't want to sign into a new contract nor did she want a low end device. The BLU hit the perfect sweet spot.

Daniel, Is it okay to use phablet rather than a below 5 inch cellphones?

Wow, people LOVE cheap devices across the globe. Why are we all shouting and moaning about flagships, again?

Flagships are essential for the promotion of a platform, especially a new one like Windows 10. Which is why for that reason alone I'm already convinced at least one flagship is coming.

Provided the os can make use of all the specs. Case in point 2k screen but a poorly implemented browser and no youtube ... The specs would be rendered useless. That said I can't wait for a flagship either; my 1520 is awesome but has developed a touch screen bug :/

Best screen config as I figured out: 15:10 ratio, 1920x1280, 6.3 inch, minimal top or side bezel, rounded bottom bezel for comfort grip. Good, 300 dpi resolution in regards of battery and responsiveness. OLED

Yes❗ Yes... You got the right idea.. That's what I want.

How much to produce just two, or would the market be bigger :), I just don't get those narrow portraits...

Are you saying they should give us two larger screened devices❓ You lost me there.

I meant whether two people would want a device like this, making production of two copies of the device quite expensive, or whether the market for such a device would be bigger. I think the height of a large screened device should not get too big as well

As far as Im concerned, with W10 there shouldn't be any question of size... The problem is WP market share, and supporting every size... Of course right now MS has to pick, and choose carefully, but if market share increases, then so should the high end lineup, and there should be room for nor than one larger device size.... Options... Options.. Options, man.

No data about the Lumia 640 yet?

Look at all those people suffering with Lumia 535 touch issue

which was already fixed by last two updates...

On paper yes. In reality, many still suffer.

6 BLU devices? Thought they were only 4. The Win JR, Win HD, Win HD LTE and Win JR LTE. What am I missing? Dual -sim versions?

BLU Win HD is available free in India now !!

HTC as usual is irrelevant lmao. No competitor windows phones and on all three carriers and it still can't even show up on the charts yet two year old 1020 and nearly 2 year old 1520 not to mention the 928 which were all one carrier aee there. So sad.

"Interestingly, there are more Lumia 928s on the market (3.7 percent) than Lumia 1520s (3.3 percent) or Lumia 1020s (also 3.3 percent)." Well, VZW is the largest Carrier in the U.S. One can only imagine if the 1520 or 1020 was available across all US carriers.

5.7 inch 1080p Could be a 740 xl ?!

I like to see a high end from blu!

BLU win Studio or their android phone is called

can we install windows 10preview on lumia 535 successfully?

Yeah I gotta admit, in Indonesia, people who use Lumia mostly using 535, so that numbers are valid

Iya soalnya promo 535 kemarin bikin banyak orang tertarik, gencar juga, di Kaskus lah di Erafone di Global dsb dsb Moga 640 keluar di sini ada promo cashback juga sih, asal ga ada masalah aja sama layarnya kek 535

Baru kali ini aja Microsoft gencar promonya sayang banget L930 sama L1520 ga ada promo apa padahal itu tipe tipe favorite orang indo layar yang gede gede L640 juga belum ada berita masuk apa ga

L640 bukannya pasti bakal masuk yak? Kan diwebsitenya Microsoft ada L640 LTE dan L640XL DS, walaupun masi coming soon..

Commentnya jadi bahasa indonesia :v

Maybe it's a Samsung Note 3 for Windows phone. It has the same specs.

L535 is awesome in itself...

Seriously I would like to see a higher Res screen great than 1080p.

iDunno. I have been looking at quite a few phones lately and really can't tell much of a difference between 1080p and 1440p in the 5.5-6" range and I have pretty good eye sight. I mean it is better... but not a whole hill of beans difference between the two resolutions until you are firmly in the 6"+ range. Plus the added load on a 1440p display has some serious disadvantages. If it means a lighter device then I'll gladly give up a few pixels.

Argentina could have better figures if MS selled some more Lumia models. As of yet, we only have through carriers 630, 635, 1020 and now 535. And through the official MS store on the Web (via MercadoLibre) they only sell 630, very poor indeed.

This 5,7 Full HD should be the Lumia 1520 replacement, the 840 XL. MS will use the 9xx family to the Hero Camera Phone, the Lumia 940.

That would suck..... Need 6"

I feel as though should temper your expectations as a member of the vocal minority of people who feel the need for a 6+" phone. Do you genuinely think that that form factor will continue indefinitely? Much like 4" phones no longer exists, I suspect 6" ones wont either. The market has already spoken.

Well, thanks for your opinion.. I see your point.
But, no, I won't modify my comments for you.
......
Nevertheless, thanks for your opinion. I respect it, and I get how you feel.

Awesome for BLU. Ugh at another Lumia.

"The spotting of a Windows 10 phone should be too surprising."<- shouldn't?

I believe the 5.7" is the new 1540 large flagship.... The true flagship will most likely be a 940 or 1040 although I have heard that the 41mp unit is shelved.... The 1020 was a one off like the 808 and tight ass Microsoft wont outlay the costs of such a unit when the smartphone market ignores anything microsoft. Lets hope that they release something special for us. NO MORE EXCLUSIVE SHIT.... DONT WANT A REPEAT OF THE CDMA ICON.

The 41mp unit is shelved until Nokia releases it's successor in 2016 running adroid!

Still can't update to win 10 though...

So this new 5.7" phone is probably the demo phone that MS will use at Build to show off all the cool new features of Windows 10, that no one will be able to use for months to come!

Ha, that's a nice way of putting it.

Assumption is the mother of all f**k ups....

I can work with a larger phone. Hopefully BUILD will pull the veil off this mysterious phone. I would not mind making a return to Windows this year. Crossing my fingers. Posted via the Windows Phone Central App for Android

They better bring another 6" to take over after the 1520. Picked up a 640 XL for W10 and while it's not small by any means, those .3 inches sure make a difference in usability. Hell, I'd take a 6.3" without a bezel if available.

Well i want a 940 or a 1540 with Snapdragon 810 or more, i already got the 1520 good battery, an awesome camera but its been more than a year that i own it an nothing as yet beat this phone in overall... normally i change my phone 2 or 3 times per year so MS give us some good high end phone !!!

Battery life was the best USP with the 1520 I think.

I'm not sure but think he is still the best !!

five of my friends bought lumia over my recommendation, just share the love.. cheers, Indonesia

1080p??? Disappointed already.... Let the "nothing higher than 1080p needs to be on a phone/you can't tell the difference/better battery life, begin.... Fact is perception matters and a 1080p phone in a QHD world wont sell to the masses. Imagine if the S6 was only 1080p....yawn....

So how exactly are they determining that the unreleased device has a certain screen size?

Xolo should be geared up for WinHD LTE/(jr) xerox.
I need a se*y looking beauty in my budget.620 is growing too old.I wish to try other OEMs aside blocky design only for 'how it feels?'.

Yes, everyone knows screens above 1080p are useless and drain battery. And we also know its not enough - Lumias once again falling behind the bleeding edge of the specs race.

I have a L920 and I can say 4.5 is too small. I also have and iPhone 6 for work. Even 4.7 (although better) is still too small. I think my next phone will be a large screen. 5.7 would be good, 6 better. One can only hope

6" is necessary.... We need a real 1520 replacement.

I think 5.7" is a good choice. 6" is possibly ever so slightly too big. The overall footprint will only be a touch smaller but you'll notice a subtle improvement in ease of use but not notice reduction of screen real estate too much. IMO.

Have you been using a 1520 for the past 16 months❓

I like the phone from coship. Very nice design and first water and dust resistant windows phone. It was presented at mwc this year.

In the Lumia 635 section, you wrote decrease in "Lumia 520" twice :P. Great news btw!

Can't imagine how quickly the 92x devices will fall off the map after a new flagship is released. So many of us are just waiting for a new replacement device! So, I know we are not expecting any flagship announcements at Build... but if win10 is supposed to be 'done' at the end of July, and we are getting the first test devices showing up in reports, then surely it will not be long after build before we get some sort of release announcement.

Windows 10 for desktop, laptop etc is getting "done" or RTM by end of July, not windows phone 10 which will take some more time, maybe 2-3 months more i guess.

I would settle for a 5.5-5.7 phablet coming from the L1520. As long as they fix theg host touches bug.

The touch screen issues are what led me to returning my 1520 to MS under warranty and sidestepping to 930.

5.7" at 1080P being a flagship? Lol. Maybe 2 years ago.

Lmao. 7" for u then. All I know is im starting to get used to me 1520. 6" ain't so bad after a few weeks. I mean yes it doesn't fit in my front cubby in my car anymore forcing me to put it in the center console under my elbow and I forget it almost everytime I leave my car now... But its nice! Haha

Having owned both a galaxy note 2 (5.5") & a Lumia 1520 (6.0"), and I currently use a Lumia 930 (5.0")... I'd say 5.7" is spot on.

I won't have a problem with the size but more the resolution. I mean its 2015 already! Why do you enable 4k video recording on the phone but it has a 1080p display! And yes we know about the can't tell the difference story but regular people don't know about that

ENOUGH, already, with the stupid phablets!!!!! Many of us just want a right-sized phone, not a tiny screen or a phablet. What on earth is so hard about making a NEW flagship that has a camera clearly more advanced than the 1020 but in a 5-inch HD screen? Huh?

Enough of your complaining! 5 inch phones and phablets are here to stay, plus nothings stopping you from buying them

!!!!!!!!!!!!!!!!!!!!!!!!!!!

Someone, please tweet these stats to the douche of a CEO running Snapchat

I, for one, applaud Microsoft for not jumping on the Quad HD bandwagon. 1080p is plenty until you get into the full-on tablet range around 10". More than that simply cannot be discerned by the human eye at any reasonable distance. Quad HD on the phone is only good for bragging rights, beyond that, it sucks the battery dry at a more rapid pace (or requires a heavier/thicker phone with a bigger battery to compensate) and overwhelms the video processing capabilities of the phone, which either make the hardware more expensive and even more power-hungry, or makes the phone slower. And don't forget the screen itself will also be more costly. So 1 on-paper-only benefit, and 3 very real world negatives to Quad HD. Remind me again why all of you are clamoring for this?

All I'll say to you is galaxy s6! It has a quad hd display but is nt heavy or has weak battery power! Its because of people like you why nokia and soon to be if this is true MS failed beacause of this we don't need these specs!!!! Seriously you still want MS playing catch up or actually leading?

I really want to try a phablet with windows phone 10. Its gonna be sick

I really hope BLU takes moves up from their #4 spot in Windows Phone. They make some great devices

So is everybody happy with 5.7"? Since most people complained that the 1520 is ridiculously too big?

I would handle 6" with pleasure. The bigger screen the better for me.

Pretty soon there will be Lumias 640.

so whoever got a 1520 will have to downgrade to a 5.7" display, because smartie Microsoft took a wise decision based on extensive market research and stats that proves 5.7"(same as Sammy phablet huh) is the "sweet spot"

So what they saying is the flagship wil come once windows 10 is released which is about two quarters away???? I'm seriously considering to move to another platform

Windows 10 is coming out at the end of this quarter. Stay patient, we've waited long enough.

I really hope so, cause I'm sitting with a Lumia 1020 with a cracked screen and desperately need an upgrade

I really hope that this flagship that comes out isn't just 1080p with other companies moving towards 2K. We'll be behind from the jump and who knows when they'll release another flagship after that one.

That's great news about Blu. It's amazing what happens when an OEM releases good products and refreshes their devices every year although it is sad to see both HTC and Samsung missing from the list. A new 1080p device is a joy to finally see.

When will we get official windows 10 update for Lumia 540 in India...?
Windows Central Newsletter
Get the best of Windows Central in in your inbox, every day!
Thank you for signing up to Windows Central. You will receive a verification email shortly.
There was a problem. Please refresh the page and try again.