Official Arab News app makes its way to the Windows Phone Store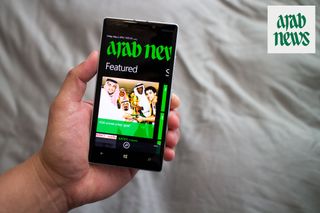 Arab News, Saudi Arabia's first English-language newspaper has just released their official app for Windows Phone. In addition to its domestic distribution in Saudi Arabia, Arab News has a wide range of international distribution, including United Arab Emirates, Kuwait, Bahrain, Qatar, Oman, Near East, North Africa, Europe and the USA. Arab News' mobile app has been available for Android and iOS for a while already, and now Windows Phone users can have it too.
When you open Arab News, a list of Featured articles is shown up front. There are thumbnails to the left of the headlines.
In article view, you can increase or decrease text size. You can also add articles to favorites or share via Facebook, Twitter, or email. Clicking the three dots on the lower right corner at any of the main pages and then tapping favorites can access those articles.
One setting that you should know is Theme Binding. When this is on, the app uses your Windows Phone's background color: light or dark. When this is off, the app background turns off white with dark text and green accent. The other two settings available are offline browsing mode and live tile.
If there's a specific topic you're looking for, check out Sections. You can browse through Featured, Kingdom, Economy, Opinion, Sports, Middle East, International, and Life and Style. You can also search for articles with the search button at the bottom of the screen.
The Arab News app also provides a Photo Gallery, but we think it can be improved. The photos do not have captions or links to articles for context. There's also a video section.
We're definitely glad to see more official apps making their way to Windows Phone. Arab News is a free download at the Windows Phone Store. Give it a try and let us know what you think in the comments!
Windows Central Newsletter
Get the best of Windows Central in in your inbox, every day!
Granted that's only the second one, but I feel like we're seeing our own Arab Spring this week.

After Khaleej Times from UAE, here comes Arab News from KSA. More official apps are coming in at Windows Store. Hope that same fate happens to official apps from my home country, The Philippines (from an expat working in KSA).

Just noticed there's an ABS-CBN news app for Windows Phone. Hasn't been updated since 2012 though. Mabuhay! =)

Yep, wonder why they don't. They even made a very good Windows Phone news/info app during last national elections.

Mabuhay, Kabayan!!! :) Sorry. But I'm not a fan of that station.Hence, I didn't download their official app. I am using NEWS5 though as GMA 7's news app is still under WP7. LOL As for banking, I already launched an online campaign for BPI Mobile to be available in Windows Store. However, we still need a lot of signatures to create an impact.

I am from KSA and this is the first time I hear about this newspaper. I know the top Saudi news sources and they are already in the store like
Sabq
Alarabiya
AlRiyadh
Aljazeera
And some other ones.

I work in the kingdom and Arab news is the paper the hotel gives me every day.

It's number one for non Arabic speakers !!

How does it compare to Al Jazeera?

Al Jazeera are known to biased .

Biased how? I've been using it as a second source to the BBC and have found it to be quite excellent actually.

I'm assuming he is talking about the Arabic version of Al Jazeera which is indeed biased. The international channel is rather okay.

And BBC and CNN aren't?!? Its seems your mind has been warped by western propaganda that anything contrary to that is your mind biased.

Wouldn't that be the Saudi Gazette?

is Alarbiya exclusive to Nokia phones ?

No.. I'm using the app on my HTC 8S

Cool I'll check it out, thanks

How come you are covering the middle east now?

Why not? There are a lot of Windows Phone users in the Middle East.

I'm using a 920 in Israel!

I'm using a 1020 in Palestine

+1 ... I'm using an htc 8X in Saudi Arabia.

What does that suppose to mean?

I assure you I mean well.. I am from the middle east myself. It was just a curious question.

Well the answer is, WPCentral covers Windows Phone all over the world.

Off topic but that Melodia app just updated. Has alot more new alert tones/ringtones and what not. Just thought I should let you guys know

These guys will ignore you but at least I know now ;D thanks

They covered it in the App Updates Round Up

Ok ok lol and no problem :)

The only problem is that We don't have Lumia 820 Spare parts in Saudi Arabia :P ... I am very sad that I can't charge my phone, because the Usb port is damaged, and I didn't get that spare parts from India/Saudi Arabia.. Don't have credit card to buy from Ebay. Now I don't have a windows phone to use, being diehard windows phone fan!

check out Axiom Telcom .... They can fix it ... I don't know about selling you parts though ...

Mine is Hadad! and warranty is over :(

You can use debit cards on eBay

i tried but it is not working.. it is indian debit card

Good to see more and more regional apps arriving. Keep them coming!

Good to hear that but i will not download the app due to the potential low number of pictures of naked girls hhhh

That's the most important one

Sweet ! I'll check it out

This is on of the reasons why I love WPCentral, they cover WP news all over the world unlike othe sites that are only US-Centric.

"Arab News" i could have made a racist joke here I decided not to...

.. and the terror of Islam is represented on our phones? Unacceptable.

Terror is terror. Ask the parents of the kids @ Sandy Hook or Columbine or the theater at Newtown, or Alfred P Murrah building in Oklahoma City, or 16th street Baptist church in Birmingham, Al. And you worried about a news app you or I will never install.lol.

Yet the terror of the west goes unnoticed.
Windows Central Newsletter
Thank you for signing up to Windows Central. You will receive a verification email shortly.
There was a problem. Please refresh the page and try again.