Ariel's World - A Wonderful Platformer Game for Windows Phone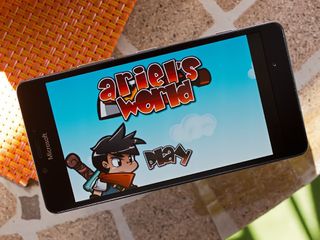 Ariel's World is an old-school platformer game that is exclusive to the Windows Phone Store. You play the role of Ariel as he ventures across the globe to battle his arch nemesis Magnus, the Viking Mage.
The game includes twenty challenging levels where you out run avalanches, battle monster bugs and navigate an underwater maze. You will also face five difficult Bosses as you work your way through the game. In playing Ariel's World for a short time, it comes across as solid Windows Phone game with wonderful graphics and formidable game play.
Your lead menu for Ariel's World is simple and straightforward with only one option, jump into game play. The game centers on a global map with each level of play represented by doorways. The levels are progressively unlocked and can be replayed to better your score.
Gaming controls are laid out across the four quadrants of the gaming screen. The controls include ducking, jumping, an action button (punching, using a weapon, etc.) and your directional movement. The quadrant system is a little more forgiving, offering a larger target area than an on-screen button would have.
Additional gaming screen features include your score, game timer, lives and green flame counter displayed across the top of the screen.
Each level is played out in Super Mario Style in that you have to successfully travel across the platform to the exit point. Along the way, you have an assortment of monsters to face and obstacles to overcome. Some monsters can be jumped on and crushed while others will need a weapon to dispatch. Obstacles range from walls to jump over, gaps to jump across and raised platforms to jump on to.
You also have green flames that are scattered about like gold coins that you can collect and a few power-ups sprinkled around the platform levels.
Ariel's World does have pop-up tutorial windows throughout the game to offer you hints on gaming strategy as well as explaining gaming features as they become available. The game does a really good job walking you through game play and avoiding any surprises.
Much like the Mario games, Ariel's World has a few hidden worlds you can pop into to collect extra green flames. Game play is timed and you'll have in the neighborhood of seven minutes to complete each level. Ariel's World will test your sense of timing, speed and reflexes. While it is easy to compare the game to the Mario line of video games, Ariel's World feels a little edgier and more difficult than what you find with Mario's adventures.
Graphics are nicely drawn up, sound effect and music has that old-school arcade feel and game play will keep you on your toes. My only nit with the game, and it is a minor nit, is that there are no checkpoints. That is if you make it 75% across a platform and Ariel meets his fate, you start off at the beginning of the platformer. Again, it's not a major issue but can be frustrating with some of the more difficult levels.
All in all, Ariel's World is a great game to have tucked away on your Windows Phone for the times you are in the mood for a little platform action. Ariel's World is currently running $.99 in the Store and has a 4 Star rating. We'd probably bump it up to the 4.5 Star neighborhood and if you've tried Ariel's World, let us know what you think of things in the comments below.
Download Ariel's World from the Windows Phone Store
George is the Reviews Editor at Windows Central, concentrating on Windows 10 PC and Mobile apps. He's been a supporter of the platform since the days of Windows CE and uses his current Windows 10 Mobile phone daily to keep up with life and enjoy a game during down time.
It's actually myAppFree's App of The Day :D

a freemium game well thats me out then.

Actually it's called shareware. This style of game has been around for decades.

the game is nice. but the graphics haven't been tuned for higher resolution displays.
lot of pixilation on my 640. plus if i hide the nav bar, the game leaves a black band instead of covering the full screen..

I did encounter checkpoints in the game. Posted via the Windows Central App for Android

I think this game has a ton of potential but there are a few shortcomings. Controls are stiff making it difficult to be precise. Adding to the frustration is that jumping on a monster's head is far more difficult than it should be. It's kind of a guess as to whether you're going to kill it or end up dead yourself. I do quite like the art style. However, I don't think the platform tiles match the style of the character and monsters. I don't like the distinct blocks; they're overly geometric when I think the grass tiles should blend seamlessly. Hopefully the game improves with updates, because it could really be great.

I like this game. It is quite difficult though and frustratingly it's mainly focussed on jumping. Also, lost my sword and can't seem to get it back.

Game chưa được tối ưu cho Lumia 640 nên đồ họa nhìn rất xấu . Kèm theo đó là chưa được tối ưu cho điện thoại sử dụng thanh điều hướng ảo
Windows Central Newsletter
Thank you for signing up to Windows Central. You will receive a verification email shortly.
There was a problem. Please refresh the page and try again.