ARK: Survival Evolved for Xbox One adds split-screen support with latest update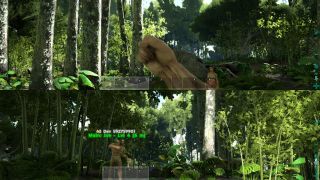 Xbox One players of the popular dinosaur-themed survival game ARK: Survival Evolved can download the latest update to the game. It offers, among other things, support for split-screen two-player multiplayer in both offline and online modes on non-dedicated servers.
The split-screen support will only be available on the Xbox One version of the game for a while, but it will eventually be added to the PC version as well. This week's update also adds some content to the Xbox One version that is already available for PC players, including three new creatures (the Dimetrodon, the Dung Beetle and the Gallimimus). Here is a quick look at what else has been included in the ARK: Survival Evolved update:
SWAT-style Assault Armor for all your raiding needs!
Greenhouse structure pieces to aid survivors in growing crops
The shockingly powerful Electric Prod easily capable of knocking you out.
Deep-Sea Loot Crates: swim into the deep and discover the highly valuable loot that exists below
Craftable Beer Kegs for making tasty brews, with various status enhancing effects, however the subsequent 'hangover' effects are not so pleasant!
Loads of bug fixes, serious performance update (~15%), fixed memory leak
Non-dedicated servers now support up to Eight survivors and 33% larger tether distance
ARK: Survival Evolved is currently available as part of the Xbox Game Preview Program and will officially launch sometime this summer.
Source: ARK: Survival Evolved
15% boost.. So we can expect 2 more fps?

Are "Game Preview" games region locked. Or do i have to enrol in something?

I had a rough time stomaching this game. Very clunky.

Great about time! maybe i might open the game again. splitscreen!

Damn, now this is a game changer offline co-op! We need more couch co-op games :D.

One of my biggest reasons for not getting the XBox One is the lack of couch co-op games. The 360 has a decent enough library of games for us to play, but we're almost at the end of the list.

My son is hooked on the pc version, The game was close to unplayable with the old GTX580, New GTX970 solved that problem. Still quite a few glitch in the game like all dyno disappearing, Forced restarts.

And yet 343 can't do this with Halo 5 Posted via the Windows Central App for Android
Windows Central Newsletter
Get the best of Windows Central in in your inbox, every day!
Thank you for signing up to Windows Central. You will receive a verification email shortly.
There was a problem. Please refresh the page and try again.