Asphalt 5 running on low-end Windows Phone 8 devices; ramps up price along with Asphalt 7 [Updated]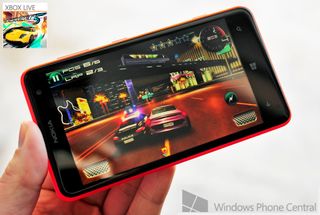 Asphalt 7 and 8 are the best-known racers on Windows Phone 8, and deservedly so. But the series appeared on Windows Phone (and even Windows mobile) before. Asphalt 5 arrived as an Xbox Windows Phone 7 game way back in July 2012, more than a year after Gameloft first announced it.
Some Windows Phone 7 games have trouble running on low-end Windows Phone 8 devices with 512 MB of RAM, even though Windows Phone 7 itself tops out at 512 MB RAM. Asphalt 5 has long been one of those 512 MB-incompatible games. That changed this week when it finally became compatible, despite the lack of a title update. On the downside, both Asphalt 5 and 7 have inexplicably gone up in price. More details after the break.
Asphalt 5
There are only two known reasons that a Windows Phone 7 game would run on 1 GB Windows Phone 8 devices but not 512 MB ones.
First: Windows Phone 7 and 8 handle RAM differently from each other. A game that fits adequately within the allotted space on Windows Phone 7 might require more memory to run on Windows Phone 8, hence the need for 1 GB or more of RAM. Second: the game could require a gyroscope – a hardware feature not found in the Lumia 520 and other low cost devices.
Developers can optimize a Windows Phone 7 game to run on next-gen 512 MB devices, much as they can work to add compatibility to games that won't run at all on Windows Phone 8. But both actions usually require a title update, as changes to the code of the game are necessary to increase compatibility.
Somehow Asphalt 5 now works on the Lumia 520 and other 512 phones even though the game itself has never been updated. We can't say for certain what happened. Perhaps a Store setting had incorrectly prevented Asphalt 5 from running on 512 devices even though it should have been compatible – that does happen now and then. In any case, owners of low-end Windows Phone 8 handsets can now play another racing game… Even though Asphalt 7 is also 512 MB compatible and a much better game overall.
Asphalt 5 – Windows Phone 7 and 8 – 110 MB – $4.99 – Store Link
Asphalt 7: Heat
This game has been out for a while, but it made headlines recently when we discovered Gameloft has quietly given it MOGA controller compatibility. The sequel Asphalt 8 has already come around and features the same compatibility, but it lacks the Xbox features of parts 5 and 7.
Today's less happy news about Asphalt 7 is that its price has gone up from 99 cents to a whopping $4.99 on all Windows platforms. A few Xbox Windows Phone titles have experienced price increases in the past, but never one so large as this. The iOS version still rings up at 99 cents, and even Asphalt 8 for Windows Phone 8 and Windows 8 is now free to play, so the $4.99 price point really stings.
I can speculate a couple of scenarios here. First: the price change could be a mistake. Clearly there has been some behind-the-scenes tinkering with Asphalt 5's Store page as of late, so maybe someone accidentally copied that game's too-high price over to Asphalt 7 as well. Update: Because of the Windows 8 version's price increase, this explanation seems unlikely.
The other (most probable) possibility is that Gameloft intentionally raised the price in order to encourage people to play Asphalt 8 instead. Since Asphalt 8 lacks Xbox Live features, I wouldn't be surprised if it hasn't been downloaded nearly as much as its predecessor. 8's recent switch to free to play status should have helped it overtake 7 eventually anyway, but you never know.
Update: Gameloft has confirmed that the price increases on Asphalt 5 and 7 are intentional.
Asphalt 7 – Windows Phone 8 – 911 MB – $4.99 – Store Link
Asphalt 7 – Windows 8 and RT – 0.99 GB - $4.99 – Store Link
Thanks to Mohamed Ashid for the tip!
Get the Windows Central Newsletter
All the latest news, reviews, and guides for Windows and Xbox diehards.
Paul Acevedo is the Games Editor at Windows Central. A lifelong gamer, he has written about videogames for over 15 years and reviewed over 350 games for our site. Follow him on Twitter @PaulRAcevedo. Don't hate. Appreciate!