Asphalt 5 for Xbox LIVE on Windows Phone is racing to the Marketplace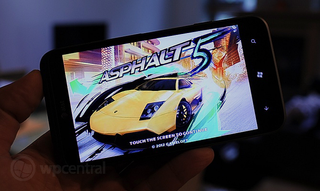 Fulfilling our tradition of badly punned headlines, this week's Xbox LIVE title is Asphalt 5 from Gameloft. And it's ready for your challenge. The weird part? This game was one of the "original 50" Xbox LIVE titles for Windows Phone, meaning it's like just 2 years late.(Seriously, it was announced in August 2010).
Racing games can be fun and Asphalt 5 should make many folks pleased with some punchy high resolution graphics of dreamy sports cars. Well, at least that's how Gameloft is selling the game. In fact, it features over 30 cars including such beauts as the Audi R8, Ruf Rt 12, Ford Shelby GT500, Lamborghini Murciélago LP 670-4 SuperVeloce, Ferrari 599 GTB Fiorano.
The game clocks in at 109MB, so you'll need Wi-Fi to install and it's priced at a moderate $2.99. While that won't please you "It must be $0.99!" folks we're okay with the $3 price range for games—especially ones which have high replay value....
From the game description:
Not too bad. Our initial thoughts? Load time is surprisingly pretty zippy, considering the graphics. Steering is handled by tilting the phone and it is sensitive. That translates into you hitting everything on the screen except the road for your first few races. Graphics are good although it does "skip" a little meaning the frame-rate is not as high as we'd want—but we're probably dealing with platform limitations.
For nostlagia, read our Asphalt 4 review for Windows Mobile back in early 2010.
Hit us up in comments on your thoughts. Go grab Asphalt 5 for Xbox LIVE on Windows Phone here in the Marketplace. Thanks, Álvaro Rutz, for the tip
Windows Central Newsletter
Get the best of Windows Central in your inbox, every day!
Daniel Rubino is the Editor-in-chief of Windows Central, head reviewer, podcast co-host, and analyst. He has been covering Microsoft since 2007 when this site was called WMExperts (and later Windows Phone Central). His interests include Windows, laptops, next-gen computing, and for some reason, watches. Before all this tech stuff, he worked on a Ph.D. in linguistics, watched people sleep (for medical purposes!), and ran the projectors at movie theaters because it was fun.
Yey we get asphalt 5... Android gets asphalt 7

I'm almost too embarrassed to buy this game now... Can't wait until we can have serious games on WP8.

Just be sure no one sees you playing it, it's seriously uncool to play a 2 yo game, it's worse than beige jackets.

So by your reasoning this game is fake?

Asphalt 7 is actually coming eventually too. Better late than never!

That's right I forgot that Asphalt 7 and NOVA 3 were announced for WP8 at the developer conference. So strange releasing Asphalt 5 now.

Windows Phone 8 will get Asphalt 7...

And iOS also got Asphalt 7. jajajajajaja this is bull!!!

iOS always get the games first and it has most apps too.

2 years late to the Marketplace, sad! Meanwhile Asphalt 7 is already out there, although it was announced!

A few months after Android and iOS get Asphalt 7 isn't so bad, assuming it actually releases on time.

Excuse me, but what are the criterias that define what game to release each week? I mean, the process behind this is completely intransparent and this drives me (and others) crazy.
For examply, SEGA previously announced that Sonic CD would release on WP early this year and Sonic 4 Episode 2 would release sometime in July. Both of them are still to be seen. Ehm, hello? Is its just me or doesn't this whole thing invalidate just about any release schedule? That's definately a thing that needs to improve, especially if Microsoft highlights WP's focus on gaming.
Maybe anyone here could shed some light on this? Did I miss something?

Yes! I even thought that Sonic would have in the last week of the month.

everybody should send sega a private message on facebook ...maybe they tell us, whats going on -_-

There is an Xbox Live portfolio manager at Microsoft who decides what comes out each week. Generally, only a handful of titles are ready to launch at any given time, so we get one or 2 of those every week. We've been HARD at work investigating the delays on the Sonic titles and we should actually have some news or official statement soon.

Thank you for explaining the process a bit! Any news on the missing Sonic titles would be highly appreciated :-)

This is the same problem we had on XBLA games back at the beginning. Call it growing pains. I for one like the surprise.

Its bad enough finally getting a fame that's 2 years old and two versions behind, but to ask $3? Anybody know what asphalt 7 goes for on ios or android?

On ios asphalt 7 is $0.99. But asphalt 5 is $6.99 on ios as well so we are at least getting a better deal on a two year old game than apple. :)

Hope it doesn't have glitched Achievements. Gameloft games while having zero innovation are fun to play. Need for Speed Undercover is, to me, still the best driving game on WP, despite being older than Hot Pursuit.

It is not mango enabled, or the page does not have correct information...

it is not mango ready ... no fast app resume and no 60fps :(

I won't be getting this for my Lumia. Asphalt 6 was free on my Nokia N8 and my Playbook.

No, in Nokia N8 is paid, 99c.

It was free for a while, it was a limited time offer, if I remember correctly. I found out about it on Allaboutsymbian.com. It was also a free download for a limited time on the Playbook.

Haha I was wondering when we were getting Asphalt....

Ungrateful comments as usual

it doesn't matter what comes out, it's never enough. I'm the first one to complain about stuff, and even I have a hard time being the cynic that some of these people are.

Now we just need EA to drop the price on NFS Undercover and we'll be in racing business.

Me, I'm very happy to have a new WP cars game... And Asphalt 1 , 5 or 7 ; I don't care, the fun is here and that's all...

WP is still weak. I can't believe there aren't any good or decent titles yet on marketplace.

Either you have crummy taste or you're trolling. For shame.

I agree with Paul in thinking you have poor taste. :D

I concur I don't know what people want when windows phone 8 and windows 8 tablets as its much much easier to port and with multi core processors we will be getting a ton of high quality xbox live games ( I assume we may get up to 5-10 a week at some points)

WP has some great original games with awesome graphics and gameplay you can't get on other platforms yet such as "ARMED" (awesome multiplayer), "TITAN"(unique) and the MMO game "Age of Sorcery" for serious empire builders. There's many more than that in many other categories. When I showed an Apple fanboy "ARMED" he freaked and said it was the the best looking games he ever saw on a phone, then I showed him how ridiculously awesome it was on my Win8 Tab. Made him sick so Stick that in your craw, bub.

Needs for Speed Undercover was free on my Playbook as well. Must be Rim trying to keep Playbook owners sweet.

It does seem like development was started a while back but never finished. The framerate is a litte on the low side I guess due, in part to lack of mango support?

車査定 Wow. This blog is truly a gold mine. I have been wallowing on this for quite sometime and here I am reading about it!