AT&T boasts strong growth but misses earnings estimate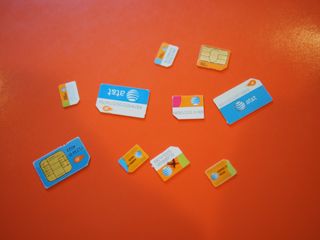 AT&T has just shared their earnings report for the third quarter. The company was able to gain two million new customers, but missed their earnings estimate. Shares of AT&T are down in after-hours trading following the earnings report.
Highlights from AT&T's earnings report:
More than 2 million new wireless and wireline high-speed broadband connections added
Postpaid net adds of 785,000, more than double the year-ago quarter; more than 2.4 million postpaid net adds year to date
Best-ever third-quarter postpaid churn of 0.99 percent
Wireless data billings up nearly 24 percent versus the year-earlier quarter
Third-quarter consolidated revenues of $33.0 billion, up 2.5 percent versus the year-earlier period
Source: AT&T (opens in new tab)
Windows Central Newsletter
Get the best of Windows Central in in your inbox, every day!
Go AT&T! I just wish they had coverage at my sister's house because she wants a good Windows Phone and only Verizon gets coverage where she lives.

Lol that's funny... So do I!!!

They'll add a new customer when the Lumia 830 comes out!

Well att does advertise WP. The only issues are the in store help don't know anything about WP

Agree, they are totally useless. They know Iphones and barely Android. The Windows Phones should be near the IPhone display so people can really make an educated side by decision. Give the customer an opportunity to play with both and truly explain the benefits and downfall of both.

Believe me when I say I'm no iPhone fanboy. However the iPhone displays have to be separate per the contract with Apple. Same with the iPad. I agree that the store reps should be more knowledgable. Some actually are, and I think it'll get better over time now that manufacturers are able port WP on existing android hardware.

At least at&t displays the Windows Phones in their stores. Verizon puts them pretty much in the back where nobody ever sees them.

+1
I'm testing their coverage right now with a Lumia 520 GoPhone that I have my calls forwarded to.
If all goes well, I'll be switching from Verizon on Nov. 7.

I like that idea, trying out ATT with a 520 Go Phone. Verizon is failing my 928. But so is MS and its inability to force updates. Just signed o to Android Central to get up to speed.

Who is losing customers? T Mo say they gained. Verizon too. Now at&t. Are these net gains or just new accounts? I guess Sprint is going down?

People moving up from dummy phones I guess.

Forgot to change the water mark ? ;)

I hate it that economist's expectations trump what is otherwise good news for a company. F these economists. Anyone check their credit scores? I bet they suck.

I hope you never give any business advice to anyone

I read that there upgrading 10gb customers to 20gb? Is it true?

The AT&T upgrades for usage started at the 15GB mark. I have had very good service and connections with AT&T but I found a cheaper way to use AT&Ts network (now onConsumer Cellular) and their phones for alot less money. If they ever get their prices in line I might go back. But for now its nice to get the same good connections and pay a lot less money.

It is not the same service exactly, prepaid services are lower priority, means lesser speed, gets to the back of the queue.

Yes its true for those on 10 gig mobile share Next. I had mine done today. When you call AT&T, have them connect you to the retention department. Just ask them to bump you up from your 10 gig to 20. In a few minutes you get an text that its done. No need to threaten to leave, just ask nicely and they do it. The CSR's don't know about it so be sure to ask for "retention department". Check my post on this in the forum. You have until the 31st of this month.

Really. I thought it only applied to 15gb plans. Do you think I'd be able to down grade to a 10 GB plan for the double data deal? please let us know.

I'm not an AT&T representative but anything is possible I suppose. The 15 gig plans are advertised to get the bump but the 10 gig plans like the one I was on wasn't part of that. But when I found out on Slick Deals they were bumping the 10 gig mobile share plans to 20 gig, I called to see if it was true and if I could get it. I got it. I didn't even have to threaten I would leave. I just asked for the hook up and 5 minutes later, I had a confirmation text message. 20 gig. Sweet!

Better coverage and FASTER wireless towers and infrastructure would certainly boost customer signups, but it will take years before this will happen.

They have been upgrading everything for years. 20-30mbs no fast enough?

No. Its not what it could've been by now. I get a unacceptable 10.24mbps upload speed on full bars of att LTE with a tower not too far away. The download speed is admittedly better at 49.43mbps. Att could raise the bar if it wanted.

Windows flagships probably would have put them over the top.

How many ppl here converted from grandfather plan to the 30gb plan???

I went from T-Mobile's mediocre coverage to ATT and never looked back.

Another article I read said that more than 25% of new subscriptions came from their partnership with GM and Audi to put Wi-Fi in new vehicles.

We just switched from Verizon to Tmo. Cut my bill into a third of what it was, and the coverage has been far better then before. Since we have switched 4 of our friends have switched there family plans to Tmo with the same results.
I will admit the WP selection with them is crap, so we are going the path of unlocked devices.
The article says the growth is wireless and wired customers, it's stats they can cook them how they want to get a positive result.

That's good, now only if they would pay their employees more and treat them better, rather than have the extreme pressure on them to over sell and push unnecessary garbage on their customers.

I can not believe they are not reaching and exceeding projected earnings considering the cost of my family's cell phone bills. UNBELIEVABLE They must have made some very poor business decisions.
Windows Central Newsletter
Thank you for signing up to Windows Central. You will receive a verification email shortly.
There was a problem. Please refresh the page and try again.