AT&T Fuze coming Nov. 11 for $299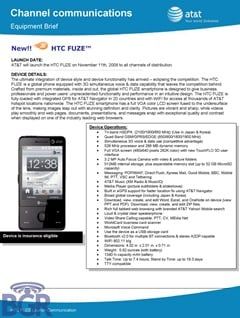 A couple of days ago we asked "Where be the Fuze?" Apparently the boys and girls over at the Boy Genius Report were reading and have been kind enough to track down the answer.
The date: Nov. 11 — that'd be next Tuesday, just a week after what we initially thought would be the launch.
The price: $299.99 with the standard 2-year contract/rebates/data plan.
The cost goes up from there. If you want it off-contract, you're gonna have to shell out $499.99.
What else do we learn? There should be a camera-less version for the worrisome enterprise types. Expect a national advertising campaign starting next month.
Hit up the BGR link here for the rest of the dirty details.
Windows Central Newsletter
Get the best of Windows Central in your inbox, every day!
About time. I have been waiting and waiting for this thing to come out. I hope this is a concrete date.

will this version have the tv out? seemed like a cool feature..

will this version have the tv out? seemed like a cool feature..
From all indications it looks like is going to have TV-Out and a FM radio but we will see when I actually get the device in my hand ;)

Hate the theme the went with for TouchFlo 3D, but that's so easy to change that's almost not worth even mentioning the issue. If it does end up with the FM radio that will be interesting since Sprints version didn't get the FM radio.