AT&T lights up LTE in 12 markets across the nation, brings 4G to coverage to 300,000 more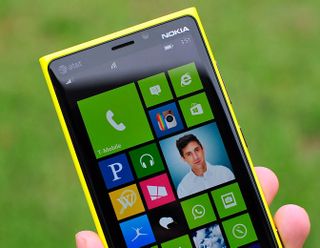 The build-outs of the LTE networks of AT&T and Verizon in the United States have hit the point where they're covering smaller cities in 4G radio signals. In fact, just today Ma Bell announced that they're flipping the switch to turn on AT&T LTE coverage (opens in new tab) in 12 municipalities around the United States, though the largest in this batch is Bismark, North Dakota, population: 65,000. There used to be a time when a single new LTE network meant millions were covered — now it takes a dozen new markets to cover a mere 300,000. We're on the long tail of the LTE coverage build-out now. The full list of new AT&T LTE coverage follows.
Anderson, Indiana
Deridder, Louisiana
Midland, Michigan
Lebanon, Missouri
Claremont, New Hampshire
Lumberton, North Carolina
Bismark, North Dakota
Bellefontaine, Ohio
Defiance, Ohio
Greenwood, South Carolina
Seneca, South Carolina
Gainesville, Texas
If you're seeing AT&T LTE for the first time in your home town, let us know in the comments.
Windows Central Newsletter
Get the best of Windows Central in in your inbox, every day!
Derek Kessler is Special Projects Manager for Mobile Nations. He's been writing about tech since 2009, has far more phones than is considered humane, still carries a torch for Palm, and got a Tesla because it was the biggest gadget he could find. You can follow him on Twitter at @derekakessler.
Woot now when I vist my friends in Claremont Ill actually have service, its been spotty on that edge of the state for years

Don't live in DeRidder, LA, but not very far from it. It will be nice when we go there to eat occasionally to have the faster service available.

LTE what is that??? Here at Panama city, we use 3G at 512Kbps or 1Mbps. Hate this speed advertised as 4G.

And this is related to windows phone how?

Maybe because are lte capable Windows Phones on AT&T. I really hope for your sake that question was a joke. Otherwise I'll have lost even more faith in the human race.

Maybe we should get news about plastics too as WPs are made from plastics as well.

if it pertains to how much future handsets might cost (whether decreased or increased in price) or about a new way in how they implement it that is beneficial to future handsets, then I hope they do write an article about it...

Jeez, people get pissy about the littlest things!

I'd be fine with that. It would let me keep up with schoolwork all while looking at WPC. Start reporting on plastics! :P

Thank you... WPC has lost the document that had their mission statement written on it.

I'll be going to Gainsville for several days and I'll be bringing my LTE-capable AT&T WP so good to know they now have AT&T LTE over there. Thumbs-up WPC for reporting it!

Don't read it if you dont want to...there are others who are interested in stuff related to how their phones perform...internet after all is what makes the most of these phones...this is for those who who would like to know their options through such tit bits...
If you're expecting every article to be tailored for your interests you're sadly mistaken...

In the USA minority of WP are on ar&t.

Hmm. Can you confirm that? TMo has only a few, as well as VRZ. Seems unlikely, especially with all of the complaints launched at att when the amber update shipped.

You don't say! But even so, those "minority" users would still be interested in this news so good for WPC to cover it.

Supposed you live in one of these areas and had been complaining about the lack of LTE and how bad ATT sucks etc etc

Glad for those who got it but this sounds like Sprint's PR releases about small towns.

Don't we just love PR? ;)

If they have already covered most big towns, shouldn't they now be moving into smaller towns? I don't get what's bad about the news just because those in the report are smaller towns.

Sensorly maps are a good place to look to the difference in coverage. Zoom out on 4G and toggle between the major carriers.

Was up in benzonia Michigan and my family had at least 4bars of lte not bad at all last year ....barely 3 bars of 4g ...not bad att

All I will say is Verizon's LTE is everywhere. :) and with my soon-to-be Lumia Icon, I think my cellular utopia will be complete. :) (Yes, I used "utopia"...hehe)

Meanwhile, I constantly lose my ATT signal as I sit in my house 35 miles from downtown Chicago, Il

Goshen, IN. The coverage map still shows 4G but my Lumia 920 is showing LTE this morning.

Got lte on my s4 today, been getting it off and on in elkhart Dunlop and goshen since Monday Posted via the WPC App for Android!

Did anyone else notice that the phone in the title picture is running T-Mobile?

It's actually AT&T-Mobile.


We got lte in January in Palmdale,ca....two years after Verizon had turned on lte

I never saw an announcement for it, but LTE was recently activated near me. Night and day difference, especially since the 3G was oversubscribed in the area and very slow.

Traverse City, MI we picked up LTE a week or so ago...love it

who has better coverage att or tmobile with both of their new data plans that are off contract they are a fraction of the price of verizon and i am thinking about switching. which one should i go for att or tmobile i have family that lives all over

AT&T coverage is universal, compared to T-Mob... Having said that, if you're in urban areas, you're probably covered pretty well, by AT&T, but rural coverage is still hit or miss. But its absolutely non-existent, with T-Mobile.

thank you for your help, does att have good indoor/ building service my friends on tmobile complain about that in ny

does att have good service while indoors some of my friends complain about that in tmobile?

by the way thank you very much for helping me

When I was on AT&T I never cared that I didn't have LTE. What is the point anyway with the measly data allowance you get? Once I got it, I still had to keep an eye on the data I used, to make sure I didn't go over. In reality, there was no difference in my usage before and after LTE, and no difference in the level of enjoyment I got out of it. Woohoo, a song can be downloaded slightly faster? I have T-Mobile now with their "4G" but unlimited data. Much more useful. I can watch Netflix, listen to streaming radio, etc without worry.

Just got it today in South Haven, Michigan.

I would just like to say Good Job ATT. I was Scuba Diving about 20 miles of the shore or Clearwater Beach this weekend and still had 3 bars and LTE. Nokia 920 put me right on top my dive site, Actually too close.

I don't understand this announcement for Midland, Michigan. I live here and I've had 4G since I bought my 920 which is almost a year so i don't get this at all.
Windows Central Newsletter
Thank you for signing up to Windows Central. You will receive a verification email shortly.
There was a problem. Please refresh the page and try again.