AT&T's Lumia 1520 is finally getting the Windows 10 Mobile official update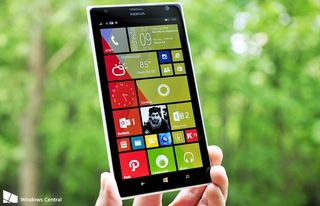 The AT&T Lumia 1520 is now able to grab the official Windows 10 Mobile update.
Reports such as the one posted on Twitter by "Sathish Kumar S" began late on Thursday night, indicating that the Upgrade Advisor app showed that the Windows 10 download was indeed available.
As a test, we rolled our AT&T Lumia 1520 back to Windows Phone 8.1 using the Windows Device Recovery Tool and then installed the Upgrade Advisor. We can confirm that the Upgrade Advisor does mark the AT&T Lumia 1520 as Windows 10 ready and the system then proceeds to download the update.
The AT&T Update Support page (opens in new tab) has just been updated to reflect the official news as well:
The file size is 750MB and a older build of Windows 10 Mobile (10586.107) while a subsequent over-the-air update will push it up to the latest Windows 10 Mobile build 10586.420.
To get the upgrade, you will need to download the Upgrade Advisor app from the Store and have your phone charged at least 40% to take the update.
Download Windows 10 Upgrade Advisor from the Windows Store (opens in new tab)
Windows Central Newsletter
Get the best of Windows Central in in your inbox, every day!
Great to hear they are working through the backlog. It would be great to see the HTC One M8 get some love!

It doesn't seem likely that will happen. I loved my 1020 but it was outdated on release. Nothing like that camera though!

I would say you are generous. The Lumia 820/920 were outdated on release in 2012. Quad core S4 Pros with Adreno 320 (the same GPU and mostly same CPU as the Snapdragon 600) launched in 2012 while we got Dual Core S4 Pros with Adreno 225

As far as I remember it was due to the product timing issue. Lumia was delayed due to the OS and ended up with the older hardware.

As much as I'd love to resurrect mine, it just can;t handle it.

Its old HW. Give it a rest. I downgraded my L925 coz its really not designed for Windows Mobile 10.

My 1520 is jacked! It's on it's last leg!! Not gonna make it till I get that SPPro.. What should I do?

Who the living hell would dislike that? Weirdos. I'm saying my 1520 is jacked up!!! This is serious business!

Followers.. Lol... Just dislike a comment because everyone else is.. Can't think for yourself. Most likely still young. Pathetic.

How is it jacked up? Battery? I replaced my battery myself. Almost any part that's replaceable is able to be purchased on ebay.

Lol. Funny you say that. I've replaced the screen, the battery with OEM, the button Ribbon.. My GF says that it's jacked because it's been taken apart so many damn times.. Lol she's probably right. I mean, I'm using it right now, so obliviously it's not done for. Just has major screen freezing, and stuttering, issues. But, I know it's because of this nasty non OEM screen that cost me $70... Learned my lesson about that. I guess the issue is that I can't afford to put any more money into this almost 3 year old phone.. Sad. My 1520 used to be top dog. Now it's just dog. IMO the coolest (still) WP device ever released in the US. Damn!!!! Just wanted to vent. Another thing is that I'm really excited about the alleged Surface Phone, but it's so far off, and att is most likely not going to carry the HP whatever it's called. I know it's gonna be too expensive for me to not subsidize any time soon... Oh, well. Like I said, I just wanted to vent, and see if anyone else feels my pain. SMDH. Lol

My 1520's screen lasted maybe a year and a half before I had major issues. Rather than replace it, I traded it in for the 950, mostly because I knew the W10M update would take this long and the 950 had it out of the box. But kudos to you for holding out that long, man! I really do miss that phone

I take back everything I said about the 950XL.. Now I wish I had one.. Lol

My L1520 screen is broken too. It has some wierd colours at bottom half but is usable . Am also pushing it hard until surface phone comes up. Hope it lasts. Cant give up on this beast

My 1520 also started giving weird black holes in the bottom of the screen (after it fell a couple of times)... I guess thats common

I haven't dropped my phone even once. Think its due to big screen that stays tight in pocket

I'm still using mine after the OEM battery gave out with a non-OEM battery that was marketed as OEM (won't charge past 83%, but it still lasts all day which makes it usable). Stupid non-OEM counterfeit manufacturers are to blame for all these issues. I wish that there was some way to keep crappy merchandise off the web.

Ooohhhh, so that's why mine won't charge past 85-90%.. SMDH. Stupid ass gicks.

@rodneyej; The sad part of about wp is Microsoft itself. With Flagships; 1020 and 1520 you would think they would have upgraded these devices which would have added to the 925 replacement with the 950/xl. That would have been a very nice lineup of phones on the marketplace.

You seem to be missing the point. MS said quite some time ago that the 1020 wasn't going to be getting official 10M because the hardware wasn't stable enough to keep supporting it. Frankly, I'm baffled that they are still supporting the 1520! Imo, the 950 and the 950XL ARE replacement devices to the aforementioned 1020 and 1520. I've been using the 950XL for a few months and have loved it since replacing my 1020 with the 950, which I gave to my wife as a replacement for her 1520 of two+ years. MS may not have been very enthusiastic about the 950/XL, but that's only because they were created by the last fragment of Nokia workers left from the acquisition, ergo not pure MS-developed phones. Regardless, the devices are not slouches by any means. I consider both of them to be phones worthy of the flagship name. They have excellent cameras, insanely fast processors, and absolutely beautiful screens. Slap a Mozo back cover on either and you have one heck of a WP phone. I've had the 900, 1020, and now 950 and 950XL. All of which I've loved using every minute. I even got a 650 way back when MS first started the insider program for W10M, and tested it for a few weeks until I couldn't stand not having my 1020. Anyway. I'm just like you, looking for the next true flagship phone. But rest assured->the 950/XL are absolutely amazing devices. I've had no problems with either, and remained a fast ring insider the entire time I've had them. And I highly recommend them to anyone.

920, 1020, 830, 950XL. Built quality was best on 920. The thing never broke, just got old. 1020, like many, was the phone I "loved". That camera :( is missed every day. It had a couple of issues. I had to swap mine twice. Once for lose screen on top and once for camera lenses stuck and not focusing. Lumia 830, which was a warranty replacement of my 1020 after I broke the glass on it, was the nicest looking of the bunch i had owned till then. Dropped the 830 exactly where I had dropped the 1020, and broke the glass exactly the same way. Aghh!
Then came along 950XL. The beast. Love it. In one word....Fast!
The screen is beautiful as well. Design to me is simple and beautiful.
Each phone held it's own. Except for maybe 830. It was mediocre. But the design was nice enough to work as a transition device between 1020 and 950XL.

If people need Upgrade advisor app many people wont know about this sadly. :/ Why cant they pop up message like on PC?

I used the advisor app, it did nothing. So I went to my network provider and they fixed the issue in 2days so I could update. It has nothing to do with windows or the silly app.

That popup has been the recipient of massive amounts of hate and anger, if they did it on a phone they would receive even more hate and anger. The Apple centric media has made sure to generate this anger. Apple does the same thing on iOS, putting up daily reminders that canot be dismissed permanently and even use a modal dialog that doesn't allow you to do anything else until you dismiss it, but they will not say the same things about an Apple product as they do with a Microsoft product, can't make Apple look bad.

The phone updates seems quite different story though as compared to desktop where people are not used to OS upgrades, let alone the constant pop-up ones. Unless you came for using Android devices that didn't get any sort of OS updates at all since you first got a smartphone, many devices especially flagships will receive update/upgrade notification while its still supported, especially recent devices where most Android flagships and few mid-range do receive at least one OS upgrades. iPhones and Lumia's has been receiving updates and upgrades since as long as they're still supported, so this isn't new. I don't see much reason to why people would hate seeing notification of updates to their Lumia devices. Especially that if they have the devices earlier, they would experience several updates. W10M though would bring drastic changes from WP8.1, the general UX actually just become more of Android brother and iOS cousin, means it will be slightly more familiar for better nor worse. W10M issues is different story.

Lol this is sad, a few months ago I contacted optus Australia to figure out what was happening with windows 10 for the lumia 1520, a few days later my phone updated to windows 10, thanks To my complaint. Mind you this happened in feb this year. If anyone was wondering what was happening, it depends on your network provider, not windows themselves!! Always go to your provider to figure out what's going on.

What you talking about Willis?!

Cut her some slack yall, she seems to be new (never seen her in the comments prior today). It appears she's the average user in the sense that she didn't know the updates are taking long due to carriers, and was simply sharing what she recently learned. That said, she's probably unaware of the windows insider program. Not everyone is tech-obsessed like you and I are...

Umm I don't comment because there hasn't been anything for me to comment on. My phone Lumia 1520 updated to windows 10 in feb and no it has nothing to do with the insider program. My friend who went to RMIT melbourne to studied IT told me to stay clear of the insider program, he also has the nokia lumia 1520. The windows 10 in the insider program is buggy and there's always a possibility you can lose everything on your phone. So I didn't bother with it. I got upset for waiting so long for windows 10 so I went to my provider (I did go to windows and ask them about it and they didn't know anything) my provider told me that they didn't know anything cause they don't really sell alot of windows phones and promised me to look into it. And they did. Two day later in feb this year my phone updated to windows 10. Clearly none of you have actually looked into it.

Alright fair enough. I was just trying to defend you after a flurry of downvotes for what seemed to be a reasonable post..not sure what you mean by "clearly none have you looked into it" though..

Thanks for defending me. But yes it is true it is up to the provider, I heard about windows 10 coming out on the lumia 1520 last year, and had to figure it out why it hadn't come out yet. And yes optus only sells like maybe 1 type of windows phone, and it pisses me off because I have been really enjoying the nokia and windows. Windows 10 being updated now is extremely bugy even with it not being insider program. It has its faults like email notifications don't notify you so you have to go into the app every time to see if you have a new email. The camera app keeps exiting for some unknown reason. And more. The camera function being 20mgpixle on the windows 8.1 is now lesser on windows 10 so most of the time the picture will come out as blurry or unfocused. I repeat this isn't insider program. I go by what my friend tells me to do cause he is the one that motioned the phone and I didn't want to ruin it. And I do know a fair bit about tech. Why would I have this app otherwise? And also it depends on both windows and your provider if windows 10 is out. Sometimes if it were out and you didn't know it, that's your provider that didn't allow windows 10 to come through. And from my point of view windows 10 on the lumia 1520 came out the 20th of october last year (2015). But then again it can be at different times and dates in all time zones. And depending on the providers you are with. And this comment is to all whom didn't understand my comment clearly enough.

Well, if what you've said it's true, it's officially carries who ensure those who do support windows phone get frustrated and move on to android or phone..... They suck if you have ask them to allow your phone to update. That also means they had the update in there hands all this time but refused; that's sad because they should support all of the devices they carry no matter how they sell.

Of course the Insider programme releases are buggy, that's kind of what we're here for. A global network of beta testers. Your friend with the IT skillz is clearly deluded and is giving you ill-informed advice.

Well not really, her friend is just actually doesn't want to give her too much trouble with the nature of Insider program when there is no reason for her to be on Insider. You said it was also buggy and meant for beta testing, so that's why her IT friend told her to stay away from it. Likely that her friend already part of Insider program if he got a Lumia 1520.

The Win 10 mobile update has been far from perfect on the insider's program, but that was to be expected. Having been in the program since almost the beginning, I've never lost data, even when I had to hard reset my 1520. Considering I was brave, or foolish enough to install it on my daily driver, it was extremely frustrating at times. But, MS did warn participants that losing data was possible.

That's "Wachu"... "Wachu talkin bout, Willis???"... SMDH. Get it right.

[ButtersSouthPark] Do you know what I am saying? [/ButtersSouthPark] from episode "Butters' Bottom Bi%&h" nomesayin'?

Looks like there are no updates to the firmware or radio band. Just the OS. I'm on 14372 so sounds like I don't need to bother?

If there are an update firmware/radio updates, which doesn't seem to be the case, you will get them regardless if on Insider Fast, Slow, etc. So no need to roll back. I only did so to verify the update live (AT&T had not posted their info yet).

Thanks for the clarification, I was wondering if there was new 1520 firmware as well. Good to know.

After running upgrade advisor last night I got the notification -thought I was dreaming.

If I install the update will I lose things like my subscribed and currently downloaded podcasts in podcast pro? Or all my subscribed feeds in nextgen reader?

Hard to say, but that data should be backed up and restores when you sign into the app after updating...make sure you do a backup in the os and of the physical files of the device just in case by plugging it into your computer and copying/pasting the files off it (I for example, dont have my photos backing up on one drive, so I manually back them up).

Yeah, I don't backup photos either, they are all on my SD card tho. Same with music. I'm not worried at most stuff but if U lost the stuff from those 2 apps, it would be a disaster. I have entirely too many feeds and subscriptions between them. Hopefully an app setting backup will take care of it.

Yes, music too! That's a biggie! But hopefully you can get a proper backup. Good luck!

I think some youtube apps, keeps the down loads within the apps itself..

First the Icon on Verizon and now the 1520 on AT&T? "Guys, where are we?" ~LOST

Huh? I dont get the reference....

Is the reference LOST on you?

Yeah ! Wow finally ... But em already on 10.0.10586.420 release preview insider build....... There is nothing different in official or insider release preview ... Same firmware as WP8.1

Wow. The day has finally come. Thanks to everyone involved in making this a reality.

Now only if Microsoft released the Windows 10 update for the flagship camera phone Lumia 1020, or at least Windows Phone 8.1 GDR 2 with the improved Lumia Camera app; we could all be happy. Without updating these legacy flagship devices, especially ones like the 1020 with 2gb ram; there is no hope of getting many of the users of those devices back to Windows Phone after their current device dies.

Wishful thinking,won't happen,not working well on the Lumia 1020 for most

a friend has 1020 as is on 10586.420 and has no issues at all, thanks to MSFT for keeping it alive until they can, this is clearly not the case if it was an android device.

I'm coming from a Lumia 1020 myself,like I said for most it won't work well with great smoothness,I'm now with Lumia 950 with no regrets,1020 is aged device,dual core vs quad core in Lumia 640,that's why it's one of best affordable smartphone on the planet

I also came from a 1020, and am now on a 950xl. Honestly, I would just make the plunge to the 950(xl). The camera is just virtually just as good (obviously there's less pixels, but my 1020 didn't take photos as clear as I would expect from a 41mp camera...probably due to the sensor) but basically launches and takes photos instantly. The pictures are just as good if not slightly better on the 950(xl) in my opinion since you can take advantage of things like adjusting the flash intensity after you already took the photo.

Same here. My wifes 640 was light years faster then my 1020.

I agree. I have a Lumia 928 on build 10586.420 and I have no issues either.

LOL "flagship" device... when was it released? Sep. 2013 - almost 3YEARS OLD damn dude, show me 1 Android FLAGSHIP with 3Y. SW support!!! JUST ONE!!! they have ZERO 0.0 interest in supporting such old devices regardless the HW. Deal with it. Its not just about the amount of RAM....

Flagship device in the sense that Microsoft has not come up with any new successor that would match the 1020 camera and RAW photo support. Android phones like the Galaxy or LG, HTC etc, come out yearly with new variants, if Microsoft did the same by putting out a Lumia 1030, 1040, 1050, you can be damn sure you would not be hearing about the 1020 in 2016.

the 950 easily blows the 1020's camera out of the water. megapixels dont mean much, its the amount of light the sensor can grab, which the 950 gathers much much more of. the 1020 was great, its a relic now. also those 2 gigs of ram? only 1 gig is usable by the os, so consider it a 1 gig, the other gig is dedicated to the camera.

Of course megapixel doesn't mean anything but the zooming, reframing and xenon flash is something that i just couldn't get on other lumia

IPhone 5 is receiving iOS 10. That phone is from 2012.

And it will run like a pig. Yes I have iPhones and my 5 running iOS9 isn't as zippy as it seemed with what it came with. It also doesn't get a number of the newer features. iPhones will generally work well with one OS upgrade, the second will be OK, the third will make you want a new iPhone. It's not that some of the older, lower spec'd phones won't run Win 10 M, but they won't do it well enough to make the effort worth it...officially. Many of these are carrier branded devices and the carrier, justifiably I think, has no desire to commit to supporting these things with a brand new OS for another couple of years. MS also doesn't need a bunch of low end devices that run acceptably on WP8.1 being upgraded to Win 10 showcasing lackluster performance. It's unfortunate the OS didn't garner enough interest to keep flagships rolling out every year, but since it didn't one shouldn't expect 2-3 year old hardware to carry the torch. I have a 950 and a 950XL and while I don't think they are as wonderful today, as the 1020/1520/Icon/etc were when they were released, they are certainly more capable than any of those devices are today.

You can get Release Build on a 1020 via Insider. It sucks. My 1020 will stay on 8.1. My 920 runs it fantasticly tho. Go figure.

By the looks of it, sounds like a bad optimization. Nothing new actually, as there are some even claim that their older but supported Lumia such as 930 may perform better sometimes than 950 on their experience. The phrase "experience may vary" easily applies to current situation with W10M (maybe even W10 at times, though fortunately there is a less issue in this regard).

Awesome! Time to update my phone :D

My 1520 is on Redstone fast ring

Someone explain to me why people need to install upgrade advisor to update a phone? This is utterly stupid and many users will never realize that you need an app to install an update.

If you dont realize that you need a app to update, then you should just let those live in bliss that thier phone works fine the way it is. W10M is nothing to write home about yet..

its because windows 10 is in someways a step down from 8.1 currently, its got new features, but isnt quite as stable. the app makes it an optional update. tohugh with rs1 currnetly, i think W10 is finally where it should have released at.

That's actually a really good point.


My 1520 has the issue with it randomly going in to search mode when it gets hot (design flaw in the phone). I've been able to keep it mostly useable by changing my screen sensitivity to normal and turning off the vibration on the navigation keys.
I tried the Windows 10 preview for a while, but my phone tried to search all the time, so I had to roll it back. The option to change those settings was not there on W10M.
Can anyone with the official update check to see if those settings can be changed now?

Had this and going in to camera too with a bad car charger.

That happened on my 920 when I plugged in the gorgeous yellow earphones it came with. (after a lot of usage tho)

Mhmm. Not sure, even if its official update. I had Preview release addressing some issues. Phone restarted itself with some apps, specially WhatsApp, it overheated in the corner when using some apps for long and battery drained more. At least I can tell W8.1 drains less battery with same apps, same usage. Also, does not restart itself.

I was able to get windows 10 mobile officially on Lumia 1520 from about a month or two. So what's so new?

No, oh I get it now. My Lumia 1520 is not AT&T I bought it from dubai. I would say it's nicer than at&t no logo on the top right.

Can you plug it in to the Recovery Tool and see what it says is your most current OS to restore to?

Thanks. I just restored an ATT Lumia 640 and got 8.1 as well. Wonder when the tool will get updated?

Hey Daniel do you notice on your Lumia 1520 that tue battery drain is more rapid as compared to windows 8.1? Also there is the overheating issue & random restarts due to using the camera? Microsoft has indeed acknowledged this but I had to revert back to windows 8.1 for longer battery times & stability.

Well my 1520 has been running quite smooth with windows 10. Have you used the recovery tool to reset your device before upgrading? That might help from what I've heard.

I don't understand why are these phones getting updated to latest OS for a dead platform. *sarcasm* Just when I was starting to accept reality. Don't give us hope Microsoft. Don't toy with our feelings.

Yes i was able to download it earlier today!!!! Then there was another update that made it a lot more stable! i know that this isnt the most recent build, but this is way more stable, and I hope that they fix the app gap

Neat, but anyone who wants it should already have gotten via Insider...

True, but having something official is cool too.

I pity US laws on locking downs the phone, i thought this rules applies only in 3rd world countries.

Too bad AT&T is leaving out Lumia 640 XL customers.

This is something I don't get. Both this and the regular 640 came out last summer. Where's the update at? As far as I know, unlike the 830, aren't they still selling this?

Too late for me...my 1520 battery started acting up (low battery shutdown at random times), so I had to buy a new phone =/

Hmm good for those peeps. Posted via the Windows Central App for Android (V10 or N5x)

Any chance for Nokia Lumia 525 1gb RAM

No. It's Snapdragon S4 processor is not supported. It needs to be a Snapdragon 200 processor at least, coupled with 1GB RAM.

Only now is it getting an update? Why did it take tgis long? The Update for my 1520 here in Germany was released months ago :-o

US carrier problems or should I say, regulations...

Any word on the Win10 update for the AT&T Lumia 830? Posted via the Windows Central App for Android

My 1520 still says "eligible"... Can't find the update

Are you with ATT? If yes, run upgrade advisor app again and see if it would detect your phone.

Yup, At&t. Still says "eligible for upgrade" I guess I'll have to rest the phone with WDRT

Another down. So far the AT&T 640s and 1520 in our household are now updated. Still waiting on the odd hold for the 640XL.

I miss windows phone. I'm still on my iPhone waiting for a surface phone

Folks it is intersting to note that as we approach the Windows 10 July Aniversary update that Micosoft is adding more devices to it's list of devices who will receive the update to Windows 10 mobile. I would not be shocked if the Old AT & T Lumia 920 and the Verizom Nokia lumia 928 get the updates to Windows 10 too. Microsoft software Engineers are adding the finishing touches to the RTM Aniversary version of Windows 10 Mobile and the more popular bigger full Windows 10 Desktop PC/Server/Tablet operating system Redstone # 1 Updates. Microsoft has to get by this Redstone # 1 update to get to the Redstone # 2 updates that will come early 2017 which will also bring in the debut of new Windows 10 physical devices and hopefully the "Rumored "Surface" Brand of smart phones that may replace the Old Liumia brand of Smart phones that Microsoft got from Nokia. The "Surface" smart phone brand means Microsoft will be on it's OWN it's ties to Nokia brands gone. Microsoft will do better I think on it's OWN. There is no where for Microsoft to go but UP because the Lumia smart phone sales are LOW. Good Luck Microsoft !

Anyone has the wallpaper?

Sweet, right after I shatter the screen on my 1520 the update comes out. It literally fell about 6-8 inches.

John...which app is that in the pic with a big tile just besides the phone tile at the top

Been rocking my 1520 for two and a half years now and no signs of slowing down. Best phone ever. Good to see the installed base of windows mobile will increase further. All ms now has to do is come up with a good plan to convert all the 512 mb windows phone users to a windows mobile phone, make m a trade in offer they can't refuse. But this is just me hoping someone at MS will actually even consider locking in current users, that's the only way to keep a minimum of windows mobile users ro keep the os alive. Im running the latest update of windows mobile and it runs fine, apart from worse battery life in comparison to previous version.

Same here and I hope the battery drain issue will be fixed. The reason of big phone is has longer battery life

It should never have been an issue with some of the older phones.

What abt Lumia 1320??. When it will come for 1320 model?? Pls inform.

When will AT&T's Lumia 830 will get the update?

Can anyone confirm whether "Hey Cortana" is functioning or not? Hasn't been available for me for a few builds. Wonder if it works on the official release.

I upgraded my phone two days ago and my "Hey Cortana" is working fine. Did you do a soft reset and see if this will solve your issue?

What build are you on? Mine isn't working since the past three updates.. Even after a factory restore.

Now I am 100%sure windows phones are not dead.. the simple reason that the developers are not interested in developing windows app, so Microsoft has decided to shrink it's mobile market...wow.. great work Microsoft...but still lots and lots of need to be done.. ... but still business phones it's really sounds good to me.. because business man will not purchase a budget phone like LUMIA 650... they will purchase lumia 950or other high end phones. But after long time it is a good news... Posted via the Windows Central App for Android

I currently have the Windows Insider version of Windows 10, release ring. I am already running the same OS version they are up to on Att, is it worth restoring the phone and getting the official build? Does the phone perform better?

What's that calender tile app on that photo ?

I'm getting an install error everytime I try to update to windows 10 on my 1520. Anyone else getting an error too?

Lol current version is 420 it should change everything to green Posted via the Windows Central App for Android

O please update Lumia 1020 to windows 10 officially.....it's really good phone....

Sooo...... M8 not getting an upgrade cuz HTC didn't want to commit? Rumor or true??

i had updatedmine few months ago OTA through SMART PH, and been receiving the cumulative updates after that

Mine updated last night to build 107 and this morning to 420. The only problem is my 1520 keeps changing my language to Spanish MX, I change it back to US along with the region and after a while it goes back to MX. Any ideas to solve this annoying thing???

When windows 10 will come to Lumia 520?

I got my update about two months ago! And its official ring

I got my official Windows10 update the day Windows10 for Mobile was officailly released for my AT&T 1520.

My 1520 was slowly dying because of several nagging issues that made day to day use a pain and had me looking at Android phones. Installed the update this weekend and all the problems went away. I have noticed that at times the battery life is down from 8.1 but the upgrade has made my phone usable again.

Yesterday I upgraded my ATT 1520 to win 10 and this morning to the latest build. I was surprised how much like Win 10 on my laptop and this version is worlds better than the Beta I tried for an hour last fall. I've dprnt today learning the OS and I really like it. I did find one thing that did not migrate at all. My blocked call list. I had 8 or 10 numbers in the list in Win 8.1 and noine saved in Win 10! I know its a long shot but is there any way to recover them? If not then maybe others make a copy of the numbers to maybe manually enter them after the upgrade.

I'm just about to get a newish 1520....any idea how long this and other 8.1 devices will continue to be supported? are they likely to get the next major update in 2017?
Windows Central Newsletter
Thank you for signing up to Windows Central. You will receive a verification email shortly.
There was a problem. Please refresh the page and try again.