AT&T Nokia Lumia 900 gets unboxing treatment for the world to see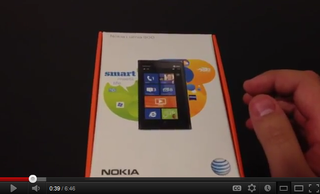 Ah yes, unboxing the videos, the smartphone tradition that will go on forever, where we all gather around and remain transfixed on our shimmering screens like children during Christmas as someone literally takes a phone...out of a box.
We usually skip these here at WPCentral because even we have our limits on how much phone pr0n we can watch, but we'll make an exception here for the AT&T Lumia 900. Over on YouTube, a user has posted a video where he meticulously removes the much anticipated phone from its recalcitrant packaging.
Not too much more is learned, though we do see the micro SIM removal tool (which we have a closer shot of above), the super sleek wall charger and we notice how there are no headphones on board, which is a bit of a bummer. The packaging, unfortunately, is still very "AT&T" as opposed to Nokia's designs for the Lumia 800 but c'est la vie on that one.
Anyways, hopefully this will keep you folks satiated for a few more weeks till that April 9th release date.
Source: YouTube; Thanks, Manoj, for the tip and Michael C. for the SIM tool photo
Daniel Rubino is the Executive Editor of Windows Central, head reviewer, podcast co-host, and analyst. He has been covering Microsoft here since 2007, back when this site was called WMExperts (and later Windows Phone Central). His interests include Windows, Microsoft Surface, laptops, next-gen computing, and arguing with people on the internet.
No headphones? Really? Is there any reasoning behind that or is it just the one that this person got?

Titan didn't come with headphone either. With everyone having beats or something similar they probably figure why bother and keep their costs down. Doesn't bother me.

The headphones that come with phones usually suck anyway. It's better just to buy a decent set separately.

The ones that came with my arrive when I had it sound pretty good

Could not care the least being IEM crazy myself, but this sounds very weird.
This to my knowing is the first Nokia phone without headphones ever. Part of the cheap price maybe?
Sales package does not include it seems.
http://www.nokia.com/us-en/products/phone/lumia900/specifications/

EU version does come with headphones
http://europe.nokia.com/find-products/devices/nokia-lumia-900/specifications

Who cares, I've never used my phones headphones because they're not as good as standalone headphones

I haven't even taken my Lumia 800 headphones out of the packet. Whether they sound good or not, solid plastic headphones are uncomfortable and don't sit in my ear well.

yea such is the game they play, and its got nothing to do with it being a low cost phone. I worked for Att when it was cingular, at the time OEM Motorola Razr's came with headphones, and came in a awesome box to, but Cingular unpackaged them, repackaged the headphones in a bubble pack for sale as a OEM accessory and packages the phone in the shitty box with all the att reading material. This is standard practice

That wall charger looks like it takes up too much space. Definitely need to see it plugged into the wall.

That looks to be the same charger as the lumia 800. If so, its not bulky at all.

Idk, if you were to have a power strip with other things plugged into it, would that charger fit between them? Doesn't look like it.

It's super tiny. If the blugs are following any kind standards there should be no problems.

It's normal charger found from 710, N9, 800, 900 and probably punch of the new Nokia phones.

I'm not concerned about the size of it, but instead concerned by the fact that the prongs don't fold up. With plugs that are always exposed, I'm always worried that if I put the charger in my bag that something is going to get scratched or damaged. Also, I'm not really a fan of the white charger and cable: too Apple-like. But still, the phone has me tempted. I wonder if there's any chance they'll sell it on a one year contract.

I'm very disappointed that it comes in the generic AT&T box.

Same here. The actual Nokia box I feel would make it seem much more luxurious. Either way I'm still dying to get it but just saying.

Boring ugly Americanized box ugh...

Jeez its a box it has to com in a box before you can use it just throw the darn box away. Would a plain brown box instead?

That phone looks AWESOME! Just found out I'm getting one for a work phone :D can't wait to get it in a few weeks. Keeping my Radar on Tmo for personal, though.

Wow, pr0n is a understatement....I was drooling by the end of the video. What a SEXY phone.
I wish Verizon would get this phone.....

Yeah... But they're waiting for LTE Windows Phones. Oh that's right this is one of two confirmed LTE phones and a possible third going to at&t and not Verizon. What to do when your carrier is a fan boy of an os you don't desire?

Yea, it blows.... I'm not in a contract but, I hate to lose my unlmited data to go to AT&T.... and Verizon coverage is a lot better than AT&T in my area...
So it really sucks...

It's so beautiful. I hope they make a phone with a 4.0" screen in the future and make it as small as possible. This one is just too big for me.

Boy is that a gorgeous phone! Really nice indeed!! Probably going for the blue one. ;-)

Come on April 9th! I just want the phone!! :D

Man...I wasn't planning on buying another Nokia until Apollo, but the Lumia 900 is really tempting.

Exactly the way I feel...I seriously doubt I'm going to be able to resist it...thinking about some more--no way I can continue to use my HD7 when this work of art is haunting me--I'm getting one!

Right there with you! I've got a few more months on my N8 warranty and didn't want to buy a new phone until the warranty was up, but I'm beginning not to care about the warranty everytime I see the Lumia 900!

Anyway, I'm just going to keep repeating my mantra and hope it helps: 'Wait for the Nokia Apollo devices - it won't be long', 'Wait for the Nokia Apollo devices - it won't be long' :)

Good Luck! I hope you don't get any nightmare. :-P

I really wish they would have of left it in Nokia's packaging. But who cares!! I'm getting one and I don't need the box to use it! Haha

Same. The blue tiny box that 800 comes and many other Nokia phones is sexy looking. :(
Though it's just packaging.

I agree, interesting that apple doesn't have to use crap at&t packaging...and everyone knows that is another thing that sets Apple apart. T-Mobile used the Nokia packaging. Either just want the phone released already! =)

My favorite is probably the Cyan 900, but that white shiny 900 looks damn nice as well.
http://www.youtube.com/watch?v=KcGfJ11odoE&feature=related

So no case like the 800? But not a show stopper. Can't wait to get mine. :-)

If the rumors are true about the AT&T price they are pretty much stripped all extra.
No headphones, case or the normal compact blue Nokia retail box.

EU version includes those.

There is, but u have to buy it separately.

So getting one. I have a line I can upgrade so upgrading and then giving the phone to myself, and that line can have my focus s.

the cyan one is going to pair so good with my cyan IEMs!

can't wait! :D

As owner of Cyan Lumia 800.

That color just makes me smile everyday i pull that phone out of my pocket. Got multiple different shades depending on lighting.

I got the same love for Verizon....

I kinda likes how when near the need of the video, he was kinda subconsciously moving the 900 while he was talking and it made it look kinda like the phone was talking. Maybe I'm just crazy lol.

That is a really terrible unboxing.

I think he did ok. Sounds like a decent guy.

My unlocked/unbranded European Lumia 800 didn't come with headphones. My Omnia 7 had them.
Anyways, European Lumias boxes are much cooler, imo.

Where is the case? I thought it shipped with a case the color of the phone?

Not being rude but that was the worst unboxing I've ever seen. Its a MicroSim not SD card. And its an LTE MicroSim. So anyone getting a Lumia from an iPhone needs to get a MicroLTE Sim...which comes with the Lumia. Having compared a Lumia 900 to my Samsung Focus S, the Lumia screen is more vibrant on the Lumia. Also, the Lumia is snappier.

I just molested this phone in an AT&T store in the mall. I love this device and can't wait to own one. I went into the AT&T store to ask if they knew when it's going to release, and the lady said, it's schedules to come out on Easter but since their store is closed she is not sure how it works. She said its $99 and then, she asked, DO YOU WANT TO PLAY WITH THE DEVICE? I couldn't believe it. She was so nice, she went into the back room and got her training device. It was AWESOME and exactly how I expected it to be. I took some pictures and VDO while I was playing with it.

I'm tempted to cancel my t-mobile just to get this but ill wait since wp8 is around the corner

I'm tempted to cancel my t-mobile just to get this but ill wait since wp8 is around the corner

Here is the VDO I took today when I went to the AT&T store. I can't wait enough to get this device.
http://www.youtube.com/watch?v=QQqXw9FYr3g


I went into my AT&T store today and asked about the release. The girl I spoke with said they hadn't been told the exact date, but she'd heard April 22. I asked if they had demo units in the store and pulled a black one from her pocket and handed to me. She said three other salespeople in their store had them as well (including cyan ones). The phone feels really nice in the hand and the screen is beautiful. However, I'm not sure about the polycarbonate body. Maybe she is just really hard on phones, but hers was a scratched up mess. She said she wish she had a case, but they don't have any accessories yet. It's a sweet phone, just not sure about that body...

AT&T just seems to be ruining everything MS/Nokia wants to do. This AT&T box makes the phone look generic and we all know it's definitely not.
Seems like alot of people will like the Lumia 900 hardware but MS needs to do everything they can to get some of the top developers on board and maybe lower the registration fee (if not completely waive it) for more developers to come aboard. Those thinking of switching from other platforms are usually hesitant because some of their most used apps aren't supported yet.
With that said i'll most likely get a L900 on day 1 but not sure on which color: Cyan or Black.



THE BOX!!! Come on, we know 99% of all phones on AT&T come in their ugly boxes (iPhone is the only one I know that does not). Love to see his review and comparison to iPhone and what he likes and doesn't. But this was a really boring unboxing. I am so tempted to buy one, but will probably wait for the new Apollo phones coming later, but it is sooo tempting ...

This device is gonna put Windows Phone on the map!


The stars are alligning for me.

I was thinking for a long time, wait for win8 and het a Nice launch phone but my omnia 7 is wearing out and even custom roms and homebrew cant fix it ( any more ) i wish MS was a bit opener about win 8 cuz now in scared/hesitant to buy the 900 cuz the release in Netherlands is sayd to be may but wat if i get it and in september w8 launches with some badass device, been wp7 since i was able to get one here in holland ( just after launch actually ) and need my upgrade now, the line up is Nice but i think the next gen of devices will be badass if they would just shed some more light in to win8/apollo the wait and decisions would be a lot easier

Omg...thats all I have to say..

It's pronounced NOKIA not NOH-KIYA.
FFS.

No it is if your out of the US

What I don't get is, why do you care so much about the packing. They are selling their Flagship device at peanuts. So, they need to cut somewhere. I rather have them cut down their cost on the packaging than the Device itslef. When you get this, the device is going to turn heads, not how it's packaged. IMO.

We should have nokia launch party.. WSsup with that??

Need some help everyone, the more I see and hear of this phone the more I must have it. Sadly, I upgraded to a focus s when it came out because my focus stopped charging. However I have another line I can use to upgrade, should I wait, or get this different and better built phone?

does anyone know the story as to how this guy got his att phone this early?
Windows Central Newsletter
Get the best of Windows Central in in your inbox, every day!
Thank you for signing up to Windows Central. You will receive a verification email shortly.
There was a problem. Please refresh the page and try again.