AT&T's Lumia 520 is on sale for just $29 on Amazon and Microsoft Store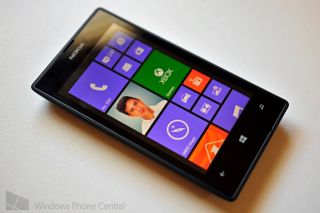 The Lumia 520 has remained the most popular smartphone in the Windows Phone ecosystem for well over a year, and now the AT&T no-contract version of the 4-inch device is on sale for rock bottom price of $29.
Both Amazon and the Microsoft Store website are selling the AT&T Lumia 520 for that price, which is $30 below its already bargain cost of $59. In July, Microsoft said that it had registered over 12 million activated Lumia 520 units, and with these sales prices we would imagine that number will continue to get bigger, even as successors such as the Lumia 635 and the Lumia 535 start to take away some of its market share.
Source: Amazon (opens in new tab); Microsoft Store (opens in new tab)
Its a steal for dis price

Didn't know this was still a thing.

I'll never know a feature phone again after reading this article.

Available in Amazon, so, nope, not only US) and it is cool

Just an awesome phone - feature-wise, it's tough to recommend its intended successors, given all that Nokia packed into the 520/1 package, from a bottom-line, practical perspective.

It's not that though lets do a comparison the Nokia 520/521 has 1 ghz dual core vs Nokia 630/635 1.2 ghz quad core also the Nokia 635 has LTE were as Nokia 520/521/630 has only 3g I know it say 4g but that's a gimmick its really only 3g. The Nokia 630/635 has clear black and gorilla glass the Nokia 520/521 has none of those the only thing the 520\521 has over the 630/635 is the physical camera buttons and the other buttons as well. But over all the 630/635 is far superior then the 520/521.

If they price this phone at 29$ (Approximately 1800 rupees here in India) Android One will surely fail.

This is carrier subsidized pricing. Not a concept prevalent in India.

How you figure its a paygo phone not on contract so there ain't no subsidiary. It could be perfect for india

Might be a good idea getting this just to use as emergency back up during hurricanes, tornadoes alien invasion. I live in Boston and we don't get any tornadoes, just making an excuse to get this.

Excuses are good. I was gonna get the 635 at $39 but didn't. This one I may actually get. Need a new mp3 player with wifi :)

I live in Boston to and like those reasons.

OMG! WP champion of cheap! For these prices everybody families can have a backup phone.

I thought I was already selling for less than $30

Damn it I just want a holiday sale on the AT&T Lumia 830!!!

Yeah, me too. I've been waiting and watching.

Dat comment, so stupid, so irrelevant...

Hold on John who wrote this, where is that 12 million in sales...is it world wide, region, select countries or just the U.S. ?

I am assuming worldwide. http://www.windowscentral.com/microsoft-over-12-million-activations-lumi...

Do the Amazon or Microsoft store ship these to Pakistan as well?

You're also Pakistani? Anyway, there are services that do that for you, or just get on Amazon.

Yeah.I searched the Amazon help and support page and found a quick way to see if a certain product can be shipped to Pakistan.

It's a "Go phone". What does a Go phone actually mean?

Means Prepaid service on AT&T

Then you can't use any other SIM of a different network. Is that it?

It's locked to AT&T, but not locked to only their GoPhone plans.

You can also use it on carriers that use the AT&T network, such as H2O Wireless and Airvoice Wireless, and they both have great cheap prepaid plans.


Rather have this than a 530.

Too many options in 530, 535 and 635

I'm tempted....but it's locked to AT&T.....couldn't really use that as an international travel burner phone :-(

I called ATT and they unlocked mine. I am able to use it in the Caribbean on Digitcel, Claro, and Lime.

After how long though? AT&T says you have to have the GoPhone line active for 6 months before they'll unlock it.

Talked to AT&T. It has to be active for 6 months, but it can be on the pay-per-use plan. Pay-per-use is a "free" plan (no monthly charge), and any calls/texts/data used is an individual charge. So you could activate it, then not do anything with it for 6 months, then have them unlock it. Now if only that $40 635 deal would come back....

Wish this phone worked on Verizon

Most Verizon customers are far from budget customers though, which is what this is targeted for.

I have one and its really not that good I am waiting for my galaxy phone to come in to day

You can't say that Windows phone is bad because of a low end device!

Lumia 630 is on sale for 6499 Rupees in Flipkart app only..

Dadaji 520 on sale.... :P

Windows is bad compare to android and I phone lol the app store sucks and u cant even hack the windows low end phones on android and I phone u can tho

Why are you here? Posted via the Windows Phone Central App for Android

Um what? Oh it's a troll get out here shoo shoo

Am here because I have a 520 been using it since November u guys are trolls I am saying the 520 not that good that's why they are selling it for 20 lol funny stuff windows will never be a good os the only reason I have a windows phone it was free to me every thing I said I my last post was nothing but truth you all are to blind to see if you read your news you would see that windows is the most poors on apps and the os sucks just saying

Ok, so you tried the lower end WP 520 with specs that no android phone could run on, as couldn't any iphone, and you didn't like it... And you also complain about the apps, did you really miss that many?... Just get on with your life (if you have one) and leave this place troll

The Windows os is way bttr thn android it runs buttery smooth has bettr ram and memory management and is malware free

Not the 520 we don't even have 1gig and its slow I can get to my apps faster on android with out seeing the word loading or resuming only thing good about the phone is battery life why so good well it don't use high end apps like android and the 520 has no NFC or eq so what dose that say about the 520

Good for the price but not the bast out phones there is better low end phones on android side then there is in windows I don't even think window is going to hit the market share its low this year

There's no low end android phone for this price and with these specs running as smooth as the 520... Maybe not the smoothest phone, but way smoother than any android on this price/specs range, and you know it... Now go somewhere else with your trolling pathetic life please

Good deal for a backup music player and cheap camera.

Vary true on that. That's what I call it back up phone true back up

I might just get one for a backup phone, but I don't think i'd let myself lose my 925 D:

One day the Lumia 521 will be brought with pocket change ☺

U think asphalt 8 is not a high end app/game and does the great android budget phns hav nfc it's a high end feature......and budget android devices has 1gb of ram coz android jst cannt run on 512mb of ram

Hello T-Mobile, would you care to join the Windows Phone sale party?

Stogonoff what a name u have lol the one trolling is u and yes there is a low end for android the galaxy express got it on eBay for 70 did u know the 520 was a 60 doller phone at one point so don't give that bs all am saying is it really is not that good of a phone but good for a back up phone If u like it or any one that's on them. but my input is aloud here because I own a 520 there for am saying my self what I don't like about it

It's a good phone for someone who can't afford a more expensive one or just doesn't need anything else... Bought one for my father and he's doing fine, he's 2 generations past selfies.. What version of android does a 70$ android phone run and how does it run it?

Kit Kat look on eBay for it am not saying its not good for a back up phone am saying it should been 29 dollers this whole time because its sucks for low end phone when there better os out there windows really need to step up there game and all so make some part of there os open source like google thats why android can do all this cool stuff do u really think that google could do by them self nope that's the help of dev over on xda that made android what it is to day I see the windows phone as a blackberry not that many apps and most apps on windows store are either fakes or there not that good the 520 is my first windows phone before that all android here it be cool if u can hack it but what I've been reading is there only one phone I seen in windows that was hack with rainbow mod I think it the 835 of some thing like that

You didnt really answer my question... Why are you here? So you dont like WP... Guess what ? Dont use it.... Why go to a WP site and post how much your phone sucks? Enjoy your Touchwiz.....

Touchwiz is better and I can say what I want I tested the phone my self is that why on keyboard 520 its auto correct mess up go to the 520 forms on here like I said I own the phone lol am on dev update so yea the 520 suck for a low end phone find cheaper phones on eBay my friend got the phone for me I thought I could hack it that's why I got it so I know my phones son

I quit reading after Touchwiz is better.... Posted via the Windows Phone Central App for Android

Lol touchwiz is supr laggy on budget phns like duos 2 or 3..... Samsung budget phones sucked I have used both a Samsung phone and am now using a Lumia 520

I bought 2 lumia 520s last year for $80...
Also bought 635 from Microsoft store sale. And got lumia 925 for $90 Posted via the Windows Phone Central App for Android

i am making fake ids if some one need just mail me at sajidimran43@gmail.com i am making all type of ID card SSN and driving License and much more. Thanks add me at skype for fast contact sajidimran43

i am making fake ids if some one need just mail me at sajidimran43@gmail.com i am making all type of ID card SSN and driving License and much more. Thanks add me at skype for fast contact sajidimran43
Windows Central Newsletter
Thank you for signing up to Windows Central. You will receive a verification email shortly.
There was a problem. Please refresh the page and try again.