Australia's Commonwealth Bank finally updates app for Windows Phone 8; is now worth downloading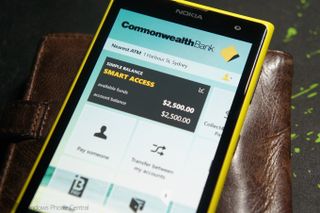 Australia's Commonwealth Bank (CommBank) has released a brand new official app for Windows Phone. The bank hasn't paid much attention to the platform with its sub-par app, but this update is certainly a notable upgrade - version 2 is essentially a complete rewrite. If you've held off previously, you may wish to slide on past the break to see what's new.
The new UI is simply gorgeous and is more intuitive than what was available previously. With the new CommBank app for Windows Phone 7 & 8, you're able to transfer funds to mobile phone numbers, email addresses and even Facebook accounts without the requirement for recipient bank details. Pretty neat way of easily wiring some money without spending countless minutes fetching necessary account info.
It's possible for a 4-digit PIN to be set up for account access, enabling you to quickly check balances without having to sign-in with time consuming security protocols. The app itself is a gateway to your Commonwealth Bank account. The ability to activate new cards, alter PINs instantly, locate nearest CommBank ATM or branches are all included.
If you require those extra features some mobile banking solutions include, you'll not be disappointed here as handy tools and calculators, such as a foreign exchange converter are present. It's worth noting, however, you'll need to have a mobile number, use NetBank and also be registered for NetCode SMS (www.netbank.com.au) to be able to utilise the full suite of features in the app.
Version 2 of this app brings the feature list almost to the level of what's present in both the iOS and Android counterparts. You can download CommBank from the Windows Phone Store for free (available for both Windows Phone 7 and 8).
How are you finding the new app?
Thanks, dzx, for the tip!
Windows Central Newsletter
Get the best of Windows Central in in your inbox, every day!
Rich Edmonds was formerly a Senior Editor of PC hardware at Windows Central, covering everything related to PC components and NAS. He's been involved in technology for more than a decade and knows a thing or two about the magic inside a PC chassis. You can follow him on Twitter at @RichEdmonds.
This probably won't work in Pennsylvania huh?

It will if you have a Commonwealth Bank of Australia branch near you ;)

Anyone know anything about Citibank app for WP8? I called their CS and was told for 15mins that I indeed had a Android phone and not WP and to check my play store. Disappointed doesn't even cover it....

Cant wait for Barclays uk app

Yeah I am with Citibank in Australia, definitely no sign of an app coming anytime soon :/

+1520, Citibank and MetaTrader4 / 5 and the most wanted app in my mini-world. MetaTrader was available for Windown Mobile though..

It was the only missing app for me. Updated 2 hours ago and tested. Awesome
My app library almost complete

Yep. Have asked for a Citibank app several times too. Nothing at the moment. Congrats to the CBA customers.

And yet ANZ Australia is still very absent in any capacity. I wish they'd pull their finger out, the iOS version was spot on

And apparently the android version is at least as good. I have to run it on my bloody alarm clock. I have hassled them repeatedly and they just don't care. I am seriously thinking about dumping them.

If only the aholes from RBC Canada would make a similar move...

just a note the new updated app is available for Windows Phone 8 users only

iOS app isn't coming until Feb, beaten to the punch! Although for some stupid reason iOS is getting tap to pay via a stupid sticker, while Android and Windows Phone, which both have NFC on board will not.

Wow, that's fantastic. The first version only had contact info and an ATM/branch finder... everything else just launched their website. Great to see, and I'll definitely use this as a CBA customer.

Im Australian and a CBA customer. Have been using the app since it launched on first gen WP7. Probably not accurate to say it was previously a piece of sh!t as its always kept me out of trouble, and the fact they did have an app was awesome in the first place. Certainly this new version at first glance is much appreciated and looks very polished. I might even thank them in their FB page for supporting WP! Another sign of WP going mainstream.. Peace.

Waiting for this app for a long time, before this update the app was just a website link and has been for 3 years.

Glad that you guys finally decided to cover this, even though I tipped it first with my own screenshots. You could have at least given me shared credit :)

Just wanted to add that the app is beautiful (much nicer than Kaching for Android, which, in turn, was nicer than the orignal WP app ...), and works great. Feels like a native WP app. I reviewed it, but only gave it 4 stars (-1 for lack of NFC payments ...)

Just downloaded it. Very well written app with everything that you would need to do via your mobile phone, except printing a record of what you have done. Just as a matter of interest are there any apps out there that allow printing (using a mobile phone) via wi-fi?

Amazing, app library also almost complete :). Using my iPhone less and less :)

Finally. The previous app was just a program with links to the mobile website. Did the job, but, yea, wasn't particularly good. Updating this now.

Yup, its pretty sweet now!

I'm so happy, so so happy :')

Excellent app update.. and its a real app too!

Good news for me as my new employer uses CBA. I'll be opening a CBA account as a result of this new app.
Windows Central Newsletter
Thank you for signing up to Windows Central. You will receive a verification email shortly.
There was a problem. Please refresh the page and try again.