Australian carrier Telstra to commence Denim rollout starting March 23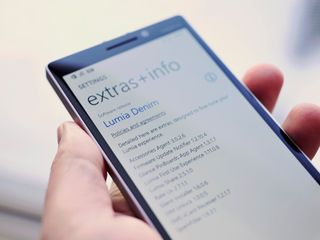 If you're rocking a Lumia device from Telstra and are yet to make the switch to Denim, chances are you will be able to do so by the end of the month. The Australian carrier has mentioned that the update is currently in testing for handsets such as the Lumia 520, Lumia 625, Lumia 920 and Lumia 1320, with these devices scheduled to receive the update starting March 30. Lumia 925 and Lumia 1020 are slated to get the Denim update a week earlier, with Telstra planning to commence rollout on March 23.
If you were wondering as to when the carrier will roll out the Denim update, now you know.
Source: Telstra (opens in new tab)
Great news for Australian WP fans! :)
On a different note, denim is available for the unlocked 1520 RM-937 through Lumia recovery tool but hasn't been rolled out in an OTA update. Does anyone understand why there would be a hold up since its already available?

Lumia Denim has been available for the Aus CV Lumia 1520 for several weeks now as an OTA update. If you've previously signed up for the Developer Preview, make sure it's disabled before checking for an OTA update.

I'm with Optus Australia and got the Lumia Denim update month's earlier than Telstra.

Yeah there are some pretty pissed off users in the 1520 HK CV threads, dunno why Microsoft doesn't understand how to look after its user base.

Can you update through the recovery tool without a hard reset? If so I'd gladly go that route. Tired of waiting myself.

I wish we could, but so far I'm not aware of any way to do that.

That's unfortunate. Can we speculate if it's on the recovery tool that the OTA should be close?? I'd like to think we'll get it this week but that's probably being too optimistic.

The recovery tool basically reflashd the o/s back into your device, as it's sole purpose is to bring your device back to life and there is no way around that.

I think Microsoft forget Lumia denim update rolling out India few devices,

Only 4 devices left- 625, 630, 730 1320

Indians have the very best habit of complaining

Isn't it too early for denim :D LOL

Got it yesterday on Lumia 1020....optus tho. Australia

I was sure that 1020 will update with Telstra's date. Ty for heads up Edit: My phone is updated but it still says cyan. Can you check your.

It should be Denim. Make sure you have the preview for developer app turned off before checking. I updated my country variant 1020 last night

Thanks. My dev preview was on.

Unlocked 1020's got Denim a couple of hours ago in Australia, finally! I thought they had forgotten about us down here...

Confirmed. I'm a CV 1020 user.

Welcome to Denim on the 1020;
-Freeze issue completely resolved
-Much more fluid (and v.few resuming screens)
-Battery saver now works...so you can disable the button lights when watching videos at night!
My 1020 is running better than it has ever run!

I'm still not getting it :'( (aus cv 1020)

Hmmm. Mine is CV 1020 but I'm using amaysim (w/c is also Optus in disguise) prepaid sim though. Try turning off preview for dev.

Confirmed Denim here too. AU CV 1020.

I've got a Lumia 930 unlocked carrier free Australia version 3 days ago and as soon as I turned on the phone I have received the denim update. How cool is that

Thank god I'm with Optus! I've had Denim for ages on my 930 n 925. Telstra are the worst for WP support

Vodafone aren't any better. Had the Denim update for testing on the 930 weeks back and said it failed testing???? Really!!!! What would Vodafone change in firmware over an unlocked 930????

Yeah its ridiculous! It's why I always get CV bcoz even Optus fuck around sometimes :(

Probably needed a mesmerizing new splash screen! :P

I am very happy right now for my 1520 Philippine CV. Every 1520 CV in Asia pacific was updated already except for one, guess which?

I have L1520 cv philippines. No update yet for denim.

.but Denim is already available for HK. For PH still none..

Only available if flashing the device, then you could flash a foreign image also. We want the Phone Update to work, not flash the fookin' thing.

Who sells the phone over in the Philippines. I'm heading over soon I might look if there is one available?

Philippines doesn't exist for Microsoft apparently.

L925 CV Philippines. Still No Update.
Their preparing for W10 but not for our Phones. Nano-Soft.

a little of topic? My Lumia 925 updated to denim yesterday

Cool. Good to see Telstra actually giving a shit about their Windows Phone customers. It's a shame though that their customer service is the worst in the telecommunications space down here. Fortunately for me, I've got an unlocked CV phone and have had denim a good while now! I'm waiting, neigh hoping that Australians will finally get the beta version of Cortana as opposed to the seriously under-whelming experience that is the Alpha. *hint hint, microsoft*. :)

I got the beta version of Cortana with Denim today. You still have to set the region to US to get it to work though...

Which is in counterpoint to my initial suggestion. :P Changing my region is not a solution, it's a band-aid fix.

Agreed! Australian Bing/Cortana need to step up their game.. Fast!

I mean, I get it. It's not like Microsoft can just flip a switch and have everything suddenly mirror the Cortana of other markets. But it's Australia, not a developing country. It just sucks that we have to wait is all. It is what it is..

Yep, if it were evolving as quickly as the US version, and the voice sounded either Australian or American (or gave us the choice), I'd be more content I think.

I (surprisingly) hate the American Cortana and much prefer the British version. I'm scared that if they gave Cortana an Australian accent, Microsoft would make it sound really ocker and out of place. It'd be like having a permanent clone of Steve Irwin hanging out with you wherever you go *shudder* It's even harder still when (and if) they add the ability to change the gender of Cortana, which I they should do. I remain hopeful that this is all in the works, but knowing Microsoft and their inability to consider other parts of the world I remain, sadly, skeptical. Who knows; they may even surprise me. :)

I find their Twitter contacts to be pretty good... I just deal with them now. I avoid in store and on phone, dumb asses wherever possible.

I got the update some 3 days ago, for my Lumia 930 (on Telstra). I hope Hey Cortana will be available too without having to change regional settings.

It is, but the implementation is kind of wonky. You have to change your phone's region to a beta supported market (eg. US, UK or China) and make sure the speech and display language both match. It's then just a matter of 'training' the phone to recognise the command and switching everything back to the way you had it.

Better half a year late then never...

I'm confused... I thought Telstra rolled out denim on Feb 13/14 to all Lumia models, except for the 520 (possibly others)

Goddamnit, I flashed my 920 to APAC generic ROM to get updates faster because Telstra were so slack, and then after it hit about 18 months in age Telstra started updating quicker while Nokia/Microsoft seemed to totally stop caring about the unbranded devices...

Couldn't believe the support from Telstra with this update... For the past 3 years it has been beyond appalling! I will have to drop by their crowd support site and give them a pat on the back actually...

Yup. Lumia 1520 unlocked HK CV, no update, even carriers got updates first. WTF Microsoft, I bought two of these full price directly from the Nokia Centre on launch day. Damn you Microsoft, you don't care about us at all. Oh and they avoided a simple warranty repair also with a possibly illegal trick.

Doesn't sound right... 3day turn around for an OUT of warranty repair for me, and sent my partner a brand new handset after admitting she left it in the sun on a 43°c day for two hours... Your service contact must be a real biach!!??

Knowing Telstra, they'll delay the update at the 11th hour because they found some dumb "showstopper" issue that nobody else finds. Those who regularly keep up with their infrequent device update posts will know what I'm talking about.

Awesome... My 1020 will soon get denim!

Vodafone are currently testing every Lumia in their lineup except for the 925 and 930. Hopefully that means Optus will be pushing out the updates for my 820 soon. It will be good to finally ditch the preview version as great as it is. GDR1 is enough for me to not worry about getting the preview for GDR2 Now I just got to work out if its worth getting a 930 or hold out for the Windows 10 flagship.

Probably too late for the 930 now I think, as much as I love mine... If I still only had my 925 I would hold out... New features of W10 may demand new hardware... I Currently (for the past 3 months) have one contract up at Telstra and am going to reserve it for this special occasion ;)

Another option on Telstra would be to get the 930 now, pay the $10 a month that means you then get a new phone in 12 months, and when you get the next flagship just cancel the $10 thing and bam your on the newer phone for the standard 24 months... That's if you go on contract and are happy to basically pay $120 to rent the 930 for 12 months...

Urrgh, that's way too expensive for all that effort. The 930 is still a relatively good device given it's maturity and in comparison to other high end phones currently on the market. Also, depending on the feature set of W10fP, the 930 and the 1520 may get a majority of the new features that come with the OS. There's no guarantee either way of course, but in my opinion the alternative just isn't worth it. Telstra is notoriously expensive and if you're comfortable paying a premium... Well, more power to you. :)

In Bangladesh
There is no denim for
Lumia 520,625,630,820,830,1020,1320 Plz plz plz

Thanks for the info guys!! :D

Top stuff for us down here, now for Optus to step up.

Where is Lumia 1320 India denim update

Have an unlocked non carrier linked Australian phone and still haven't received denim for it. Still looks like according to microsofts update site that there's quite a few CV variants of Australian models that haven't been updated to denim. Hope we don't have to wait too much longer.

At least on the WP platform we get a lot of updates sooner or later. On android I get 1 update in 3 years.and that was the last one.

Have just updated to denim on my 1020 here in au...but don't see anything new. Cortana is still on alpha...all the setting seem the same...i must be missing something or was it just a minor ipdate! Cant see what all the fuss was about

Got the update through Telstra on my 930 a few weeks ago... Has been running quite nicely :) glad the 1020 update is finally upon us though as I can now update my 1020 as well.

I think this headline should have been "Australian carrier Telstra to CONTINUE Denim rollout starting March 23" because Telstra's already rolled Denim out to 3 phones, the Lumia 635, the Lumia 830 and the Lumia 930 :)

I have a 930 on contract from Optus and got denim about 5 weeks ago. 4k recording is awesome!

I have updated denim few days back in my L920 and in extra info it was showing denim. Today I checked, its showing Cyan. What could be the problem ? Requesting help. Core build version: 3051.50009.1451.10458, OS version: 8.10.14234.375, firmware revision number : 3051.50009.1451.1009.

Or worse still with the voice of Crocodile Dundee.lol

Finally we have a date! Man, Telstra were taking their time testing and then slowly rolling out Lumia Denim. Anyway we got a date now. I will be waiting and watching closely on March 30th.
Windows Central Newsletter
Thank you for signing up to Windows Central. You will receive a verification email shortly.
There was a problem. Please refresh the page and try again.