Call of Duty: Black Ops III's first DLC pack adds four multiplayer maps, new Zombie storyline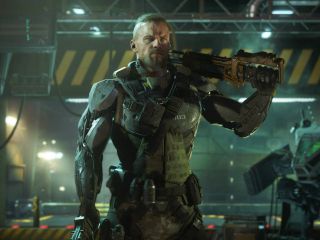 Fans of Call of Duty: Black Ops III will be able to get the first of four planned DLC packs for the first-person shooter in early 2016. The pack, called Awakening, will be released first on the PlayStation 4 on February 2, but will be released for the Xbox One and PC platforms about a month later.
Awakening will add four new multiplayer maps to Black Ops III:
Gauntlet: Grounded in a military training facility, Gauntlet plays up the core philosophy of Treyarch's classic three lane map structure with distinct variety in visuals and gameplay. Each of the three primary lanes has a unique environment as players battle through a sprawling jungle, sub-zero artic zone and rainy urban cityscape.
Splash: Set in an abandoned water theme park, this vibrant and playful map delivers an imaginative environment complete with waterslides, a wrecked pirate ship, , and a lazy river ride that winds through a fantastical forgotten city. Splash is designed to drive an open flow of combat, including plenty of opportunities for underwater gameplay.
Rise: Set in the snowy outskirts of Zurich, Rise is a Coalescence Corporation construction project for a massive subterranean research campus. The design of the map caters to a mix of classic Call of Duty cover combat alongside strategic core movement opportunities, with each section of the map offering distinctly different styles of gameplay.
Skyjacked: Set on a security VTOL in the clouds over urban Zurich, Skyjacked is a reimagined version of the popular Call of Duty: Black Ops II multiplayer map Hijacked, and retains the same fast and frenetic gameplay from one of the most popular maps in Call of Duty® history, but with a twist. Skyjacked gives players the opportunity to explore the map in a variety of new ways thanks to the all-new core movement system in Black Ops III.
In addition, Awakening will see the beginning of an all-new Zombies storyline that will continue in the other three DLC packs:
On its own, Awakening will cost $15, and it will be included as part of Black Ops III's Season Pass for $49.99, while allows players access to all four DLC packs.
Buy Call of Duty: Black Ops III for the Xbox One at Amazon (opens in new tab)
Source: Activision
Windows Central Newsletter
Get the best of Windows Central in in your inbox, every day!
Why is it that xbox is late???

Sony has an early exclusive window on BO3 like the 360 and One used to have.

Which exclusives are bs but effective to get ppl on your platform. DLC is even more bs. Posted via the Windows Central App for Android

I'd like a "pure" mode -- no perks, no camping, no easy weapons, etc.

Halo 5 already had two updates of similar size, and they were free :-) I apologize on behalf of my fanboy-ness.

I'm trading in Battlefront for Halo 5. I just can't enjoy Battlefront no matter how hard I try.

Funny that Sony waited until CoD got naff before paying up to get brief exclusivity. Not been fussed about this 3rd party title for some time, pretty sure the money is better spent on first party.

Call Of Duty DLC is always a rip off in my opinion. Posted via the Windows Central App for Android

Yeah, that's why I don't purchase the season pass anymore. I will buy their dlc, but I'm selective about which ones.

They should fix the frame rate, lag and stutter issues that have been plaguing the game lately. It has been almost unplayable in the last few weeks.

Cleared up on XB1 yesterday, but definitely was horrible this weekend.

For Xbox users that means it will be two months or more before the new maps are in regular rotation. I'm saving my money this time around.

No thanks CoD. Posted via the Windows Central App for Nexus 5x

Game chat in zombies doesn't work for me. Tried everything and even got my NAT as Open. Luckily we haven't Party chat. Posted via the Windows Central App for Android

I'm not into zombies. I wish they would separate multiplayer map packs and zombie pack. They did that once before, but I guess the sales numbers weren't that good, hence not seeing it done again. Though I'm not into zombies this map looks pretty cool.
Windows Central Newsletter
Thank you for signing up to Windows Central. You will receive a verification email shortly.
There was a problem. Please refresh the page and try again.