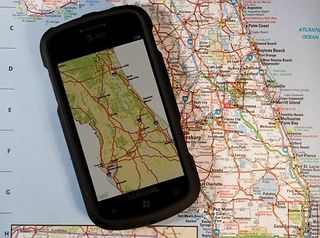 A-to-B is being offered over at the Windows Phone 7 Marketplace as a free navigation app for your Windows Phone. A-to-B offers turn by turn navigation as well as the ability to save favorite destinations.
The application was originally designed to demonstrate the capabilities of the ArcGIS API for the Windows Phone. Demo or not, A-to-B seems to have developed a rather popular following in the short time it's been in circulation.
Follow the break to read more on A-to-B.
App Layout
A-to-B is laid out in straight forward fashion. When a route is planned, the main screen is a 3D map view that details your next turn (at the top of the screen), time until the next turn, travel speed, distance to destination, and time remaining until you arrive at your destination.
Map orientation has your direction of travel to the top of the screen and a compass sits in the lower right corner to indicate North. There is also a sync button at the bottom of the main display to recalculate the route.
Tapping the "..." will pull up the menu options which includes two ways to establish routes/destinations. The menu includes:
New Destination: This will allow you to enter a specific address as your destination, choose a Favorites Destination or reload a recent destination.
Clear Route: One step process for clearing A-to-B of your route.
View Map: This gives you a two-dimensional map of your area. If you've already established a route the map will display such. If you need to establish a route, you can tap and hold a point on the map to establish a destination point. A-to-B will then generate a route to that point.
Settings: Not much here other than a means to offer feedback to the developer.
Help and About: The Help Section is basically a diagram of what each symbol represents. The About Section offers contact information on the developer as well as sources for downloading the ArcGIS API.
Performance
Creating a route was simple with A-to-B and routes were generated without delay. I wasn't a fan of the 3D map and would have like to have seen a 2D option.
While A-to-B did offer turn by turn directions, if you miss a turn your route isn't automatically recalculated. The only way to know you've missed the turn is a dotted line will appear on the map that leads you back to your established route. Granted if you see the dotted line appear, you can tap the sync button to recalculate things.
Your travel statistics were mostly accurate. Distance and time to your destination was accurate and adjusted automatically based on your speed traveled. Speaking of which, the speed displayed was about four mph slower than actual travel speeds.
In taking A-to-B out for a test drive between Birmingham and Gulf Shores, I did hit spots where mapping wasn't available. However, my travel statistics stayed current.
Overall Impression
Understanding that A-to-B is a demonstrative application, it's expected that some quirks are going to be present. While the navigation application does need a little polishing, as is, it's a nice app to have on your Windows Phone. Asides from maps not always being available, A-to-B ran smoothly and stable.
Mapping is a little spotty but travel statistics were accurate enough to keep you on the right track. While the 3D map might appeal to some, an optional 2D version would have been nice. Automatic course re-calculation would also be a nice addition. I liked the travel statistics for keeping me updated on how far the next turn is and how far from my destination I was.
If you're looking for a navigation app, A-to-B is worth the download. It's a free application so you won't be out anything if you don't like it.
You can find A-to-B here (opens in new tab) (opens Zune) at the Marketplace.
Windows Central Newsletter
Get the best of Windows Central in in your inbox, every day!
George is the Reviews Editor at Windows Central, concentrating on Windows 10 PC and Mobile apps. He's been a supporter of the platform since the days of Windows CE and uses his current Windows 10 Mobile phone daily to keep up with life and enjoy a game during down time.
I have used this App a few times and it isn't bad. It will make a "ding" noise when you have a turn coming up but isn't very loud. Even though the map may be unavailable because of lost cell connection the route still shows and your location still shows you just can't see the roads around you. Overall great free App. Also supports both portrait and landscape modes.

I am all for apps - especially FREE ones ...But how does this trump Bing Maps? I guess all the GPS features (MPH, est arr time, "you are here" blip) are trumps.Does it use less bandwidth? With a 200mb plan I worry about "always on" apps ... but again, I guess go to SLEEP mode and then awake and re-fresh help in that regard.And then just leave it ON when you are in the intense navigation moments. Most drives, after all, are straightaways!

It beats Bing Maps because it offers turn-by-turn navigation. I use Bing Maps for directions when I'm not the one driving, but when I am driving I would never use it. It's too much of a distraction and potentially dangerous.If Microsoft ever offers turn-by-turn in Bing Maps (its been rumored) then apps like A to B may no longer be needed. But until then A to B does have at least one major feature over Bing that could make it their primary choice.

"Speaking of which, the speed displayed was about four mph slower than actual travel speeds"How do you know the actual speed you were going? Most cars' speedometers shows 5-10% too much. While the location of GPS devices usually arent very accurate, the relative measurements that are used to calculate speeds are much more accurate (because the postion error doesn't change much between measurements).So in other words: It's WAY more likely that its your speedometer that is wrong (usually tire pressure and tire wear is also a common cause).Lastly including accuracy of the GPS as part of the app review makes absolutely no sense. NO app on the marketplace has ANY control over how location, speed, course etc is calculated. This is all coming from the location chip on the phone. ALL apps will be subject to the exact same error. If you are seeing an issue with the location and speed, it's not the apps fault or the OS, but your phone hardware.

Sadly, I'm not getting the same experience out of the app others are. Since downloading it, the app hasn't been able to load maps at all - instead, I get an error: "could not load map - check your network." Directions are accurate relative to my location, but the absence of the actual map is a major downer.
Windows Central Newsletter
Thank you for signing up to Windows Central. You will receive a verification email shortly.
There was a problem. Please refresh the page and try again.