Bank of America ditching its Windows app in July
Bank of America customers will have to transition to the website starting in July.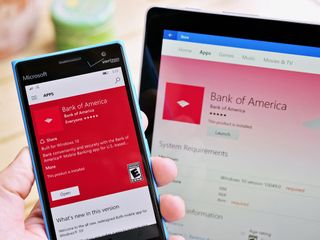 Bank of America is gearing up to kill off its app for Windows 10 PC and Mobile devices. According to a message sent within the app, the app will no longer be available starting at the "end of July" (via Windows Latest). Instead, Bank of America is directing users to its website.
While the message seems to imply the app will be available through July, it's actually unsearchable in the Store as of this writing. Here's what Bank of America says:
Bank of America isn't the first major bank to drop support for its Universal Windows Platform app, but it's bound to be disappointing for customers. That said, it's possible we may see Bank of America opt for a Progressive Web App (PWA) in its place in the future. There are no known plans for that at the moment, but it's an area Microsoft is certainly focused on going forward.
If you already have the Bank of America app installed on your Windows 10 device, it should continue to function through the end of July.
See at Microsoft Store (opens in new tab)
Get the Windows Central Newsletter
All the latest news, reviews, and guides for Windows and Xbox diehards.
Dan Thorp-Lancaster is the former Editor-in-Chief of Windows Central. He began working with Windows Central, Android Central, and iMore as a news writer in 2014 and is obsessed with tech of all sorts. You can follow Dan on Twitter @DthorpL and Instagram @heyitsdtl.
Well without mobile, I guess it isn't as bad since you can just use the web browser on desktop/laptop. Although with Andromeda, I would like PWA available. Let's see what happens.

Too bad, I liked the added security of an app and the notifications. But notifications worked sporadically at best and not being able to manage recurring payments made it impossible to exclusively use the app.

lol, didn't they just redo it a year and change ago after getting flack for pulling the original one.

Maybe 2 years ago, but yes.

yep... bummer.
Was/is a good working app

B of A is a HUGE Microsoft customer, one their largest private customers. I imagine Microsoft gave them some encouragement to support the Windows 10 app for a long as their did but my guess most Windows 10 B of A customers didn't know this app existed. The only interesting feature you miss without the app is the ability to deposit checks via image which could be very convenient for those dealing with many checks.

Well aware of it and have it installed. Granted I don't use it often. Easier on my phone

I use it for checks. Shame, now I'll have to go to the bank to deposit them.

What can we say that hasn't already been said? Ugh. Just hope MS is reaching out to some of these companies to convince them that PWA is the way to go. Banks, of all types of companies, would benefit most I would think from PWA.

Not having a mobile platform there is no viable presence in the consumer segment: The IT guy at the helm turned the company into an IT company: Bye bye Windows

@Lordtree . Lol that makes zero sense, Microsoft was first and foremost a Information Technology (IT) company. Xbox and consumer focuses came later through the trickle down effect through enterprise to consumers as a PC was a work device not a primary consumption device. However now it's the opposite, it's consumers driving the change in the enterprise sector.

@TechFteak1 Like you mentioned, Consumers are driving the change in the Enterprise. But Nadella seems to focus on Enterprise, without and ignoring the everyday consumer.

He's not IT guy. IT guys wanted all on one platform.

Where art though oh Andromeda? Save us from this disgrace.

Andromeda can't save anything.. MS is responsible for the success of their products, and services.. You can't just throw a product on the market, and hope it will succeed. That's dumb. MS has to push their products, and services, to success. Andromeda might be a really cool device, but until MS wakes the fuq up things will never change.

Surface, and OneNote... Two modern MS products that consumers use, and respect.
...........
Whatever MS does here needs to be emulated elsewhere.

Surface isn't a big seller, especially to consumers. When you see them in airports it is business people who have them. Microsoft has been disappointed with Surface sales, that is why they released the cheaper versions and are now making a Surface 4. I don't know anyone who uses One Note.

Surface was only sold in a handful of markets only for a long time. I understand why as that means lower overheads. Now, there are many amazing OEM devices out there. That was primary goal of the Surface line up, to show Windows at it's best. Not to compete with their own partners. However Microsoft lost sight of the Windows best mantra and turned it into Windows Last. Never there less there is a new position - less than a year old - VP of growth and ecosystem.

I go to a university in California and I'd say at least a third of all Windows devices/laptops that students here use are Surface. Many of my teachers do too. They're all consumers, the university didn't buy any of these devices. Everyone bought them for personal use on their own. A significant portion of the students also have MacBooks. I have seen many people use OneNote on their Macs which was pretty surprising to me. Windows users in general tend to use OneNote.
There are specific sectors where Surface is big. OneNote is huge among students. Hardly anyone uses Evernote anymore which used to be the big thing until OneNote got bigger and bigger.

thank you - beat me to it!

Sales numbers aren't there for Surface, but they aren't terrible. They should be much higher, especially given all the new models Microsoft has released over the last year. You notice Microsoft dropping the entry level for Surface, they are trying to increase sales.

Untrue, MANY PEOPLE use One note, and Surface has sold well, and is more and more visible everyday.

Ppl long for (unreleased) Surface devices here in India, no matter how much it costs. And I've seen so many ppl buying Surface Pro, right here. I have myself a Surface Book imported from US.

Still living in a cave, eh. I admire your persistence.

Revenue has been flat for a couple years, even though they released a number of new models last year. They aren't really doing bad, but Microsoft hasn't been happy with sales performance of the Surface devices lately. They should be growing more quickly. https://www.thurrott.com/mobile/microsoft-surface/151507/new-model-shift...

PC sales is not like phones. I built a desktop PC 4 years ago that still works perfectly today. My SP4 that I bought two years ago is working well, there's no reason for me to buy a new one. So even though Microsoft may have released new models recently, there's not enough advancements to justify an upgrade.

Big deal. Had a look at the web page and it works very well on my 950/X3 etc. Pin it until PWA comes. Perfect!

One of my customer's paid on checks drawn from BOA. They charged a fee to cash their own checks. What a hassle. Never wanted to be a customer.

That's cool. I already ditched BOA.
I'm just not into my bank pushing their politics on to me.