Banorte for Windows Phone gives you access to one of Mexico's most popular banks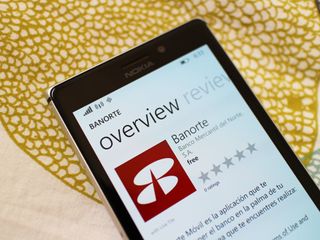 ¡Hola! Good news for anyone who does their banking in Mexico with Banco Mercantil del Norte, also known as Banorte. There's an official Banorte app now available in the Windows Phone Store. Banorte is a major bank in Mexico that has assets in value over $71 billion. Let's check out what they're bringing to Windows Phone.
Banorte (banorte.com) for Windows Phone is sitting at version 1.0 in the Store. The app actually came out a few weeks ago, but flew under our radar. We figured we'd point it out to anyone who might have not seen it in the Windows Phone Store. Here's what you get with this initial version of Banorte:
Cash withdrawals without your card
Make payments with PAGOMÓVIL
Balance inquiries and movements
Transfers and payments of services
Find a branch or ATM
This looks like a pretty compelling app for those in Mexico who use Banorte as their bank. We, of course, aren't in Mexico at the moment nor do we have a Banorte account, so we can't comment on the app performance itself. Let us know what you think of the Banorte app for Windows Phone!
Download Banorte for Windows Phone
Thanks for the tip thinkdan!
Windows Central Newsletter
Get the best of Windows Central in your inbox, every day!
Give some tacos and enchiladas

Would much rather some pozole, pibipollo and mole, please.

I don't know what is pibipollo but I'm fine with mole and some pozole rojo :p

Well pibipollos are from the south east so that's maybe why you haven't heard of it. It tastes awesome, if the cook knows how to make it of course.

Interesting, I have lived in northern Mexico for years but Ivd never even heard that term.

WTH i Live in Veracruz and i have never heard of that pibipollo thing. Is it like the cochinita but with chicken?? :)

Wow, que original tu comentario. Para nada cliché y naco.

Still nothing from Banamex, one of the most important. Yet I think they do have an app for suckberry

Freakin Suckberries stealing our apps. Hopefully Banamex comes soon. I remember getting pretty excited last summer when Wells Fargo finally come to Windows Phone.

Ya se puede entrar al portal de banamex (bancanet) desde Internet Explorer 11 en WP8.1

This will save me a lot of time when doing transactions on the go. Their website is not very touch friendly.

Great! Now we have Bancomer, Santander, Banco Azteca and Banorte. :)

There's a Santander app?. I didn't know that.

Yes, there is. It's called Supermóvil.

I think there's HSBC as well, isn't there?

Oh yes. I didn't remember.

But Bancomer is only to mannage the debit card that you phone nunmer is your account number... you cant use to check credit cards :(

Still waiting for Banamex...

if you are using wp8.1 you can use the web portal.

I need the scotiabank App
... Btw the Bancomer App it's pretty good

Very good application, also allows use it as a token to enter the site instead of using the traditional token that they provide, just missing Banamex ....

There is a Bancomer, and Scotiabank just told me it will arrive June 7

No mames pinche pendejo wey

So, what American banking apps are still missing❔

Just two major banks missing now banamex(citi) and Scotiabank.

Wonder when the Lumia 635 will be available in Latin America.

Territorio mexicano cabrones xD :p

Does this app give access to their vaults for free money? LOL :-D

Very good interface. Also it can find near Banorte banks and ATMs based on your GPS location or wherever you want and pesos equivalent to dollar or euro. Definitively better than iOS version. NOTE: App version shows 3.2.0

I wish I had Banorte to use the app :(

Great, now we need Santander app in Brazil....

¡Parece mas rápido! (seems faster!)