Barnes & Noble, Microsoft and tablets make for some interesting speculation for Monday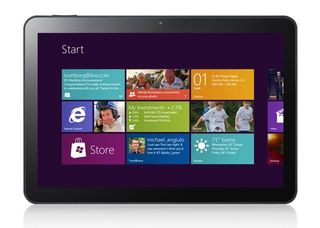 Over at All Things Microsoft, Mary Jo Foley has laid out an interesting discussion linking Monday's secret Microsoft announcement, tablets and even Barnes & Noble.
First up is the tablet announcement. After the Hulu idea was shot down as was Windows Phone (we've confirmed that it's not a Windows Phone announcement, otherwise we'd be there) the rumors are now centering around an RT Tablet unveiling. Specifically a Microsoft-branded RT Tablet which is more or less the same core that Windows Phone 8 will be based off of.
The rumor comes from entertainment site The Wrap who reported:
Certainly a plausible idea though we won't really know until Monday as the event is very much under wraps. Should Microsoft be unveiling a branded RT tablet (RT is what powers Windows 8) it will surely make headlines for numerous reasons. Some have even speculated that Nokia would be behind such hardware but Microsoft would wear the name. We find that last bit a tad much but who knows.
Back to Mary Jo Foley, she has suggested that the Microsoft/Barnes & Noble deal focuses heavily on Windows Phone, specifically Windows Phone 8. The information comes by way of a recent filing with the SEC on the deal which mentions "Windows Phone" 55 times in the document. That's odd only because the original agreement does not mention WP at all.
Foley then goes to suggest that
There may be a reader ala Kindle of some-type announced Monday
It's based off of the Windows Phone OS, specifically Apollo
We've told you that there will be two HD resolutions for Windows Phone Apollo--720x1280 and 768x1280--both of which are very high resolutions even by today's standards for a smartphone (on a 4.5" screen, the PPI is higher than the iPhone 4S's 3.5" Retina Display). Because of that we could easily see a tablet/reader running at 768x1280 but the question is would Microsoft do that?
We're not so sure. We're confident that Monday's announcement is not anything Windows Phone related--that's from talking with Microsoft PR on the matter who would surely have us there if it were. Then again, if the OS is some hybrid of a desktop OS and the Windows Phone one (for telephony purposes) then perhaps Microsoft is pulling a quick one. A strategy by Microsoft to take on the reader market is surely plausible and the location, LA for entertainment, makes more sense.
Needless to say people's imaginations can run wild on this and we'd rather sit back and see what happens.
Source: The Wrap, All Things Microsoft
Windows Central Newsletter
Get the best of Windows Central in your inbox, every day!
Daniel Rubino is the Editor-in-chief of Windows Central, head reviewer, podcast co-host, and analyst. He has been covering Microsoft since 2007 when this site was called WMExperts (and later Windows Phone Central). His interests include Windows, laptops, next-gen computing, and for some reason, watches. Before all this tech stuff, he worked on a Ph.D. in linguistics, watched people sleep (for medical purposes!), and ran the projectors at movie theaters because it was fun.
My suspicion is that WP8 is going to be Windows RT without the desktop component. If so, this would also be a perfect OS for an ereader device. I'm hoping this is the anouncement Monday, as my Kindle Fire is really starting to feel dated.

Windows RT is the ARM version of the OS, and already doesn't have the desktop component.

It does have the desktop, just no third party applications allowed.

All Windows RT installs will be without the desktop and not purchasable.

Windows RT does have a desktop mode, it just isn't available to third party developers. It still exists though.
It's why Mozilla is so upset about RT.
http://blogs.computerworld.com/20157/mozilla_hates_microsoft_for_limits_in_windows_rt_win_8_on_arm

Since it RT can't run x86 apps makes it as useless as an iPad. I would have converted to apple if the iPad had a pc os. These devices devalue human / computer interaction (at least Rovio did well out of it). I hope MSFT keeps it real on Monday.

It's more useful than an iPad, what's useless is this post. You don't have to buy an RT tablet you can buy a full one if you wanted.

Then get an x86/x64 W8 tablet when they're available.

RT will run Office 15, and will have it preinstalled. So it's not just a lean-back consumable OS like the iPad. Folks can be productive and create content on an RT device, unlike iPad.

Agreed I am very keen on a x86 win8 tablet. Rt just seems strange to me because it is not quite a pc, rather a pc with limitations. I guess it all depends how much software one intends on moving across to a new pc, but from a music and film production perspective RT doesn't get a look in with me. Two different operating systems have had to be implemented on devices with very similar form factors. Is the tail wagging the dog?

Because an iPad can use x86 apps? Yes the iPad has more apps, but it has also been around a lot longer.

I personally dont see why a MS tablet would be big news. Its basically a tablet, running Windows RT, of which there will be others later on this year. And since MS has always made it a point not to compete direclty with its partners on their core products I dont see this happening or being a big deal.

If MS does the hardware it's freakin huge news. For one, they typically don't do hardware (Zune, Xbox and Kin the exceptions). Two, it's an odd message for their OEM partners. Three, it's a good thing since it shows a commitment to taking on their rivals.

Yes, but none of the things you mention mean a good device at the end of the day. The most important thing I think is the message to its partners, its definitely odd at the very least. I just dont think them doing hardware is anything special since thats not what they are known for and its no guarantee of a good device. Apart from design its going to run the same OS and look the same as partner Windows RT devices so I'm just not seeing the benefit of them doing one.

I see many benefits to them making their own tablet.
1. They are building the code and hardware which would mean a lower selling price for whatever they are putting out. I guess they are trying to be safe just in case some OEMs sell high due to the liscencing fees.
2. They can go all out in some areas that other OEMs have not as far as thinness, design, hardware acceleration, deeper code, or even resolution
3. the software like the iPad will be better intergrated with the OS than most other hardware by the other OEMs
4. They would be able to put out their own brand of tablets at the same time while also have other OEMs selling their software. Win win situation..
5 Deals deals deals probably with a free Xbox or something

They didn't even do Kin, Sharp did those. So yea, it's huge.

Long time ago, they sold products like Microsoft mouse, Microsoft SideWinder, Microsoft Weel ForceFeedback and I Forget certainly more... Just to Say that even they are not the real manufacturer, they put quality hardware on the market, hardware that it was reference during a long time...

You need to stop being so pessimistic

It would be imho a pretty good move for MS. Firstly it could be Xbox branded for instant brand quality recognition. Secondly the currently announced tabs are all 1366x768, a fairly rubbish resolution, Microsoft needs to force its partners into some better speced devices (which it certainly won't achieve by saying pretty please). The partners seem to be working off the same old business model where they try to undercut each other and have low profit margins and high volume, which has led to some pretty shoddy devices in the past. But then nokia could always fill this role, maybe they aren't going to be ready to manufacture tablets for some time. All speculation anyway.

Here's hoping for the Microsoft XTab

A Win RT Nook is definitely in the works, although I don't know if the event is for that

+1
Curses, beat me to it! =D

A Microsoft branded tablet seems to be all the buzz in the internet the last two days. But we can't ignore the immense partnership with Nokia. Nokia can very well provide the hardware and have the device carry Microsoft's branding or both. The partnership with Barnes & Noble can play heavily into this. Three powerhouse companies putting all their efforts in one device would make for a formidable consumption tablet. Especially if it's priced right.

The other possibility is that this is a vote of no-confidence in Nokia.

Why is the location a secret?

Its in the batcave so they don't want that to be known wer its at .

"(RT is what powers Windows 8)"
Daniel, correct me if I'm wrong, but Windows RT is different than WinRT (I'm not even sure the RT in Windows RT stands for Runtime). Windows 8 metro is not powered by Windows RT, but by WinRT.
Windows RT is just the name for the ARM version of the OS.

You're absolutely right. I was about to say the same thing till I saw your comment. WinRT (Windows Runtime) is what powers all versions of Windows 8 including the ARM-powered versions or Windows RT (and yes the RT does not stand for Runtime).

My prediction that I'm sticking with is a Nokia tablet (maybe with MS branding) with price & date & a tease for the WP8 event on Wednesday. My far-fetched never coming true prediction is an Xbox Tablet, running Windows RT, that would somehow be able to run full optimized XBLA games like Bastion & Limbo.

from a good source... : XBOX Tablet
They will use Xbox as branding for their own tablet with a huge emphasis on GAMING (with SmartGLass) and Media comsumption (books, music, etc).

I think it could be huge for the three to come together...as long as they don't force bad compromises onto one another.

I still think the Xbox Music/Xbox Movies/TV announcment makes the most sense. After all that is a large part of Windows 8 and until now very little has been discussed about it. And I guess that does fit in with a Microsoft Media Tablet like the Fire.

I think the branding is off. They should consider just using the letter x in place of the i that apple uses.

XBox movies would be xMovies
XBox music would be xMusic
Windows Phone might become xPhone
and XBox console would just be the xBox

xMovies, xMusic, xPhone, xBox.


the hype over the event getting bigger and bigger i hope the announcement will fill this hype i don't want to get disappointed ater all the excitement

Given the recent b&n partnership, a new nook (perhaps with different branding) running windows rt to directly compete with the Kindle Fire seems plausible. Would be competing directly with the Fire, indirectly with the iPad...unless multiple sizes are announced.

As much as I am waiting for a Nokia phone pre-installed with windows 8, I would like to see something that are based on Nokia hardware other than a phone. I love my Lumia 900 and I am ready to upgrade or get the window phone refresh or whatever will be available for current devices. But a Nokia tablet will get me in line to get one. Hopefully that will be it with an Xbox music and video pass. I am don't think a dedicated e-reader is a big deal when we have tablets that have the same functionality in addition to be a media consumption.

Or maybe it has sometimg to do with Amazon, I remember one of the windows phone head left Microsoft to join amazon. Maybe that will be another Elopesque move but with Amazon this time.

Would be nice to have an electronic paper tablet like the original Kindle running on Windows 8 RT! Reading a book on a LCD or DEL screen is so bad!

If it is a tablet and it ANYTHING like my ZuneHD then I'll own it.
Someone said it earlier but the name XTab has a nice ring to it. I don't like getting to drawn into the rumor mill but still fun to think about it.

I'm all for Barnes and Noble, but they don't even have a reader app for Windows Phone even though users have been demanding it on their forums. I don't know how they can just get off saying they'll support Windows 8 and just go on to believe Windows Phone doesn't exist.

I'm looking for complete package. $ wise, build quality, legitimate reasons why an average person would want the device or service. Catchy name etc.

Oh, this is fun. I've been holding out on replacing my poor iPad. After getting my hands on a WP7 when it first launched, it is really hard for me to deal with boring UIs. I know, a terrible problem to have to deal with. Now, my iPad is relegated to being only a browser and UVerse remote. I can't wait for a WP8 tablet!

Windows phone 7 is never boring. IPhone.or android is more boring

I think that's what he's saying.

he is saying ipad UI Boring

People this great news. I can't wait get windows 8 tablet. Forget ipad

Nokia did an excellent job with the Lumias and their momentum continues to rise. Plus we have the incredible Nokia PureView technology waiting in the wings; Nokia's mapping technology and Nokia is doing a stellar job with its exclusive apps. And not just Nokia; a lot of OEMs are showing excitement and commitment to Windows 8 with a growing plethora of compelling W8 tablets. I just don't believe Microsoft would slap Nokia and everyone else in the face by launching their own branded tablets when there is already such momentum.
Maybe it will be the launching of Nokia's tablet(s) and maybe a B&N tablet as well.

Daniel didn't you say in a recent article (One of the Myth Buster pieces) that one of the HD resolutions wasn't happening?

One of the lower res VGA support was dropped but not the two HD ones.

Seems to me that this is a Microsoft branded Barnes &Noble reader announcement running Win8 RT which can also double as an Xbox Smart glass window. Or some very close variation of such.

Have we ever been right trying to guess what Microsoft was about to announce? I don't remember a time when we guessed correctly. The only people better than Microsoft at keeping secrets, are the pimps at Sprint. Then, with a lot of invites, fanfare and magic tricks, they dropped the Kyocera Echo. lol. My only hope is after all this, we don't see a Kyocera Echo RT. Now, I'm on the west coast so come on Monday.

If this tablet is made by Nokia - I'm not touching it until Nokia will comprehensively prove that they resolved their quality control issues... I stupidly recommended a lot of people to get Lumia 800 last year and it was a big mistake: to this day and after all the firmware updates they still have bugs and issues.
Just last week a colleague's 800 failed to start charging after being completely discharged and the only solution that worked was to plug it into iPad's high power charger (no normal USB charger including Nokia's one included with the phone worked).

Me and other 3 friends have a Lumia 800. No problem at all with our phones :) 2 came from iPhones and now love their WP.

My guess is a Nokia / MS tablet. Isn't the Nokia Theater in LA?

That's what I was thinking; you pass right in front of the Nokia building before going into the Staples Center depending on which direction you're coming from

Well the local news in my area (Chicago) is now also speculating that it's a tablet that will compete with the iPad.

Engadget, Gizmodo, CNet & others now going heavy on the MS branded tablet rumor. As if I wasn't impatiently lusting after a Win8 tablet enough already! Heck, I've been waiting for this since Courier! Hope all the wild speculation doesn't end in disappointment. C'mon MS - your turn to shine!

No need to speculate so much, enjoy the weekend now, it is 48 hours to the event, then the mystery will be review! Happy weekend n father day!