Microsoft, Barnes & Noble settle litigation, form massive new partnership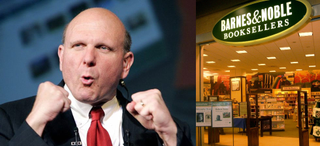 This morning, Microsoft announced a new partnership with Barnes & Noble for their eReader business having settled the previous litigation on claimed patent infringement.
The new subsidiary of Barnes & Noble called Newco (not the real name, just a placeholder to be determined later) will focus on the digital and college business of the company. Microsoft is investing $300 million into the venture and will maintain a 17.6% equity stake in the new company.
Of course it should come as no surprise that a NOOK eReader will be one of the first priorities of the nw partnership with a client for Windows 8 in the works. Barnes & Noble commented on the newly announced deal noting:
Although lots of pundits like to criticize Microsoft for "patent trolling" others would claim that the company is looking out for their shareholder's interest by defending what they see as their intellectual property. Despite this, some saw in B&N as standing up to Microsoft, fighting them publicly in the matter. Instead, B&N made a deal with the devil perhaps even angering Google along the way (Android powers the new Nook eReader).
Either way, Microsoft's strategy seems to be paying off for although B&N does not have to admit any guilt for the claimed violations, they clearly were forced to the table for what looks to be an exciting deal for both companies. In fact, this could be the lifeline the fading book retailer needs in its life and death struggle with adversary Amazon.com.
No mention of a Windows Phone client has been announced which has been missing since Windows Mobile and the HTC HD2. However, rumors suggest that Windows 8 and Windows Phone 8 are based on the same kernel and have large amounts of overlapping code. As a result the announcement of a Windows 8 client may in fact be a dual one for Windows Phone.
Regardless, you can imagine B&N will be getting some favorable treatment from Microsoft in the future. Something that Apple and Google will have trouble in matching. For this, we' very excited by this deal (even if we're Kindle fans here).
Full press release after the break...
Barnes & Noble and Microsoft Form Strategic Partnership to Advance World-Class Digital Reading Experiences for ConsumersApril 30, 2012Newly Formed Subsidiary to Include NOOK® Digital and College Businesses.
New York, NY and Redmond, WA (April 30, 2012) – Barnes & Noble Inc. (NYSE: BKS) and Microsoft (NASDAQ: MSFT) today announced the formation of a strategic partnership in a new Barnes & Noble subsidiary, which will build upon the history of strong innovation in digital reading technologies from both companies. The partnership will accelerate the transition to e-reading, which is revolutionizing the way people consume, create, share and enjoy digital content.
The new subsidiary, referred to in this release as Newco, will bring together the digital and College businesses of Barnes & Noble. Microsoft will make a $300 million investment in Newco at a post-money valuation of $1.7 billion in exchange for an approximately 17.6% equity stake. Barnes & Noble will own approximately 82.4% of the new subsidiary, which will have an ongoing relationship with the company's retail stores. Barnes & Noble has not yet decided on the name of Newco.
One of the first benefits for customers will be a NOOK application for Windows 8, which will extend the reach of Barnes & Noble's digital bookstore by providing one of the world's largest digital catalogues of e-Books, magazines and newspapers to hundreds of millions of Windows customers in the U.S. and internationally.
The inclusion of Barnes & Noble's College business is an important component of Newco's strategic vision. Through the newly formed Newco, Barnes & Noble's industry leading NOOK Study software will provide students and educators the preeminent technology platform for the distribution and management of digital education materials in the market.
"The formation of Newco and our relationship with Microsoft are important parts of our strategy to capitalize on the rapid growth of the NOOK business, and to solidify our position as a leader in the exploding market for digital content in the consumer and education segments," said William Lynch, CEO of Barnes & Noble. "Microsoft's investment in Newco, and our exciting collaboration to bring world-class digital reading technologies and content to the Windows platform and its hundreds of millions of users, will allow us to significantly expand the business."
"The shift to digital is putting the world's libraries and newsstands in the palm of every person's hand, and is the beginning of a journey that will impact how people read, interact with, and enjoy new forms of content," said Andy Lees, President at Microsoft. "Our complementary assets will accelerate e-reading innovation across a broad range of Windows devices, enabling people to not just read stories, but to be part of them. We're at the cusp of a revolution in reading."
Barnes & Noble and Microsoft have settled their patent litigation, and moving forward, Barnes & Noble and Newco will have a royalty-bearing license under Microsoft's patents for its NOOK eReader and Tablet products. This paves the way for both companies to collaborate and reach a broader set of customers.
Newco
On January 5, Barnes & Noble announced that it was exploring the strategic separation of its digital business in order to maximize shareholder value. Barnes & Noble is actively engaged in the formation of Newco, which will include Barnes & Noble's digital and College businesses. The company intends to explore all alternatives for how a strategic separation of Newco may occur. There can be no assurance that the review will result in a strategic separation or the creation of a stand-alone public company, and there is no set timetable for this review. Barnes & Noble does not intend to comment further regarding the review unless and until a decision is made.
Additional information will be contained in a Current Report on Form 8-K to be filed by Barnes & Noble.
Barnes & Noble and Microsoft will host an investor call and webcast beginning at 8:30 A.M. ET on Monday, April 30, 2012. To join the webcast, please visit: www.barnesandnobleinc.com/webcasts.
Media Contacts
For Barnes & Noble:
Mary Ellen Keating, Senior Vice President, Corporate Communications
Barnes & Noble, Inc.
(212) 633-3323 mkeating@bn.com
For Microsoft:
Rapid Response Team
Waggener Edstrom Worldwide
(503) 443-7070 rrt@waggeneredstrom.com
Investor Contact
For Barnes & Noble:
Andy Milevoj, Director of Investor Relations
Barnes & Noble, Inc.
(212) 633-3489 amilevoj@bn.com
About Barnes & Noble, Inc.
Barnes & Noble, Inc. (NYSE:BKS), the world's largest bookseller and a Fortune 500 company, operates 691 bookstores in 50 states. Barnes & Noble College Booksellers, LLC, a wholly-owned subsidiary of Barnes & Noble, also operates 641 college bookstores serving over 4.6 million students and faculty members at colleges and universities across the United States. Barnes & Noble conducts its online business through BN.com (www.bn.com), one of the Web's largest e-commerce sites, which also features more than two million titles in its NOOK Bookstore™ (www.bn.com/ebooks). Through Barnes & Noble's NOOK™ eReading product offering, customers can buy and read digital books and content on the widest range of platforms, including NOOK devices, partner company products, and the most popular mobile and computing devices using free NOOK software. Barnes & Noble is proud to be named a J.D. Power and Associated 2012 Customer Service Champion and is only one of 50 U.S. companies so named.
General information on Barnes & Noble, Inc. can be obtained via the Internet by visiting the company's corporate website: www.barnesandnobleinc.com.
NOOK®, NOOK Tablet™, NOOK Simple Touch with GlowLight™ , NOOK Simple Touch ™, NOOK Color™, Reader's Tablet™, Best-Text™, NOOK Store™, NOOK Bookstore™,NOOK Magazines™, VividView™, NOOK Newspapers™, FREE NOOK Reading Apps™, NOOK Kids™,NOOK Digital Shop™, Read In Store™,More In Store™,LendMe®,NOOK Library™,NOOK Books en español™, NOOK Study™, Lifetime Library™ and Read What You Love. Anywhere You Like™are trademarks of Barnes & Noble, Inc. Other trademarks referenced in this release are the property of their respective owners.
Follow Barnes & Noble on Twitter (www.bn.com/twitter), Facebook (http://www.facebook.com/barnesandnoble) and YouTube (http://www.youtube.com/user/bnstudio).
About Microsoft
Founded in 1975, Microsoft (Nasdaq "MSFT") is the worldwide leader in software, services and solutions that help people and businesses realize their full potential.
Windows Central Newsletter
Get the best of Windows Central in in your inbox, every day!
Daniel Rubino is the Editor-in-chief of Windows Central, head reviewer, podcast co-host, and analyst. He has been covering Microsoft since 2007 when this site was called WMExperts (and later Windows Phone Central). His interests include Windows, laptops, next-gen computing, and for some reason, watches. Before all this tech stuff, he worked on a Ph.D. in linguistics, watched people sleep (for medical purposes!), and ran the projectors at movie theaters because it was fun.
I was considering moving to the Amazon e-book world (from B&N and NOOK). One of the reasons was that they have no WP client. Now I'll wait it out, this change things. Very interesting.

Well,
Sadly, there has been no word on a B&N app for Windows Phone 7 devices! So far, they only talk about an app for Windows tablets (and therefore presumably Windows 8 x86 / x64 Metro). Since MS has been so quiet lately about upgrading WP7 devices, I feel a bit cautious / suspicious and my fear that they may no longer worry about their WP7 platform is growing every day of silence a bit more ... ! I've been one of those abandomed HD2 users and I guess it is more than understandable that I amhaving sort of a deja vu all over again with my Samsung Omnia W. Well, I got a bit off-topic here. :)

"The new subsidiary of Barnes & Noble called Newco" -It's not called Newco, that's simply a placeholder in the Press Release for the new entity until they decide on the actual name.

Good to know, that was a very Wile E. Coyote name.

I like this news but oh well... I bought kindle and books there sigh... Expecting Nook color Win8. I will buy one.

Here again we see the difference between apple and ms. Apple will sue you into oblivion all around the world while MS makes licensing deals. Kudos to MS for the move.

My hope is that now B&N and Microsoft will turn their legal eyes (and lobbying power) to force a consistent DRM scheme across ebook formats. I would love to buy a Nook, but I have 120 books on Amazon that are covered by DRM, and therefore are not convertable (even using a good tool like Calibrie). Apple is almost certainly going to be an antitrust target for iBooks, but the whole industry needs a serious antitrust enima IMHO.

I am glad to see this. However, B&N needs to realize that nook is a method of selling more product. It is not the product. They should have had a WP7 reader out long ago. Instead, my mobile device reading is via Overdrive for library books and Kindle for small purchases. I'd rather have a nook reader for both library and purchases.

I've been holding out on a reader, waiting to see what happens with Windows 8 and Windows Phone 8. And while I've been waiting for B&N to get off their collective @$$, Amazon has been working library support to Kindle.

B&N Corporate also needs to give shelving selection power to the individual stores. A different issue, but is another example of how out of touch B&N Corporate usually is.

Well here in Sweden we don't have access to the wp7 kindle app. If B&N gives us access to a descent book reader and store then I may switch. The balls in your hand now Amazon.

I think Nook is US-only for the time being...

Really interesting. Looks like a good move for everyone involved.
Personally, though, I'm way way deep into the Amazon ecosystem - I've had a Kindle for years and I love it; I'm a cordcutter and use Amazon Instant Video via my Roku to watch cable shows like Mad Men etc; and I purchase all of my music through Amazon. When it comes to Amazon vs Zune, Amazon is just cheaper for music and video. Sometimes by several dollars.

Maybe the deal will mean Nook ebooks can finally come to Australia. Kindle has been around for ages, and Nook isn't even competing.

It also doesn't bode well for Android. If B&N is willing to dump it for W8, who's next?

Android doesn't stand a chance against Apple or Microsoft in the tablet / reader dept. Amazon & their Kindle line will be the only exception.

Unfortunately they are not dumping Android - B&N licensed Microsoft's patents for their Android-based devices and will also develop an app for Windows 8.

Great news as I love my nook to death. I don't really care about an e reader on my phone though. Screens so small it hurts my eyes. Plus it's not e ink which is sooooo much nicer for reading.

I have a suggestion of a name for this new company:
Nookie
:-)

All B&N stores need to remove the word booksellers from their stores. My professional opinion.

"...Although lots of pundits like to criticize Microsoft for "patent trolling"..."

I recall reading that Microsoft have been buying up patents and/or creating new ones but nowhere did they go out on a legal war adventure like Apple. In fact, Apple should be accused of 'patent trolling' based on their legal actions against Samsung and other parties who intentionally (or unintentionally) infringed on their patents instead of Microsoft but I find it amusing how a lot of these so-called pundits seem to be oblivious or ignorant of this fact.

You consider it a fact that you think Apple are patent trolling?

I think? It is a common fact. There are quite a number of articles on the internet which reported on Apple's legal war adventure with Android OEMs like Samsung and HTC to name a few on sites like Anandtech.

As a longtime Nook user and WP 7 advocate this is great news. Just check the BN boards for the discussion on readers for WP 7. We have been waiting a long time.

This makes me extremely happy since I am a Nook (and WP of course) user and have gotten my girlfriend to use Nook and WP as well.

One of the few pieces that was missing from my puzzle. :D


Our school district, Hillsborough County, Florida, just decided that the Nook would be our choice for a text book replacement. We're the 9th largest school district in the USA, that's a lot of Nook devices.
The thing that set the Nook over the top in the bid process was that Barnes & Noble is going to handle all the warranty concerns, by picking up the defective device from whatever school, making whatever repair, and then delivering the repaired device back to the school, 3-5 day turn around.
Apple iPad was on the bid list but Apple's solution for our tech shop to do warranty work, was to take the device to the local Apple store and let one of the "genius's" mail it to Apple for repair.
***And a side note about the iPad in the classroom debate.... Our district piloted two schools that every student was supplied an iPad. After all the hassle of prepping these sites for every student to use an iPad ( electricity for charging stations and carts for synching and wireless ) the district was on the hook for repairing 130 broken screens.These are middle school kids with shiney devices. Apple offered no assistance and will not allow our shop to make the repair. So we have to send our screen repairs to yet some other shop for repair. Not a good solution for a school district with over 200 schools.

Looking forward to MSFT and Nook combo.


Im so glad to hear this!! I LOVE my Nook and feel it is a much better product than the Kindle. Nook doesnt get the credit it deserves sometimes i feel. Being a new Windows Phone user, I knew coming in there wasnt a Nook app but this gives me hope. I like the direction Microsoft is going these days; full integration with their products with services on the side brings the best experience possible.

Great news! Glad I bet on Nook a few weeks ago!

Hope that means a nook app coming. I have a huge nook library
Windows Central Newsletter
Thank you for signing up to Windows Central. You will receive a verification email shortly.
There was a problem. Please refresh the page and try again.