T-Mobile HTC HD2 in NYC Party (Recap)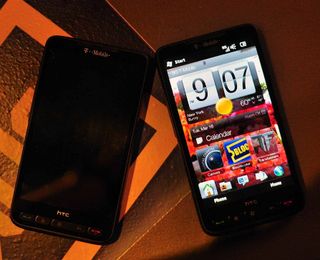 In case you missed our live coverage of the T-Mobile HD2 launch event in New York City the other night, we figured we'd recap what we know and what we found out while there, getting our nerdy groove on.
One thing is for certain: the HD2 for T-Mobile U.S. is one heck of a multimedia powerhouse and you get a lot of bang for your buck. Still, with Windows Phone 7 Series around the corner, is the HD2 already falling behind? We think not and we'll explain why as we cover all the glorious media features on board.
Read on for all the details!
Major Specifications
Release date: March 24, 2010
Price: $199 2-year contract/$449 without
OS: WM6.5 (no 6.5.3 on board this time)
Processor: Snapdragon 1Ghz
Included Expansion Memory: 16GB
ROM/RAM: 1 GB/576 MB
The HD2 for T-Mobile comes loaded with a whopping 1GB of internal storage, a mighty 16GB microSD card and plenty of RAM to go around, making this version of the HD2 trump its Euro brother (the U.S. version doubled internal memory and boosted RAM).
All of that memory is needed for the huge amount of multimedia services loaded on board, which tend to consume more space. The 16GB expansion slot is really for anything you want, but in particular, T-Mobile is hoping you download some rented movies from the new Blockbuster movie application. More on that below.
Multimedia, Multimedia, Multimedia (Services)
The main attendees on Tuesday were Blockbuster Video, Barnes and Noble, MobiTV and GoGo In-flight entertainment, all demonstrating what their software could do on the HD2.
Blockbuster Video
Allowing rentals or purchases and operating via direct download to the 16GB storage card, the Blockbuster video program was quite nice. Prices range from a few dollars to $4 for rentals to $18-24 range for purchases.
While expensive, the service does work with Blockbuster's other video streaming services found on their Blockbuster OnDemand. In fact, when logged in if you play a movie on your HD2 and pause it, Blockbuster OnDemand can pick up and continue the movie right where you left off on your TV or computer.
The program also nicely integrates with GPS during searches. If a movie is not found in their digital library, you can use GPS to locate the nearest Blockbuster video store to rent a physical copy to pick up later.
Video quality was great, taking advantage of the 800x480 resolution. Movies take 15-20 minutes to download over WiFi (no 3G support). Overall, the Blockbuster video app is quite killer, though perhaps too little too late for the fading company.
Barnes and Noble
Featuring their new eReader service, B&N also did a great job with their application for the HD2. The program allows you to access your account, purchase and download new books and of course read them. "Lending" is allowed to the device but not from the device, at least not in this current version (those familiar with the Nook should understand what that means).
The eReader itself was quite impressive. Graphically it looked quite good, resembling real page turns. The reader picks up where you left off in your book, allows jumping to chapters and overall just works. Books average at about $9.99 for new releases.
MobiTV
For those who prefer streaming of their media, you have MobiTV. Offering a bunch of live stations, like MSNBC and Fox New, it acts like the poor man's Sling Player. But it's more than that as it also has some Video On Demand like full episodes of NBC's "Community".
Working over 3G (and T-Mobile's network, where available, rocks at those speeds), the quality was pretty good and quite watchable. The UI was also much better than previous incarnations.
The service will cost $9.99 a month.
Gogo In Flight Service
This is a service us non-frequent-fliers are familiar with, but evidently those who travel a lot already know all about it.
Evidently Gogo allows you to connect to the internet while flying to check email, Twitter, etc. which we could understand is a valuable commodity when traveling a lot.
The program itself is free for 6-months on the HD2.
So, is the HD2 Already Outdated?
Absolutely not.
Sure, Windows Phone 7 series is getting all the press now and we know the HD2 won't be getting that upgrade, officially at least. But the T-Mobile HD2 is here now and could quickly compete with any contenders for best smarphone of the year.
With it's giant 4.3 capacitive screen, super fast processor and ample memory all around, the HD2 was rockin'. Sense 2.5 was smooth as butter and featured that new Documents tab.
For $199 and T-Mobiles new low cost services, we think it's quite the bargain, especially when compared to what is on AT&T. Throw in the included Swype and Slacker Radio and it's a powerhouse. Granted, T-Mobile's 3G is not as robust as competitors, but where it works, it seems to work well.
The only down side to all of the above mentioned digital services is cost. In order to really take advantage of all of those things, you need to shell out quite a bit of money per month: $9.99 for MobitTV, $9.99 for new eBooks, $3-4 for a movie rental--all for your phone and it adds up. So take that into consideration.
Overall though, we were left quite impressed with the T-Mobile HD2. If you're hesitant about WP7S and its current limitations, then take a serious hard look at this guy first.
Look for our full review in the coming weeks!
Windows Central Newsletter
Get the best of Windows Central in in your inbox, every day!
Daniel Rubino is the Editor-in-chief of Windows Central, head reviewer, podcast co-host, and analyst. He has been covering Microsoft since 2007 when this site was called WMExperts (and later Windows Phone Central). His interests include Windows, laptops, next-gen computing, and for some reason, watches. Before all this tech stuff, he worked on a Ph.D. in linguistics, watched people sleep (for medical purposes!), and ran the projectors at movie theaters because it was fun.
this was gonna be my phone...life wasnt going to be so boring and lame...but microsoft ruined it all and kicked this phone to the curb. imagine this though, this phone is most likely more capable than any lame WP7s. too bad it wont have any support too bad tmobile. should have snagged up the supersonic with android. its probably what i will get. whatever phone comes closest to being as capable as a laptop i will get

I see no evidence that HTC is abandoning support for the HD2. HTC and MS will continue to develop WM6.5x well into 2011 as both have said as much. I'm confident we'll see the HD2 get at least one upgrade later in the year, possibly to WM6.5.x. I dunno, I really like a lot of WP7s, but this has me tempted to go to T-Mobile. It'll still be relevant next year, imo. This is pretty much the pinnacle of WM6.5 and it's worth it.

"a whopping 1GB of internal storage." lol.

Well, in comparison to *other* WM phones, it is quite high and double that of the Euro HD2, so I stand by that comment. Plus with the included 16GB storage card, it's quite a bit of space.

I will be there early at my store to make sure I get this, iWP7S wont do for me as it stands. I resisted the iphone for 3 years, looks like I will have to do the same with iWP7S and the HD2 will make the waiting a lot more enjoyable.

With all the items on board the HD2 how long before this phone could be outdated, jeesh look at how long XP lasted. The HD2 will be the leader for a long time.

Im tempted to get it unlock it and use it on att. I can deal with edge speeds as it has wi-fi Theefman I also agree wit you WP7S is a lil too iphoneish and limited for me. I love my tilt 2 but a chance to get the mighty HD2 i cant pass that up!!!!

If i can get it unlocked the same day or shortly after, i'll definitely have this on AT&T. There's a hack on XDA that allows you to get ~576kbps over AT&T EDGE. Not 3G speeds but far better than what you'd normally get, about a quarter of that.

i'll be getting it; from what i'm hearing about 7, i'll stick with 6.5!

Definetly buying the 24th, wish I could call out of work, Guess ill go on my break... I wish there was a moon, rather than it saying sunny at 907pm. so far not very impressed by wp7s, so no qualms over no upgrade, if anything, would port android onto it. I know sorry, not trying to be fan boy, but waited for the g1 for about 5 months. I love the fact how deep the developers are able to go into the phone and change so much. Customization! and wp7s doesnt look very customizable, lets see, green blocks or blue blocks. Anywho, been waiting for hd2 now for like 6 months. haha. Always hoping it would come to tmo...and it did!!!!!

Every day I go back and forth on this phone. Actually, I should say, I go back and forth on T-mo. With Verizon now and the service, even though it is way more expensive, just rocks in Denver. My buddy with T-Mo here doesnt have 3g in a lot of places. I need 3g htc wi-fi router to work... grrrr

this will be the first phone i buy on release day! im so excited.

I hope the Touch Pro3 will be as nice (actually, I hope it's nicer of course). Right now, I'm also hoping it has WM6.5, but, if it has WP7, that would be their way to get me to try it out and take advantage of that usual 30-day policy.

i am gonna buy this phone on te first day it comes out but... is it gonna be any different then my touch pro 2? i mean its faster... but i have the 6.5.5 Energyrom with sense 2.5 on my TP2... so will i feel the difference?
...
..
.
Yea NVM i will... i still want it lol... It's so SEXY!

This phone looks pretty cool. i originally wanted an android phone (nexus one, htc desire if on tmobile or unlocked) but i think I'm going to look more into this phone when it finally drops for tmobile.

If this launched on Verizon or ATT or Sprint, it'd sell like hotcakes. Instead, we'll no doubt see more "WinMo is dead" articles because of relatively low sales on T-Mobile.

I'll be there day 1, not worried about WP7. It looks like it'll be 2011-2012 before they get they're act together with WP7, by then I'll be due for an upgrade.

After seeing this device here in Columbus Ohio, i can honestly say to leave the IPHONE. The games look better in person and youtube is not? really showing the true quality of the phone because of quality down grade.

i can't wait to have this device on my hands, one more day and i'll be playin this device on my hands... they'll have 7's of this device @ my local t-mo store and i'm on number 5, i'm so excited!!!... after that, my n900 can have a lil rest, i sold my nexus one for this device, hopefully, windows mobile developers will make more good apps for this device, i'd really love to have google voice for this phone...

Its Frantic, addicting puzzle action with original. The EVO is not much different than the HD2. The rear of the HTC HD2 is clad in a dark grey/black soft touch plastic, except for the battery cover, which is made from brushed metal.
Windows Central Newsletter
Thank you for signing up to Windows Central. You will receive a verification email shortly.
There was a problem. Please refresh the page and try again.