Find jobs in the Middle East with the official Bayt app for Windows Phone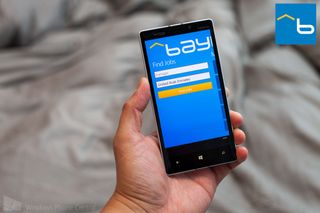 Bayt, a popular job site in the Middle East has just released an official app for Windows Phone. The app lets you hunt for a job anytime, anywhere. Use your Windows Phone 8 device to search and apply for jobs posted by the region's top employers.
Here are some of the features for Bayt on Windows Phone:
Log on with Bayt.com account or connect with Facebook.
Access your CVs, job applications, saved searches (job alerts), profile information, etc.
Manage multiple CVs, get stats on who is viewing your CVs, and get the ability to email them directly.
Search for jobs using filters.
Apply for jobs
Manage your profile
When you open the Bayt app, the search section is displayed right away. Enter a job title, skills, or company names. You can filter the search using locations. We think this section can be improved with more filters in addition to just the location. For example, a filter for a job field would be helpful.
The search results page lists the matching jobs. Make sure to enter plenty of specific keywords if you don't want to be overwhelmed with a huge list.
Each job listing provides the company, description, and location. You can click the apply button at the bottom if you are interested. You'll need to log in with a Bayt account or choose to connect with Facebook.
Swiping left from the search menu brings you to the My Bayt section. In here, you can access your job applications, job alerts, and recommended jobs. You can also manage your CVs, stats, and personal information. There's also an option to switch the language to Arabic.
Bayt is a free download from the Windows Phone Store. Looking for a job in the Middle East? Check out the application and let us know what you think in the comments!
Windows Central Newsletter
Get the best of Windows Central in in your inbox, every day!
Good to finally have it...

wow, wasint expecting anything from our lovely middle east. good for us, good fo bayt. BTW, Bayt means House/ Home.

10 MORE DAYS❕❕❕❕❕❕❕❕❕❕❕❕❕❕❕❕

Imaging how it felt in December.. I can do 10 more days standing on my head.. Lol.

240 more hours of waiting.

Lol❕❕.. Man y'all are negative..

Well we all have too much time on our hands...LOL

Especially me!!!!❕❕❕❕....

Great to see you cover apps related to the middle east

Yes Sir. Its rather a beautiful place.
I visited a couple of times during my Navy years and I must say that I was impressed. I hope to go back one day and take my family so they can also experience it.

You're welcome anytime as long as you don't bring US "democracy" with you.

How it is compared to Jobstreet? Though, i don't know Jobstreet support middle east. It is pretty popular in my place and they have the app since WP7.

Kudos for your world wide related coverages.
Also Bayt is an awesome website, I found my current job through it.

I heard there are well paying jobs over there that simply require wearing special vests under your clothes. Though apparently your family gets the money and not you. ;)

Stop it :) we are not terrorists :) and this a windows phone blog not political one :)

Actually, Westerns created these beautifull job oportunities.

Dude, I am in the Middle East for last 13 years and I dont wear any vest, at least in GCC countries. Great places to live if you mind your own business.

Wow this is amazing , great to see you covering middle east apps

WPC does a pretty good job of covering ME apps.. That region does a lot for the platform..

Why no United States??? We always get screwed with these apps! See what I did there? Trololololololololol

We get everything man! xD

Fun fact: Bayt means house in Arabic, hence the rooftop on the logo :D

+925 iLike the fact that you are covering ME region. BTW, what's 240 hrs/10 days for? BUILD?

Still wiating for an official app for Egypt IT Jobs www.egyptitjobs.com. I wonder how a reputable website like this, doesn't have an official app till now.
Windows Central Newsletter
Thank you for signing up to Windows Central. You will receive a verification email shortly.
There was a problem. Please refresh the page and try again.