BBM Windows Phone app isn't currently available in the Windows Store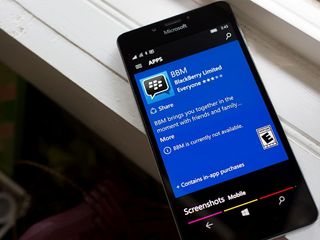 BlackBerry's BBM messaging app for Windows Phone is currently not available to download in the Windows Store. There's no word on why this has happened.
The Windows Phone version of BBM first launched in 2014, after a closed beta period. It's possible that the app's disappearance is a glitch on the Windows Store side. We have contacted BlackBerry to see if they have removed the app from the Windows Store, and if so for what reason, or if there is an issue on Microsoft's side.
Thanks to Moustafa for the tip!
Windows Central Newsletter
Get the best of Windows Central in your inbox, every day!
Wow. People still use bbm?

The WP app takes an hour to open. It is insane. My brother still uses it because 1 friend refuses to get a new phone because she doesn't want to learn a new system. I feel bad for them because even with BBM they really offer nothing differential. Security has already been added to most chat apps. Other apps have video calling, voice notes, stickers voice calls and so many features. BBM is just never going to compete.

Blackberry phone are still quite popular in Canada

What's wrong with 40+ you little whippersnapper? lol

i live in Canada and rarely see them these days, once in a while a business exec in his 60's pulls one out.

Do they still make them in Canada?

I live in Waterloo, (headquarter of Blackberry), and now I only have two contacts who still use BBM

The app was unusable, lags and filled with bugs... They should have taken it out a log time ago.

Why doesnt she just text people?

Hahahaha...bbm...who cares... except businessman...I am happy with whats app and hike... Posted via the Windows Central App for Android

WC members wont be surprised I guess. Read article about Amex 15-20 min ago. Now this too

Yeah, it made me wonder if the 2 were related. Maybe the Store is acting up as we near the Anniversary update?

Too bad they don't allow multiple sign-ins. Groupme being on mobile and pc is so convenient.

After this story: http://www.cbc.ca/news/technology/blackberry-taps-user-messages-1.3620186 I don't think anyone wants to use any BB products.

No one uses Windows Phone/10 Mobile either. So, yeah. Posted via the Windows Central App for Android

A lot of people in indonesia still use it.....

so poor.. they should move on to something, like whatsapp. because BBM ap on WM are totally sucks

It sucks only on WP. It's great and better than WhatsApp on other platforms. But, as you know, people have the notion that BBM is out of scenario, and they don't even realise what they're missing, coz they've not used it yet.

Here also in Saudi Arabia

Still available on my Lumia 630 on Windows Phone 8.1 in the U.S. store.

Windows Central will not be covering Windows 8 and WP8 stuff anymore. All articles are about Windows 10

I use it as well. Or, I did, until it became "unavailable" and stopped working altogether.

Well it was available yesterday afternoon so something must have happened after 16:00 Eastern Time

BlackBerry just updated BBM for iOS and Android to support video streaming chats so maybe it was pulled in anticipation of a new WM client.

I think there is a problem with the store,or probably Ms is doing that to force developers to update their apps... Just my view ,Assumption

The worst one going available??

Who.cares? No one use that anymore. People.i know use Viber WhatsApp Facebook messenger

They don't, but BBM is actually better than the rest

They don't, but BBM is actually better than the rest

Indeed. BBM is the Windows phone of messaging apps.

I stooped using it when I got rid of BB. Currently using text now to text from all my devices.

Windows 10 app is coming?

BBM will kill it off, a lot of people had issues with the App.

The app is very buggy and stains battery like a mofo. I still use it on my other devices and its actually better than WhatsApp. Being able to quote messages was on bbm since ever for eg

I also love the how BB10 had that reply from notification since forever. And that is very well integrated. All in all BB10 is my favourite because of all reasons possible, but unfortunately people didn't even give it a chance, as BB lost its fame long before they come up with this OS (and lack of official apps support, of course).

Blackberry certainly missed a huge opportunity by not making BBM available on other platforms during it's heyday (hindsight, I know). FB Messenger and WhatsApp is where it's at with instant messaging. I for one don't mind at all that Microsoft is making their services available on other platforms.

That app sucked big time! And, I hope they soon release an app of good quality like they have for BB10, or Android and iOS (and also provide regular updates). It's actually a better messenger than WhatsApp (no, no, no, no, no, no, not the one in windows) and yeah, people still use it, and it ain't going away soon. Hopefully, there'll be an app for W10M

i agree. got a 1000 users on whatsapp and 5 on bbm.

I could use it but there is not a single friend I have who uses it! Sad for those who are using it.

Already there are only a few apps in store.. Then why they remove these? It was a good app amazon also not seen now.. :(

Yeah it's no longer a popular app amongst people, but i still find some features quite useful. Like built in Glympse.

BB acquired Good Technology, who has a whole suite for enterprise, including a messenger. I wonder, if they are consolidating BBM into GOOD?
I use GOOD Connect on my iPad for work IM and have noticed a significant upgrade is speed after the latest app upgrade, which was the first ever release of GOOD bearing the BB logo on it. I used BBM before and it was always crazy fast and reliable. Would be nice too, if GOOD suite was finally released for W10

Even truly madly removed their app.:'(

Anyword on what happened with this? Did a restore and no longer can install but it shows in the store?

Just bought an HP Elite x3 after a long time with various BlackBerry devices. I still BBM much more than I text, both family and coworkers. So far this is the only thing I've been really sad to realize isn't there anymore. I remember all the news when it launched but didn't realize its gone now.