Beautiful Vieather heads to 2.0 with Windows Phone 8 support, new weekly forecast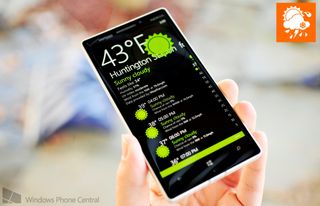 There are certainly plenty of weather apps on Windows Phone, and everyone has their idea of the perfect one. One of my favorites is Vieather, which hails from Vietnam. The app is lean, mean and it's free (ad-free too). It doesn't have Doppler radar or breaking weather alerts, but it does offer a nice visual approach to your current conditions. Did I mention there's also a Windows 8 app for your Surface?
Version 2.0 just landed on the Store the today and if you already use the app, then you may have been alerted to the update. The changelog is a partial carry over from the last few updates, though I'll tell you exactly what's new.
Vieather 2.0
Windows Phone 8.0 only now (last update though should still work for 7.8 users)
1080P display support (no more black bar near the top, uses full display)
New Forecast design – instead of a line graph, it's now a bar one with the temperatures moved up into the graph, making it cleaner looking
The developer even humorously notes that it's now "faster..". I can't attest if it's faster, though I do like the updated graphics for my Lumia 1520 and the new forecast design, which is much easier on the eyes. Still, I have had it refresh with a blank screen quite a few times already on my Lumia Icon, so something may still be off. Your mileage may vary.
I like Vieather a lot. Like I said, it's doesn't have any killer features besides a great design, fast and light weight. You can customize the look though with various accent colors and even a light theme. But for some, that's exactly what you want in an app. And considering that the price is free with no-ads either, it's one of those rare gem of an app with no strings.
Pick up Vieather 2.0 here in the Store. Windows Phone 8 only for new features. Also, try out the Windows 8 version (opens in new tab) if you have a chance, as it offers a similar experience.
Thanks, Bruno M., for the tip!
Windows Central Newsletter
Get the best of Windows Central in in your inbox, every day!
Daniel Rubino is the Editor-in-chief of Windows Central, head reviewer, podcast co-host, and analyst. He has been covering Microsoft since 2007 when this site was called WMExperts (and later Windows Phone Central). His interests include Windows, laptops, next-gen computing, and for some reason, watches. Before all this tech stuff, he worked on a Ph.D. in linguistics, watched people sleep (for medical purposes!), and ran the projectors at movie theaters because it was fun.
Wow it looks great. How is it compared to Bing weather Daniel?

Bing Weather has much more, including lockscreen support and radar, which this lacks. Still, I like the design and its simplicity.

Even i liked its design. I will stick to bing weather but. Its a perfect weather app.

Bing Weather is good. But no way to combine Bing Weather and my own Photo on lockscreen :"(

Amazing Weather is also a good choice! I paid the app :) greetings from Portugal

i use umbrela:) and greeting from Portugal to:) lisbon city

MyRadar makes a nice companion app to Bing Weather. I have their live tiles next to each other. It looks like this sources from Weather.com which I find to be highly accurate. However weather.com's app has the most obnoxious add banners ever seen on a "legit" app.

I use advanced weather hd for my live tile (had got it free with myappfree) and keep a small tile of vieather beneath it to check forcasts etc. Haven't opened advanced weather since a week, but its tile is nice. But overall, this one is more cool and 'metro'.

Nicely designed app, I like it. By the way it got translated to Brazilian Portuguese also!

I'm Portuguese, so that's a good thing for me!

Nice! You can find the Portuguese language under settings within the app. Cheers :)

Hello fellow portaguees!!

Wow! I think I never encountered so many Portuguese in here. Greetings from Madeira island.

Would you say that Amazing Weather is the most beneficial app in this category of weather apps?

Its interface is very slow and unlike metro apps. I use it for live tile only, its tile is great.

still not working in Hungary... ''Getting hourly forecast'' message is all I got.

Try selecting Accuweather as the source for data in the Settings, instead of Auto. Worked for me in Sweden.

seems repetitive and boring

Zzzz.. Don't ruin the quote.

Daniel can u tell me cover which u use for your Lumia 920

I suggest use the cover which has a wooden finish

Can someone suggest a good world clock app which supports day light savings please. Thank you

bing weather is fine with me. it has hourly update.

I'm always looking for a good weather app. I tried to like Bing weather as I wanted to support Bing everything on my WP, but it was always off by at least 5 degrees F. Doesn't sound like much, but there is when temps start getting cold. Bing Weather seems to get information from weather.com.

Still prefer Weather Flow.

My issue with Bing Weather is it doesn't give a description of the forecast. Just shows a picture. Like if its going to snow it doesn't tell me how much snow. I literally need to open the Weather Channel app separately to get a legit forecast. Hope they add this eventually. Love the live tile tho it works great. As for Vieather.... It barely loads half the time on my L925. Looks nice tho. Bing is by far best. If it gains descriptive forecast then there will be no competition to me

I have settled on the weather channel

I am using the Met Office app here in the UK probably the most accurate.

Am I the only one who can't pin the live tile to the start screen? It only pin a shortcut with no information on it except the logo...

Same that's why I had to switch to the weather channel.

Open the app by tapping that shortcut and next time you'll have the weather on it Posted via the WPC App for Android!

Whoever has the "Getting hourly forecast" loop, go to settings, switch from Data provide - auto to provider Accuweather.com. works for me! Live tile eventually updates but takes a while. Still very buggy - sometimes I see only the amount of celsius and my location. Lovely app thought

Used this for quite some time, but recently switched to an app called Forecast. Very simple, clean and accurate for my use and in the areas I frequent. Kudos to Vieather on this update though, at least it looks better on my 1520 now.

Sorry but I have to let this out: Windows Phone has 250,000 apps, of which 200,000 seem to be Weather apps. Really? Isn't there anything else that's different and interesting? Anyway, I think think Amazong Weather HD is hard to beat. Though, yeah, it's paid. So I understand these free ones are more appealing for people without money or without means to access a credit card.

Think I may have found my new weather app :) love the design, the live tile isn't working as of yet though.

Rubbish, just stuck on "getting hourly forecast" for Melbourne, Australia.

I hate to be the one say it,, but--- Slow Sundays Suck........ Come on Daniel... Give us a random pole, or ask us what feature would we like to see in "wp8.2", yes 8.2, or something.. Just come up with something fun.. Some of us are seriously board at work right now...

I like Forecast best out of the ones I've tried so far.

App is not working...not detecting my location for like 5 minutes..

It's freaking unstable. Tried it a couple of times but it always locks up after a short time with no possibility to quit except for a reboot.

Nothing like Amazing Weather HD. That app is impressive.

Amazing weather great if you live outside a city since in can connect to personal weather stations via weather underground. In rural areas this is really only way to get accurate weather. For example, weather channel only gives me weather in nearest town, which is 8 miles away. Amazing weather HD connects to a station a half mile away. Pretty cool.

Uninstalled here, poorly built and full of bugs

And still Forecast is my number one choice :)

Not working. Tile are not working. Posted via the WPC App for Android!

Nice but its useless about 2 weeks ago. There is no live tile only to pin out from the app list but it has no information, only a start tile.
Windows Central Newsletter
Thank you for signing up to Windows Central. You will receive a verification email shortly.
There was a problem. Please refresh the page and try again.