Behind the scenes with Microsoft's Surface Touch Cover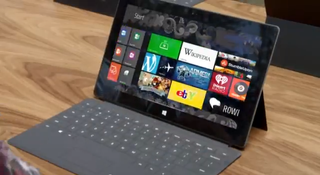 Microsoft has released a behind the scenes sort of video highlighting the Surface's TouchCover keyboard. Microsoft's first venture with a pressure sensative keyboard was back in 2003. While designers thought is was cool, they didn't feel it was ready for prime time.
The goal was to develop a super thin keyboard that functioned like a laptop keyboard. Enter the Surface Tablet and a need to have a cover that doubled as a keyboard.
Microsoft has put a lot of thought and work into both the 3mm thin TouchCover and 6mm TypeCover. Those that have gotten their hands on the Surface have been impressed with the keyboard's performance. We'll soon see if that positive impression carries over to the masses this Friday when the Surface launches.
We are inclined to believe it will.
Source: Surface (opens in new tab), Thanks, Flagz, for the tip!
Windows Central Newsletter
Get the best of Windows Central in in your inbox, every day!
George is the Reviews Editor at Windows Central, concentrating on Windows 10 PC and Mobile apps. He's been a supporter of the platform since the days of Windows CE and uses his current Windows 10 Mobile phone daily to keep up with life and enjoy a game during down time.
Friday, we find out for ourselves!

Actually PCMag put their Surface RT review out early this morning and quickly pulled it. They said that Touch Cover is more responsive than Type Cover and the Touch Cover is one of the most responsive keyboards they have ever used. You can still read the review, here is a google cache of it:Page 1: http://webcache.googleusercontent.com/search?hl=en&output=search&sclient=psy-ab&q=cache3A2Fwww.pcmag.com2F02C2411249%2C00.asp&oq=cache3A2Fwww.pcmag.com2F02C2411249%2C00.asp&gs_l=hp.3..0l4.1060.3890.0.4211.7.7.0.0.0.0.231.1012.0j2j3.5.0.les%3B..0.2...1c.1.hkOwh1A8hBQ&pbx=1
Page 2: http://webcache.googleusercontent.com/search?sourceid=chrome&ie=UTF-8&q=cache%3Awww.pcmag.com/article2/0,2817,2411252,00.asp

To get to other pages in the review just change the number at the end of the 2nd URL. It has 252,00.asp, to get to the next page change it to 253,00.asp and so on.

Engadget has got the review up for Surface RT!
http://www.engadget.com/2012/10/23/microsoft-surface-rt-review/

The idea behind the type cover isn't that appealing to me, but all of the R&D that has obviously gone into developing the tech makes me want to try it out in a store. I still think Asus' docking solutions will be more up my alley, but I'm willing to let Surface try to change my mind.

You want what, docking up your alley?

No matter what W8 device you buy - MS wins and that's good.

I will be in line on friday, will be getting the 32gig with a cyan touch cover.

Same here. Got my reservation card today.

Ordered the 16rh. Still no shipping notification. Hope I get to see Friday!

Same here. Ontario, Canada.

Yeah me too. Hoping it changes soon, since the receipt says will arrive by Friday the 26th!

I called Microsoft service/support today.. they assured me that I will have it by the 26th.

I am jealous of you all. Burning with envy. ;-)

I'm going to agree I need to see this real time I did pre order the surface for my wife..as for me not yet I need to what else comes down the pike

Hope it works well too - ordered a surface with touch cover. My concern is that it is not lap friendly. It needs a flat surface for kickstand. Not sure if this will drop WAF -- she likes to browse from couch.



Isn't that why you have the onscreen kb?

It's meant for hardcore typing, like in office apps. Just use the onscreen keyboard for basic surfing.

I don't see why it wouldn't work in the lap. Looks rigid enough to me, otherwise just put a pillow behind the stand.

Also, the kickass Wedge keyboard could provide an alternative but be logical here folks, its a tablet...I wouldn't try to sit one on my lap vertically =/

The Surface keyboard cover simply costs too much for what you get. For comparison, the Dell XPS 10 keyboard features a solid looking keyboard, a USB port, HDMI, and a 10 hour built in battery - all for $149. Thats a hell of deal compared to the Surface KB cover. I'll agree its not as trendy perhaps - but far more functional.

Small and thin cost more. That's why your Smartphone retails for $599-$699. But for $399 or less, you can get an HP Laptop with 17" screen, 500GB hard drive, optical drive, etc., etc. My guess i the 17" laptop is a lot more functional. How well does that XPS keyboard fold over the screen, or fold back behind the screen. Just sayin.

I dont disagree with you necessarily...its a very trendy looking item. The XPS 10 keyboard dock does fold well over the screen - makes the system look like a netbook in a way. Granted, it doesnt fold back. I really dig the extra 10 hours of battery though and HDMI port.
If I bought I Surface I probably would get the Touch Cover. I just think is more like a $79 to $99 item for what it delivers. Personal opinion...
Either way..cant go wrong with Win8. Anxiously awaiting my gadgets...new Dell XPS 12 Ultrabook, Dell XPS 10 tablet (for my son mainly), and two new Nokia Lumia 920s for myself and my wife!!
Win8 FTW!

Does the type cover make the same clicking noise when it attaches as the touch cover? If so, I will probably go for the type cover, but if not then I guess I will make do with the touch cover.

Got one of each. Still not sure which I will prefer. Can't really fold the type cover back behind the screen, which would an issue (it does fold over the screen). Not planning on any real serious typing with my Surface, but not sure I will be comfortable with the touch kb. One or the other may wind up on eBay in a month or so.

Who says you can't? When you fold it back, no type functions...hello? =[

Where's the review Daniel, I know your working on it, c'mon man. We need it!!!

Man this looks great. Can't wait for Pro!

it cant b used on the lap:(

Dude, get the wedge for that...its a tablet for Pete's sake! =P

Wow, 2003 and they blew it off? I've been using all the clunky uninspired boards for the past 5 years because of stupid idiots?! WTH is WRONG with these people?!? =(
Windows Central Newsletter
Thank you for signing up to Windows Central. You will receive a verification email shortly.
There was a problem. Please refresh the page and try again.