Bell to launch two new Windows Phones, Lumia 920 is neither of them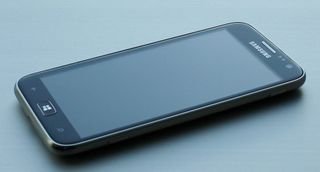 Samsung ATIV S heading to Canada?
We've just broke word that Microsoft has indeed released Windows Phone 8 to manufacturers (RTM) for testing and further development, which means we're not too far off from a platform launch. Nokia has revealed its lineup with the Lumia 820 and 920, and Samsung announced the ATIV S. We've got the HTC event just around the corner, but which Windows Phones will be heading to Canadian carrier Bell?
According to a tip received over at MobileSyrup, Bell has been quite forward with its Windows Phone 8 plans. An email conversation was shared between a reader and the Assistant to the President of Bell Mobility, who stated the company has no immediate plans to stock the Lumia 920, but will be releasing a number of unnamed handsets.
It's noted that Bell will support the platform in Canada by releasing two Windows Phones. This could mean the carrier will be snatching the Samsung ATIV S, the Nokia 820 and / or possibly a HTC Windows Phone. Only time will tell. Good news is Bell is looking forward to platform launch.
Source: MobileSyrup; thanks, A L and @kid_jenius, for the tips!
Windows Central Newsletter
Get the best of Windows Central in in your inbox, every day!
Rich Edmonds was formerly a Senior Editor of PC hardware at Windows Central, covering everything related to PC components and NAS. He's been involved in technology for more than a decade and knows a thing or two about the magic inside a PC chassis. You can follow him on Twitter at @RichEdmonds.
I think you mean Nokia 820 not HTC 820 ;)

This is why we have coffee in the world, thanks for pointing this error out :-)

That HTC 820 is gonna be nice...lol

Guys this does not mean the 920 is a exlcusive. Bell just wants the Ativ S as their high end phone and the 820 as their Nokia phone. Makes sense

Never said it had anything to do with exclusivity :-) It may well be the case that Bell wish to sport the Samsung ATIV and Lumia 820, HTC device, or even a Windows Phone 7.5 smartphone - who knows? They've only stated they'll not be taking on the Lumia 920.

Duh, that doesn't make sense at all when it is the 920 everyone wants. They will lose me as customer.

Yup me too, looks like I'm heading back to Rogers.

Hell they lost me already after they refused to pick up any.Mango devices. F Bell!

That's cause of the OLD VP, he's gone now!

I'm loving the look of the Ativ

This exclusivity is destroying nokia

It never said anything about exlcusives. It's likely in the US there won't be any exclusives for the 920. besides Bell will likely just want the Ativ S as their high end phone. simple as that

I can confirm from a MS source that Bell is getting a WP8 device (or devices)... he just would say what device(s).

I love what Nokia are doing and the phones announced certainly seem to have more innovation but I am drawn to the Ativ. It would be a wrench to lose the support from Nokia though.

You must be blind if you really think that ativ s is better than lumia 920. I just don't want to mention the large list of features that 920 has but I'll just say: Puremotion, wireless charging, sick camera.

I was not saying the Ativ was better. I am drawn to its looks and size. You have to admit despite the features the 920 is pretty big and heavy. That is why I am drawn to Ativ but like I said I would miss Nokia and its commitment.

The ATIV S is 4.8"; is that not big? And because the body is metal with the exception of the battery cover, it may feel just as heavy. I'm getting the 920, but I will be feeling and playing with ATIV S when it hits ATT, because you know they will have all of the in stock :-D

Meh, Samsung has nice cameras as well. Most of us have real cameras. Also, wireless charging will more than likely be available for the ativ if it sells enough. You can get it for galaxy s 3.

By "real cameras" do you mean a standalone? Last time I checked, the pictures taken with my phone were not fictional creations.

The best camera out there is the one you have on you when you want to take a picture.
I have a nice point-and-shoot camera, and I'm thinking of getting something like a Canon G12 or a Four-Thirds camera, but I would still want a cellphone with a Pureview camera on it.
Why? I don't usually carry my camera with me unless I have a reason to. But I take my cellphone with me everywhere.

They both have great specs and look great. Would be happy with either

This is one of the many reasons why I am dumping Bell after 19 years and switching over to Rogers. I'm all about the Lumia 920.

Me too--I would have done it for the Lumai 900 if they had released the cyan L900 earlier.

I don't trust Bell, I switched to them because my wife wanted a phone with a physical keyboard and Bell was the only carrier you had a wp7 device with a keyboard. Problem is 6 months later they totally abandoned the entire platform. Considering I never once saw a wp7 device showcased in their stores I don't have high hopes for wp8 and Bell.

Honesty screw Bell. Don't buy anything from them. They are the equivalent of Sprint. They dropped Windows phone like a brick soon after launch.

Not really , bell = best coverage , n like I've said before the OLD CEO was responsible for dropping WP, and the new CEO is the reason for them getting Wp8 = great move!

I switched for the Lumia 900 to Rogers and I'm very happy. Odds are the 920 will be on Rogers

I have a feeling it'll be Rogers exclusively with a flagship Nokia again. Any word on Telus or SaskTel yet. Those two never really suported Windows phone, they're still in the past with Blackberry and iPhone and very few decent android phones

Where have you been? Telus has had the Nokia 800 since after launch and the only provider to display them front and center at their stores.

Yeah you beat me to that. TELUS advertised the L800 more than Rogers did the L900. TELUS also announced that they were quite happy with the response and sales of the L800.

To further what was said above... I believe their words were it was the best phone they ever caried, with the highest customer satisfaction!

Rogers is making a better bet than all the other companies, yes WP might be small but being to make people switch to your company is better in the long run, I would consider switching from Virgin Mobile(Bell) to Rogers for the 920.
I am rocking a Focus right now, very tempted to switch to Nokia for their WP support and exclusive apps. Maybe Telus will have it as well, but my guess is HTC and Samsung for Bell, 820 for Telus and 920 for Rogers. If HTC releases 3 phones the mid range ones will go to Telus and probably Videotron in Quebec they carry the Radar right now and LOVE HTC I think they are married.

Looks like I may have one more reason to end my three year sentence early.

I live in Saskatchewan. Rogers' network is a joke here. Looks like I'll be buying and unlocking (I'm buying off-contract anyways) since I'm tied to Bell until July 2014. Man, 3-year contracts are a b¡tch. I'm never signing one again.

3-year contract? Ugh. I thought 2-year contracts were bad. I don't want to imagine 3 years.

Cell phone carriers rape us in Canada with stupid 3 year contracts. Worst yet, has anyone tried to break a contract with bell... Even in the last year its like $300. Telus is offering significant credit for business users to switch!

It's probably two HTC devices. Bell is not popular carrier Samsung would not ruin its ativ s with it.

Not a popular carrier? It's only the 2nd largest in Canada with 30% of the market.

Lol I like the title! "Lumia 920 is neither of then" the Lumia 920 won't get all the spot light light. Unfortunately.

Well Bell has a GREAT history with samsung and being the second begiest mobile carrier in canada (tied with telus in first )
from past experiance:
rogers = samsung and 1 NOKIA
telus: Nokia+htc
Bell: HTC+Samsung ( bell has had all HIGH end phones from samsung in the last 2-3 years)
reason they stoped WP was cause of the OLD VP of bell HATED microsft ( ex CEO of MS canada) but with the new VP its looking better.

FYI Nokia exclusivity is in US not canada, nokia has ZERO exclusivity with canadien Carriers.

I haven't even seen any proof that the 920 will be exclusive to ATT considering they haven't officially announced carriers. We are just all expecting it to be exclusive due to past experience and to avoid getting our hopes up. I am on ATT so no worries for me but I still would love to see it on Verizon and Tmobile.

In terms of subscribers, Rogers is the biggest. Telus and Bell have more national coverage, though.

Actually telus is #1 Rogers has been in third for about a year.

I'm really hoping they make a AWS version of the 920. I'm on Wind and I really don't want to give up my $40 Holiday Miracle Plan

I heard Lumia 920 is pentabad, should work on Wind.

I hope your right because I've seen evidence saying differently. I wish WP Central could confirm this

It's not the pentaband you're looking for.
I'm in the same boat. I'm hoping for a variation on the 920 to come out for T-Mobile (and therefore Wind and Mobilicity) later in the year.
Or, what I'm really hoping for is if the 820-successor comes with a Pureview camera, and is priced aggressively (like the 710 was).

Oh, this is sad, I don't like Bell I hope that the other carrier are going to offer some nice choices.

Verizon better carry the Lumia 920! If not, I'll be taking my business elsewhere.

I live also in Canada and don't care about which carrier gets it first. I'm buying my Lumia 920 outright anyways. Only thing that's a plus from them is that I can go to their stores and have hands-on with the phone.

I think it's pretty obvious that Roger will be getting the Lumia 920 to follow up their 900, Telus gets the 820 to follow up their 800, and Bell will get the Ativ S. Not sure where the HTC phones will go.

I think bell looked at the s3 sales and concluded from there.

Bell will definitely get the Sammy and HTC, the Lumia will be with Rogers. Telus im sorry but they suck (based on experience).

Good they dropped WP before version 2 devices... im with TELUS!!! Its better!

Waiting to see what Telus gets.. 820 maybe, but hoping 920.. Been patiently waiting & my 1st Gen LG is still great, but...

The Lumia 920 will be exclusive to Rogers.
Windows Central Newsletter
Thank you for signing up to Windows Central. You will receive a verification email shortly.
There was a problem. Please refresh the page and try again.