Lumia 1520 beats iPhone 5s in Memory benchmark test, but just misses on the overall win
Lumia versus Lumia and Windows Phone against the iPhone in our benchmark matchup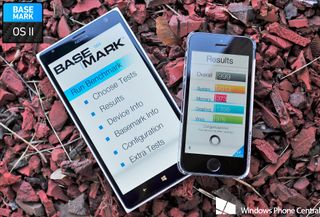 Benchmarks don't mean much to the average consumer, but they're a fun way for us to compare and stack different handsets.
Earlier today Basemark OS II launched on Windows Phone, a benchmarking application for Windows Phone. We've had a few other benchmark apps in the Windows Phone Store before, but this one also has apps on Android and iOS. We thought it would be fun to run the test on all the Windows Phone devices we have in our possession, in addition to an Apple iPhone 5s for comparison.
How does a Lumia 1020 fair up against a Lumia 925? Does that extra bit of RAM in the new Lumia 525 really matter against the Lumia 520? And how fast is a Lumia 1520? Read on to find out!
Lumia 520 and Lumia 525 Benchmark
How does an extra 512 MB of RAM matter for benchmarks? We put the 512 MB Lumia 520 with its 1 GHz CPU up against the updated Lumia 525 and its 1 GB of RAM (same CPU) to find out.
As expected, that extra bit of RAM improves performance, especially when it comes to running graphics. That shouldn't be a surprise for those wanting to run games on their Lumia 520, as clearly the lack of RAM hurts it in gaming. Now you can see why new games aren't optimized for 512 MB devices, as that reduction in RAM is a bottleneck. Still, the difference is modest, meaning the everyday experience shouldn't be too drastic.
Lumia 520 and Lumia 525 Camera test
Lumia 1320 and Samsung ATIV S Benchmark
On paper, the giant six-inch Lumia 1320 and the more modest ATIV S seem very different, but in the benchmarks, the Lumia 1320 is only a hair faster with improved 'System' performance. That's most likely due to its CPU, which is clocked slightly higher (1.7 GHz versus 1.5 GHz on the ATIV S).
Lumia 1320 and Samsung ATIV S Camera test
Lumia 925 and Lumia 1020 Benchmark
Once again, the Lumia 925 and Lumia 1020 are very similar in specs (putting aside that whopping camera found on the Lumia 1020). But one area of difference? The Lumia 1020 has 1 GB more of RAM. As a result, it narrowly beats out the Lumia 925, though the lead is modest, borderline negligible, to say the least.
Lumia 925 and Lumia 1020 Camera test
In case you needed proof that the massive Lumia 1020 camera does slow things down when compared to the Lumia 925, here you go.
iPhone 5s and Lumia 1520 Benchmark
Apples, meet oranges. While the Lumia 1520 and Apple iPhone 5s are altogether different for hardware and their OS, how that hardware performs is of concern here. The 5s famously sports a custom, 64-bit A7 processor, which is up against the Lumia 1520's cutting edge quad-core Snapdragon 800, clocked at 2.2 GHz. No surprise then to see Apple handily crush the Lumia 1520 in terms of raw System performance.
Interestingly, the Lumia 1520 bests the iPhone 5s in the Memory department, with 3x the score. As a result, the Overall scores are similar between the two flagship phones, but you have to give the ultimate win to Apple, who narrowly edged out the Lumia 1520 (999 versus 897).
iPphone 5s and Lumia 1520 Camera test
The Lumia 1520 certainly benefits from the Snapdragon 800 with a much improved camera over the Lumia 1020--at least in terms of raw speed. It can't catch the super nimble 5s though with its 97 rank, putting it well ahead of the Lumia 1520. But hey, 20 MP versus 8 MP matters too.
Wrapping it up
What do we learn from these benchmark tests? More RAM becomes an issue for Windows Phone when it's below 1 GB. While 2 GB also helps, its gains over 1 GB devices are modest. We also can see just how much better a quad-core Snapdragon 800, clocked at 2.2 GHz can help the OS become faster and faster--even for the camera. Clearly, the Lumia 1020 could have benefited from this newer chipset. There's always next time, Nokia!
Say what you will about Apple, but they do hardware right, going so far as to have their very own silicon for their iPhones. It pays off for system speed, but it looks like their memory architecture could be optimized a bit. At the end of the day though, it performs nearly on par with the Lumia 1520.
Finally, we need to keep in mind that a phone may score higher or lower than another, but at the end of the day that's no indication of how it'll behave in real-world use. Windows Phone is clearly a mobile-optimized OS and it will only get better as newer hardware options come online.
Editor's note: although all apps were closed when running the benchmarks, due to various uncontrollable factors on each device, we expect there to be some variation between your results and ours. But the overall trend should be spot on.
Daniel Rubino contributed to this report
Get the Windows Central Newsletter
All the latest news, reviews, and guides for Windows and Xbox diehards.