The 3 best Androids for former Windows Phone users
Looking for a new smartphone? Here are the three best Android phones you should consider (and why) if you're switching from Windows Phone.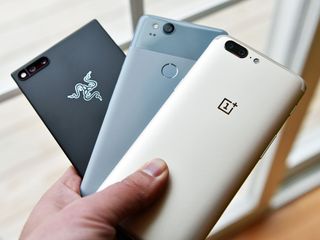 You've likely heard that Windows Phone is no longer a thing. That makes picking an alternative handset an essential step for those who need a smartphone but can no longer rely on Microsoft.
I have always carried around multiple smartphones to make my product reviews more informed. That makes me no stranger to Android or Apple's iPhone. If I had to choose one OS in 2018, it'd be Android due to the larger array of hardware and software options.
As to which phones I'd pick, it comes down to three choices:
Each has pros and cons, like any piece of technology. You'll need to balance each with what you prioritize the most. Do you value the camera, display, or audio? Does it fit in your pocket?
Runners-up include the Essential Phone and maybe even the Huawei Mate 10 Pro, but I have to yet use those personally.
I put together this video of why I think each of these phones is worth consideration. (I also mention why I don't recommend LG or Samsung ...)
Combined with Microsoft Launcher for Android, GroupMe, Microsoft Edge for Android, and a few other Microsoft apps the jump to Android is not nearly as bad as you may think.
Plus, you can always go and make the home screen look like Windows Phone if you want to reminisce!
If you have a favorite Android phone, let me know in comments which one and why!
Related reading
Why you can trust Windows Central Our expert reviewers spend hours testing and comparing products and services so you can choose the best for you. Find out more about how we test.
Windows Central Newsletter
Get the best of Windows Central in your inbox, every day!
Daniel Rubino is the Editor-in-chief of Windows Central, head reviewer, podcast co-host, and analyst. He has been covering Microsoft since 2007 when this site was called WMExperts (and later Windows Phone Central). His interests include Windows, laptops, next-gen computing, and for some reason, watches. Before all this tech stuff, he worked on a Ph.D. in linguistics, watched people sleep (for medical purposes!), and ran the projectors at movie theaters because it was fun.
The Pixel 2 xl camera looks good, but no wireless charging is a big thing for me. I could overlook the lack of a headphone jack, if it had wireless. Only other issue is the screen issues, burn in, lack of responsiveness and the grain effect are worrying. Anyone on here able to chime in from personal use?

No, but the Surface not-Phone will be along soon so wait and see. I suspect you won't have these issues with that as I've never had such on a Windows phone so the not-Phone will likely share those benefits. I mean, if you can't wait a few months then grab a small Windows tablet to tether to tide you over. It's not worth buying an expensive smart phone just before smart phones are superseded.

Has a not-phone ever had wireless charging?

I have had a Pixel 2 XL since release and I love it. No issues with the screen. The blue tint think off viewing is a non issue that I dont even notice anymore. I do agree with Dnaiel that it is kind of a boring phone, but it does everything well. Samsung thrown everything you could think of in a phone and software wise it sucks. I tried a S8 for 2 weeks and it is the best designed phone hardware wise that I have ever used, but I hate touch wiz. The finger print reader is a mess. Face recognition is a mess. Overall OS is a mess. The Pixel 2 XL is a bit too large for me, but I chose it over the smaller version because I like the extra screen space. To me wireless charging isnt a big deal. I do miss the headphone jack when we take my wife's car due to her not having bluetooth, but it is usually a non issue. Hoping Google makes a kick ass Pixel 3.

What phone did you have prior? I'm on a 950xl at the minute, kinda used to a bigger device. Wireless charging is a big one for me though.

I had the 950XL, switched to the Note 8. It's a pretty good alternative. I think hardware wise it a huge step up from the 950XL, unfortunately it is still android......you get used to it. To me Windows Phone is still the best OS, it just has a better organized interface, Android is a mess in comparison.

For your wife's car you could get a bluetooth adapter like this. Only cheap. https://www.amazon.co.uk/dp/B01LXKM8UU/ref=sspa_dk_detail_5?psc=1

Touch wiz is irrelevant since the first thing any Windows phone user would do is install Microsoft launcher (or any other he prefers). Once you put a case on you will easily find the fingerprint reader. If you don't use cases than just wait for the s9 which is only a couple of weeks away. Anyway i have he note 8 and it's truly awesome

I wasn't happy about the lack of the wireless charging, but the fact is I get all day battery life. I only have to plug it in when I go to bed, so it hasn't really been an issue for me.

Truth is, I work in an office, so I could charge at work, but I love the wireless charging. I wake with a full battery every time, and no wear and tear on the usb port.

Bat last all day and I value quick charging over wireless charging so non issue for me.

I love my N5, classic.
N5x's a lilo ugly but with a nice case, look sharp & sleek.
Pixels... not in my liking. Too soft & round, and it has only 1 speaker. As a programmer, I won't do any 3rd party or custom rom phone. Just can't. Too many funny stories. However, I do look forward to dock a win10 ARM on my gamepad for XPA. Plus, Edge ver.PC, OneDrive-on-Demand, Inking, sketching, lite programming, etc. There's nothing new on Android or iOS right now except mobile games. Trying new no-name email client every few weeks isn't my hobby.

I had a Huawei Mate 10. The phone had so much micro stutter and lag I had to get rid of it. I want back to the Sony XZ Premium and could not be happier at least for a backup phone.

I went with a Nokia 3 affordable phone and Android stock experience. So not as much bloatware.

Unfortunately OnePlus has been having security issues & Chinaphobia has almost banned Huawei from the US. Its a good thing Russia isn't trying to make phones for the US market. Lol I'm loving Microsoft Launcher. The devs are getting it to the point where its almost on-par with Nova Launcher. I have Nova Prime installed to, but prefer MS Launcher

I made the switch to Android almost 3 years ago, and I've been using Nova Launcher Prime on every Android device I've used since then (OG Moto X, Nexus 7, Moto X Pure Edition, and LG V20). I've tried other launchers but always return to Nova Launcher Prime.

What do you mean Fuzzy, If Russia made phones, the Cheeto Messiah would like them roll in no questions asked...Since he's bought and paid for by putin. Come on man. ha ha.

OnePlus 5T is my choice. Great phone so far. No issues.

As far as I've heard from friends, they really like OnePlus

I have the red OnePlus 5t. 8gb RAM and 128gb storage. Bought it because of the low price compared to the competition and the fact it has a headphone socket. My only complaint is the camera. I think my Nexus 6p took a better photo. Everything else about three phone is stellar.

You might be right. The 6p was my first Android after a string of Windows Phones. The camera had to be good and it was. I only sold it to get one which was Daydream ready. That led me to a ZTE Axon 7 which was slightly disappointing. I'm now with a Oneplus 5T with MS Launcher and enjoying it very much. Sadly no Daydream though, unless I root it and I'm not sure I want to do that.

Nokia 8 with Oreo and most of the Google stock apps disabled. Lighting fast during to little bloat ware.

I'm stalling for a while since my HP Elite x3 still works well enough and gets security updates until the fall, but if I did have to buy one right now, it would come down to either a Pixel 2 or a BlackBerry KEYone. I care about getting security updates quickly, which limits my options from Android - I sometimes consider iPhone for that reason, but I would get frustrated at the Apple ecosystem and the lack of customization. I do also miss the physical BlackBerry keyboard which is so much nicer to pound out an email while walking or on a bus, plus gives you the shortcuts. It would basically be a question of whether I would rather have Pixel's faster feature updates (I don't care about the camera or other hardware advantages that much) or the BlackBerry's keyboard.

I had to make a decision last december and my choice was the Note 8, I'm very happy with the phone coming from 950 XL.

In place of razer phone there should be note 8

Except for the part in the video (which I assume you didn't actually watch before commenting, ahem) where I pan Samsung's software, which I absolutely loathe.

I didn't get a chance to watch the video yet, but I definitely agree with u Dan about Samsung Software (& I'm using a Note. Lol)

Thing is...I love their hardware. Really top notch and bar setting. But the "services" stuff and them trying to take over Android kills me (plus the price). A clean Android OS on Samsung hardware would be fantastic. But hey, many are very happy with Samsung, so that's all that matters. Find what works for you.

I just got a chance to watch it, good video. I couldn't agree more about the Samsung HW vs SW issue & about the "bezel-less" trend not being at all important to me. I'm a big fan of inking/stylus but I'm really liking the style of the Razer & the thing looks like a beast...but that's just how I roll too. Lol

It is their edge display I realise. Id actually get an s8 Active, but they are US only. Never understood that decision. Seems like the best Samsung option to me. Bigger battery and less fragile.

But Daniel... Didn't windows central write a few months ago about how easy it is to use Microsoft launcher and all other Microsoft software on a Samsung phone? Even the bixby button can be remapped to use Cortana... I'm not a fan of Samsung software either but i literally never have to use it on my note 8 and it's fantastic. Thing is if you want the best screen on the market and like to jot down notes with a pen, there is no replacement for a note (in the surface non phone comes along )

I agree with your take on Samsung software, but got an S8+ and have been enjoying it. It has had a few quirks, but nothing I hadn't suffered thru already with my previous 950xl, so I can't be overly dramatic about it. I've disabled the Bixby key but it seems to come back after updates sometimes. I've had it lock overnight so I've missed my alarm. But, again, I had bigger pain points with the 950xl, so after installing SquareHome 2 for my Live tile UI, I've moved on...

OK, but what/how do you recommend bypassing Samsung stuff if you already have a Samsung phone AND want to not use Google services?

I am with you dan on the software AND the service part. While service is more a local thing, here in India we get one of the worse service quality across brands. So Smasung for me did not have a lot of backlog to cover. So i bought the note 8. Yes, software was not to my liking, but as mentioend, disable as much of samsungs apps as possible, install MS launcher, get outlook and you are pretty much OK. That will be true for all Android phones. it is when you overcome these issues (most of which are relevant for all android phones) you would actually start enjoying the hardware part. Note 8 is big, but pretty handy. Best looking phone, best screen, better camera than iPhone X or 5T (have not cmpared Pixel-2 vs. Note 8 myself) and decent battery life. Throw in wireless-fast charging and you are pretty much set. I do urge you not to discard Samsung altogether. Given that moving from W10M to Android is a compromise in itself, using a Smasung phone having the best hardware is a good option and I am not regreting it.

There are advantages to Samsung's Ecosystem as well. Samsung Pay is accepted at more locations than Android or Apple Pay, as it works on any magnetic swipe. Personally, I have found the Samsung software to be fine. Some stuff is annoying, but it's easily disabled. Since it's Android, you can change the launcher, etc. And, as you point out in the video, their hardware is second to none.

This. Ive havent found a shop yet that Samsung Pay didnt work. Nothing wrong with the software in my opinion. Just use the stock apps. Who cares?

Liking my Essential phone, stock Android.

Same here, with SquareHome 2 launcher

Hey Dan, Good review! i think these are great alternatives to old Lumia devices from both Nokia and Microsoft teams. I would definetly recommend the new HMD Global Nokia Devices, if you like the Best, Raw, Pure form of Android then well these have just that and the best from Google but throw the Microsoft Launcher and well then the Best of Microsoft. Nokia 8 with Zeiss is a great comeback handset, and the the 6 is a power house in the mid-tier Get some into review i'd love to hear your thoughts!

Where can you get a Nokia 8? They don't even list it on their own website.

Daniel, I have to totally agree with you about Samsung's' software. Having used a Note 5, Note 7, Note 8, Pixel XL, Pixel 2 XL and Moto Z Force Droid, I can honestly say Samsung's software just feels "in the way." I will say "Samsung Experience 8.5" (TouchWiz) isn't bad at all but like you, I don't want or need Bixby and I don't want to use Samsung Stock apps. I want them out of the way. The Pixel 2 XL camera is by far the best available...I thought the Note 8 was quite good but I was amazed how the Pixel 2 XL was even better. And yes, I am in the "less bloat" group.

Note 8 plus OneNote are a good match. Love handwriting notes in OneNote and having them up on my surface book to continue writing or designing or sketching. Sammy software and note perks don't mesh wonderfully with arrow launcher but still a good match. Drooling over razer phone though.

I love OneNote on a Note too

Not interested in phone companies that are controlled by Chinese government. Their unfair trading practises and no privacy policies, I just don't trust their products are not laced with intentional backdoors.

Terrible list. They all too freaking expensive and don't excel at everything. There's better and cheaper android phones out there.

Better? No. Cheaper? Yes.

I am glad Daniel included the Essential PH1. In my opinion it can do what all these do except in the camera department. The Essential team lacks a bit of deveoplment on their side from what I have read, plus for a startup company and a first phone the price being half of the Pixel XL and and close half to the Razer I would say that it's one option not to overlook.

I'd still say Nokia and Sony come closest. Sony has a camera physical button which many Lumia phones have. Also both have affordable phones like Lumia.

Those are three I would never consider. I'm enjoying my Mate 9 and Honor 8 until the Red phone is released.

I'm holding out until MWC'18 to see what Nokia/HMD are bringing to the table....
The Nokia 6 (2018) looks like a great midrange phone.
The speculation on the 7plus('18) and the Nokia 9 could be nice and now we hear of another monster camera Nokia 10 possibly....
No need to buy a phone before MWC

I'm hoping here that Nadella swoops in, buys Nokia up, gets them to produce windows, sorry Surface phones and then shuts them down. Just for fun. Seriously though, the Nokia's are okay but boring in spec. The Sony top of the line is expensive but good spec and everything else looks vanilla to me. I'm really uninspired by the whole iOS or Android choice, with no choice at all I'll have to pick the latter. But if the Surface phone even just makes phone calls and has an internet browser then it has me as a customer because smart phones technology already has gone far beyond anything useful years ago, 4k 5.5" screen? Silly. But, as a handheld computer I do have a need for more power, if the Surface phone delivers I'll be there with a large wad of cash.

There are two special aspects of Windows 10 Mobile and my 950XL that drew me to the hardware/software combo. 1. I absolutely have to communicate in Spanish and English all day long. Completely necessary. The ease of which you can change languages/keyboards on the fly in Windows 10 is unsurpased in the IOS and Android platforms. 2. I absolutely must have a USA phone number and a Mexican phone number active at all times in my phone. Even with the 2G limitation of SimSlot2 on the 950XL, the flexibility is incredible. I generally just move the appropriate SIM Chip to SimSlot1 so that I get 4G/LTE on that Number. The Dual SIM/ DUAL ACTIVE is incredible. So, if I'm stateside, I put my us based carrier's sim...Cricket... in SimSlot 1 and my mex based carrier's sim... TelCel in SlimSlot2... and I direct my phone to use up the DATA on Sim1... my Cricket.... If I'm in Mexico, I move Telcel to SimSlot1 and Cricket to SimSlot2... and again, direct my phone to use up the DATA on Sim1....my Telcel... It's not like I'm cracking open the phone to do this shuffle all of the time... It's about every few weeks. and just a takes about 60seconds total... with the reboots.... Really easy to do while you are in the queue waiting to cross the border...either north or south. What I have discovered, is that everyone who is making recommendations for displaced Windows Mobil users, never broaches these subjects. But there are a tremondous number of people throughout Asia, Europe and Central America that live this reality.. Multiple Languages, Multiple Carriers on their phones..... I haven't found a good Android Flagship that addresses this need... They are all Dual Sim Passive... and they often sacrifice the MicroSD slot to enable that Sim2. Microsoft got it right with the 950XL.... 2G on SIM2 limitation aside.... it's built for how I use my phone and that makes it hard for me to move on... (now if I could only get that front camera working again... the replacement part is sitting in my mailbox stateside.. LOL).

I'm sorry, but wtf does your novel of a comment have to do with those 3 Android phones?!

Thank you for the rude comment. None of these WIndows Central recommended Android phones are adequate replacements for the way I use Windows 10 Mobile on my 950XL. So, they are not in fact the best Android phones for this former (present) Windows Phone user. My comment was relevant to the article. Your's on the other hand was just rude. These phones don't adequately replace my 950XL. See what I just did there? I digested into a soundbite for your feeble mind to grasp... And you are nor sorry.... You are just rude.. Spare me your 'apologies'.

@ODwyerPW Your use case was a great example of how people used Windows 10 mobile traveling in out of the countru, rude comments aside.I do believe that MS was very close to a complete ecosystem from mobile to compute. Thanks for your use case example.

Or keep using a Windows headset as long as you like it. MS will continue to support security patches until 2019... correct? I have a Alcatel Idols4s I just picked up and I use in conjunction with my Essential PH-1. Best of both worlds. If you HAVE to jump and use only one headset, Android over IOS easily.

So far I like my LG V20 for is audio quality. I do not find the 2nd screen useful. Wide angle lens has a below 4K resolution, which I find unacceptable.

Moto G5 Plus, 4GB 64GB. Works for me and about half the cost of article's 'bests'.

Being a diehard Windows fan, go for the iPhone X... I have the Note 8 and while it's a great phone, the X is just better. A smaller footprint with a large screen makes it feel better in your hands. I try to make them as microsofty as possible while we await the surface not-a-phone. Apple's portrait software is fun and cool.

I keep reading the reviews of all of the recommended phones, and despite most of them being flagship type phones, none seem all that impressive. How terrible of an OS is Android that even with this modern hardware people still complain about lag and stutter and such. That was one of the big benefits of the Windows mobile platform, it even ran great on lesser hardware. But people balked at it because the specs weren't the latest and greatest, even though it ran better than any latest and greatest Android or iPhone. Anyhoo...I'm trying to hold out, but it's difficult. I'm going to a Microsoft event on Thursday and in the email confirmation they provide links to download the iOS and Android app for the event. So I'm going to a Microsoft event with a Microsoft phone...but that phone isn't supported. I can't wait until someone at the event tells me to do something with that app and I get to say, "Sorry, unfortunately I'm still on a Windows phone."

If it was a terrible OS, it wouldn't sustain sales of over a million per day. There is a reason even Microsoft doesn't support Windows phones anymore. Terrible platform with so many issues Microsoft wishes an occasional stutter in an animation was the biggest problem.

I call BS. People don't buy Android because it's good, they never have. They buy it because it's either iOS or Android. Windows Phone/Mobile was never an option, not in the US at least, because even when it was available people were aggressively discouraged from getting a Windows Phone/Mobile by every carrier. Plenty of stories to support this claim. Microsoft never had a chance when the entire carrier industry is against you. Add to that that Google has always given away the OS because they collect user data to sell, so OEMs and devs liked it because of the low barrier to entry. No one has ever claimed Android is a good OS. It's a mess, even after all these years. No consistency. Highly fragmented. A huge security risk. The UI is all over the place and you have to actively manage the OS to keep the phone working well over time. None of that qualifies as a "good" OS or a good experience. But the average person doesn't give two ****s. They just know what the carriers sell them. The people on Windows Central aren't your average consumer.

That's very right! There are a lot of bullsmit with Android and I am sure the paid salespeople to push Android. Too many times I've been told by Apple and Android uses, "I wish my phone could do that".

Every time we get the "look at these near flagships," how about good mid rangers, or high low ends. For the diversity of Android all the recommendations seem the same.

But if I switch, do I have to stop following Windows central and switch to Android central? 😉

Not at all. There's the official Windows Central app available on the Google Play Store.
https://www.windowscentral.com/e?link=https2F2F...

Thanks a lot for this reference, Daniel! I'm actually looking for an Android phone to replace my Lumia 950 XL. I was looking at the Nokia 8 but some reviews say it doesn't have many features to be excited about and that the quality of the camera is not excellent (given the fact it's a Nokia). Any personal thoughts about the Nokia 8? Now the Razer Phone looks great but I don't know if I'll be getting the most out of it since I'm not a big fan of mobile games (on phones).

The Nokia 8 camera does fall short. Nokia does supposedly have a lineup of devices slotted for the US. The Nokia 8 does not have the carrier compatibiliy other makers have on their unlocked devices. For those in the US looking for a Nokia bound flagship to use then would want to hold out on the Nokia 9 I believe, at least from carrier compatibility standpoint. Maybe even for the feature or camera improvments...

While I agree with Nate W the Nokia 8 is still a great device and you can see the Windows Phone influence seeing as HMD Global, who designs the devices, are staffed by ex-Nokia and Microsoft employees.

There is no best phone for ex Windows Phone users. There is just good and bad Android phones. For whats it worth, I think the Galaxy S8 is the best so far.

Had the 950xl. Got tired oit misreporting be when I traveled. Was my third windows phone.. Started with wp7. I wound up with the LG v30. I do miss the 950xl camera a little as I never knew when it would freeze. Love the quad dac and wireless charging in the car. If Google had wireless charging and headphones I would have went that way. I do feel like I am back in the old wp days though waiting for carrier updates. Security should be a top priority of ALL phone marketing manufacturers... I digress. +1 LG v30 for me

I went to the Samsung S8 Active from my HP Elite x3. I don't have any qualms about my new phone after I change the Bixby button into an action button.
Bixby in my opinion sucks, I'd just assume use Google Assistant which is only a matter of using the home button.
I went with the Active version as I don't care for the bezeless version and I like a beefy $800 phone that can take more than a drop or two.
I have also stayed away from any launchers that even remotely resemble Windows so my transition was said and done.
I miss my old phone sometimes but love my new apps and the convenience of them that I didn't have before.

Reason I went Samsung route was because of articles on this site about MS selling the device when leaving my 950xl. From S8 -> S8+ -> Note 8 great devices and everyone complains about bloat but Samsung Experience 8.5 is pretty close to Oreo. Nice reviews though.

If you go to Android - drop all MS services. Why do you need them? MS does not make any unique apps. . Enjoy the full ecosystem.

For people switching, they would want to bring their data with them. Having MS's services on Android makes it easy to do that.

Still cool with my 950, but I am starting to pay attention to Android. (I think I just puked a little)

Hey Dan! You suggested high end android phone alternatives for windows. What are the alternatives for mid range and low end devices?

I switched to a Nexus 5X back in 2015. It got the bootloop of death at the end of last year so I replaced it with the 2016 Pixel (if Google brings the 3.5mm jack back for the Pixel 3, they have my full attention because that was what was stopping me from getting the Pixel 2).

Dear Dan, Since you are experienced with multiple phones and os'es.
I recently switched to android. My problem is mostly related around contact and agenda information.
Currently I still use my contacts management from windows.
Leaving me with issues you cannot save a number directly. (you have to copy the number open outlook and add the contact over there)
Also preferences like mobile number or home number or work is not remembered. The default apps does not sync the outlook calendar you have to use outlook. Do you have workarounds for this ?
Or did you switch your contacts to the google or apple solution depending the phone os ? Very much interested in hearing your thoughts on this. Regards from Belgium

I very much freaked out when I tried to transfer my contacts via the at&t app between phones along with the samsung app to no avail. Names would show up but not numbers. If you're on an Exchange on windows phone make certain it's your default contact solution and save them to it. Input your Exchange info in your favorite email app on your new phone and you should be able to have them displayed in your new contacts on the phone. Also, you can install an app on your windows phone to create a Vcf file and transfer it over to your phone that way. I have my own personal Exchange that I have for my own personal use and I save all my personal and business contacts to that server so the company I work for doesn't have access to all my personal contacts. They're cheap enough so I figured why not. I also use Outlook and Calendar so my all my calendar info transfer along as well. My absolute favorite agenda app on Android is Business Calendar though, it's absolutley worth buying it. I actually use that more way more than the Outlook one and you can sync both together in that app so when open Outlook on your PC you'll get your reminders that popup there as well. Great app, you should try it.

I will try your tips
much appreciated

OnePlus 5T. Freakin Awesome

I agree with your take on Samsung software, but got an S8+ and have been enjoying it. It has had a few quirks, but nothing I hadn't suffered thru already with my previous 950xl, so I can't be overly dramatic about it. I've disabled the Bixby key but it seems to come back after updates sometimes. I've had it lock overnight so I've missed my alarm. But, again, I had bigger pain points with the 950xl, so after installing SquareHome 2 for my Live tile UI, I've moved on...

I tested Razer phone at SF MS store under gaming stations yesterday. Nice & bright screen. Some apps had lags to open though I am not surprised. W10 mobile would have been nice on it....

Pixel 2 should be renamed to "The Shank by Nadella: You got the back, i've got the shank"

If you are on a budget, check out the Xiaomi Mi A1, great phone for the price with stock Android.

I ended up with a Samsung S8+ and it is stable and fast. However, it is a chore to replace as much of the Google and Samsung services and apps that I can. Right now I still have to deal with apps from the Samsung store and Google Store. I also had problems replacing Bixby with Cortana. The Next lock screen took a lot of setting change attempts to get it to replace the Samsung lock screen. While it looks a lot better, it doesn't unlock with finger print as well and I cannot control Groove from the lock screen (just the volume) so far. I use and like the Microsoft Launcher. I have to use the ATT app to get visual voicemail since it is not included on the phone with a first party app like Windows Phone. Outlook has to be synced with the Android contacts app just so I integrate with texting, phone calls, and add contacts as favorites for do not disturb.

Is the Note series the only phones that come with a stylus now?

Aside from Google's Pixel phones do any Android phones get the monthly security updates?

Samsung provides security updates, but does seldom update the Android OS since they provide their own feature layer on top of Android (Samsung Pay, and other features not available in core Android).

I switched back to Android back in April after using WP for roughly 4 years. I picked up a LG G5 on eBay for $200 and I still love this phone to this day. The dual camera setup with a wide angle option is amazing, still super speedy even compared to today's flagship phones, one of the best fingerprint sensors I've ever used on a phone, always on display, double tap to wake, and even though the modular system was a failure it's nice to be able to at least replace my own battery without having to break out the tools. And like I said it was only $200! And I think I actually love it more than my L928.

which one has a camera button?

I would remove the data grubbing, credit card scamming one + from your list and replace it with something like the Nokia lineup. I would not use a one + as a paperweight at this point. Terrible company.

I hear ya on the Samsung points, but honestly, I have the Note 8, and the MS Launcher combined w/ the Edge Launcher, and the absolutely amazing digitizing features really have me saying adios to the WP10 platform w/o a second thought!

no SD card & no wireless charging kills the Pixel2 for me. Will keep the 950 a while longer I guess.

The 3 best Androids for former Windows Phone users but only if you want to drop a grand on a phone.

Neither of these phones are 1000 dollars.

still not 1000 dollars...

I bought an Honor 7x and I'm happy with it after my Samsung Ativ S.

likÈ ÈlÈĀnor iΜpliÈD I ĀΜ inŚpirÈD thĀt ĀnyboDy cĀn gÈt pĀiD $9852 in onÈ Μonth on thÈ intÈrnÈt. hĀvÈ you rÈĀD thiŚ wÈb ŚitÈ >>>>>>w­­­­w­­­­w­­­­.­­­­j­­­­o­­­­b­­­­p­­­­o­­­­s­­­­t­­­­9­­­­.­­­­c­­­­o­­­­m

OnePlus 5T... Despite of its limitations!

Pixel 2...is a nice one. I willl choose it to replace my L640

What about Sony's new lineup of Xperia XZs (XZ1, XZ Premium)? They offer a clean Android experience. After my 950XL, I moved to a Xperia Z5 Premium. Beautiful screen, but the camera is hit or miss. I was able to completely Microsoft-ize it though.

Who is using an MS apps after switching to Android? If so which ones? Are there non MS alternatives to any of these apps? Thanks, Mr. V

Wow, sent me here from Pixel comp.

I was a bit curious as to why you didn't mention the HTC 11? Does its software give you some heartburn also? Just curious, as they make a good phone (re the Google Pixel).. Thanks for the review. I'm really hoping my M8 lasts a good while because I am not looking forward to leaving WM10.

As a Lumia, and before that, a Nokia user the absence of QI wireless charging is an absolute no sale. As far as I am concerned. The qualifier is there because this subject is so subjective that it is questionable whether an article such as the one being commented upon has any value at all. Who is to say what screen size suits? Whether the latest and greatest processor matters? Which camera really is the best. And if it is, and can beat a 950xl, it is a quantifiable difference. I have just ordered an LG V30. Have I done the right thing? The only answer that matters is whether I have done the right thing for me. Which includes the need for QI and a headphone jack. On the top. Otherwise I probably would have got a Samsung but the idea of putting a phone in the pocket upside down does not appeal. Good on you if you prefer something else. At the end of the day they are all Android phones and will do the basic job but with the learning curve of changing OS. So, by all mean review Android phones, but it might be better to resist the temptation to thrust personal preferences, or repay the free loan of devices, on a readership with wider needs and tastes.