The best apps for your Nokia Lumia 520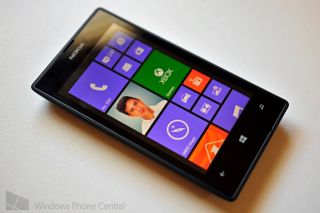 Did you a get a new Windows Phone in your stocking above the fireplace or in a box under the Christmas tree? If you did, odds are it might have been a Nokia Lumia 520. Why's that? It's only the most popular Windows Phone ever. Last we checked, over one in four Windows Phone devices around the world are the Lumia 520. Which isn't all that surprising. You have a smartphone that can easily be had for under $100 off-contract around the world, it's selling like hot cakes.
Which is why we're going to look at the 10 best apps for the Lumia 520. We'll be focusing on apps (and games tomorrow) that run well on devices with 512MB of RAM. Which means this list also apples to devices like the Lumia 521, Lumia 620, Lumia 720 and others with just 512MB of RAM.
Facebook Beta – Best app for connecting with family and friends
Yeah, I'm putting Facebook Beta ahead of the legit version of Facebook. Live life on the edge and use the beta version of Facebook for newer features and faster updates. Whether you like it or not, Facebook is a juggernaut of a social network. It has over one billion users, which means something like one in seven people on the entire planet have a Facebook account. It's an important app and works well on the Lumia 520. Get that Facebook Beta in the Windows Phone Store (or grab the vanilla version, aka non-beta Facebook).
Bing Weather –Best app for checking the weather
There are a plethora of weather apps in the Windows Phone Store. You really can't go wrong with any of them. However, we like Bing and recommend it as a great weather app to download right away. It's free, has no ads and a clean interface. What more could you want in a weather app? Grab it in the Windows Phone Store.
WhatsApp – Best app for communicating
Right now, WhatsApp has over 400 million monthly active users. Those users send 16 billion messages and 500 million images per day on WhatsApp. Those figures are astonishing, which is why WhatsApp is a must-have app for your Lumia 520. Odds are, someone you know prefers using the platform to contact you. The app for Windows Phone has had a flurry of updates in the past few weeks, adding both stability and features. Grab it in the Windows Phone Store.
Nokia MixRadio – Best app for your next dance party
There are a lot of music apps available for Windows Phone. We're big fans of Xbox Music, Songza, Pandora and others. Unfortunately, because of local laws and music licensing, those apps aren't necessarily available in all regions that the Lumia 520 is. No music service is perfect when it comes to availability around the globe, but Nokia MixRadio comes pretty close and seems to be available in most places. Availability aside, it's just a great music platform. We're big fans of the mixes that are created by real human beings and not some computer algorithm. The app is a mix of free features and an affordable subscription ($4.99 per month). Grab it in the Windows Phone Store.
HERE Maps – Best app to never get lost
Smartphones are wonderful devices, mostly because they combine the features and functions of multiple devices into one. You can leave your GPS navigator at home thanks to HERE Maps on Windows Phone. Odds are you already have HERE Maps loaded up on your Lumia 520, but it's always worth highlighting because it's so good and it's free. HERE Maps lets you save on data by downloading maps for offline use. You'll never get lost as long as you've got HERE Maps on your Lumia 520. Grab it in the Windows Phone Store.
myTube – Best app for watching YouTube
The "official" YouTube app on Windows Phone sucks. There's the whole tussle between Google and Microsoft on the issue, but that doesn't matter so much since we have myTube on Windows Phone. It's the best way to use YouTube on Windows Phone and works great on the Lumia 520. Sign in with your account and you'll get access to your subscriptions, favorites and more. The UI is pretty snazzy and there are tons of features that make this a great YouTube app. Grab myTube from the Windows Phone Store.
Wikipedia – Best app to quench your thirst for knowledge
You probably hit up Wikipedia a few times a day if you're anything like us. Thankfully, we have a stellar Wikipedia app on Windows Phone from Rudy Huyn. It's called, wait for it, Wikipedia and has the blessings of the Wikimedia Foundation (organization behind Wikipedia). The app by Rudy shows of the Windows Phone design language with aplomb and performance is solid. It's the best way to get Wikipedia on your Windows Phone. Which is why you should get it for you Lumia 520 from the Windows Phone Store.
Weave – Best app to be the king of news
Outside of tech you probably have a few other hobbies and interests right? There's no better way to stay on top of your favorite news sites and blogs than with Weave for Windows Phone. The app was just updated to take advantage of their in-house Weave Cloud Services that allows your feeds, favorites and more to sync across Weave on Windows Phone and Windows 8. There's also a web version of Weave coming, so you'll never be without your news. Weave is available for free on Windows Phone, but you can also pony up and get the ad-free version for $9.99. Grab the Weave for free in the Windows Phone Store.
Nokia Camera Beta – Best app for photography
The Lumia 520 isn't known for producing stellar photographs. Mostly because it has a relatively ho-hum sensor, it is a budget friendly phone after all. That doesn't mean you shouldn't push the limits of what is possible with it. To do that, you'll want Nokia Camera Beta. The app is more or less like the regular version of Nokia Camera, except not limited to high-end Lumia's with PureView technology. To get the same features and fine level of control over your camera on the Lumia 520 make sure you grab Nokia Camera beta in the Windows Phone Store.
6tag – Best way to Instagram
Sure, there's finally an official Instagram client for Windows Phone, but it doesn't come close to the performance and features found in 6tag. The app was recently updated to version 3.0 and brings support for the newest feature on the photo social network, Instagram Direct. That's a feature you can't even get in the official version on Windows Phone. It's free and available in the Windows Phone Store.
(Bonus) WPCentral – Best way to get learn about more apps for your Lumia 520
OK, time for a shameless plug. You should probably get our app (WPCentral) for Windows Phone to easily learn, discover, and download new apps for your Lumia 520. We constantly highlight new apps, big updates, and more. Our app for Windows Phone is easily the best portal for staying abreast on all the news and happenings on the platform. It's free, but you can pay to unlock some extra features. There's also a new update out right now where Jay really outdid himself with new features and bug fixes. Pick it up in the Windows Phone Store.
And there you have it. The best apps for your Lumia 520 (or any 512 MB device really). Of course your opinions on what apps are a must-have for your Lumia 520 might differ from ours, which is where the comments below come in. Rocking a Lumia 520? Sound off below with some of your favorite apps. Don't worry about games, since we'll cover those tomorrow. For now, this is all about apps.
Get the Windows Central Newsletter
All the latest news, reviews, and guides for Windows and Xbox diehards.