Best Computer Speakers in 2022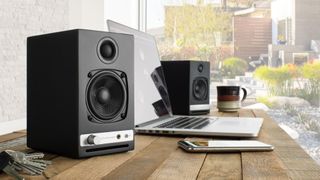 (Image credit: Audioengine)
There is not much to write home about the audio performance of most in-built computer speakers. Whether you are an avid gamer or a melophile, investing in a good pair of external computer speakers will transform your listening party. And, you don't need a ton of money or acres of desk space to secure a solid sound system. Topping our selection is the Audio Engine 5+ Wireless Speakers (opens in new tab). It offers excellent audio performance with superb clarity and deep bass.
Best Overall: Audio Engine 5+ Wireless Speakers
Available in solid carbonised bamboo, satin black, and glossy white finish, Audio Engine 5+ multimedia speakers are a complete sound system with 60W peak power. Measuring about 27 x 18 x 23 cm per speaker, the AudioEngine 5+ supports wired and wireless connectivity via Bluetooth.
Audioengine designs and builds their woofers, tweeters, and other parts. That simply means the speakers aren't built with cheap off-the-shelf components. You get clear and compelling audio that adequately fills any room. With a frequency response of 65Hz – 22kHz and a power-saving mode, the speakers offer excellent clarity throughout the frequency range. The speakers connect to all devices and apps with ease.
Audio Engine 5+ Wireless Speakers
Easy setup
Reasons to buy
+
Work with any computer system
+
Have an internal thermal management system
+
Offers wired and wireless connection options
+
Supreme sound quality with solid bass
Reasons to avoid
-
They take up quite some desk space
Best Value: Bose Companion 2 Series III
This speaker system features a simple, elegant design. Featuring a volume knob on the right speaker, you have controlled sound within reach. An included headphone jack allows you to listen privately without disconnecting the speaker system. The auxiliary port on this system will enable you to connect to additional devices with ease. While it lacks knobs for adjusting bass and treble, you won't miss this feature as the sound is well-balanced.
The Bose Companion 2 Series III is such a great choice since it is compatible with both Mac and Windows. Measuring 7.5 x 5.9 x 3.1 inches makes a great sound stage without taking much of your desk space. As much as it is quite affordable, it is an ideal upgrade from your in-built computer speakers. It produces solid bass and pleasant treble at any volume.
Bose Companion 2 Series III
Does the job
Reasons to buy
+
It is the most affordable Bose speaker system
+
Small and lightweight
+
Powerful sound
+
Useful headphone jack
Reasons to avoid
-
Lacks wireless connection
-
The aux cable is short
Best for Gaming: Logitech G560 RGB Gaming Speakers
When it comes to computer peripherals, Logitech puts in the work. As a gamer, you can only experience the enthralling gaming experience when you have powerful speakers. Immerse yourself in explosive action with 240W peak power from the Logitech G560 gaming speakers. With two satellite speakers, a sub-woofer and inbuilt DTS software, you will enjoy surround sound from a wide range of angles. Connectivity is via Bluetooth, USB, and a 3.5mm jack, and the speaker system connects up to four devices.
For an extra thrill, game developers use LIGHTSYNC RGB to program their games such that the speakers' light and colour automatically synch with each game. The speakers can replicate the colour of your screen throughout the game. Basic controls like the power and volume buttons are conveniently set on one speaker for comfortable access. With the light feature triggered by sound, you can create your very own dance party by taking music playing to new levels. Also, the lighting can be customised to over one million colour combinations.
Logitech G560 RGB Gaming Speakers
Sensory experience
Reasons to buy
+
Impeccable 3D and surround sound experience
+
A million plus customizable color combinations
+
Real bass and supreme loudness
+
Multiple connection options
Best Medium-sized: Audioengine A2+
The Audioengine A2+ is a few (4) years old in the market, but it still delivers top-notch sound quality. Besides, it is a good pick for anyone working with limited desk space or a smaller room in general. The speakers come in satin black, glossy red or glossy white, in case you are colour-conscious.
Audio input is supported by premium Bluetooth, USB, 3.5mm stereo jack, and RCA and works flawlessly with computers and mobile phones. Combing such versatility with the inbuilt DAC, you get unmatched audio and awesome sound quality. Each of the speakers is handbuilt as opposed to mass production to guarantee quality audio.
Audioengine A2+
Small but powerful
Reasons to buy
+
Small yet powerful
+
Easy setup
+
Multiple audio input options
+
Inbuilt audio convertor
Reasons to avoid
-
They don't come with a subwoofer.
Best Unique Design: Harman Kardon Soundsticks III
The Harman Kardon speakers feature a unique design different from your regular speakers. Even so, they still deliver rich and realistic sound. The cutting edge design features a translucent LED white glow that will breathe life to your entertainment rig. The 2.1 channel speaker system and a 6" down-firing subwoofer combine to produce excellent sound with strong bass.
This system is compatible with a myriad of audio components. Featuring a 3.5mm stereo input, Harman Kardon SoundSticks III connects to computers, mp3 players, and portable CD players. High-quality cables complement the sleek design. You can control the angle of the speakers so that music fills your space perfectly. There is everything to love about the performance of these speakers.
Harman Kardon Soundsticks III
Elegance meets perfomance
Reasons to buy
+
Futuristic and unique design
+
Excellent audio performance
+
Powerful bass
+
Well priced
Reasons to avoid
-
No remote control
-
No wireless connectivity unless you buy a Bluetooth adapter
Best Budget: Creative Pebble Plus 2.1
If cranking up the volume regularly is not on your to-do list, and wireless connectivity is not a must-have for speakers, then the Creative Pebble Plus are the best speakers for you. With a minimalistic design, Creative Pebble Plus 2.1 offers authentic sound with solid bass. Surprisingly, at their price, the speakers come with a subwoofer. The dual 45-degree angled speakers adequately fill the room with crystal clear sound, unlike regular speaks that shoot sound straight ahead.
Creative Pebble Plus 2.1 is equipped with easy access volume controls at the front of the speaker. The high gain mode of this speaker is activated with a single button. This elevates the power of the speakers for stronger bass and volume without altering the sound quality. The speaker system is powered entirely by a USB cable. It is connected to the computer using the 3.5mm jack. This eliminates the need for an extra socket.
Creative Pebble Plus 2.1
Absolute bargain
Reasons to buy
+
Compact design will take up minimal desk space
+
It is such a bargain
+
Good audio performance
Reasons to avoid
-
Too many cable connections
Bottom line
Even with limited desk space or a tight budget, you will still be able to enjoy some rich audio from these computer speakers. Whether you prefer your speakers wireless, wired, artistic, small and mighty or just medium-sized, what matters is the audio performance of your entertainment rig.
Our best overall, Audio Engine 5+ Wireless Speaker (opens in new tab) delivers top-notch audio quality enhanced with realistic bass. This speaker system effortlessly connects all computers and devices to produce room-filling sound. They are hand-crafted and fitted with dual analogue amplifies to maintain the authenticity of the sound. The rig comes with a remote, and it is available in bamboo, black, or white finish.
is an avid Tech Writer. If she is not reading, she is reviewing or testing new technology. She also probably tweets way too much.
Windows Central Newsletter
Get the best of Windows Central in in your inbox, every day!
Thank you for signing up to Windows Central. You will receive a verification email shortly.
There was a problem. Please refresh the page and try again.