Best free apps for Windows Phones
WPCentral's list of the best free apps for Windows Phone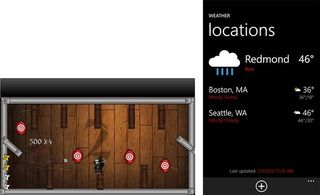 We've taken a look at must have games and must have apps for your Windows Phone, now we turn our sights on the best free apps that might interest every Windows Phone owner. Everyone likes free stuff, right?
The Windows Phone Marketplace is full of free apps and games. Some good, some bad. Some with ads, some without. We've compiled a short list of free Windows Phone games and apps the we found interesting and thought you would too.
Best Free Windows Phone Apps
Why you can trust Windows Central Our expert reviewers spend hours testing and comparing products and services so you can choose the best for you. Find out more about how we test.
Shuriken Ninja (opens in new tab): With Shuriken Ninja you play the role of the ninja and must take out various targets with your throwing stars to advance to the next level. The game has over 150 levels of play, an in-game level creator and three different game modes. Plenty of gaming to keep you busy.
Weather (opens in new tab): If you are looking for a weather app that covers the basics, take a look at what Microsoft has developed. Weather brings the current conditions and a ten day forecast to your Windows Phone.
Netflix (opens in new tab): Are you a Netflix subscriber? Want to view your movies while on the go from your Windows Phone? Check out the official Netflix app for your Windows Phone. The nice thing about Netflix is that you can start watching a movie on your Windows Phone and finish watching it from your computer or television.
Krashlander Free (opens in new tab): Krashlander is a physics based game that is graphically well presented, a challenge to play and has some epic crashes. You play the role of Krashlander who is working his way around the slopes navigating the jumps and avoiding the enemy robots. It takes a while to master the controls but once you do, it's a fun game to play.
Handyscan Free (opens in new tab): Ever have the need to scan documents from your Windows Phone? Handyscan's key features include Skydrive and Dropbox support, import/export photos, align/crop documents, and multiple page scans.
ESPN ScoreCenter (opens in new tab): ESPN ScoreCenter brings you scores, news, videos and standings from all your favorite sports leagues. You can tag your favorite teams and follow them from the myTeams Page and The Lead page brings you the days breaking news from the world of sports.
Yelp! (opens in new tab): Need help finding a place to eat locally? Ever need to find a gas station close by? Yelp! is a search app for your Windows Phone that presents you with various categories of searches to make finding what you need a little more efficient. You can also pin your favorite searches to your Start Screen for easy reference and view reviews on the various services and businesses from the Yelp! community.
Impossible Shoota (opens in new tab): What would a free app roundup be without mentioning Occasional Gamer? Incomplete. Elbert Perez has built an impressive collection of free games over at the Marketplace and Impossible Shoota may be the fastest paced game in his collection. You navigate your starship through waves upon waves of enemy ships taking out as many as you can.
RedLaser (opens in new tab): RedLaser is a barcode scanner and QR Code reader that will search online for the lowest prices and local prices from hundreds of thousands of retailers. The scan is fast and the results may help you save a dime or two.
Instacam (opens in new tab): InstaCam is a Windows Phone Instagram client available over at the Windows Phone Marketplace. It allows you to take pictures on your phone, add different effects, and then share them via Facebook, Twitter or email. You can log into your Instagram account to check "likes" and comments on your uploaded content. You can also view other people's photos and leave comments, or follow them if you're a fan of their work.
Get Your Free Windows Phone Apps on!
We realize this list only scratches the surface of all the quality free apps and games available over at the Windows Phone Marketplace. The nice thing about the free titles is that it won't cost you anything to give these free Windows Phone apps a try. So if you're new to Windows Phones or an old hat, don't be bashful. Give these freebies a try. Who knows you might find a keeper.
Feel free to add to the list in the comments on your favorite free titles.
George is the Reviews Editor at Windows Central, concentrating on Windows 10 PC and Mobile apps. He's been a supporter of the platform since the days of Windows CE and uses his current Windows 10 Mobile phone daily to keep up with life and enjoy a game during down time.
"InstaCam is a Windows Phone Instagram client that just hit the Marketplace yesterday"
InstaCam has been out for quite some time! :-p

Great article for new WP7 users though!

InstaCam has been out for a while now.

U forgot to put wpcentral number one best app we wouldn't know the top apps if it weren't for u guys we wouldn't even know half the apps that pop up without seeing these reviews keep up the good work wpcentral

wpcentral isnt a free app ;) mobile nations iOS and Android apps are free though. makes me feel a bit cheated

I don't get it either. Why are the other mobile nations apps free when WPCentral isn't?
That's a real question. Is one of the writers for this site looking at this? If so, can you give a real answer?

WPCentral has a free version, its just limited a tiny bit

Because iOS/droid users are cheap (jk).

I, being one of the site guest writers, and the developer of the app, have read this, and my answer is in this thread :)

Can't spare the 99 cents to support the developer who puts great effort into producing a pretty damn good app? C'mon man!! Besides if we keep looking for free apps and never buy anything, devs would would prob say "why bother".

It is free, the trial will last as long as your phone does. There are a few premium features in the paid version and the removal of ads so that I can put food on the table ;)

And it's worth all 99 pennies :) Very well made app!

I will gladly support quality apps by purchasing them. This is one of those apps! Thank you!

I second that! Great job, Jay!

Thanks guys, and I'm working on v2.2 right now... ;)

I have purchased the app and it was well worth it. Glad to hear there is a newer version coming soon. My only issue with the app is scrolling comments in the app, it is very jerky and at times I scroll down a little bit to suddenly find myself a few comments below, or even a few comments above where I just was. Driving me crazy lol, something is not quite right there mut maybe it is a WP7 thing and not the app? Otherwise a great tool that I'm glad to have purchased!

It's to do with the type of List Control I've used for comments I believe. Frustrating as anything I agree but I'm not sure what my best options are unless I page the comments, which I was trying to avoid. I'll look into it for this next version

So, it really boils down to a bug in the WP7 OS? I wonder if MS is aware of this.

Maybe, but there's probably more I could be doing, or another control I should consider using

If you don't find a better control, you should really just page the comments. You can still put a bunch on a page, but just check out what the optimal maximum amount of comments/page length is before it gets jerky.

IMHO Mehdoh is missing in this list. The best free Twitter client. 2.0 will probably give Mehdoh the lead even compared to paid apps again...

Nope. Not one bit. The developer is still working on it. Check the marketplace.

what?? last we heard it was discontinued... i deleted it from my phone and didn't plan to buy the full version.


The full version is free.

If you love tech articles check out Geekbits. Like an RSS reader.

Why recommend stuff like red scanner and yelp!? That stuff is already built in. That's the point of WP and use of those apps negates that.

I was wondering this exact thing. On a similar note, I haven't used Shazam since the Mango update for the same reason.

I find local scout to be minimally effective. The ratings for restaurants tend to be outdated. Bing Music is good, but doesn't always find everything. I have Shazam simply because it's what I used before Mango. I find Soundhound to be the best music identifier

Appdeals & Marketplace Deals also

I'm pretty sure a lot more WP7 users went for Fhotoroom than Instacam

Fhotoroom is a good service. But there needs to be better quality control as people are uploading some questionable stuff. It makes sense now why Instagram denied third party API access on the grounds of quality control.

BBB app-ocalypse is a good free game!

For those in the UK, BBC News Mobile and BBC Podcast Lounge are excellent third party apps.

Tue discontinued apps thing us annoying, for example, I bought an app called Perfect Scan now I changed phones ( omg, Lumia 800 is so nice...) and it's gone. Perfect Scam...

PrimeTube for YouTube.. Best YouTube client I have seen !!

And 4th & Mayor?? For me is the best wp7 app in terms of UI design, performance, data consuming, speed etc.

This app is one of the best for sure. As you said, the UI, features, performance and updates are great.
I would add Tasks to the list of great free apps. Its features and UI are great too.

MySketch is the best Post It app out there, free and no ads. It's got 3 modes to capture your note or sketch - free hand, text input, and camera. It's got Bezier line smoothing technology, that will help smooth out your curves. Camera images are auto-rotated and cropped. All post it notes are pinnable to the Start screen.
http://www.windowsphone.com/en-US/apps/d2d5dfbb-95e9-49ef-af0e-62bbd1d684d9


I'm having a fun time with PCremote and baby monitor.

crazy survival is a really funny game...

Amazing basketball game
www.larry.porral.com


Cartridge is a great free game for those who like retro platformers. :)

MetrofaceLIFT, best high-res free wallpapers

Netflix is not free, has a monthly subscription! Great app though
Windows Central Newsletter
Thank you for signing up to Windows Central. You will receive a verification email shortly.
There was a problem. Please refresh the page and try again.