The best messaging apps on Windows Phone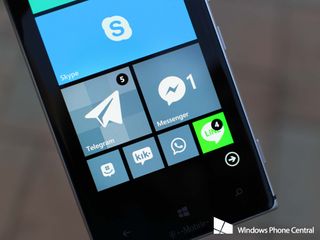 When Windows Phone first launched back in 2010 there weren't too many messaging apps available. Over the years we've seen most major messaging platforms join the ecosystem. Today we have great services like WhatsApp, Skype, Kik, Facebook Messenger, Line, GroupMe and Telegram. Others, like BBM, are on the horizon and will join Windows Phone sooner than later.
We're curious though as to which messaging platform you use the most. We also want to know which messaging platform you prefer. It's completely possible to have a different app that you prefer over one that you use the most. The majority of your friends might be communicating through FB Messenger, but you'd prefer if they were on something else like WhatsApp or Telegram.
We're going to look at seven major messaging platforms today. Skype, Telegram, GroupMe, WhatsApp, Kik, Facebook Messenger and Line are being given our full attention. They're the apps we see the Windows Phone community coalescing around the most.
We'll highlight some strengths of each messaging app. Then Daniel (@daniel_rubino) and myself (@samsabri) will share our thoughts on each messaging app/service.
There's a poll at the very end where you'll vote for your favorite messaging app on Windows Phone. After that take to the comments and back up your vote!
WhatsApp
Why you can trust Windows Central Our expert reviewers spend hours testing and comparing products and services so you can choose the best for you. Find out more about how we test.
WhatsApp. Will there be a bigger success story in 2014 than what recently happened to the team at WhatsApp? Facebook bought the popular messaging platform for $19 billion. That's huge. They didn't always have a great Windows Phone app, but this past year they've kicked it up another notch. Now the app much better. It's not quite at the same level as the iOS and Android apps, but it's getting closer.
WhatsApp on Windows Phone brings push notifications, Live tile support and a nice UI to the mix. The fact that you can only be signed into one session of WhatsApp on a single smartphone is a big disadvantage for a messaging service. WhatsApp is free for the first year, but then $0.99 per year after that.
Daniel's take - WhatsApp wasn't much of an app in 2012, but in 2014 it's the messenger to beat. It's especially popular in Western markets, with more people using it than any other network. The Windows Phone app, with Nokia's assistance, has gradually made it very reliable. It's short, simple and to the point and for now, it's my go to messenger. With new features coming out of beta, and a renewed focus on 'Groups', WhatsApp has a lot of room to grow on a solid platform.
Sam's take - Honestly I didn't start using WhatsApp seriously until a few months back. Mainly because of Daniel. He switches phones so often that it's hard to know which number he's actually using. Which is why the best way to get his attention is email or through a messaging app. I don't mind WhatsApp on Windows Phone. The app is really good and getting better every week. I'm just not as productive with a service I can only get on my phone and not my PC or tablet.
Download WhatsApp from the Windows Phone Store.
Skype
Skype is service that at one point seemed destined to be the default messaging platform for the future. However, Skype was never designed for a mobile world and as such miss the transition to smartphones. The Skype team is working hard to architect their backend services to make Skype a modern messaging platform.
Skype on Windows Phone wasn't the best, but it's slowly getting better. User experience has been mixed on Skype. The app fundamentally isn't bad, it's just every now and then we hear you guys not getting notifications or updated Live tiles.
The Windows Phone app offers up what you'd expect in a messaging app. You have a Live tile, notifications and more. Skype totally kicks ass when you consider how ubiquitous it is. You can Skype on nearly any device imaginable and be signed in at multiple locations. That's a big advantage compared to some other messaging services.
Daniel's take - Skype is terrible as a messenger, but it's getting better. It's not Microsoft's fault, as Skype was built to make VOIP calls from PC to PC. In today's world, it's all about mobile, and the network behind Skype needs to be rejiggered before it can fully adapt. With the recent message-syncing fix, the app is becoming more suited for general messaging, but it's still miles away from becoming a WhatsApp or a GroupMe.
Sam's take - I like Skype. It has been pretty terrible for mobile messaging, but it's getting better. Skype is everywhere though, which is a big advantage for it. Accessing Skype on my PC, Xbox One, or browser makes it a killer service and the one messaging platform I use daily. Once they overhaul the Skype backend for a modern world it'll be killer. Bonus: video and voice calls with good quality have always been there too.
Download Skype from the Windows Phone Store.
Line
Line is big in Japan and slowly expanding outward to take over other markets. It features over 370 million users around the globe. Like Skype, Line isn't limited to just messaging. You can place voice and video calls through the service. However like WhatsApp, Line is limited to a single-device only for smartphones. However Line does have an app on Windows 8 that you can sign in.
Line on Windows Phone has your Live tile, push notifications, voice call support and more. Line's stickers that you can send in chats is over the top – in the best possible way. FB Messenger has some good stickers, but Line has the slight edge in quality and quantity. The stickers in Line are so popular they've spawned a theme park in Taiwan.
Daniel's take - Although it's not big in the US or Western markets, LINE is admittedly a lot of fun. It's bright, relatively fast, it has hilarious stickers and the app is chock full of features. The best part? You can make calls through it, as it now has VOIP built in. It's like Skype in reverse: start as a messenger, build into VOIP. I really like LINE, but it suffers from being 'unknown' in my circle of friends and family. But if that's not a concern, then LINE is the way to go.
Sam's take - I'm new to Line. Literally signed up a few days ago, but the Windows Phone app already has me very impressed. Notifications are fast and the app has a ton of features. Not going to lie, Line also has some of the funniest stickers I've seen in these messaging apps.
Download Line from the Windows Phone Store.
KIK
Kik is basically junk on Windows Phone, which is a real big shame. Kik is popular because it requires a screen name to add friends compared to a real phone number. This makes Kik the preferred messaging platform for connecting with strangers or those you don't know too well just yet.
Kik was decent on Windows Phone, but they haven't updated the app in literally years.
Daniel's take - Before the rise of WhatsApp over the last two years, KIK was my go-to messenger of choice. I liked the layout, it was superfast and it just worked. Then KIK went on their 'HTML5 content platform' nonsense in the form of Cards, something which Windows Phone did not support. As a result, KIK has abandoned Windows Phone for the foreseeable future, with no updates since February 2012. Now, I get more spam then real messages on it and the KIK teams hilariously tells me to enable a feature which their app doesn't have on Windows Phone. KIK is, for all intents and purposes, dead to me.
Sam's take - Here's an app that had a lot of potential on Windows Phone, but decided the millions of users weren't worth their time. I liked Kik, but never use it anymore. It has some strengths over WhatsApp, Line and Telegram. The biggest not needing to divulge your phone number and just your screen name. It made Kik a good way to communicate with people who you didn't want to give close access to your life.
Download Kik from the Windows Phone Store.
Faceook Messenger
Facebook Chat has always been part of Windows Phone. Facebook Messenger is a standalone application for chatting with your Facebook friends. It offers attachments and fun stickers over the built-in messaging hub or even the Facebook App.
FB Messenger just came out on Windows Phone, but so far we like it a lot. Notifications are fast and the Live tile updates as expected. This is a great app for communicating with your friends on Facebook. Which is probably most of your friends to begin with.
Daniel's take - I don't have an active Facebook page, so the idea of a dedicated Messenger is not something that would be very useful. However, in playing with the official FB Messenger app, I can't help but be impressed with the fine coding: it's fast, bold, and simple. All the things that Facebook proper is not. It almost makes me want to use Facebook. Almost.
Sam's take - Besides Skype, FB Messenger is probably my most used messaging platform. Which is why I'm pretty glad to see a dedicated app now out for Windows Phone. FB Messenger is where I communicate with most friends. Not internet friends or acquaintances, but those who I see on a regular basis. The fact that there are so many ways to access FB Messenger make it such a great way to communicate.
Download Facebook Messenger from the Windows Phone Store.
Telegram
Telegram is the messaging app right now full of promise. It builds on a foundation that is part WhatsApp and part Skype. Like Skype it's everywhere and even has an API so that developers can build their own apps.
Telegram also has the perk of being free forever, encrypted, and built for a modern society that's mobile. You can access your Telegram conversations from every device around you. The open APIs mean that developers have already created browser experiences, desktop apps and plenty of mobile apps to keep you connected.
At the moment there isn't an official Telegram app on Windows Phone. Though we're liking Migram the best. It offers a Live tile, notifications, and other features to keep you messaging.
Daniel's take - Telegram right now is a lot like WhatsApp with a few extra perks e.g. custom notifications for contacts. The service promises to be more secure than WhatsApp, though it's the app and service speed that have me hooked. I think it's impressive that Telegram, even in beta, basically matches WhatsApp in terms of features. It's still a little rough around the edges e.g. reliability of notifications. But there's really no stopping Telegram, except for the age old issue: will your friends use it? I think Telegram is the service to watch in 2014.
Sam's take - Newcomer Telegram is already making waves. It exploded in popularity shortly after WhatsApp was bought by Facebook for $19 billion USD. Everything WhatsApp does Telegram can do, but it also can do a lot more. It promises to be free, secure and offer more features for those paranoid of government agencies snooping in on conversations. The fact that the API is open for anyone to develop apps should make it appealing. You can access Telegram on any device in your life! That's a huge draw for me and I hope to see Telegram gain users.
Download Migram/Telegram from the Windows Phone Store.
GroupMe
GroupMe for Windows Phone is a nice app. It offers up push notifications and a Live tile. GroupMe focuses on providing a great messaging platform for groups. Which doesn't make it ideal for one-to-one conversations.
Daniel's take - GroupMe was a standalone company bought by Skype a few years back. Then Microsoft bought Skype, ergo they own GroupMe. It's a well done messenger app and as the name it implies, it focuses on 'groups' that you can invite people to. It's relatively fast, has some funny emoticons and even a web version that you can access via your PC. It even has animated GIF support now. Still, GroupMe is just not as fast as WhatsApp (or Telegram) and the lack of fine grain control over groups i.e. removing people, makes it an odd duck. It's also not clear how Microsoft plans to position GroupMe with Skype, if that's even a plan.
Sam's take - GroupMe is a great mobile messaging app. It's useful for group messaging and has proved invaluable for us when we do trips like Nokia World, Build, CES or E3. There's a web client, so those back home not at the conference can chat easily with us from their PC's.
Download GroupMe from the Windows Phone Store.
Your turn. Vote for your most used messaging app and your favorite messaging app!
Reading this in our Windows Phone app? Open up the following link in Internet Explorer if you want to take the poll! Don't forget to back up your favorite app below! m.wpcentral.com/best-messaging-app-windows-phone
Get the Windows Central Newsletter
All the latest news, reviews, and guides for Windows and Xbox diehards.