The best messaging apps on Windows Phone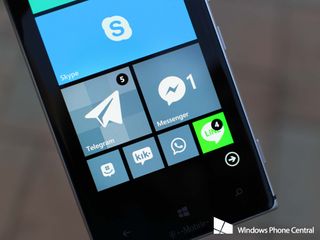 When Windows Phone first launched back in 2010 there weren't too many messaging apps available. Over the years we've seen most major messaging platforms join the ecosystem. Today we have great services like WhatsApp, Skype, Kik, Facebook Messenger, Line, GroupMe and Telegram. Others, like BBM, are on the horizon and will join Windows Phone sooner than later.
We're curious though as to which messaging platform you use the most. We also want to know which messaging platform you prefer. It's completely possible to have a different app that you prefer over one that you use the most. The majority of your friends might be communicating through FB Messenger, but you'd prefer if they were on something else like WhatsApp or Telegram.
We're going to look at seven major messaging platforms today. Skype, Telegram, GroupMe, WhatsApp, Kik, Facebook Messenger and Line are being given our full attention. They're the apps we see the Windows Phone community coalescing around the most.
We'll highlight some strengths of each messaging app. Then Daniel (@daniel_rubino) and myself (@samsabri) will share our thoughts on each messaging app/service.
There's a poll at the very end where you'll vote for your favorite messaging app on Windows Phone. After that take to the comments and back up your vote!
WhatsApp
WhatsApp. Will there be a bigger success story in 2014 than what recently happened to the team at WhatsApp? Facebook bought the popular messaging platform for $19 billion. That's huge. They didn't always have a great Windows Phone app, but this past year they've kicked it up another notch. Now the app much better. It's not quite at the same level as the iOS and Android apps, but it's getting closer.
WhatsApp on Windows Phone brings push notifications, Live tile support and a nice UI to the mix. The fact that you can only be signed into one session of WhatsApp on a single smartphone is a big disadvantage for a messaging service. WhatsApp is free for the first year, but then $0.99 per year after that.
Daniel's take - WhatsApp wasn't much of an app in 2012, but in 2014 it's the messenger to beat. It's especially popular in Western markets, with more people using it than any other network. The Windows Phone app, with Nokia's assistance, has gradually made it very reliable. It's short, simple and to the point and for now, it's my go to messenger. With new features coming out of beta, and a renewed focus on 'Groups', WhatsApp has a lot of room to grow on a solid platform.
Sam's take - Honestly I didn't start using WhatsApp seriously until a few months back. Mainly because of Daniel. He switches phones so often that it's hard to know which number he's actually using. Which is why the best way to get his attention is email or through a messaging app. I don't mind WhatsApp on Windows Phone. The app is really good and getting better every week. I'm just not as productive with a service I can only get on my phone and not my PC or tablet.
Download WhatsApp from the Windows Phone Store.
Skype
Skype is service that at one point seemed destined to be the default messaging platform for the future. However, Skype was never designed for a mobile world and as such miss the transition to smartphones. The Skype team is working hard to architect their backend services to make Skype a modern messaging platform.
Skype on Windows Phone wasn't the best, but it's slowly getting better. User experience has been mixed on Skype. The app fundamentally isn't bad, it's just every now and then we hear you guys not getting notifications or updated Live tiles.
The Windows Phone app offers up what you'd expect in a messaging app. You have a Live tile, notifications and more. Skype totally kicks ass when you consider how ubiquitous it is. You can Skype on nearly any device imaginable and be signed in at multiple locations. That's a big advantage compared to some other messaging services.
Daniel's take - Skype is terrible as a messenger, but it's getting better. It's not Microsoft's fault, as Skype was built to make VOIP calls from PC to PC. In today's world, it's all about mobile, and the network behind Skype needs to be rejiggered before it can fully adapt. With the recent message-syncing fix, the app is becoming more suited for general messaging, but it's still miles away from becoming a WhatsApp or a GroupMe.
Sam's take - I like Skype. It has been pretty terrible for mobile messaging, but it's getting better. Skype is everywhere though, which is a big advantage for it. Accessing Skype on my PC, Xbox One, or browser makes it a killer service and the one messaging platform I use daily. Once they overhaul the Skype backend for a modern world it'll be killer. Bonus: video and voice calls with good quality have always been there too.
Download Skype from the Windows Phone Store.
Line
Line is big in Japan and slowly expanding outward to take over other markets. It features over 370 million users around the globe. Like Skype, Line isn't limited to just messaging. You can place voice and video calls through the service. However like WhatsApp, Line is limited to a single-device only for smartphones. However Line does have an app on Windows 8 that you can sign in.
Line on Windows Phone has your Live tile, push notifications, voice call support and more. Line's stickers that you can send in chats is over the top – in the best possible way. FB Messenger has some good stickers, but Line has the slight edge in quality and quantity. The stickers in Line are so popular they've spawned a theme park in Taiwan.
Daniel's take - Although it's not big in the US or Western markets, LINE is admittedly a lot of fun. It's bright, relatively fast, it has hilarious stickers and the app is chock full of features. The best part? You can make calls through it, as it now has VOIP built in. It's like Skype in reverse: start as a messenger, build into VOIP. I really like LINE, but it suffers from being 'unknown' in my circle of friends and family. But if that's not a concern, then LINE is the way to go.
Sam's take - I'm new to Line. Literally signed up a few days ago, but the Windows Phone app already has me very impressed. Notifications are fast and the app has a ton of features. Not going to lie, Line also has some of the funniest stickers I've seen in these messaging apps.
Download Line from the Windows Phone Store.
KIK
Kik is basically junk on Windows Phone, which is a real big shame. Kik is popular because it requires a screen name to add friends compared to a real phone number. This makes Kik the preferred messaging platform for connecting with strangers or those you don't know too well just yet.
Kik was decent on Windows Phone, but they haven't updated the app in literally years.
Daniel's take - Before the rise of WhatsApp over the last two years, KIK was my go-to messenger of choice. I liked the layout, it was superfast and it just worked. Then KIK went on their 'HTML5 content platform' nonsense in the form of Cards, something which Windows Phone did not support. As a result, KIK has abandoned Windows Phone for the foreseeable future, with no updates since February 2012. Now, I get more spam then real messages on it and the KIK teams hilariously tells me to enable a feature which their app doesn't have on Windows Phone. KIK is, for all intents and purposes, dead to me.
Sam's take - Here's an app that had a lot of potential on Windows Phone, but decided the millions of users weren't worth their time. I liked Kik, but never use it anymore. It has some strengths over WhatsApp, Line and Telegram. The biggest not needing to divulge your phone number and just your screen name. It made Kik a good way to communicate with people who you didn't want to give close access to your life.
Download Kik from the Windows Phone Store.
Faceook Messenger
Facebook Chat has always been part of Windows Phone. Facebook Messenger is a standalone application for chatting with your Facebook friends. It offers attachments and fun stickers over the built-in messaging hub or even the Facebook App.
FB Messenger just came out on Windows Phone, but so far we like it a lot. Notifications are fast and the Live tile updates as expected. This is a great app for communicating with your friends on Facebook. Which is probably most of your friends to begin with.
Daniel's take - I don't have an active Facebook page, so the idea of a dedicated Messenger is not something that would be very useful. However, in playing with the official FB Messenger app, I can't help but be impressed with the fine coding: it's fast, bold, and simple. All the things that Facebook proper is not. It almost makes me want to use Facebook. Almost.
Sam's take - Besides Skype, FB Messenger is probably my most used messaging platform. Which is why I'm pretty glad to see a dedicated app now out for Windows Phone. FB Messenger is where I communicate with most friends. Not internet friends or acquaintances, but those who I see on a regular basis. The fact that there are so many ways to access FB Messenger make it such a great way to communicate.
Download Facebook Messenger from the Windows Phone Store.
Telegram
Telegram is the messaging app right now full of promise. It builds on a foundation that is part WhatsApp and part Skype. Like Skype it's everywhere and even has an API so that developers can build their own apps.
Telegram also has the perk of being free forever, encrypted, and built for a modern society that's mobile. You can access your Telegram conversations from every device around you. The open APIs mean that developers have already created browser experiences, desktop apps and plenty of mobile apps to keep you connected.
At the moment there isn't an official Telegram app on Windows Phone. Though we're liking Migram the best. It offers a Live tile, notifications, and other features to keep you messaging.
Daniel's take - Telegram right now is a lot like WhatsApp with a few extra perks e.g. custom notifications for contacts. The service promises to be more secure than WhatsApp, though it's the app and service speed that have me hooked. I think it's impressive that Telegram, even in beta, basically matches WhatsApp in terms of features. It's still a little rough around the edges e.g. reliability of notifications. But there's really no stopping Telegram, except for the age old issue: will your friends use it? I think Telegram is the service to watch in 2014.
Sam's take - Newcomer Telegram is already making waves. It exploded in popularity shortly after WhatsApp was bought by Facebook for $19 billion USD. Everything WhatsApp does Telegram can do, but it also can do a lot more. It promises to be free, secure and offer more features for those paranoid of government agencies snooping in on conversations. The fact that the API is open for anyone to develop apps should make it appealing. You can access Telegram on any device in your life! That's a huge draw for me and I hope to see Telegram gain users.
Download Migram/Telegram from the Windows Phone Store.
GroupMe
GroupMe for Windows Phone is a nice app. It offers up push notifications and a Live tile. GroupMe focuses on providing a great messaging platform for groups. Which doesn't make it ideal for one-to-one conversations.
Daniel's take - GroupMe was a standalone company bought by Skype a few years back. Then Microsoft bought Skype, ergo they own GroupMe. It's a well done messenger app and as the name it implies, it focuses on 'groups' that you can invite people to. It's relatively fast, has some funny emoticons and even a web version that you can access via your PC. It even has animated GIF support now. Still, GroupMe is just not as fast as WhatsApp (or Telegram) and the lack of fine grain control over groups i.e. removing people, makes it an odd duck. It's also not clear how Microsoft plans to position GroupMe with Skype, if that's even a plan.
Sam's take - GroupMe is a great mobile messaging app. It's useful for group messaging and has proved invaluable for us when we do trips like Nokia World, Build, CES or E3. There's a web client, so those back home not at the conference can chat easily with us from their PC's.
Download GroupMe from the Windows Phone Store.
Your turn. Vote for your most used messaging app and your favorite messaging app!
Reading this in our Windows Phone app? Open up the following link in Internet Explorer if you want to take the poll! Don't forget to back up your favorite app below! m.wpcentral.com/best-messaging-app-windows-phone
Don't know why but when ever i use to inquir any query to WhatsApp team they blindly sending me their Faq page in email,they not reading customers email at all ,they had saved 2emails in their system and send it blindly,recently i had send mail that who can register for your WhatsApp beta app,they in rply send me their faq page and mention me pls make sure u had good signal strength and all that,than i replied again that i want to know the procedure or eligibility for registering beta app,than again send me faq page,..,,poor customer support

Yes, I use IM+ Pro with a Jabber account to be outside agency spionage, but also I like to be online on facebook chat, skype and google at the same time! One app for all services. It just needs to support OTR, but I heard it will be coming. Also they do offer a Firefox plugin for desktop use.

Everybody has their opinion which is why IM+ is great.

Not sure what the best is but I do know the worst... Facetime because it only works on Apple trash.

I use groupme since my friends aren't hip to telegram yet lol

Oh and I hate Facebook but everyone is already on it.

I hate weekends.. :P Very slow news.. :/

I would love to use kik because a lot of people use it on other platforms to connect with people to whom they don't want to give out a real number. I wish it were usable. Now, I mostly use what Sapp. Facebook messenger is looking really nice tho. And I love the stickers.

LINE has been offering that long before Kik. You just need to go to LINE's settings and get an ID name. The ID can't be changed later, so you must be pretty sure what you want your ID to be. Then, if someone wants to add you, you only need to tell him your ID and that's it. You can even register your e-mail and set a pasword in order to use the desktop and Windows 8.x apps.

i hate the fact that tango worked on WP7.x but not on WP8! it was reliable and I managed to get most of my family on it to video chat easily..... now i'm left out :(

Hey please add Hike also..It is really popular in Windows phone store..See the ratings and reviews..

Yes it is My favourite too.. the develop team actually respond as we contact them too...

Am still waiting for that WhatsApp update!!!

Likewise; why don't they mention WeChat in such articles, where they are enumerating messaging apps! WeChat is a social network in itself... BTW, except Skype, all those apps have the ability to send and receive pictures and videos since their debut on WP.. Its always this ONE feature in Microsoft's apps to piss off users long enough and tbvh its seems like they deliberately left out; if some mundane messenger can implement this functionality (take that ready-made code snippet from http://code.msdn.com), why can't an 8B dollars Skype aquired by Microsoft? Oh! is it also good for my device battery? Holding back features is just a BS, a cheapest marketing stunt (or the kind of bureaucratic decision which is nothing but drowning MS) to prove something extremely pointless..... The minimum requirement is to have all features which they are offering on other platforms and all the reasonable features which other app vendors are offering. This is just a minimum expected requirement and we expect wayy MOAR to make it wroth the value! Fair Enough is too old. Compete !!

Yeah WeChat is by far the best.

I'm agree, Wechat is the best one..

Yes WeChat is the best, a lot of QONQR players are using it around the world to coordinate theirs efforts in the game.
it have text, vocal and video capabilities and we can manage users groups with hundred player in each. It does not require our phone number, we can communicate with our in game nickname. Very light in memory and do not drain the battery.

Yes. Was going to say WeChat. I haven't been using it until I met a bunch of Chinese friends in Manchester and they're all on that. WP version of WeChat is actually pretty good and it has I would say all of the intended functions from the company - while with some apps like Line you occasionally receive this "message not supported by you app" thingy.

Anything that integrates with group chats on Hangouts?

IM+ does the job for me in Google Hangouts

It doesn't have group chats though, right?

I must be a social outcast, cause I don't use any of these.

Me either... I just use the built in text messages?

My social circle don't use messenger apps, so yeah, just plain text messages.

I don't think many Americans use chat apps because most of us have texting as part of our phone plans.

Ditto, almost every plan includes unlimited texting (and most time international too) here in Canada and from my understanding in the states as well, is this not the case around the world?

Don't use any messaging apps here in the UK either, just SMS. I have 5000 free sms a month, so no need for messaging apps.

Lol ...if your like mine..on 3 unlimited everything...well not pic messages tho...the message app make it free

Not the case in the rest of the world, especially not in .EU. There isn't a provider out here with unlimited texting that I can think of (sure there's probably a few but...). Usually you get x minutes for texting or calling and it's up to you how you spend them. Those minutes for texting and/or calling are only valid for national calls/operators so the second you send a text to someone outside the country you incur additional costs. Seeing as there isn't one EU telecom space a lot of people resort to messaging apps to keep in touch with friends and family across the EU. Add to the fact that you're highly unlikely to go through your data-cap just with messaging apps compared to a standaard '120 text/minutes' plan a lot of people are on, things like Telegram or WhatsApp become part of your daily reality. Same goes for Skype, a boatload of people in the EU use it just to avoid the ridiculous costs operators charge for calling a different country. Sure they have promotions so that if you pay 5E extra a month you can call certain countries at reduced cost but nothing quite beats the price of Free, let alone Free with video so you can also see eachother.

Very true. I get charged a ridiculous amount here in the UK if I text or phone someone abroad. So I only make friends in the country I'm in now. Lmao

Yeah, I'm in the same boat. I get unlimited minutes texts and data, but only within the UK (to UK numbers). Outside of the UK I'm snookered. I have friends across the world though so it's a godsend are these messaging apps. Posted via the WPC App for Android!

Nope, at all. Posted via the WPC App for Android!

No, you must be American. WPC App for Android - Note 3

One thing I don't understand about the U.S., is how we have great data plans (unlimited everything, etc) yet our internet speeds I hear rank something like 31st in the world??? What's up with that?

You have a big country to cover, mate!

Kik sucks for wp8 it crashes alot hope we will get update after wp8.1.
I mostly used WhatsApp. I like fb messenger and now eagerly waiting for bbm on wp8. Hope it will have option to pin a contact to start screen like in WhatsApp we have.

While kik has sort of been abandoned, it still works well and the app is certainly not broken.

It sucks but I still use it. We have no choice.

"We have no choice." - you just commented on an article that has given you choices.

Probably because most of their friends only use Kik?

Anything cross platform. So mainly FB messenger and whatsapp

I wish this year is the year of Skype. Skype has to be the best way of communication. Hate how anyone with my phone number can reach me on whatsapp.

Skype is good for video calling right? Only other features are bad right?

Skype is good for video calling, voice calling and chat. It doesn't have media sharing, file sharing, isn't ideal for group chats, app is cumbersome just like Facebook messenger. No app is sleek in loading like Whatsapp.

Other main use is cheap international calls (to phone lines)

+1 totally forgot about that even though I occasionally use it myself!

I still prefer Skype, even with its quirks. Easily move between all of my devices and am able to still use messaging hub instead of the app on phone. I only open app for voice and video. Although, I wish rooms was on Windows 8. Because I move between phone and surface often, rooms chat does not work for me.

FB messenger may look cool, but it requires a faster connection, running it on 2G is cumbersome. Especially compared to running it through the peoples hub. .
Line has been seeing lot of updates and is among the best. .
You guys didn't include WeChat in the comparison, which is as big as WhatsApp in China. The wp app is good but takes close to 120 Mb space.
.
WhatsApp has been getting better, still is slow to load on lumia520.

Nothing works great on 2G actually.

Kakao talk is one hell of an app.

Limited functionality on wp but yes it's certainly popular in Asia, especially in the nation of LG and Samsung

Yes it is, my wife and I use it as an special app where only us are connected, so for other things like friends or work we mainly use whatsapp.

Small typo - the b in Facebook Messenger. Love the article, I personally use WhatsApp

Waiting (hoping) to see Skype become a true iMessage competitor.

I Like Facebook messenger and I'll try BBM when it comes.

Half way there right now with how Messenger is integrated.

Whatsapp of course! The most contact list i got is there... Happy and cant wait for the huge update!

Facebook Messenger is currently the best. Waiting for BBM.

Viber is best to me, it even has a desktop app. But I constantly have error messages when it comes to getting notified reliably. I would love for Skype to catch up with the rest of these so I could just use that instead.

Hike... on the plus side it gives free SMS and talk time recharge for Indian carriers.

I use skype, whatsapp, occasionally kik, and the new Facebook messenger. Kik does suck.

Does anyone here use kakako talk?

I feel HIKE deserves to be in List :) so good messaging app...

Most of my buddies using WA. But a lot of people using Viber. I prefer this Messenger as well. Its my favorite next to Line

In order: whatsapp groupme line Skype. Tried wechat but really restricted to Chinese people

That means I should switch from Viber because that one only sucks ass.

I use the good old fashioned SMS text messages 95% of the time, because it works and it's universal.
I use Facebook Messenger/chat and Skype only when initiated by whoever is contacting me.

Not many international friends?

Fb messenger is well designed

Yeah, this one is so nice!!!

No black theme, well designed my toe.

How about that one app that I use like 100000 times a day where the live tile is a little smiley face (usually). Everything else is like, totally, third party

Probably one of the better articles/reviews I've read in a while. Thanks.

It's mentioned in the article as migram.

I use a combo of regular texting, FB messenger, Whatsapp and Snapchat. I use Skype on my PC but not on my phone. It's absolute garbage. If I'm using my PC and get a call, it'll ring through to my phone too as well as messages pinging through. I've not used kik buy the "reviews" just creep me out.

What I'm looking for is an app similar to GoSMS on android where you don't have to invite other people to download an app to talk to them through there. Basically a replacement for the stock messaging app in Windows Phone.

Try an app called "Text Now," you're able to choose a personal phone number using your area code if you like, notifications are instant, never had a problem with this app on WP8 ever since it was launched. Also, its available through your browser and if you're running a Win 8 machine, an app is also available, syncs very well with the phone client.

I think LINE is very suck!

We chat is very good in WP but its mostly of no use. Happy with watsapp but needs update to and when bbm arrives its gonna be fun

Where is official telegram app?

Soon one of those apps will become official.

It won't happen soon because one of the conditions is it should be available on WP7 also. Who in their right mind will make anything for WP7, with WP8.1 round the corner?

On my L920, Migram take a longer time for notify me about new messages than nGram.

I still don't see what the heck is so special about all these messaging apps when all phones, even the simplest of dumb phones, have SMS built-in. Call me old-fashioned, but I just use good ol' texts 100% of the time. Bonus, it doesn't use up any of my limited-data 4G/LTE data!

Not many international friends?

$20/month text messaging on att, versus $1/yr WhatsApp, including international messages, one minute long videos, voice recordings, picture sharing, etc

There is nothing special, you're just looking at it from a very US-centric POV. Texting is considered overpriced and not worth it in most places outside the US, so they use alternatives.

not old fashioned, just unable to compare sms with messengers

Wow, kudos to Sam and Dan, this is an awesome article! I use WhatsApp the most because my friends and family uses it too. However I do use Facebook so this FB Messenger has got me hooked from the first second, it's so freaking fast and fluid. I tried KIK and had an awful time, tried Viber but no one I knew used it so the app is on vacations for the time being, and I got Migram too, got my sister and one friend to use it and they found it to be nice. I'll give LINE a go and will wait to test BBM also. Oh, I was a heavy Skype user on PC, but I can't stand the WP app, it's so shitty as it is now. Will rush back to it once MSFT pimp it up as a modern smartphone and PC messaging app.

U people first release official telegram app.later include it in list.

At the end of 2013 founders of Telegram started contest for developers to make an official telegram app. The prize was about 100000$.

Whatsapp, Line and BBM when it is available

I miss chaton and lync 2013

I use normal sms when the matter is urgent. When it isn't, it's a mix of WhatsApp and Facebook Messenger. Though I admit I only use FBM now that there's an independent app. I always hated the integration with WP and the fact that it ended mixing with the normal sms.
Once WhatsApp tries to charge me for it, I'm probably moving out

And why should I pay 0.99€ a year for a service when I have other nice, free alternatives?

I wish Skype was integrated like Facetime on Apple. Besides that, FB is pretty much all I use.

If they fail to make their own app, I doubt they'll be able to make a good integration.

Integrated Skype will bet better than Facetime damn confident. Face time is very laggy.

Better and cross platform. Indeed on every platform, even web. So those 5 dudes with Chromebooks can Skype too.

that would be nice. maybe it would ring properly then as well? and they could sort out the user interface on skype. it's a mess on wp

@sam, you should also include Wechat in the list

WhatsApp user here, waiting to see whether or not Skype gets better.

Why didn't you guys talk about viber, wechat and hike????? Daniel?????

Because they don't use it.

yes! viber is what skype should be.

Kik on WP sucks how did that make the list before wechat its way better than kik

I want whatsapp had the same "look" and sounds of Facebook messenger

Wish developers can give much attention to details and coding as FB messenger guys did ..it make me wish that our next Facebook app will be made by the same team and not by MS

Will GroupMe EVER add back copy/paste? They inadvertently dropped it (I assume) a while back and never fixed it. Also, it's just slow as hell and buggy. Fix it, it would be nice.

Seriously, you must be joking Sam. No wechat? The most feature-rich messaging app by far. Text, voice, video, walkie talkie, sticker shop... Plus a whole matured social platform with 400 million users. So it doesn't even worth mentioning?

Is there an option for multiple photo sharing?

Definitely. It has far more features than any other social messaging app I have ever seen.

It only has Chinese users on it. That's one feature it misses - your friends who are not Chinese.

Actually I was surprised by South African friend added me on WeChat. Yes, most users are Chinese, but that doesn't reduce the features it has. If more and more people start using it, you will soon find your friends there.

But messenger is only a messenger if it can be used to send messages. No one wants to use WeChat. It is sometimes hard to trust developers. I have had my bitter experience with WeChat where they have refused to delete my account and its contents.

Agreed!!!! Please review WPC team

Hike is also very good. They have worked a lot on the wp8 version of their app. Do try

Used to like hike, its just none of my friends are using it. But it was a good experience.

I hate whatsapp, it reminds me of my ex

Hows life going Satya. Lets hangout some where we will talk about windows and windows phone lol

No option for "Other?" The only ones I use are the built-in texting app and IM+, as an AIM/Yahoo client.

I use the sms text, don't know why you wouldn't use it.

Because international sms are not free?

some people have friends and family in other countries, some people travel, some people live in countries where there is no unlimited sms plans and both people get charged for 1 txt, some people don't have unlimited mms plans, some providers have different roaming for data vs sms/calls

"rejiggered". Thanks Dan.

Skye right now is unusable because of the slow resume. Now that Facebook messenger is available, that's my go to messaging app.

Facebook messenger has identical slow resume too.

Whatsapp works great for me. When my account expires I'll see.

Its 69p/year, is it that unaffordable?! Indian or not, I don't get it how 69p is so expensive for a service you love and use so much - look at the poll results.

I wonder why Viber didn't make it to the list.
Almost have all of them ( i just love messaging apps too much).
But the ones I use the most now are LINE and FB messenger. LINE is a really great app, has a lot of features, great UI and a also got that feature when you can add people by screen name without giving out your phone number (besides adding your contacts who have the app already just like whatsapp) and the company seems to love our platform as there is almost a monthly update.
Call quality is crystal clear and I think video call functionality is on the way. Feel free to add me on Line messenger @ wpfiras

WhatsApp, Skype (My favorit) and GroupMe. Skype is even in Outlook.com. So Nice.

Even in outlook.com means its partially integrated into our acc right?

Its totally integrated. You can make HD quality video calls from your emails. That is technology. Everything else is just money minting.

WhatsApp beta updated to 2.11.392.0

Skype, for voice calls and videos is the best with no doubt, however , telegram and what's app for messaging and group contacts

You're right Skype is best for video calling which is its richest feature. It works buttery smooth on wp for video calling. I don't know y ppl are whining for transfer of files sharing and other features on Skype

Because those features will make it in par with what IM apps should do. Else this will stay as video calling app forever.

Hmmm you're right but it depends upon first mover strategy or marketing strategy or pr strategy how Microsoft creates it. For eg snapchat, telegram how to became famous on social media. Watsapp as first mover, no one can leave watsapp as u your imp and favourite contacts there. As Skype was the biggest video calling mover it was successful. Rest spending money on it by Microsoft is a pure risk. For eg We chat which did grand advertising and promotion but isn't successful as watsapp and Skype.

Morse code and a cup and string! Only buzzing lol whatsapp and Facebook messenger

UK, EE, 920. Tried them all, WeChat has been the most stable in all aspects.

We use Skype everyday in our business to communicate globally and even in our own office. Like everyone has said, it is everywhere. It does suffer from one annoying trait as a messenger, and that is he inability to push messages. When I log in in the morning, I get a flood of conversations that took place hours before and at this point, other than researching problems, are of little use. My biggest bugaboo with Skype and the reason I have not downloaded the most recent update is I have three different profiles I use - 1 personal, and 1 business I use alone and 1 business I share with another manager. Our coverage hours overlap ,and when he comes online, I drop the shared and go to my named ID. Currently, I can change IDs on my phone. This is important as I use my personal account to make paid calls over seas to mobile phones at my parents', sister's and my older son's homes. It is only pennies a call. But I also sometimes need to use my business IDs when on my Lumia.

Btw, whatsapp beta has graduated to version where it doesn't crash on 'Loading Earlier Messages'. The public version for the recent changes of Background Images, Privacy Settings, No crash on above mentioned issue is coming as early as this month.. Tough to beat whatsapp, imo!

And we'll be able to chose a which app will be the default messenger in 8.1 update

I have enjoyed Viber. They just updated recently and added a bunch more stickers. Now that Facebook Messenger is out though I might use that more because more people are on it.

Migram/Telegram is over the top.

I didn't get your point. You're trying to saw migram is better than the official telegram app

FaceBook Messenger. You forgot the B. Nice article as always.

telegram is the only prince who is set to dethrone the king whatsapp and the majesty facebook messenger

And what's wrong with txt by far the best form of messaging that way only people you know and or like can contact you an not any tom dick or harry

You need to really make friends from other countries.

What's the point in making friends from other countries not like im going to go see them or anything so pretty pointless

Damn all Windows Phone apps are beautiful!

My favorite is whatsapp and the one I use the most. Facebook messenger number two. I don't remember the last time I used line or telegram!!! In the Caribbean most people use whatsapp. People don't talk about other messaging services. It used to be BBM but not anymore since two or three years ago.

Skype is still shit, the massaging service is horrible, just horrible and the video calls don't have as much quality as tango for example.

Just try hike once ;) n ull love it forever

I'd like to love Skype, but it's unreliable as hell and notifications still don't sync across devices. Telegram would be nice for the speed, but i am one of those not getting notifications at all. Facebook Messanger is the best looking of the bunch, but limited by the whole "i don't want everyone as "friends"" thing. Other mentioned no one i know uses, which leaves me with Whatsapp.

I use WhatsApp and FB Messenger usually. Although KIK is much better than WhatsApp or any other messaging app but the app sucks :L

Where is tango for wp ?
I think the article should go for a part 2
With viber(very slow on lumia520), WeChat (fast but takes 100+Mb space) , kakaotalk which has less features than ios/android apps, hike, ICQ, IM+ , piip messenger, Samsung chat on, and nimbuzz

In Europe almost everybody uses two msg apps, FB and Whatsapp, so that's what I use too. I wouldn't know about Skype since I uninstalled it a few months ago. The one app I would like my friends to use is Line cause its very well built. Wapp is so popular in Portugal that one carrier even lets you use for free on your data plan.

Pretty much only using whatsapp. Used to use kik which was good and since you have user names there instead of numbers it's easy to just give it away to anyone.

Is there any news of official Telegram app for Windows Phone? Waiting for it...

Well, Whatsapp and FB messenger are the most mainstream messanging apps, no doubt about it. Now give us a decent music player on wp, thx

How can you do a list like this and not include Viber?
That's just ehhhh, wrong?

What about Viber? I use Viber most, second FB Messenger and third WhatsApp. You got to include Viber in this pool.

Line has a lot ofbugs, sometimes it just doesnt get closed. HIKE is the best app right now on Windows plateform. have a lot of contacts on HIKE. Stickers, background and UI is very good and better than whatsapp and Telegram

Give us IOS With wp icons!

It would be great if Microsoft integrated Whatsapp into its windows phone messaging app,like they did with Facebook. Just an idea.

I think it would be better if they integrate Skype

1. Whatsapp
2. FB messenger

Prefers: Built in FB chatt
Most used: Built in FB chatt and Skype.
Also have Skype and WhatsApp.
Funny how Skype is a lot like MSFT. Missing mobile and all. Fault of MSFT or not, its hard to miss the comparison.

Fail article, WeChat easily beats every one of them listed

I use whatsapp the most but I want to find something else(just not weChat)

Whatsapp definetly. Awesome topic as always.

Hike is my favorite because of the fact it is from my country India as well as because they have very beautiful UI and customizations for their app.Also they offer SMS option tooo that can be send to users who dont have hike installed I would love to use their sefice but unfortunately all of my friends are sticking with WhatsApp, I have no choice :( ironically WhtasApp has the least amount of features but it is the most popular messaging app!!


I would love to use Whatsapp instead of regular texting. Unfortunately it takes two to have a conversation and practically all my friends have iPhones which means they are using iMessage so they see no benefit of whatsapp.

I feel your pain, everyone in my family and friends has been scroogled and uses hangouts....

I started using LINE (iOS) 2 years while I was studying in Japan, and I've been using it daily to keep up with my friends since I went back home. It's a great app, I love those stickers, and I am happy to see the WP version is catching up with other platforms, even though, the timeline is still missing. I just wish I could log on different devices (Phone+tablet) with the same account.

Well, the more I use Facebook messenger, the more I see it is not that great. Sometimes notifications don't come through and the syncing is slow and weird sometimes. I mean you have to wait for the app to open, then you see it sync and it takes a while for everything to transform into the newest synced state. Also you see the circle photos loading after you get in. This is bad cos you never see contact images loading in whatsapp or WP contacts list. They are simply always there, cached properly I guess.

Viber is the most popular app here in my part of Ireland but it's completely rubbish on wp8. So slow. I actually deleted it of my phone and now use whatsapp even tho I'm missing out on my main friends group chat. It does have a decent desktop app and tablet apps which i still use. Far better on other platform. Facebook messenger came to late, no one uses it anymore unless you want to talk to your auntie

Most used is Viber. Why didn't you mention it? Also where is WeChat?
With the newest update Viber became a great app. It still lacks a few features, from Android and iOS, but is good.
Even though I mostly use Viber, because my circle of friends, my favourite is Skype and I hope that Microsoft finally fixes it, so we can have this great messaging app on it's native platform.
Plus hats off to the new Facebook Messenger, it's the most beautiful of them all.

Can't agree. Viber is painfully slow. I'd love it to be good as all my friends use it

My simple answer:
WhatsApp on Windows Phone 8, Skype on Windows Phone 8.1

Most of them in my country Iran such as fb massenger wechat are. Blocked by the government

Has anyone ever used paltalk? I have a friend that wants to get a windows phone but won't because there is no paltalk.

Don't typically use them. Use SMS 99% of the time. My wife set up a 'TextMe' account for my 6 yr old daughter, uses wife's old iPhone WiFi only, so I downloaded that for when she text me at work. I want to use Skype more often though.

I use Viber a lot because my girlfriend does too, I have a Whatsapp account but I never use it. I do use Facebook though, but not the standalone. I have been having issues with sending texts in the last week (receiving is fine and calls are fine)so I have been using other messengers more frequently. I also Skype a lot for calls as it is si much cheaper for overseas caLls.

Telegram is great indeed, but lack of background agent in any of its clients is a huge disadvantage. As soon as ngram or migram gets it, I say goodbye to whatsapp no matter how many of my contacts ignore TG.

Skype got a bit better, the Windows 8 version got an update with changelog "- Skype will stop ringing when you answer a call somewhere else."

They need to do more than that. A lot more. A lot quicker.

Am I the only one who really loved Nokia Pulse?

Will have to update this post with BBM when it's released!!!

I am using fb messenger,whatsapp and waiting official telegram app

Most people I know still use SMS for everything, which is annoying as f*ck when someone includes you in a group text you don't want to be a part of! I'm slowly trying to get friends and family on Whatsapp. BTW, what happened with Microsoft's Rooms feature? Weren't they supposed to spread that to other platforms?

Rooms, I abandoned them. Tried to persuade friends to first get WP, then get on Rooms, then deal with its stupidity, then realised, it was too painful.

First let me start by reiterating that Kik for Windows Phone is shit. Let's hope that they fix it with the upcoming 8.1 update changes. Quickly. I have WhatsApp,and some others,but I haven't used them much. It probably would be one of my go to apps for messaging if I did. As of late it's been the new FB Messenger. I would love Skype to get on the level of WhatsApp,or even FB Messenger for that matter. It probably has the most potential out of any of the apps to be huge. Maybe Microsoft should acquire Line,and integrate features of Line and Groupme into Skype,no?

Aim and yahoo messenger but we don't have them lol

I start going through the comments (until I realized that there were over 200,but from what I gathered is that like me a great deal of people would want Skype. Microsoft needs to get on it FAST! However WhatsApp of course is popular among the comments as well. Even still it looks like a lot of folks like Skype. Come Microsoft,don't mess up and miss the boat.

What's app is the my primary messaging app. The group functionality works very well. The only problem i have is that you can't upload videos from collection, which can be done on iphone and android. What app needs an update on windows phone

You can already upload videos from collection...

No you cant, if i have a video on my sd card or phone i cant attach it and send, on this what's app it takes you to the camera recorder., on ios and android you can choose videos stored on the phone

On my phone I can send videos from my SD card or phone.

I only use WhatsApp and mostly because everybody I know uses it. Further more it's the only messenger that really works properly on WP8: It can receive and send messages in background so I never need to wait for it and it's reliable. No other messenger on WP8 is functional on that level.

1. Skype
2. Facebook Messenger

Where is HIKE Daniel? Its way better than all of this apps,just hive it a try,and also it has a very good support of wp

I've wondered for the longest time why MS doesn't merge Skype and GroupMe. That would make Skype sooooo much better.

I find it a bit ironic that people, worried about privacy, are moving to Telegram, an app from Russia.

It is ironic but they also have some of the best hackers (do ppl still use that term?) in the world so I wouldn't doubt that they can build a secure network

Don't really have a favourite, whatsapp is my go to messenger as everyone i know uses it. Just downloaded Line going to check it out.

The disadvantage of both Skype and plain text/SMS is that you cannot send pictures or videos. I like to use Threema from Switzerland for security and privacy reasons, but they don't offer a WP app. :-(

Viber? Huge around the world, not big in US? WeChat, huge in China, means 1/7 of world population! LOL

None of them work as good as they do in other platforms. Posted via the WPC App for Android!

Whatsapp because everyone in my country uses Whatsapp.Still i hope it becomes on par with Droid and Ios instead of crashing all the time on my lumia 520.

The stickers on hike are much much better than line. They are funnier and more vivid..detailed if you will.. IMO.. :)

I use SMS mostly lol it works 99.9% of the time lol

Currently using (suffering with) Kik, but that's just because most of my friends use it on different platforms. Loving the look of the new FB Messenger app, might try to get my friends to use that instead.

LINE and Whatsapp here. I love the stickers in LINE!

Whatsapp, Line, Facebook Messenger. These three app are the one I used. Sorted with usage frequency.

Why IM+ was not included?

Facebook Messenger is great for me.

Sam missed the mark by overlooking Wechat .. Can we have Daniel back?

What about the chat room in the 'Family Room' anyone uses it? It works with IOS too.

I use kik mostly because my contacts use it however I really enjoy whatsapp more and wish more friends would switch to whatsapp.

I'm going to put my two ha'peth in & vote for Viber too. Seems to be much improved of late & the sticker store is fun.

While I have WhatsApp and Skype installed, I simply don't communicate with people using them. Well, once in a while I use Skype. 100% of my contacts use regular texting. Almost NONE use other messaging apps outside of FB--and they don't use a separate messenger for FB, they just do it from within FB. I use the Me tile to comunicate via txt, FB & LinkedIn exclusively, so I really see no value in anything else.

please... please, please, PLEASE just be done with it all and get on the horn with Trillian. Tell C Studios they need to get on WP! ASAP! PLEEEAAASE!!!

Where is TANGO??? When are we gonna have Tango on WP8?

You forgot SMS :P My usage ~75% SMS/MMS, ~20% Facebook, ~5% Skype... I very rarely use WhatsApp. Would like to use Skype much more.

WeChat is the best, surprised you lot missed it. Also forgot Viber... But WeChat is the best

I like Line the best, but its instability in the beginning made me switch to Whatsapp

MEET'M. Some people will offer blowjobs for free.

Chatogram for sure, did migram dev pay you?

are there going to be any updates for kik after WP 8.1 ? anyone answer cause most of my friends on other platforms use kik , and kik sucks on wp (no stickers , cant use add ons in the app , the app drains the battery and lastly it makes my phone hot at times .

I use Viber most of time, it's slow on WP, but many of my friends have it so ... Then It's What's app, I've been a user for so long, so have that. Also Line, I have it but not using it that much. And skype too, just installed but hardly used.

I vote for HIKE. I am strong-arming my friends into switching. So-to speak.

You must re-publish this Best Messaging Apps article AFTER using ALL the good apps, popular and not-quite-so-popular-yet apps: Hike, Viber, WhatsApp, FB Messenger, LINE, WeChat, KakaoTalk, Kik, Telegram (Migram), Skype, Voxer, GroupMe, IM+, ChatON, Nokia Chat, HeyTell, TalkBox. I have used all, at some point or other, and personally prefer Hike. Of course I also must use WhatsApp and Viber bc of stubborn/lazy/unadventurous friends.

Piip Messenger :) www.piip.com

Yep KIK is completely broken now. What a shame. I loved it so much and now it's just junk. Officially killed it today. It won't load anything even if you reinstall it. Searched WPC for answers and found this article. Confirmed everything I already know. Goodbuy KIK!

LINE, do u know the app still under big problem with the timeline after updated. Pls fix it ASAP.

Wow.. really.. Plix didn't make it to the list or you forgot about it? Awesome app.. let me share 200 pics with my parents in 3 min flat.. and got so many memories back in return!
Windows Central Newsletter
Get the best of Windows Central in in your inbox, every day!
Thank you for signing up to Windows Central. You will receive a verification email shortly.
There was a problem. Please refresh the page and try again.