Best Microsoft Apps for Android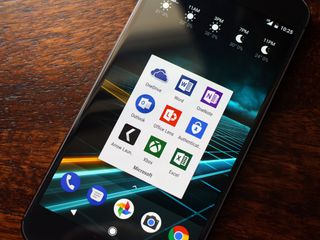 Microsoft essentially shunned Android and iOS for several years, but with Satya Nadella taking the helm in 2014 and adopting a mobile-first stance, the company has turned its attention to bringing its apps and services to rival platforms.
From heavy-hitters like Office to side projects developed by employees in their free time under the Microsoft Garage label, Microsoft has a lot to offer on Android.
Microsoft Office
Microsoft made the Android and iOS versions of Office free in 2014, opening up the floodgates for its adoption on these platforms.
Standalone apps for Word, Excel, and PowerPoint debuted in 2015, allowing users to quickly edit documents, spreadsheets, and presentations on the go. Basic editing functionality is available for all users, but if you want advanced features — inserting section breaks, viewing file history, customizing headers and footers in Word — you're going to have to subscribe to Office 365. If you're just looking to create, edit, or save documents, then the free option should be more than adequate.
Word, Excel, and PowerPoint sync over OneDrive, allowing you to quickly view files stored in the cloud. The apps work even if you don't have the cloud storage service set up, but you'll be limited to working with files locally stored on your device. If you're not a OneDrive user, you can also sync your files through Dropbox or Box.
OneNote
OneNote has picked up several new features lately, turning it into one of the best note-taking apps currently available. One of the biggest additions in recent times is cross-platform availability, making it a viable contender to the likes of Evernote, even more so now that the latter service has gravitated to a paid structure.
By contrast, OneNote is completely free, and it lets you easily type or draw notes. The service lets you scan handwritten notes, and has a powerful search feature that lets you find what you're looking for. You can organize your notes with labels, save web clippings, take voice notes, add photos and videos, and so much more.
OneNote also offers the ability to password protect your notes, version history for your files, Android Wear support, and a widget that lets you quickly jot down a note. The best feature is that you can access your notes even when you're offline, which isn't possible unless you're on a paid plan on Evernote.
Download OneNote from the Play Store (opens in new tab)
OneDrive
OneDrive is a feature-rich cloud storage service that rivals Google Drive, Dropbox, Box, and others. OneDrive integrates with OneNote and Office apps to provide a seamless experience on Android. The app has automatic photo and video backup, and you can link it to your camera roll to automatically sync photos to your OneDrive account.
OneDrive lets you download files for offline use, share photo albums and collaborate on documents, and receive updates when someone makes changes to shared documents. The free tier comes with 5GB of storage, but if you're subscribed to Office 365, you'll get 1TB of cloud storage. If you're not on Office 365, you can buy 100GB of storage for $1.99 a month or 200GB for $3.99.
Download OneDrive from the Play Store (opens in new tab)
Skype
Skype revamped its UI in 2015, offering a cleaner layout that gives you easy access to calls, chats, and contacts. Calls between Skype users are free, and the service also offers group video calls for up to 25 people. Skype retooled chats by rolling out emoticons and Mojis, which are essentially short clips from popular movies and TV shows. You'll also be able to send photos, videos, and share your location from the IM interface.
Skype also offers the ability to call international numbers and landlines, with the service boasting some of the most affordable rates in this space. To incentivize adoption in emerging markets, Skype is letting customers from India call mobile numbers in the U.S. and Canada for absolutely free.
Download Skype on the Play Store (opens in new tab)
Outlook
The Outlook app is one of the best email clients available on Android. Microsoft paid over $200 million for Acompli, a mobile email service with built-in calendar and file sharing, back in 2014, and has rebranded the service to Outlook. Since then, it has added several features, including the core functionality of Sunrise Calendar, another of Microsoft's acquisitions.
Outlook lets you manage email from Gmail, Outlook.com, Microsoft Exchange, Yahoo, and others, providing a unified mailbox. You can archive or delete mail with a swipe left gesture, or peruse your mail at a later time using the schedule function.
The app hooks into the built-in calendar to add details from your emails automatically, and it offers a Focused Inbox that lets you prioritize important emails. You can also attach files easily from OneDrive, Dropbox, and Google Drive. As with all Microsoft services on Android, Outlook is free. If you're in need of a better email client, then you should definitely give Outlook a try.
Download Outlook from the Play Store (opens in new tab)
Microsoft Authenticator
If you regularly sign into a Microsoft account, the company's own two-factor authenticator comes in handy. Instead of the usual six-digit code to log you in, Microsoft Authenticator lets you authorize the sign-in attempt with a simple tap, making the process much more convenient.
In addition to adding your Microsoft account, you can also add details for other services that are secured by two-factor authentication, including Google and Facebook. Haven't secured your accounts yet? Here's why you should set up two-factor authentication right away.
Download Microsoft Authenticator from the Play Store (opens in new tab)
Office Lens
Office Lens is essentially a portable scanner that lets you easily scan whiteboards, documents, and receipts. I used Scanbot (opens in new tab) for several years, but Office Lens' integration with Office apps gives it a distinct advantage over other utilities in this space.
You can scan and upload your documents to OneNote, Word, or OneDrive, and Office Lens offers the ability to convert your images to Word documents, PDFs, and even PowerPoint files. The app uses optical character recognition to convert images into text, making them searchable.
Download Office Lens from the Play Store (opens in new tab)
Microsoft Launcher
Microsoft Launcher offers an interesting take on an Android launcher. It emerged from the previous Arrow Launcher but was reborn for the better. As well as regular launcher features, like adding apps to home screens and customizing your wallpaper and widgets, Microsoft Launcher has some neat tricks others do not have.
You can create your own personalized feed of things, such as news, calendar appointments, office documents, and contacts, while also having the ability to set the feed as your default home screen. Glanceable information is something Microsoft has done for years in Windows on phones.
One of the most interesting features is integration with "Continue on PC." When linked to your Microsoft account, you can perform certain actions on your PC that you started on your phone. And that's beyond nifty. Currently, it's only in preview, but you can gain early access by joining the preview group through the Play Store.
Download Microsoft Launcher from the Play Store (opens in new tab)
Xbox
If you have an Xbox One, the Xbox app offers a ton of utility. The app acts as a virtual controller for the Xbox One, allowing you to control your console with your phone. You can also scroll through your activity feed, view achievements, messages, buy games from the store, and much more.
Download Xbox app from the Play Store (opens in new tab)
Your turn
What Microsoft apps do you use on your Android phone or tablet? Let us know in the comments.
Updated October 10, 2017: We removed Groove Music (sad face) and added the new and improved Microsoft Launcher.
3...2...1 fanboys triggered

Arrow launcher sucks. SquareHome 2 gives you the whole Windows Mobile look and feel with live tiles as well. Super customizable. Also you forgot Bing Wallpaper app and the Bing browser, as well as Cortana.

Launcher10 looks much closer to Windows 10 Mobile than SquareHome2 and has Live Tile support too!

I tried all those windows phone launcher on android but all of them can't really reproduce the original. That's why I moved on to another UI. And I really like the Microsoft launcher so far.

I don't know if I agree with Outlook being part of the "best". It's decent though.

I would agree. I ran into so many issues with it on Android that I abandoned it. When I say "I abandoned it" I mean my family and I (4 of us) abandoned it. My wife's MS Account is tied to her Gmail email address. We had so many issues it wasn't even funny. While MS responded to her in the end we just couldn't get the darn thing to sync properly. I think my issue had to do with trying to use multiple accounts with Outlook for Android. SO, I would say there are some bugs that just simply make it unusable (if you have one account and it's not gmail maybe you can use it OK.. but if not there are major bugs that I couldn't get around).. not sure I would call that a "best of" product.

This sounds more like a user error to be perfectly honest. GMail accounts work perfectly fine with the Outlook app.
You simply add a new account, select GMail and sign in.
Using the GMail address as her MSA means nothing here. It's just a username, same as if she used it to sign into Facebook. It appears as though she has signed into her MSA and gotten confused about having 'the same email address' in there twice when actually it's her MSA and GMail separately.
I personally would recommend you get her to sign into her MSA at account.microsoft.com and change the way she signs into Microsoft (it's under the Your Info tab) by creating her an Outlook.com email address and making it the primary alias and remove the GMail from the account.
This should make using her MSA much easier for her.

So the intelligent solution is to create a new email address? Really?!! That said, I am remembering the issue had to do with syncing our calendars. So Email worked great.. Calendar not so much. Not having my wife's calender is a non-starter (and it was the calendar in my case too).

I said nothing of the sort. I said change the address she used to sign into Microsoft Services. It doesn't change anything on the back end but it means there is less chance of her being confused about what account she is syncing something too. And Outlook Mobile syncs GMail calendars fine. So that isn't the concern.

I also had major calendar issues between accounts using android and outlook. Just went back to using my Windows 950xl, much happier now!

Yea we had the same problem so came back to our 950xl and Elite X3. Android isn't quite ready for enterprise.

Outlook for Android is really buggy and not feature complete. For instance it doesnt have 2-way sync for contacts. So I can see outlook contacts in contacts but cant create contacts and have it add it to my microsoft contacts. I really hope they fix it. Not that it matters too much because I have a 650 and dont plan on switching to android. But still, its stupid for it not to work.

You have hit on the fatal flaw in Outlook for Android: The inability to add a contact or even edit one. In any event, the whole of Outlook for Android is massively inferior to the equivalents on Windows 10 Mobile.

I dropped Outlook for the Nine app. Outlook account contacts sync with the inbuilt contacts App except the picture of the contact doesn't appear. Annoying. I added a pic to one of my contacts on the phone and it ended up on my PC People app but then disappeared from my phone. I don't know.

I have multiple MICROSOFT email accounts (and normal pop3/imap ones) and outlook is a s### too.

Blackberry Hub is my favorite email client on Android and it manages all other notifications. Give it a try

It was the best thing on BlackBerry 10 and it's nearly as good on Android. Love the hub, makes everything so much more fluent and organised for me.

I agreed but outlook sucks when you have to attach a file, it's unbelievable hard to find the right file.

Android users should be grateful to msft for the quality services compared to Google's bloatware.

Microsoft should be grateful their mobile products actually has a mobile OS with users.

Huh???.... That doesn't even make sense.

It makes every bit of sense. Android users don't have to be grateful for anything MS does because Android has its own ecosystem even if they are considered bloatware. MS should be grateful there are users on other platforms using their mobile apps because it's not like they have a wide user base on WM. You go where the users are. And if there are any users transitioning to Android, it's good to know the apps are still there for use.

I agree, I use both Android and WP, M$ could have been jerks and kept their apps to themselves. But they didn't. So I am grateful especially since my 1520 has been bugging out on this last fast ring update. So using OneNote on my Android M8 keeps me going. For some reason OneNote work better on my M8 than my Lumia 1520, 650 and the 950 but the 640 hangs in there. Anyways I agree one doesn't have to be grateful. But hell I am.

I have four Microsoft apps on my Moto Z Play ... Authenticator, Cortana, Skype Preview and Xbox.

I've installed most of them but I like the Authenticator on Android more than the W10M version as it has authentication requests.

Do you mean authentication request notifications? The "Microsoft Authenticator" app for W10M has that feature also. You can click Approve on the toast notification.

You might have been using the WP8 Authenticator app this whole time with that black/white interface. Some time last year, Microsoft released a new app called "Microsoft Authentication" on the Windows Store and this one is same as Android / iOS.

So here we go again... It is worth me moving from my 950xl to an android product? Note 4/5 maybe or something more mainstream like the oneplus 3 or s6/7. I am deeply embedded in MS world, office 365 and onedrive with 60gb of work and files shared between three PCs at home and at work and the link while out being this unit. A phone... They are all phones but which one Will link them together and be my mobile office? Still waiting for someone to give a good review on actually swapping from one to another, not just apps but everything. Nice review on the apps.

Yes it will be a painless switch. Sure there's going to be the learning curve but I can assure you everything you are doing on your Microsoft phone, you'll be able to do on an Android. This includes editing documents on the go, backing up your changes to OneDrive, printing your documents straight from your phone, and the list goes on. My Android plays pretty nice with my Surface Pro 3. I've never had an issue with the 2 different OS's working with each other. You could completely replace all of Google's default services to Microsoft, and Android allows you to set a default app for specific functions. You could turn any recent Android phone into a Microsoft device. It's quite simple, and to be honest, it's quite nice.

While, you're *probably* right, technically its not accurate to say everything he can do on his 950xl, he can do on android. the big standout is Continuum. I do use that feature and its one of the biggest reasons I can't fathom switching to android. i get that it isn't a big deal for some people and may seem like a novelty, but once you find that neat use that just fits what you're doing, its great.

More down to nuance than anything else, you use your phone differently. Arrow is a huge help, very lightweight and adds notifications counts, soemthing so basic but not native to Android. Buy a Pixel or Nexus device for the best OS support and timely updates with the least amount of bloat.

Arrow is great. It was the first thing I added to my Nexus 5 (got it free...had been kicking around the house for 2 years). I have been enticed to try other launchers, and even got fed up and tried the stock Android Launcher. Back on Arrow again. To make things easy, there is an actual Microsoft Apps App that consolidates it all so you don't have to go searching. I have been on Windows Phone since 7.0, and before that Pocket PC. It has been tough to give up my 950. But here in Japan, I couldn't get LTE, despite having the bands. Please note, that even the Sony Windows 10 Mobile Phone won't connect to 4G with most carriers. I have to admit, in this MS barren environment, the Google apps are a must. But I do miss my Live Tiles, Resizeble folders, panorama style menus still on many apps. Something else to consider is Picturesque Lock Screen. This is also Microsoft and it works great. Swipe to the left and News is there, notifications are nice, and shortcuts to favorite apps right on the home page. My Phone essentially stays open, but a lock at the bottom long-pressed sets me up for fingerprint or pattern to log back in. Almost forgot. One of the biggest things to consider when moving from most Windows Phones to Android - few have a dedicated camera button. I can take a shot with the volume rocker, but it is not positioned properly. To be honest, once the price slides a bit more, I may pick up the Xperia Xz. Everything my 950 was and more.

I might be able to kind of help with this. I've been deeply embedded in MS for years. I've been using an Galaxy S6 for about a year. I'm on Verizon and can't change carriers so, long story short, I was forced into an upgrade that I didn't want becuase there were no other Windows Phones. I use all of these apps, including arrow and the Microsoft's HUB keyboard which is still kind of in beta. While my experience with the phone has improved greatly because of them, and becuase they get updated regularly, I still miss my Windows Phone almost daily. I turn off as much google stuff as I can. I get rid of all of the default google apps and since I mostly only use MS apps, they always gravitate toward the top as it sorts my most used. You can also hide stuff from showing up there if you use it but don't want it there. I hid Chrome and use the Bing app. There are more MS apps for Android than are listed in this article and if you do switch, you can tailor your own experience. Using these services I've managed to make a less than preferable device feel more fluid and useable. However, I would say that if you love your Windows Phone and are on the fence about giving it up, I'd say hold on to it until it kicks the bucket. This solution works for me because I was given no other option and, while it's an overall semi-pleasant experience when you finally get it working in a way that's comfortable for you, as someone who's been with Windows Phone since the HTC HD7 was released, I wish like hell I had a Windows Phone. It's doable if you switch but it's not ideal. I'm using it this way because I didn't have a choice. I don't know that I ever would have chosen this. And I think I would have regretted it if I had done so. Hope that helps. If you have questions let me know. I'll check back periodically.

I'm thinking of doing the same. But no droid seems to do dual sim plus SD card at the same time

Most Moto phones are DS and support SD

One related problem is that the Microsoft app that warrants SD card use the most--Groove--currently can't read from (or save to) SD cards for offline use on Android. For now you'd have to use some other app like Google Music if you have to store your music on a SD card due to insufficient internal memory.

I recommend the Huawei P9 Plus. It's the same size of the 950xl, AMOLED screen, faster processor and more memory. The camera (with the Leica thing) is not as good as a Pureview, but it get the job done very well. You will probably miss the Glance screen (as I do), but since it has a notification LED, you will be reminded about pending alerts, and there are lot of Glance screen - like apps in the Play Store, in case you need a permanent clock when the phone is locked. As a plus, it comes with a IR blaster, so you can take control of some devices at home. Oh, and don't forget the fingerprint scanner, which is highly accurate and fast.

Yea I looked at it, but again the 2nd sim card takes up the SD card slot

Take a look at this: https://www.youtube.com/watch?v=LFGHZXCwdRY

My experience is that my 950XL is far smoother and runs much better than the LG V20 I purchased to mess around with. So many things I can't do on android, one being glance screen, pinning things to the main screen, live tiles. android has a bunch of apps and of ocourse all the google apps that it will not LET me remove, but the OS is not as nice as WP10 on the 950XL.

On Android you can use widgets. I didn't really use Android much so I don't know which apps have widget support and how the widgets work but I know some that I tried were actually tied with the main app pretty nicely. It's still not as integrated as a live tile but it's doable.

I'm actually quite disappointed with many widgets. They are clumsy to use, often take up more screen real estate than necessary, and often are not fully functional without opening. I do have some I do like. I use a One Note widget that points to Recent notes. I have put the Google News on the page and use Animated Photo Widget (I really miss the Photo Tile in Windows Phone.) Too bad I have not found one that supports cloud storage (as a folder to view) - gotta download photos that I have not taken on this phone. Let's face it. For all the criticism, Windows Phone does a lot of things right.

I do agree with you. What irritated me the most with widgets is how disconnected they can be from the main app and how different they are between various apps. Makes for a mess of a homescreen and takes ages to find and configure to look at least somehow right.

For me, that mobile office is my 950 XL. However, you should think for yourself, and do what you think is right for you. Don't do what everyone else tells you to do.

Should just stick with 950xl unless you have a specific reason to switch. I am using Android as my productivity tool and Windows Mobile 10 as a hobby device. I need certain app that is only available on the android/ios ecosystem, the place i work for only develop Android and iOS app for their employee. The reason i ask you to hold because Android hardware evolve at a rapid rate. Flagship phone are supercede by phone release 3 months down the road. So buy base on personal productivity need seem like a good bet. Besides, if you could survive with WM10 there no reason to move.

I haven't found the switch painless. So many hassles on my android Nokia 6. Like getting contacts right. I deleted half accidently and spent hours redoing them because the Outlook app is configured to work with nothing. The configuration nightmares with MSFT apps are time consuming. Launcher resets itself every time I turn the phone off and I have to choose a launcher every time this happens. Cortana logs out. I tried replacing google keyboard app with SwiftKey but when I rebooted the phone I had no keyboard at all and had to turn the google one back on. Replacing the default services from Google to MFST is not that simple. I would imagine if I used all the default google apps the phone would run the way it is supposed and not give me hassles.

Teams is also great on Android

Since i have to donate my 735 to my mom and bought a really cheap midrange until i raise money for an Idol 4s or X3, the article is useful because i will want to keep using the MS apps. Is the MS keyboard available as well?

No, but SwiftKey -- which is owned by MS -- is available.

No, but Swiftkey is and is owned by Microsoft.

So, these are pretty much all MS Android apps....

i think you misunderstand how many apps microsoft has on the play store. its definitely more than the list above.

....and this is where Nutella has taken us. Dear Lord.....RESIGN ALREADY.

Why? He said mobile first, not Windows Mobile first. Why shouldn't they go where the customers already are?

Because he sold us $800 devices and never rarely got behind it. Deceiving and a product dumb/money grab with no regards for your loyal customers. He is awful as a CEO.

You shouldn't have purchased a device that was clearly a beta product. Also, their stock price disagrees with your assertion that he's awful.

How was it "clearly"? You walk into Microsoft's monster box store, you dont assume anything being sold in there is "beta". I'm sorry, but that is an idiotic cop-out statement.

It's fair to say you don't assume that. But I bought a Lumia 950 XL the day it was released. I took it back a day later because the software was a mess. Not my fault that you decided to keep using it.

All excuses for poor decisions by a lame duck CEO. Its frustrating as hell to see so much passion out of people like Panos. You can tell they believe I. What they are working on and are excited about it. Nutella is money, money, money. And while money and revenue is obviously important, a recipe for disaster as that being the only driving force behind what your doing. I dont think this CEO has any passion about anything this company does other than profit numbers. There was a time and day that a CEO was more worried a out the companies reputation and health than where his next quick bonus was coming from. Those days are gone and we have so many of these clowns running companies now.

Lol. The day I bought my 950 was the day I bought the best phone I've ever owned.

To be fair, Windows 10 Mobile was listed as beta on the 950/950XL product page for quite a bit after it was released. Moreover, the state of Windows 10 Mobile has been fairly transparent as to how far along it is and what kind of speed it's been progressing at for quite awhile. It wasn't a well kept secret that they only released them to soothe windows fans and since they were already in the pipeline when microsoft acquired nokia. So, I think "clearly" is pretty accurate.

You have been warned many times about buying Windows phones. After WM6, Kin, WP7, WindowsRT and WP8 did you really expect anything else?

I like Nadella but he is ignoring the crap out of Windows Phone.

But 99.6% of the world aren't CEOs of Microsoft. 🙂

99.6% of the world would do a better job of being a CEO of Microsoft.

That's unnecessarily harsh. Look, we get that you have a problem with how Nadella runs the phone business. I too wish there were some things done better...But most people, including those working for him and knowledgeable abt the tech world have only praises for the guy and its not just because of a steady revenue stream or rising market value...you ought to look around the net and read up on what a thorough job he's been doing...their culture has undergone a significant transformation for the better...people are actually excited again about what Microsoft is doing...

And that is because he is only worried about a quick money grab and not what happens to the company when he is gone. Everyone knows Mobile is the driving force. Making apps and services for other companies cash cows will eventually dwindel and you're going to become irrelevant.

Did he show up and break your knee caps? Blick twice if we need to send help.

In a USA Today interview two days ago, Nadella said, "Organizations should not be measured so much during a CEO's tenure, but after. Because if it all falls apart after you're gone, then you haven't created an organization that is enduring." It made me think he is thinking long term. Pretty insightful article.
http://www.usatoday.com/story/tech/news/2017/02/20/microsofts-satya-nade...

We will see, because my argument is the complete opposite. I dont think he is thinking long term at all.

he's absolutely thinking long term. everyone here is asking him to spend millions and millions of dollars to simply release a phone that has no possibility of gaining traction and spending millions more on advertising because somehow that will help. that's stupid. he's thinking long term and unfortunately, the device for him to do that isn't ready yet, so he's working on it. tell us, missionsparta, what would you do that would secure MS's mobile future for the long term that wouldn't immediately bankrupt the company (so don't just say, "release amazing phone right now" because you can have awesome, affordable, and immediate. choose two). Seriously. I don't understand what you're possibly thinking he should be doing instead. Its like everyone wants him to wave a magic wand and release something tomorrow.

he's not ignoring anything. it's just not ready yet. he said they missed the smartphone wave and he's aiming for the next wave. and we'll see what that is in the future. but we won't see it til its ready.

"He's aiming". LOL. Panos and his team are aiming. Nutella is selling Grande Vanilla Beans over at Starbucks. Complete sellout. It isn't unusual for a CEO to sit on another board, it not when your primary obligation is a company as bug as Microsoft and when they have a huge task such as the Mobile issue at hand. If he has enough time to sit on a other board, then he isn't fully putting his time in at Microsoft. Just look for the extra buck as usual.

eh, that's your opinion. i think he's doing just fine with the direction of mobile. i wish things happened faster, but this is the real world. you can't just snap your fingers and provide a product immediately just because a consumer is impatient.

And that's why you sit on a site mad cause someone ate your cake.

Not mad. Just am going to call someone out for not doing their job. We would all get fired for making sexists comments. This clown gets a pass because he makes millions? I'll keep calling him out until they finally come to terms with what he really is.

Next to my Lumia 1520 having a Moto G3 with these apps. For Skype it is worth mentioning that with an Office 365 subscription you have 1 hour a month call credit to land lines. Together with the 1 TB storage and full use of the Office apps on all your devices this subscription is a lot better that just buying some OneDrive storage. Especially if sharing Office 365 Home with family members.
I love Arrow. Microsoft could use some of the features in Windows to blend Start and Desktop.
Great overview. To add are Cortana and Next.

OneNote has a issue that doesnt let you create a new note while the phone is offline. Very Anoying.

That would definitely be annoying! I wasn't able to replicate that issue, however, on my Moto G4. I put the phone into Airplane Mode and successfully created and wrote a new note in OneNote. Then I took the phone out of airplane mode and the note sync'd fine (even viewed it on my PC). Seems to be working.

I just made a Moto G4 my primary driver vs. the 950XL. Have all the MS stuff working just fine. I just whish Groove could be set as the default MP3 player vs only working with subscription and OneDrive content. Also I am using Here and Waze as my primary mapping software since MS doesn't have an option.

Why OneNote is never considered as a part of Microsoft Office?

They want it as a standalone product. They want people who don't use Office to still think of OneNote. Moreover, its integrated into the OS now, so it makes sense from that angle to separate it from Office.

The Microsoft apps are definitely usable and occasionally great on Android, but the same apps on W10M still work better most of the time. Examples include:
Groove: Cannot play music from SD card on Android. Cannot play music on Groove by asking Cortana. I also can't figure out how to copy songs via USB cable from computer to phone for use with Groove, so for offline songs have to download an offline copy from every single album within Groove (tedious process). Office Lens: Cannot scan multiple pages into a single PDF on Android. Word: SwiftKey keyboard does not function well with Word, at least on my Moto G4. Swipe a word and then swipe another, and it frequently does not put a space between the words (about once per sentence). Since it only does this in Word, guessing Word on Android has a bug. Excel: Excellent and virtually equivalent to W10M version, except the W10M version has a nice TAB virtual key on the numeric keyboard (for Excel only). Cortana: Still in beta on Android and missing features like add to Outlook Calendar, play songs with Groove, or direct launch of Google Maps app (launches Bing and then Google Maps web page instead). Outlook Calendar and Contacts: No way to pin a direct shortcut on the home screen to Outlook Calendar and Contacts? I have to open Outlook and press the respective icons...

What, can't scan multiple pages with Office lens? that sucks!

And don't forget the elephant in the room... Outlook on android does only sync contacts one way and even that it does very poorly. I don't get how Microsoft can ignore such a big missing function for so long time now - over two years!

It also doesn't support multiple Office 365 accounts if they are in the US and the EU.

I've tried to like the Arrow Launcher, but it has some steep deficits vs. stock Nougat. For one, the icons and use of real estate is pretty poor - on the 6P, I'm able to fit more on one screen with stock vs. Arrow.

You can edit the icon row and column counts and layout now to be nto jsut most used apps, but user defined with folders. Arrow looks great with the Pixel Icon Pack. Also using on a 6P.

The new Skype preview is awesome on my G5.

Currently using: Halo Channel : nice addition as I'm a huge fan of the series MSN Sports : all my fav teams in one app. Yes please! LinkedIn (guess that's a MSFT app now?) : nice as I mainly use my phone for work related stuff Skype : nice but not a lot of friends are using this (they prefer FB Messenger or WhatsApp), made an international call from Canada to Belgium last year and it worked perfectly Microsoft Account : no surprise Microsoft Authenticator : no surprise, handy for LastPass Azure App Service : clearly in Beta and still a lot of work. Glad it's in the works though! Great to monitor those Azure resources. Microsoft Teams : great for company communication OneDrive : my go-to cloud as a 365 subscriber Office OneNote, Word, Excel and Lens : no surprise HockeyApp : for app distribution data Xbox : happy owner Channel 9 : always handy to learn stuff Groove : currently using it with the free month, looks promising Windows Central : I'm here! Had a WP before but switched to Android when I dropped it. Because all my apps were still there, plus some more.

Microsoft is doing good job to send users to other platforms.

The users are still within Microsoft's ecosystem and still generating revenue via Office 365 subscriptions and data gathered from their apps.

An Android user using Google Services will not switch both a phone *and* all their services at once. If they can switch services first so that the phone switch is less painful, that's most definitely a plus.

The Next Lock screen isn't mentioned; that turns out to be pretty cool idea but it crashes quite a bit.

Yeah, alternative lock screens just aren't viable on Android the same way launchers are, likely because of security reasons.

I got Arrow Launcher, Outlook, OneDrive, OneNote, Bing and SwiftKey.

I like the Next lockscreen app that they make, which allows me to get the daily Bing backgrounds while still keeping the rest of Android pure

I have been playing with an android phone and my experience is that Outlook on android isn't nearly as useable as it is on WP10, not even close. I don't want all my email in one place, I prefer to keep them seperate and have different mailboxes pinned to my start screen and that is somethin that android doesn't offer.

Yes, I agree 100%, it's unfortunate that this feature is not available.

You're allowed to do a widget for each of your mailboxes through Outlook on Android. This is like pinning each mailbox to your start screen. I don't know how long the feature has existed, as I've only been on Android for a few weeks now. But I have a widget for my outlook.com address and my work-based exchange account.

I have Word, Outlook, OneDrive, Cortana, Bing and Excel, I had Skype but none of my friends and family uses it, so now I'm sticking with Whatsapp which is owned by Facebook.

Without 2way syncing, ms outlook is useless. Ironically it is the only app I want to work properly.

I have Groove, Cortana, Skype, Word, Excel, PowerPoint, OneNote, Outlook, OneDrive, Office Lens, Authenticator, Xbox, Maps, and Edge. Oh yeah, I'm on Windows 10 Mobile. 😉✌

Well, get ready to kiss groove goodbye.

I use most of these. The only thing I don't like are the speed of OneDrive on mobile. The upload and download speeds to sync files, documents and notebooks is atrocious. This is on Android and iOS. On PC it all goes blazing fast. Other cloud providers works very fast on my phone. (S6) The only thing I miss from MS is a decent photo solution and editor with the organizational features and lightning speed as google photos.

I have the same problem you. But like you mention: - slow syncing of files
- not a great and slow photo / tagging / editor solution
- slow syncing of notes What is left then? These are core 'semi-productivity' features most consumers use on mobile. You are way better of with Google Drive/Photos + keep if you want blazing fast realtime sync speeds.

Next Lock Screen is great. Arrow Launcher is also my preferred launch tool. Sadly, for me, Office Lens, which I used daily on my Lumia, simply won't work on my V20: it refuses to save files. Lucky for me that Evernote takes up some of that slack with its ability to capture documents and white boards. Cortana is OK. But, the most HUGE fault with Android (and iOS) is the completely absent text-to-speech and speech-to-text ability. Frankly, were I the American Automobile Association and, probably Consumer Reports, I would be making a HUGE stink about that. Non-Windows phones are simply dangerous to operate while driving as you cannot voice a command or have a "text conversation" without touching the phone.

Both Siri and Google Now/Assistant can be used hands free.

Slightly OT: Recommended Android phone somewhere near ₹20k($300) for a previous windows and iOS user?

go to android central. they might help you with this.

Coming from Windows 10 Mobile into Android, I have basically all MS apps. Most of them work great if not better than on Windows 10 Mobile except for Outlook and Cortana (not mentioned here). I wouldn't blame MS for a crippled Cortana but Outlook needs some improvements:
- Unable to edit contacts (in People)
- Unable to add/edit recurring calendar event
- No customizable quick action in notification shade
- No dark theme

Outlook also needs the ability to switch through messages without having to go back to the inbox/folder. Mail on WP has had it since day one, androids default has it as well. Biggest missing feature in my opinion.

Groove is garbage. Utter garbage.
They need to make a People app, Maps app, and a Movies and TV app.

Groove music is far from garbage.

Yeah it is. It is probably the worst music app out there. There is not one single thing that it does better than Google Music. Not one.

My friends complain about the amount of personal songs they can have in google music all the time. I have an entire Terabyte to work with through onedrive though.

It IS garbage. No option of saving to SD card, all media is encryped for some dumb reason, no ability to play local music files, no gapless playback, the notification has Play, Forward and Close buttons (WTF is this idiotic design), while every other player out there has back, play and forward buttons on the notification.

How about an article on "Best Google apps for Windows Mobile"? That would be fun to read.

Lol it would be fun 🎉 if they we're any Google apps to begin with 😆

Everything is better on android than the windows mobile. MS translator

Question on that: How good are the windows 10 mobile tile style launchers? I'm way to stupid for understanding Android (and iOS devices are too expensive), so my only options were BBOS (dead) and Windows10 (not dead, still best OS, but device selection is limited). So i saw a bunch of Windows10-style launchers for Android. My question is: How good are day? How much of the terrible Android UI do they replace?

SquareHome 2 is my choice, with Launcher 10 also getting high marks.

I use Outlook on my S7 and never had a problem with it. I with they just bought the app Nine and rebranded it Outlook, but no real problems.

I particularly don't care for Android, but I'm curious about how MS apps run on it first hand. I might pickup a mid range device to try it. I'm currently using iPhone 7 and iWatch Series 2 as my daily drivers. My band 2 strap broke, had 2yr warranty, item discontinued, Best Buy no longer carries it, gave me full value in store credit even after 2 yrs use of the band 2, I put credit towards 42mm Series 2 iWatch with nylon strap & 2yr warranty. I'm so pleased with the iWatch I need to try the Android products now that things have changed since I last used it.

I can't wait until I switch to Android so that I can get the best Microsoft experience 😢 I'll miss you Lumia 950 XL!

Same here im kind of waiting for Nokia to release its P1

The most funniest thing is that, own apps which is not working in WS' are working nicely on other OS....😁. And even MS users have no right to use the full version of MS app for free..😄 Encouraging users to move to other plat forms... To conclude its clear that users you can move to another platforms what ever getting here in mS will be available there too.. Good job..

And yet one note on Windows 10 mobile doesn't let you scribble a little -_- ! Times like these makes me wonder what the hell was i thinking when i bought a Windows 10 mobile and not android or an iPhone...

I never noticed it before but I just checked and you are right! OneNote on Android lets you scribble with your finger while OneNote on W10M doesn't. It's probably not a feature I would regularly use but you have a good point.

Want more bad ... Here goes... The native mobile office apps for Windows 10 mobile asks for subscription to office 365 to create and even edit files... When the same apps with all functions are available free on other platforms... -_-

Mine never asks for subscription on Mobile.

Those will be updated soon

Any reason why there is not a Movies and TV app for Android? Would love to watch purchased movies from XBox on my Android phone.

There is no google apps on windowsphone store.
Why is Microsoft apps on play store?

Why shouldn't they ? People using MS Apps are people not using Google apps... Get it? I have an Android Phone and yet am a Microsoft / Windows lover - fan. I'm pleased to use their services on my phone.

Because the world has gone mobile. Mobile gives many young user's their first experience with computing and, if MicroSoft don't play there, however will they continue to sell Office?

Using almost everything on the list

If I am honest, most of my app use on my Nexus 7 tablet is MS apps. I rarely use the Google equivalents because I work in a Office365/MS campus and personally (my opinion) I fnd the Google Work Apps to be seriously underpowered. I can't wait for Edge on Android since I can handle a Blink engined Edge better than Chrome on my W10 PCs. Unfortunately I haven't been able to try out Cortana on Android since the official version doesn't support the Nexus 7.

Is this Windows central, or Windroid central

Well, with M$ abondoning its mobile OS (sadly), Windroid, based on its global market share, begins to make sense. :-)

It is mislabelled Microsoft Central. Just like Google Central is mislabbelled as Android Central for some reason.

I think I might have to take the plunge on a Android Device...My unit is starting to get stale and I need something new. I would choose a apple product but the lack of a headphone jack is a real killer. I was thinking of getting the LG V30 just because it supposed to have a very good DAC included in it. How is the microsoft launcher compared to the arrow launcher? They are not the samething?

Yes, they are the same thing. The Arrow Launcher was a Microsoft Garage project but the Microsoft Launcher is that same product, but it's now a full-blown Microsoft product. It got some updates too when the name changed, apparently.

Try Launcher10, it gives you live tiles on Android

ok, on windows phone you can click email app. go to read items in other folders than the inbox. go to the home screen and click email app and it takes you to inbox. but then the app chooser lets you go right back to that other folder if you want. it saves that instance. does mail app on android do that??

First of all there is no such thing as "(one) Mail app" on Android. Depending on what phone you buy you may get Gmail or some OEM-Made mail app. I personally use Outlook so minimising it and opening it again will take you back to the same folder you were before.

I use Microsoft Launcher beside other Microsoft apps, But I would love to see an Android version by Microsoft, that would be so nice,Maybe one day Microsoft will make an android phone with thier version of android os who knows :) .....(still dreaming of a surface phone) :p.

Did I miss Next Lock Screen, Cortana and Wunderlist? All M$ apps I use daily....Oh! And Swiftkey too!

I'm liking going SwiftKey Keyboard so far.

Nothing will replace the LIVE tile feature,Period. i have all these apps on my U ultra but they seem useless without live tiles :(

Ugh... If you want a clone of Windows 10 Mobile, with all its flaws, then get Launcher 10. If you want BETTER experience with MORE features, which will require time to set up, get Square Home 2 with Whicons. Widgets are better than the non-interactive tiles anyway.

Why do you insist on this Live Tile gimmick? Sure it looks cool on the start screen but who cares at the end of the day, when the IN-APP experience is utter trash on WM10 if they even have an app for XYZ. Widgets on Android and iOS are far more functional.

I agree. The true value of Live Tiles is the at a glance information they provide, not the format of how that information is packaged. Microsoft Launcher gives you a very customizable set of at a glance information in a different format. When I was forced from my Lumia 950 XL by my employer I was offered a choice of the iPhone 7 or Galaxy S8. I carried the iPhone with me for several days but that total lack of real customization and the limited at a glance information (the Today screen) made it a painful experience. When I saw what I could do with the S8, I happily gave the iPhone back. I swear iPhone users have no clue about how helpful a phone can really be or they wouldn't stick with that 10 year old rigid and stale UI. The Galaxy has its own quirks (Bixby being top of the list), but loaded with lots of Microsoft services, it can work as a replacement for the Lumia.

Outlook is garbage. Groove is garbage.
Skip them and use Spotify and Nine.
They need to make Microsoft specific apps, maps, contacts (have you tried syncing your outlook.com or Windows 10 contacts on Android? It's terrible) movies & tv, photos. Start with what apps everyone uses daily to get them to make the switch.

Outlook is garbage No it's not, I get led notifications when I get new emails, I didn't get this on my old Nokia Lumia 625 device,also Outlook is much faster and responsive than Gmail in my opinion. Groove is Garbage (I agree, it can't play songs stored on my microSD card). Good news is Microsoft made a partnership with Spotify which I use. They need to make Microsoft specific apps, maps Here We Go works great, its the same map data provider you get on Windows 10 desktop when you use Bing Maps. (have you tried syncing your outlook.com or Windows 10 contacts on Android? It's terrible) - actually the Arrow Launcher works great as contacts manager without an app, in my case it synched out my contacts and found duplicate contacts, I didn't noticed this until I installed the Arrow Launcher from Microsoft movies & tv, photos This may be useful for some people, fortunately for me don't, since I have a Sony Xperia device and I love album app for photos and videos stored on my sd card and OneDrive which works great for uploading my photos to the cloud. for Movies and TV I have Netflix, so I haven't purchased a TV show or a Movie since I did it when I got Disney Short Films collection in 2015

Outlook is total garbage. Tho only thing that you are saying is good is that the LED glows when you get an email. Thats about it on the awesome list. There are no Favorites folder, the calendar sucks, adding contacts sucks, it wont sync pictures of contacts, its just one fat list of "doesnt". Instead of trying to add small additions they should drop it and just outright buy Nine and rebrand it Outlook. Here uses the same maps, but doesn't sync favorites or has a send to phone option. Microsoft needs a dedicated Maps app. I have not tried using it on the Arrow launcher. I'll give that a try. Photos - The whole idea for this is to sync albums. Onedrive does it, but you have to go through a seperate app. Its not dedicated. And because of that, the general population will use the default app, and not Microsoft's, and they probably wont use Photos on the PC for that either. Movies & TV - You have netflix, awesome. But the whole point is to get people onto Microsofts eco system. If the movie isnt on Netflix, they are going to probably to to Google Play or something. Again, NOT a Microsoft service. Their entire game plan here should be to take over the average everyday use apps and that will have them move to the computer away from Google products. Gotta start with the every day apps and start with the masses. The fans are already there, but there is no reason for the every day person to change from Google to Microsoft.

I agree. Last time I used the outlook app on android I immediately uninstalled it and went back to nine. For starters I cannot sync my corporate email. As soon as I saw that and the contacts being a problem, I removed it. Nothing can out do the Windows 10 Mobile Outlook Mail and Calendar. Love that app.

How about Bing. I used the Bing app all the time and was shocked there was no W10M equivalent when I switched to W10M. I believe I was also using it as a browser. It was great when traveling. Probably my most frequently used app on android.

This post was not meant to list every Microsoft app, but the best. I agree with this list since I have every one of the apps.
I have used SquareHome2 for a while and really enjoy it, but I recently switched to Microsoft Launcher to see what it had to offer. Even though I would prefer the Win10 look, I still think that Microsoft launcher is much better than my standard home screen (Huawei) and other standards (eg. Sony). I think most people would like a more "android" look which Microsoft launcher offers, while also integrating with Outlook etc.

If I ever switch to Android I'll not use any of these. It's OS itself what I like in Microsoft world. After being kicked by MS by killing their OS (because of apps problem) the last thing I would do is using their apps on my potential Android device.
Windows Central Newsletter
Get the best of Windows Central in in your inbox, every day!
Thank you for signing up to Windows Central. You will receive a verification email shortly.
There was a problem. Please refresh the page and try again.