Best Oculus Rift games you can play while seated in 2022
These gems from the Oculus Store won't make you stand up.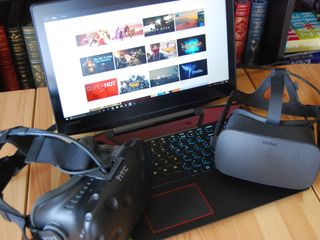 Using the Oculus Rift in a room-scale setup is a lot of fun, but for some, sitting down to play is preferred or required. No problem here, as there are plenty of games that are fully enjoyed from a seated position. I've rounded up the best games in the Oculus Store that let you sit back and enjoy VR.
Moss
Why you can trust Windows Central Our expert reviewers spend hours testing and comparing products and services so you can choose the best for you. Find out more about how we test.
As far as singleplayer VR games go, Moss (about $30) (opens in new tab) is one of the best when it comes to gameplay and charm.
You take control of Quill, a small mouse with a big heart who sets off a series of events that endangers her uncle. Now she must leave her peaceful village and make things right by exploring, solving puzzles, and fighting with her little sword.
See at Oculus (opens in new tab)
Brass Tactics
Real-time strategy (RTS) games translate well to VR, as long as they're designed properly. Brass Tactics (about $40) (opens in new tab) was indeed designed with care, and the result is an interesting, polished, and layered game.
Play the solo campaign, solo skirmish, or take your skills online, enjoying each time a large board with detailed characters and buildings. There's a lot to love here, and I'm still discovering different strategies with which to crush the enemy.
See at Oculus (opens in new tab)
Lone Echo
While it's does support room-scale movement, Lone Echo (about $40) (opens in new tab) can be quite intense once you start moving around in the zero-gravity environment. Movement involves grabbing onto objects and propelling yourself forward, which is just about the best way to get around in VR.
Aside from the outstanding mechanics, Lone Echo has a thrilling and creepy storyline that involves time warps and our relationship with AI. For anyone looking for a solid singleplayer game, definitely give this one a go.
See at Oculus (opens in new tab)
Elite Dangerous
Most people who have Elite Dangerous (about $60) (opens in new tab) in their Oculus library can likely award it the most-played trophy. It's seriously addicting once you get going, but be warned: if you're prone to motion sickness, this one will set it off.
Start with a tub of a starship and forge your own career and story in a universe teeming with life and detail. This is an enormous game that you'll be hard-pressed to entirely discover, and there's something for everyone, whether you want to be a bounty hunter, pirate, star-fighter, trader, smuggler, explorer, and on.
See at Oculus (opens in new tab)
Star Trek: Bridge Crew
If you're a fan of Star Trek and don't already have Bridge Crew (about $50) (opens in new tab) in your library, get it now. Or at least check it out. Bridge Crew allows you to live out your Trek fantasies by placing you and your friends (NPCs are available for solo play) on the bridge of the U.S.S. Aegis as you explore an uncharted part of space.
You must work together, each person at their individual posts, as you take on the campaign. After that, there are procedurally generated missions for unlimited play whether you're online or solo.
See at Oculus (opens in new tab)
Robo Recall
If you somehow missed out on getting Robo Recall (about $30) (opens in new tab) for free with activation of Oculus Touch, you should know that it's one of the best (if not the best) first-person shooters (FPS) available for VR.
A bunch of RoboReady robots think they can have freedom from tyranny, but you, a member of the Recall department, have other plans. There are plenty of weapons to use, plus you can tear apart robots using only your hands. Cool. Run through the campaign, then go through it again in an attempt to hit a high score.
See at Oculus (opens in new tab)
From Other Suns
Another FPS with plenty of humor added in, From Other Suns (about $40) (opens in new tab) has you aboard a spaceship that's being overrun by unwanted aliens.
As you progress, you can upgrade your ship and your weapons to take on increasingly difficult enemies, all in the hope that you'll be the first back to Earth. Join a crew solo with AI players, or jump online for some worthwhile co-op action.
See at Oculus (opens in new tab)
EVE: Valkyrie — Warzone
Unlike Elite Dangerous, which lets you explore an enormous universe on your own time, EVE: Valkyrie — Warzone (about $30) (opens in new tab) dumps you straight into dogfighting action with team deathmatch, control, carrier, assault, wormholes, and extraction game modes.
Your pilot is customizable, and there are 13 ships to choose from, with each being upgradeable as your progress. Word of warning: if you're prone to motion sickness, this game is intense.
See at Oculus (opens in new tab)
Fruit Ninja VR
If you're looking for a game that's easy to jump into for a few minutes when you have an urge for VR, Fruit Ninja VR (about $15) (opens in new tab) is a truly satisfying game. You stand (or, in this case, sit) in place while colorful fruit is shot at you from multiple angles.
It's up to you to slice and dice with your dual katanas, all the while keeping track of your score on the big board in front of you. This is a great game for introducing all ages to VR, and it still brings me back from time to time for another go.
See at Oculus (opens in new tab)
More resources
Senior Editor, Laptop Reviews
Cale Hunt is a Senior Editor at Windows Central. He focuses mainly on laptop reviews, news, and accessory coverage. He's been reviewing laptops and accessories full time since 2016, with hundreds of reviews published for Windows Central. He is an avid PC gamer and multi-platform user, and spends most of his time either tinkering with or writing about tech.
Windows Central Newsletter
Thank you for signing up to Windows Central. You will receive a verification email shortly.
There was a problem. Please refresh the page and try again.