Best under-desk wire trays for your home office 2023
Stay organized with the best under-desk wire trays.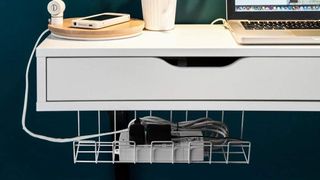 (Image credit: Baskiss)
Keeping cables hidden from view is something numerous people struggle with, especially in a home office. There is nothing worse than trying to be productive when all of your attention is drawn to the massive web of wires running along and underneath your computer desk. Luckily for you, there is a solution for your cable management problem: under-desk wire trays! We recommend the Scandinavian Hub Under Desk Cable Management Tray because it's easy to install and strong enough to hold, and hide, your wires and power supplies.
Scandinavian Hub Under Desk Cable Management Tray
Practical pack of two steel mesh wire baskets
Reasons to buy
+
Easy to install
+
Includes two trays
+
Welded, powder-coated steel basket
Reasons to avoid
-
Not compatible with IKEA desks
This cable organizer is a basket-type tray that is used to hide wires. These handy under-desk wire trays come in a pack of two, with each measuring 17 inches long and 6.2 inches wide. Place them side by side to give yourself up to 34 inches in length to store and hide your power cords. This cable manager is great for concealing thick and thin wires as well as heavy power supplies.
Installing this cable management tray is easy as the wire mesh design allows you to place the 18 included screws anywhere, rather than needing fixed screw locations. It can be attached to wood, MDF, particleboard, and the wall. However, it is not compatible with IKEA desks.
This powder-coated steel mesh basket is durable and high-quality as it is welded for sustainability. It is specifically designed to store and organize your cables in one convenient spot.
Baskiss 2-Pack Cable Management Tray
Ready-to-use 2-pack
Reasons to buy
+
Includes two trays
+
Two color options
+
Packaging includes screws for installation
+
Wide wire basket panels
Reasons to avoid
-
Can sag if weight is not distributed evenly
-
Bland color choices
The Baskiss under-desk wire tray is an excellent value as it comes in a 2-pack. Plus, you can choose from two generic colors, white and black, to match the decor of your home office. It's made of thick steel that measures 2mm wide, while the entire tray measures 16 x 5 inches. Because there are two trays in this package, you can manage double the number of wires.
The wire design of these trays is spread just far enough apart so that you can conveniently thread your cables through the panels of the basket. You also can lay your cables and power supply down flat inside the tray; although, it can sag if the weight is not distributed evenly across.
These Baskiss trays can be easily mounted to any wood-framed desk. Four screws and two trays are included in the packaging for easy installation. The only additional tool that you'll need is a screwdriver or a power tool.
IKEA Signum Cable Management Basket
Cable management strip that can hold up to 22 pounds
Reasons to buy
+
Can hold up to 22 pounds
+
Practical and lightweight design
+
Easy assembly
Reasons to avoid
-
Some installation parts missing in some customer orders
The IKEA cable management basket is excellent for storing and hiding all of your cables and power supplies for your basic home office equipment. Efficiently manage the cords from your PC, laptop, tablet, printer, and more in this silver-colored steel under-desk wire tray.
Measuring 27.5 x 6.5 x 1.5 inches and weighing 1.2 pounds, this cable manager can hold up to 22 pounds of wires and power supplies. Designed more like a strip and less like a tray, cords can quickly wrap around the multiple prongs distributed through its design. This makes it a perfect and easy-to-use addition to any home office desk.
Installing this tray is simple as it comes with most of the required tools. Although, be sure to double-check the items in your package as some customers have mentioned that some small installation parts were missing upon arrival. IKEA is pretty good at sending replacement tools, however.
Yacaye Cable Raceway Desk Cord Organizer
Easy-to-install J-cable raceway
Reasons to buy
+
Includes six trays
+
Keeps wires out of sight from the desk to the wall
+
Easy to install
+
Comes with adhesive tape
Reasons to avoid
-
May need to double-up on adhesive
-
Not as long as other options
Designed to keep your cables organized and out of sight, this Yacaye cable raceway acts as a desk tray that conveniently directs cords from your desktop to the ground. Equipped with six organizers that each measure 15.7 inches long, you can continuously store your wires out of the way and in a compact space from your desk to their power source. This under-desk wire tray encourages you to store your cables vertically and horizontally to fit the needs of your room.
The 0.3-inch opening in this J-design cable holder makes removing and adding cords into its tray easy. You can bend the flexible lip at the top of the tray to locate the wires you need. The lip also keeps larger and smaller cables securely in place. Fit as many as 10 power cord cables or 15 standard-sized cables into the J-laneway all at once.
Installing this under-desk wire tray is simple. Measuring 196 inches long, the adhesive tape roll can be cut and applied to each of your J-raceways. Simply apply the adhesive to your cable tray and stick it to any hard surface to install. Some customers mention that the adhesive is not that strong, so it is recommended that you double-up on each tray to remedy this.
Monoprice Under Desk Cable Tray
Steel wire tray for height-adjustable desks
Reasons to buy
+
Hides cables within tray casing
+
Made from powder-coated steel
+
Great for height-adjustable desks
+
Minimalist design
Reasons to avoid
-
Can become flimsy if too heavy
-
Only one color option
The WireTamer Cable Management Tray is an excellent option for anyone looking to organize and hide their cables as best as possible with a height-adjustable or standing desk like the Flexispot E5. However, this under-desk wire tray is also compatible with regular desks. Unlike many of the other cable management baskets, this tray does not have a mesh design. It is made from powder-coated steel that can quickly and neatly disguise your cables.
Available in a light gray color, this tray can easily be hidden and mounted underneath your wood or wood-like desk. Installation for this cable management tray is effortless as it comes with all of the screws you need. Simply screw the tray into a wooden surface, and begin managing your wires.
Measuring 24 x 4.8 x 3.2 inches, this wire organizer is perfect for concealing power strips, surge protectors, and cables. However, some customers mention that the tray can become a little flimsy if loaded with too much weight. This under-desk wire tray has a sleek and minimalist design, making it easy to disguise while keeping the focus away from cluttered cables.
Bottom line
Why you can trust Windows Central Our expert reviewers spend hours testing and comparing products and services so you can choose the best for you. Find out more about how we test.
A cluttered space equals a cluttered mind, especially when working from home. Managing your cables in an organized and neat-looking manner is a great way to boost productivity and make you feel good. Although it seems that most of the cable management trays in the market do the same job, it is in the finer details where you'll discover which one best caters to your needs.
Cable management trays can come in many different shapes and forms, including a metal weaved basket, a long and durable strip, or even a plastic container. Essentially, they are all designed to conceal different types of wires and power sources at different weight capacities. We recommend the Scandinavian Hub Under Desk Cable Management Tray because it is easy to install under your computer desk, it can hold all of your basic cables effortlessly, and it has a practical mesh design.
Get the Windows Central Newsletter
All the latest news, reviews, and guides for Windows and Xbox diehards.
Camille Sanghera is a UX writer and copywriter for global brands as well as an author of self-help books. Although she has lived and traveled internationally, Camille is originally from British Columbia, Canada. She merges over 10 years of writing experience with a love of words to bring authenticity and human connection to every project. When not writing, Camille can be found exploring nature with her dog, sketching to music, or laughing with loved ones.
You can chat with Camille on Instagram at @projectpvo.