BGR reviews the Xperia X1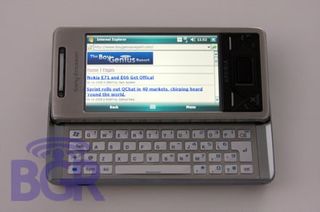 Although we may have had the first hands-on review with the Xperia X1 here at WMExperts, the truth of it is we only had an hour or so with the device. Boy Genius, however, he's had it for a few days now and has posted his thoughts.
Highlights:
The 800x480 screen is awesome
There's four (4), count them, FOUR different notification lights
Browsing is snappy over WiFi or 3G
The keyboard, not so hot
The optical joystick is good stuff.
I'm not a slider-man myself, but I still want one nonetheless. You?
Windows Central Newsletter
Get the best of Windows Central in your inbox, every day!
I am not a slider person either. I just gave back a Mogul with 6.1(hada test rom) that I used for a week.
I prefer a front fixed keyboard like my Treo 700wx or no keyboard like the Touch from Sprint.

i am big big fan of pda with sliding qwerty keyboard because i am deaf. it is a must for every deaf person to type to communicate. we wud go crazy if there will be no sliders. i dont like on touch screen keyboard because my thumbs are fat. sony xperia x1 looks so good but i would consider to get that if at&t will provide that. i have at&t tilt. it rocks !