The Big Nokia / Symbian Shakeup: Effect on Windows Mobile?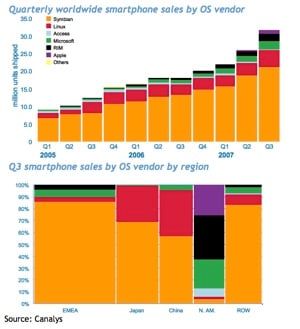 The big smartphone news today is that Nokia finally got their act together and set forth a unified game plan for the Symbian platform. They're buying up the rest of it and then re-jiggering the Symbian Foundation as a non-profit that will offer its members Symbian for free to use on their smartphones. Or at least, that's the thumbnail version.
Most folks (right) see this as a big shot across the bow at Google's Android platform. If you have a choice between Android and Symbian you're choosing between two free smartphone platforms - one is brand new with a handful of developers, few shipped phones (none yet) and is tied very closely to Google, the other is well-estabilished with a legion of developers, hundreds-of-millions of shipped phones, and helps out Nokia but can also be tied to whatever carrier-based services you like. Google: that's gotta hurt.
What about the rest of the market? What about Windows Mobile? After the break, y'all.
Ok, so we're not entirely sure. WM is no slouch worldwide (as the above, slightly outdated graph shows, WM is maintaining a foothold despite Symbian's dominance and the iPhone's comeuppance), but will it be able to continue to attract developers and users? The short answer is yes, WM will do just fine.
Let's start with North America. While the new Symbian will eventually mean that they'll be able to make a real push into North America in a couple of years, it's still not going to make a significant dent in what is increasingly a fractured US market. By the time Nokia massages Symbian's S60 (or whatever the successor will be) so it's more palatable to US consumers, they'll be trying to make an entry into a market where BlackBerry, Windows Mobile, Palm's Linux / Palm's Garnet, and of course the iPhone all will have marketshare that is not to be sniffed at. Sure, that gives Symbian a chance to grab a chunk, but it will be such small potatoes that I wonder if Nokia will really be able to put their heart into trying. They haven't in the past, I tend to doubt they will in the future.
Internationally, Windows Mobile is still competitive (very competitive) in the enterprise market. If anything, the new Symbian system might hurt BlackBerry more than it hurts Windows Mobile. The hot WM devices are coming a lot faster than what RIM is able to put out and should help WM keep a spot as a 2nd or 3rd fiddle to Symbian worldwide. Witness the Touch, Touch Diamond, Touch Pro, Samsung's offerings, and more. All of these are selling and selling well. RIM has a bunch of stuff coming -- but after the Bold hits the rest is still pretty mysterious. Everywhere except North America, Smartphone == Symbian for most people, and for those that opt-out the question is what the backup choice is. I think Windows Mobile has the best shot at being that choice -- both for consumers and developers. That goes double for enterprise.
Since we're discounting BlackBerrys as too slow to come out to stay competitive in Europe, discounting Android as too Google-nichey (and not out either!), and believe that WM is going to be able to hold its own, the only X factor left is the LiMo Foundation and/or Palm's upcoming OS (read: Linux). We're pretty sure that Symbian puts Linux in a box too, but it's too early to say.
What do you think? Will Nokia's gambit pay off?
Get the Windows Central Newsletter
All the latest news, reviews, and guides for Windows and Xbox diehards.