BioWare starts shifting focus to Dragon Age 4, still 'committed' to Anthem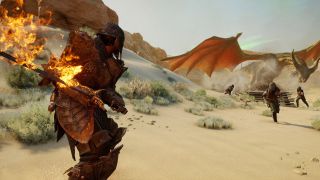 At Microsoft's E3 briefing a few years ago, Anthem blew gamers away with its Iron Man-like flying, impressive visuals, and (seemingly) complex gameplay. Unfortunately, when the title launched in February, it was a shell of what fan's expected. It didn't look as good, was plagued with performance issues, and the loot system was broken.
A few days ago, developer BioWare stated that it was delaying Anthem's major content updates — like "Catalysms" — to focus on bug fixes and quality-of-life improvements. Many gamers thought that the team was entirely focused on making Anthem better, and future games would be put on hold. To the surprise of many, shortly after that, Executive Producer Mark Darrah posted on Twitter that he was working on Dragon Age 4. BioWare's effort is shifting towards that game. Eurogamer managed to compile the complete account.
Lead producer Mike Gamble also said that he wasn't working on Anthem anymore. This caused an uproar among Anthem players because they were worried that the title wasn't going to be supported as well in the future. A user by the name of X Streams Studio accurately captured this sentiment when he asked, "how can we trust y'all with Dragon Age as a live service when y'all can't even commit to getting Anthem right? Anthem's roadmap is hardly on track and the loot issue is still abhorrent."
Sensing the concern, producer Chad Robertson quickly said that the team was "100 percent committed to Anthem." Robertson added that BioWare was a large developer and could handle Anthem and Dragon Age at the same time. Gamble also chimed in and echoed this sentiment.
It's seems that BioWare is focusing on Dragon Age 4, and hopefully what the team is saying about Anthem will hold true in the coming months. However, similar statements were made in regards to Mass Effect: Andromeda. Mass Effect: Andromeda's expansions were cancelled and the title was essentially abandoned. It even resulted in a studio closure. It's understandable why fans are upset. We can only hope that the fears are unfounded.
Even after all these months, Anthem needs a lot of work, which doesn't shine a positive light on any prospective Dragon Age 4. What are your thoughts on this? Let us know.
Become Iron Man
(opens in new tab)
This is like third-person Destiny

Anthem is a shared world shooter from BioWare. BioWare is the studio behind famous franchises like Dragon Age and Mass Effect. While the game may not be as great as what was initially teased, it's still a lot of fun with friends. The team has promised a number of features for the future, but it remains to be seen if the original vision will be realized.
Xbox accessories you'll love
Every one of these quality accessories is guaranteed to enhance your Xbox experience.
PowerA Enhanced Wired Controller for Xbox One (opens in new tab) ($20 at Amazon)
PowerA's take on the Xbox One controller is an attractive pickup for budget-conscious gamers that nails all the basics.
Talon PDP Xbox media remote (opens in new tab) ($20 at Amazon)
The Talon PDP Xbox media remote is great for watching shows on your console.
Xbox One S vertical stand (opens in new tab) ($10 at Amazon)
Stand your console upright with this accessory.
Windows Central Newsletter
Get the best of Windows Central in your inbox, every day!
Asher Madan handles gaming news for Windows Central. Before joining Windows Central in 2017, Asher worked for a number of different gaming outlets. He has a background in medical science and is passionate about all forms of entertainment, cooking, and antiquing.
Didn't even know that Anthem was released. :S After the way bioware treated Swtor. Im a little eh about there online game support with any game they make that has to do with online. Since it feels they hardly care about games like they use to before EA step right on in. Bioware feels like a eempty shell. Though that just me.

" The studio's support and commitment to anthem HAS. NOT. CHANGED." Yep, that is the problem. Their commitment is hype it up to launch, and then let it die on the vine. What a joke.

Again that's the problem about these "games as a service". Games that comes out as incomplete early access poorly rated mess at full price.
Where they promise more content and provide a roadmap. ofc we have absolutely no idea how much of original staff is working on the game and how many are working on the next "games as a service". And content is actuall drip-feed to those who invested in the game. And the focus remains recurrent consumer spending. In this case they delayed some of that additional content and people have actually moved to another project. I'm just tired of these type of games. Just provide a well tested finished product at launch. And add additional content if you want to.

They are going to mass effect it , aren't they ? . Release 5-10 patches by a skeleton crew and then a nice little announcement that they move on .

Me didn't even get THAT! What 2 patches? Maybe 3?

people move on from anthem to da4 - "we are 100% committed to anthem"

Translation: The are moving on to Dragon Age 4, they are abandoning Anthem. Bookmark this.