BlackBerry isn't making a Windows Phone, but you probably knew that already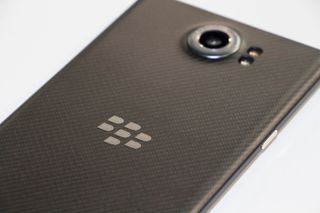 BlackBerry's managing director in India, Narendra Nayak has gone on record to state the company has no plans for Windows Phone. It was asked if BlackBerry was going to take its multi-platform strategy to the next level, taking on yet another OS to further branch out and appeal to more consumers. Rather unsurprisingly, BlackBerry does not plan to support Microsoft's Windows 10 Mobile any time soon.
Speaking to the Business Line, Nayak said:
So, BlackBerry isn't making a Windows Phone to match company efforts with the Android-powered BlackBerry Priv. We'll put the question to you though: would you like to see a BlackBerry running Windows 10 Mobile? Let us know in the comments.
Source: Business Line
Rich Edmonds is Senior Editor of PC hardware at Windows Central, covering everything related to PC components and NAS. He's been involved in technology for more than a decade and knows a thing or two about the magic inside a PC chassis. You can follow him over on Twitter at @RichEdmonds.
Not really at this point.

Who thought they were?! Lol

I thought it was the question on everybody's lips, personally... ??

BlackBerry has its own OS..why would they make Windows devices? It would be same as if Microsoft would make Android phones..

& this is why there should be Astoria(maybe also add some way to run their own native apps aswell and you have a flagship)

Maybe you don't realize that blackberry now has an android phone offering. Their CEO would be fired if they made a windows phone. They r a struggling company and finally bit the bullet in making an android phone. BBerry needs to continue to focus on rebuilding their brand and cannot afford to take a chance on a suspect OS like windows phone.

True that they might not be able to, "afford to take a chance on a suspect OS like windows phone" but I'd love to see what they could come up with...........for purely selfish reasons: 1. I'm a Canadian who likes to support Canadian companies (have been a blackberry user for over 6 yrs now) and 2. I really like what windows phone has to offer

Lol I still support AMDs video division(which last I checked still has r&d in TO) & bbm but bb is a lost cause.

Wow, AMD supporter eh? You diehard! I'm still rockin' a bb z10 since launch day but sadly, I too feel bb is a lost cause (for my use cases, anyway). Looking forward to a new windows phone

I'd say BB is looking to get its enterprise share going again its the easiest target for them as they have a of goodwill in the enterprise. They will have their work ahead of them getting android secure like their previous offerings. And it just kills the APP issue.

But they did... models X, X+, XL and X2 :).

That's Nokia counterparts, dude ;)

It was after acquisition of Nokia Devices and Services by Microsoft. So at that time Nokia Devices and Services had already been a part of the Microsoft Corporation :). These phones just carried the Nokia name on them, but in fact they were manufactured by Microsoft :).

@Krzywarp: The X, X+ and XL were unveiled at MWC 2014 and therefore released by Nokia a few months before the acquisition by Microsoft was completed.

I don't think they use it anymore, I believe they went android

They make android phone bro Posted via the Windows Central App for Android

Nokia X made by microsoft

...but they make Android devices, despite having their own OS.

Yes, but making an Android device makes sense, and could stand a chance. Windows Phone stands no chance. It's dead.

Because their phones are businness oriented as is windows? Because they may be resurrected like nokia was by competing in an empty market wih a strong old loved brand? It would be a smart move in my opinion, but they are too scared to make a big bet. Oh now that I reread your comment I think you missed the part where BB abandoned their OS to use Android.

They haven't abandoned nothing yet. BB10 is there, alive still lolololol in fact we are getting an update next month :P Posted from my super awesome and incredible BlackBerry Passport

Fairly certain that the BlackBerry 10 OS is finished with, at least for newer hardware. It's looking like BB Android from here on out.

Though, it would probably be a good thing for then since they are all about enterprise, just like Microsoft is.

Only an idiot would've believed that rumor. Blackberry is already on its death bed, adopting Windows 10 Mobile would be suicide. Any cell phone maker with half a brain is going to stay as far away from Windows 10 Mobile as possible. It's a dead end street.

Good decision by BB. Why should be they interested in Windows phone when Microsoft isn't?

Even if WP had the apps that android does it still would have been this way. Their core business is enterprise and that is built into WP why would you sell a competitors solution thats integrated and yours as a app?

I would like to see Microsoft make a windows phone and support it. Anyone picking up the sarcasm?

See what you did there :) But with W10 on the way I would see them supporting us fans.

They're probably just too sour from Windows Phone overtaking them lol.

They also abandoned BBM app on WP. Not that anyone's on it

I'd imagine their doing mw10 work to it internally before they make any major updates published to the beta zone test group

The one who asked this question to bb deserves a hug. /s

Microsoft really could've used that 1/10th of 1%.

Thats the only thing needed to say! Just plain no. Unless some kind of explosion happens in software improvement for the huge app gap..

Why not make universal BB apps for Windows?

First ask Microsoft to make apps for Windows like they do for iOS and Android.

They do. In fact, they're almost always better.

Which apps are these? I have both OSs available to verify your statement. Until you get back at me I'll continue enjoying my Microsoft apps on Android. Try Skype - different beast on Android. Posted from my Note 5

Better on the OTHER platforms. Yes.

Drop complaining. The outlook app on wm10 is much better than android not sire about other apps except yammer which is far superior on iOS and android compared to windows mobile/phone

Have you ever used outlook on Android? I am using it right now and it's much more complete and powerful. Eceryrhing is better.
You fans are so ignorant of facts. Posted via the Windows Central App for Android

Do they have websites for their apps? They would probably start there since websites are just as powerful as Windows apps. If they already have a web presence for them, then a Windows app isn't needed. Basically, Windows apps are pointless unless you want to access a tiny portion of the smartphone market. Posted via the Windows Central App for Android

No we don't want a BlackBerry WP. Instead we want Samsung, Xiaomi, Lenovo, LG and Sony WPs to broaden the OS's user and OEM base.

But obviously having BlackBerry on board as well goes against all that, makes sense...../s

Not really. I think, he means that more affordable brands can strengthen the Windows Mobile platform easily because they can be budget phones (by budget phones, I mean affordable and not like very cheap). An average consumer might not need a blackberry.

Both budget and flagship phones are needed for W10M. But phones from only Microsoft and some lesser known OEMs won't help. WM needs the global manufacturers.

Why not BB as well.. They make pretty nice phones too y'know..

Priv is also so good and also Passport, still not many people bought them. Priv has Android so it has some chances of being sold but with WP, the probability is even lesser. These days brands matter more than specifications (arguable). And no matter what OS a BB phone runs (even iOS), people have tagged the brand as "failed".

That's why nokia was resurrected? In fact going with a businness oriented OS like windows would have been a great bet on their side and they could have helped by bringing their well known brand to the table like Nokia did. BB is more or less in the same position as nokia was with symbian. Nokia with MS arrived at a 4% globally with windows, let's see if BB can get to that percentage with android.

& palm/web os with hp. who is the definition of insanity by releasing different Android/chrome devices expecting different results after trashing their palm investment

Uh.. Excuse me are you for real? You're saying BB isn't worth it cuz nobody buys it? Because people have labelled it a failure? And you use a windows phone. See the irony there? I could arguably say no matter who makes a windows phone its bound to fail because "people have labelled it a failure". Now obviously I'm being obtuse. But WP and BB are more or less in the same boat. All I'm saying is if you're in the same boat then why not fish together?

Ok. Anyways the discussion was whether BB should make a WP or not and not who has failed. You have taken it to a different track. It's my opinion that I don't expect to see a BB WP.

WP had all that support back with WP7 and it didnt help. In fact it wasn't until the WP platform converged around on OEM - Nokia - that things took a slight turn to the positive.

Yup, but it was WP7, which was a new OS. Now it's W10M, which is very advanced, and there's no Nokia. Once the app gap starts to abridge and global OEMs start to mass produce WMs, then no force would be able to stop W10M from growing. And moreover, BB is more business oriented.

And Microsoft isn't? They have Office, OneDrive for business, Skype for business, Surface Hub and so much more stuff for businesses. And they're pretty successfully at it too. More than they are with consumers. And with BB it'd be even better.

Skype for business has a lot of limitations and Onedrive for business must be improved a lot

I never thought about it but if they bring their A game to it, why not?

Genuinely not interested in anything Blackberry has to offer.

Same, I wish BB would hurry up and die already, or I hope they become massively successful and relevant. I haven't seen a blackberry in someone's hands for well over a year now, despite its market share, I see quite a few Windows Phones, still haven't spotted a 950 in the wild yet though.

At this point, BB at least gives Windows Phone the advantage of not being dead last.

Actually BB is only selling about 1 million phones per quarter but is earning more money than Microsoft selling 4 million phones because their ASP is 4-5 times higher.

I like the BB OS alot, it reminds me of widows mobile, and I really like the Passport, I'd consider buying one of WM went away. I don't need alot of apps and like the quality build. I keep thinking BB, WM and Amazon should team up.

Never saw this one coming

As if they needed to clarify that. I mean, they're just now getting out of a dead OS, why on earth would they move to another dead one? Besides, there's nothing Windows 10 Mobile can offer that Android can't offer better and more reliably. If BlackBerry was thinking about a real Windows 10 device (running x86 apps etc, ie. "Surface" phone), THAT would be a different scenario. There BlackBerry might actually profit from it but I think it will be a couple of years before that happens.

what's with the obsession over running X86 programs on phones?

It's not about running them on phones, it's about being able to fully realise Continuum. The point of having a phone that runs x86 programs is to basically have a portable device that you can connect to a screen and have a full powered PC ;)

Sluggish expensive pc-experience. Sounds like a Mastermind plan.

Microsoft is pointing the industry towards new app development, if they'll produce this x86 phone it will be only to bridge 1-2 years of adoption path of new app model agains old win32 apps, and I hope they stick to the plan and don't do that. I don't know if you have insight into business but where I work it's all about web and they are planning on Universal Platform in the coming years to go in parallel with web. In other words most of the development around the world is web oriented and what is not web oriented will go in the UWP path, they should not invest in an old platform and old architecture in my opinion. It's like complaining about when we left old good command line programs...

We are not going to use x86 programms on the phone .we will use it just when we plug the phone to a screen (continuum) . Thats the point of having a surface phone with x86 programms

There's a few x86 apps I'd happily use on my phone without a screen keyboard and mouse just to cater for extreme cases while travelling on a train etc where a mobile app just can't do what I want. I also really want to mess around with Visual Studio on a phone so I can write hello world and debug on my phone lol (Just for cool factor). However, x86 support limited to continuum at first will still be amazing.

Well, when you think about it, Microsoft will likely head in that direction, once technology is capable. Running Windows 10 on all Mobile devices would eliminate the need for devs to port anything over from the PC side. IF, they build a "Surface" phone, it would likely have Continuum capabilities. It would be nice to be able to have a full PC experience, when connected to a larger screen as opposed to a limited one. This means that x86 (legacy) programs would benefit from this. They could run in a mobile format, when used on the phone screen and scale yo full use, when used with Continuum. I doubt the current technology is where it needs to be and if they are working on it, we likely will not see it until mid to late part of 2017. The type of power would require many tweaks to get the same or similar capabilities of current phones. Not to mention, the phone will have to have at least 4 GB of RAM and 128 GB of built in storage, with the ability to expand. Not unless 512 and 1TB micro SD cards make a début.

I forgot to mention an iCore 5, processor.Yes, older, but most likely for a phone type device. With that said, you can expect at least a 6 in screen.

@Vincent McLaughlin, you might want to look at why most tablets and two-in-ones ship with ULV cpus as opposed to full fledged desktop processors. That should give you an idea why an older i5 cpu in a phone is just.... silly to put it politely :P.

Hopefully not, if they go backwards to the old paradigm it will mean their plan of evolving applications failed. There's no reason why win32 apps should be eternal. See my comment above if interested.

Everytime I see your nickname I stop and just check if you posted another anti-MS hate comment.

they're just now getting out of a dead OS, why on earth would they move to another dead one?

Well, why the hell not? It's not like a extra few thousand BB+Win10Mo phones sales would hurt them.. They'd still be making Android phones anyway.. Or y'know they could make a ROM for Win10Mo on Priv.. See how the users respond.. And then make an informed decision on wheter or not they want to make the W10m phones..

"It's not like a extra few thousand BB+Win10Mo phones sales would hurt them" You do know making phones has a cost, right? So yes, making even a few thousand WP phones would hurt them. There's a reason they finally killed BB10. They wouldn't kill their own OS to replace it with another one just as successful. Even if they only did "a few thousands". A ROM...now THAT would be more of a possibility...if the main focus of BlackBerry going forward wasn't security. Their Priv(y) is focused on making Android "secure" (whatever that means). To allow ROMs would require ease of access to root and the boatloader which I don't believe falls within BlackBerry's (or anyone's) definition of "security"

You fail to see that a small piace of a big cake is ofter smaller than a big piece of a small cake. Lucky for them your beloved nokia was smart and understood that when it was near failure, increased its marketshare to a global 4% with an OS that was bad ocmpared to what it is w10 today and then sold businness for a great deal to MS.

How is that "logic" of yours working out? WP is thriving right? By the way...your analogy with Nokia? Yeah, Nokia knew no path but DOWN when they went with WP. They didn't "increase their marketshare to a global 4%". They saw their global marketshare and relevance crumble to a global 4%. There's nothing smart about that.

Putting "" around logic does not change the fact that nokia was 0 in smartphones market and reached 4. We'll see if BB can reach 4% in a market where even great phone makers like htc are doing sh*t... We'll see ;) I'm not like you who's happy seeing good manufacturers like MS having a bad time, I wish BB all the best, but I still think they would benefit from taking a different path.

Running x86 apps on a phone means giving developers another reason to not convert their x86 to store apps as UWP. That will just give them an excuse to keep making desktop apps. Which will cause the store to be empty still. So.. I think it's not a good idea.

Developers who don't want will not convert their x86 apps to UWP anyway. You can't force them and you can't blame them. If I was a developer, I wouldn't. Now I sell my x86 programm directly to consumers, keep all the profits from the transaction and even make some extra cash on the side through ads on my website. Turning it into a UWP and putting it in the store would mean I would not only lose the ad revenue, I would have to share revenue from the sales with Microsoft. Why the hell would I want to do that when the current business form is superior to me?

Ahem http://blogs.msdn.com/b/windowsstore/archive/2012/04/25/deploying-metro-... "Direct distribution of a Metro style app" They ain't stupid, duh!

Just wait for the next Mastermind move. W10 Windows Store Edition. Nadella just wont accept that PC users don't want nor need app store so why not try to lock down the OS for good.

That idea has crossed my mind, but it would be the single dumbest thing Microsoft would do. It would likely kill off Windows 10 instead of expanding it.

Yeah please ignore the fact that you have been proven wrong, as always ;)

@Paolo Ferrazza, the reason windows thrived it was because it was an open platform. Windows mobile thrived because it was an open platform albeit the default UX looked like it was designed using crayons and clip art logos (hence the need for skins). Why it sunk, that's another story. But locking down the desktop would be suicidal. Windows RT had the desktop and other elements, which confused people thinking they could treat it like a normal desktop PC hence why it didn't pick up much traction. If it shipped with touch centric settings, touch friendly control panel, no desktop, touch version of office (Gemini), better slip screen views as opposed to just portrait snapping. Since it had none of these and was almost near identical as full windows - bar the ability to run macros and win32 code; OEMs used full windows instead.

+1 Posted via the Windows Central App for Android

A Priv running W10? Sure, why not

We want a Surface phone. That's it.

Which will do diddly squat.

True but I'll be at least one sale.

Lol. U are hilarious...or do I mean stupid? Prob both

You have a Surface 8 Pro.....mmmmm

I just want it to sit on the table and look pretty. Lol

Same lol. Id be happy using it even if there were only 1 app in the microsoft store

What makes you think it won't get cancelled? It will be released only at the very end of this year and by that time the Windows phone market share will be 0%.

I think we ,the windows phone users are happy enough though it is growing slowly......so we don't need blackberry type of phone....
Windows phone OS is capable of providing enough security without blackberry I hope

You gotta see them as partner OEMs and not foes.. You can't be nitpicky if you wanna rise up..

Well, it might not be really interesting to most people, but I think it would be nice to the windows 10 mobile community in general. Having a blackberry with windows means more phones running windows, and luckily more people using windows... And after all, isn't that what every windows fan wants? Well... That's my opinion...

Nah let them try to get iOS, blackberry is worse than us in this market haha

Why would other OEMs would want to build windows phone or even IOS phone for that matter. When it comes to Android they can tinker with the OS. have there own UI & Bloated apps on the phone. Giving customers some kind of differentiation factor. But when it comes to IOS & Win. this is absolutely not possible. Flagship from MSFT may very well be similar to flagship from LG & Samsung.with the difference of external look & feel. which are secondary when comparing the internals which are first deciding factors.

Because not everyone wants an Android device

Nor ios device. Lol for fun at my last job we took a vote to see what OS people used most for there phones between males and females. Most females had ios and most males had android. A few mix had windows. I just find it funny.

It's funny seeing the android fans posting on here and how they think the android OS is so perfect. Over the past year android has caused some huge exploits that not only effect phones but anything with a form type of android system. You stick with it if you want. I personally am sticking with Windows. There hasn't been anything I've needed that I couldn't get or do on my phone.

Totally with you zigzagr63. Windows Phone is the best OS. Also, the lack of understanding from Android users is beyond belief- for example there is only 1 manufacturer for Android phones that make a profit, yes you guessed Samsung. Every other manufacturer LOSSES money. Welcome to Android - the insecure money drain you have to join because it's so good lol

You mad bro? Last I checked Microsoft wasn't doing to well with Mobile. They bought Nokia, ducked their hardware, cropped on their own software, laid off employees and have essentially killed their own OS in two years. Windows Mobile is an experience on other OSs now. I'll be here enjoying Outlook, Cortana, Skype, SwiftKey, Office apps, Slack, Arrow and Next on my shiny Samsung while you await Instagram to be updated out of Beta. Ciao. Posted from my Note 5

Nice rant but you missed the important part: "There hasn't been anything I've needed that I couldn't get or do on my phone" Ciao

I can't fault you for needing a simple feature phone, my bad. Posted via the WC App for Galaxy S6

Personally, no I do not want a blackberry phone with Windows.

The button layout of the Priv looks like that of the 950xl, and overall design looks like an older Lumia.

Could you imagine if they made the priv with a track pad instead of a keyboard and then ran full windows on it with an Intel x86 processor!? PC on the go.

I'd buy a BB w10 phone because 1) I'm Canadian and support Canadian business, and 2) they make solid, beautiful hardware. If I had to go Android, I would get the Priv hands down.

Agreed... Well, except for the part about buying an android phone.... But that's just me.

Right? I don't really expect any of our current OEMs to come out with a phone having a better build quailty than BB..

I would like to see what blackberry could/would do on the W10m front. The biggest question for them though if they ever did release one is how well they would support it after release? This is why people flock to MS devices in the windows community. Because they know there device will be supported at least for a little while.

Really like the quality of BB. Priv is excellent device. but u can't see why the would make a windows device. Lol I mean like why .
Someone somewhere has nothing to do.
Any way I'd rather see a Lumia take on android. It's android but better . Less google crap

No thanks.. Blackberry is more than dead to me.

I wouldn't mind seeing one

I just want a smooth OS without any bugs

Yeah that will be awesome

BlackBerry with W10M? No, thanks! BUT, Sony with W10M? YEEEEEEEEES!!!

I would love to see a W10 xperia! Sadly they said no plans on doing so :(

And I think that's better

I'm interested to see their W10m device. Tomorrow is the announcement, correct?

That would be perfect. Sony Xperia Z6 Windows 10 Mobile edition. Posted via the Windows Central App for Android

Personally speaking I think everyone should have different devices. Pick your device and add ons . Pick your colour . Pick your security. Pick your camera.
Pick your OS. Bang bang bang that's it. .
No one can grumble or moan about anything. You picked it you live with it.

That's silly. Haven't you noticed that in the 21st century you're supposed to blame others for your mistakes and poor life choices? And if we have it our way, how can we fill the internet with whining and crying? :P

Lol. Well humans do like to moan

Yeah, and it seems the majority are on WC with nothing positive to say, even when OEM's are on the up

From a build quality stance, it would be interesting to see. I wouldn't buy one nor do I think it's a good idea. I stopped using BlackBerry once they adopted Android.

We ask if Windows Phone is dead....how about isn't BlackBerry looooong dead?

We will say BB is dead when we will see its CEO using an iPhone Pro to showcase BB apps

Or when we haven't heard boo from them in twenty-two....oh wait.

There's no such thing as an iPhone pro!!!

Well, Nadella thinks there is. He was the one who talked about it lol

Oh they're both on life-support but effectively dead. The difference is that BB has already accepted defeat and moved to Android. They'll keep support for BB10 for a while but I wouldn't expect to see more BB10 phones out of Bieber-Land. Microsoft on the other hand hasn't accepted defeat yet. Or, they have, WP-fans are the ones that haven't. The only question is: will Microsoft keep W10M alive as a software is anyone wants to use it, or will they simply stop wasting money on it and build their services into Android too.

But it's not just about Windows 10 Mobile - I think that everyone's in agreement that if it was a standalone phone OS, it'd be long gone by now. Microsoft will keep pushing for it to work because it is, regardless of it's current state, an integral part of the Windows 10 concept. One OS, everywhere. Remove the mobile element and you're basically left with Windows 10 on PC's and tablets - the same as what Windows 8.1 did. Cancelling it undermines the entire concept. I don't get too invested in this because it is just an operating system, nothing more, but I think Microsoft can improve their situation just enough to ensure that the Lumia/whatever-they-call-the-next-one lineup is profitable and not operating at a loss. With that accomplished and an examplar lineup on the shelves for other OEMs to copy, it shouldn't really matter if it's not a dominant OS - it's an alternative, which is why it still has a userbase even now. With no loss of funds, there's no reason for Microsoft to cancel an important part of Windows 10. Main thing that matters to me, though, is that I'm throughly enjoying my Lumia 950XL running Windows 10. The rest of it doesn't bother me.

@DJCBS. Market share / race aside. I don't think we will ever see an android based microsoft phone ever. As it would just open up a mountain of worms lol.

A wise decision indeed. Their smartphone business is already in huge loss and there's no need to invest in a losing business.

Google hasn't claimed that they aren't gonna make a windows phone yet.. You know what that means.... Win10Mo running Nexus inbound!!!