BLU shows off Win JR and Win HD in hands-on videos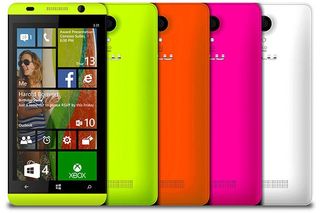 BLU launched its first Windows Phone, the $89 Win JR, last week, and now the manufacturer has posted first-look videos of the device along with its larger-screened sibling, the Win HD.
Like the Win JR, the Win HD comes in four color variants. The device will cost $179 carrier-free, and will be available online at Amazon as well as retail Microsoft locations. In terms of specs, the Win HD comes with a 5-inch 720p display, 1.2 GHz quad-core Snapdragon 200 CPU, 8 MP camera, 2 MP shooter at the front, 1 GB RAM, 8 GB internal memory and microSD slot up to 32 GB along with Windows Phone 8.1.
What do you guys think? Anyone interested in BLU's budget offerings?
Thanks Jay for sending this in!
Windows Central Newsletter
Get the best of Windows Central in in your inbox, every day!
Harish Jonnalagadda is a Senior Editor overseeing Asia for Android Central, Windows Central's sister site. When not reviewing phones, he's testing PC hardware, including video cards, motherboards, gaming accessories, and keyboards.
Yeah, they're certainly very eye catching. Wonder if they will wear well, like a Lumia, or if the color will wear of like the HTC 8X?

CPU nerds talk in ... 5, 4, 3, 2, 1 Looks like a HTC? (Not a bad thing)

Yup. I'm going to say the same. ;)

I agree, the colours make a big difference. Sometimes having only the brushed steel look isn't enough.

Yeah, very similar on the front, but instead of the empty bezeel it has capacitive buttons :)

It says 1gb of ram for the HD in the video. May want to correct that in the article.

Or correct that in the video... LOL

That it does. Corrected. Thanks.

The screen grab you have for the HD shows memory as 1 gig.

Design is nice, the front looks like a htc one

All the specs are fine, but I'm looking for something new with 1gb ram and above like 730 so this is out of the table

The HD does have 1 GB of ram.

Oh, the article must have been edited it said 512mb ram songs minutes ago...well, anyway, that changes everything! :)))

Same design as their android devices Posted via the Windows Phone Central App for Android

It has the capacitive navigation buttons so I think not the same as Android.

Good speciations and good looking phone

What is wrong with WPCentral? This device has 1GB RAM and it is mentioned (look at that video image at the top). Please don't be a thorn for potential buyers.

Guess he got his wires crossed & thought it was about the jr?

Yeah. Changed to reflect 1 GB of RAM

But where's blue version?

They're all Blu versions!

Hmmm I might pick this up as a backup phone/media player

Interested. Good price point. Might replace my HTC 8X.

Would this really be an upgrade from an 8X?

Yup. It would be software upgrading, cuz 8X probably won't get official 8.1 from HTC...

I wish BLU and Yezz would ship to Canada.

They do sometimes. I checked and they have quite a few phones on amazon.ca, so hopefully they will include these too.

I'll take any new Windows Phone right now. Its exciting to see all of these manufacturers starting to use WP. Alcatel just put a 64bit one out too. Having bright, trendy and affordable Windows Phones on the market will do nothing negative. Thanks Blu! Posted via the Windows Phone Central App for Android

RE: Memory - It wasn't mentioned but there's an accompaying gfx on the upper right-most part of the video. Win JR - 512MB RAM at 4:14 time mark Win HD - 1GB RAM at 1:46 time mark

Yeah didn't see the thumbnail before. Fixed the article now.

I'm getting one of the Win HD.

I'm strongly considering it too after I cracked my 920.

The one thing I don't like I that it I not coming to Greece! Tell me that ain't true! Only Amazon and Microsoft websites?

Might have to consider the win HD for the wife. But her main thing is good camera. No telling when the hell the new Lumias will come to T-Mobile though.

Mums the word then, lol. If the 1320 wasn't such a good deal I would almost regret buying it for my Mom (birthday) last week because this screen & price would be perfect but I suppose she'll soon get used to the 6in especially to view Facebook and Photos.

These would make good backup phones. In the event you loose or break your primary, either of these would make a good stand-in if you you happen to be locked in mid-contract but need a new phone.
As a primary device though, not interested.

I agree. They definitely look like a nice affordable phone so... I guess it doesn't work on Verizon right? Or it works on verizon but you can't (insert everyday action or MMS).

Pending a physical review in the Microsoft Store, this is a done deal for my siblings (who seem to kill phones for fun).

Interested to see if these phones will be released internationally. Love the look of the Win HD. The dual SIM is a big plus for me.

Love seeing the new phones. Pleaseeeee show us the 1520 replacement so I can make a decision.

First World Problems, lol. I'm gonna rock my 1520 for 2yrs or "The Wife" would kill me.

Ill take HTCs 1080 over this.

Offers more than Nokia Lumia lineup at a more affordable price. Interest, high! Plus the phone looks great WinHD would be the best option.

Actually, I'm kind of interested in this Blu Win HD. I don't require anything amazing from my phone, other than a good camera which I do appreciate. That's why I bought a 920 and after cracking it last week, I was eager to see the new phones announced at IFA. The 720 I don't care for much, while the 830 is way too expensive to buy off-contract and not good enough for the price. I normally don't care about specs but if you're going to charge me upwards of $400, it's Snapdragon 800 or bust. Now, I'll have to wait for reviews, but if this Win HD has a decent camera... 5" 720p screen with a quad-core (even if low tier) Snapdragon for $179? That sounds quite enticing to me. Also I like the design that is reminiscent of the HTC One.

Sounds like you Sir have a big decision to make this Holiday Season.
You're right though, wait for some reviews.

My only worry is that, being used to the 920's LTE, this BLU's HSPA+ will feel slow. I don't even remember how 4G felt like... but I think it was OK when I had a Nexus 4.

Or you could get a L925 now off-contract till we see a "worthy L1020/1520 successor" next year.. ;-)

Yeah, I had thought of this too. I was considering getting another 920, but it is a 2 year old phone at the end of the day. I have plenty of time as my 920 is still functional, but this BLU has a deceng quality, big screen and a modern CPU, while the 920 is more power hungry and heavier - but has the delightful Pureview camera... Decisions decisions! We'll see how the BLU fares in reviews. I can deal with a cracked screen for a couple months.

You can always watch ebay for a 920. I got one for $125 a couple of months ago.

I'm assuming that's used or refurb, correct?

Correct. Got one that was "great condition" and it came in mint condition (stayed away from refirbed but as always on eBay you never know).

Interesting. I usually avoid the used models and always go refurbished. As long as you buy MANUFACTURER refurbished, you're A-OK. When somebody else refurbishes it... I don't trust it either.

Looks really nice and also specs wise its quite good....

$179 1GB RAM 8MPX Camera. Sounds Good

Not everyone uses their phone to solve complex 'thingy', so lets just rejoice that other manufacturers are coming onboard with some affordable solution for many.

Ok design; Lumia meets M8... I go for better specs, so not interested, but for people with lower needs these look quite nice.

The Win Jr. Is the true successor to the awesome 620! Small 4" screen, FF cam and rear flash. I can't wait to see you guys go hands on. I'm curious how the screen is.

Did the Win HD come with a case and screen protector in the box, like the Jr? Also are the sum slots on the HD also mini?

Also are the only HSPA or HSPA+

The Jr looks like a much better option than the Lumia 530, whereas the HD is odd, it's not going to be as good at games as the 630, but it will at least run every game! It's kinda the 730 with the chip from the 530.

I guess these phones are only designed to work with US network bands?

Hi this looks promising as a travel phone for me. Does anyone know if it will support Glance and if it supports sensor core for tracking walking/running? I have grown to love both on my 1520 and would love to have that also when I travel.

Orange and white are nice, how do they get away with that design though, HTC looks, probably not HTC feel though

These would be good for work phones on T-Mobile, just wish WiFi calling was an option for download and not baked into T-Mo branded handsets.

Hi this looks promising as a travel phone for me. Does anyone know if it will support Glance and if it supports sensor core for tracking walking/running? I have grown to love both on my 1520 and would love to have that also when I travel.

I have been waiting for this phone for a while. The local Micro Center has a Blu kiosk and I have played with their Android phones a bit. They are really well built - they are solid and the plastics and metals they use feel good in the hand. Their prices are really good too. I usually use two phones: A high end phone on contract with AT&T, and a cheap unlocked job for international travel. Right now, that means a Lumia 920 on ATT and an old Samsung Focus that I unlocked and updated to 7.8 for travel. I am waiting for a 64 bit, L1020 successor for my contract phone, but this Blu HD will fill the void until then for both my primary phone and my travel phone. Supposedly the price on Amazon will be about $150. That's a lot of phone for the money.

Blu actually makes a quality phone, for a great price. I just wish the guy doing the video would stop saying "right" at the end of every sentence. It's REALLY annoying. I do plan on purchasing a Win HD as a back up to my Lumia 925.

Snapdragon 200? Even on the HD? Hmmmmm, might have to pass...

Maybe not film in a bathroom next time.

The HD looks great, also love that both have capacitive buttons. A camera button would've been even nier though

The HD with S400 and I would be seriously interested.

Does he sitting in a church or what??

It's Windows phone, not Windows

Any word on when the Win HD will be available for purchase?

Hi this looks promising as a travel phone for me. Does anyone know if it will support Glance and if it supports sensor core for tracking walking/running? I have grown to love both on my 1520 and would love to have that also when I travel....Somebody has to know this right? I want to order one as soon as they ship as I am leaving for a trip shortly. Any expert help would be much appreciated.
Windows Central Newsletter
Thank you for signing up to Windows Central. You will receive a verification email shortly.
There was a problem. Please refresh the page and try again.