The BLU Win JR 4-inch Windows Phone is now available for $89 on Amazon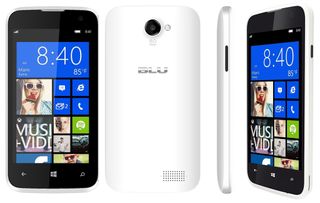 Although the Nokia Lumia 530, Lumia 520, and even Lumia 630 are making waves in the emerging and budget-phone markets, there are increasingly more players on the field thanks to Microsoft's loosening of hardware restrictions back in March. The latest to hit the streets is the Win JR from BLU, a popular Android budget phone manufacturer.
Amazon.com is now selling the brand new Win JR device in white for a single-cost of $89. This price is no contract, no commitments, unlocked, and the entire cost. So what do you get for less than $100?
BLU Win JR Windows Phone
4GB Internal Storage 512MB RAM with Micro SD Slot up to 32GB
4.0-inch WVGA display
Windows Phone 8.1
Qualcomm Snapdragon 200, 1.2 GHz Quad-Core
5MP Autofocus Camera with LED Flash, HD recording (720p), with VGA frontal camera
4G HSPA+ up to 42 Mbps 850/1900: Nationwide AT&T: Cricket Wireless, Trachoma, Straight Talk, Net10, H20 Wireless, 420 Wireless, Black Wireless, Consumer Cellular, Pure Talk USA, Red Pocket, Telcel America.
T-Mobile: MetroPCS, Lyca, Speedtalk, Go Smart, Simple Mobile, Net10, Straight Talk, Solavei, Ultra Mobile, Telcel America, Walmart Family Mobile supported in most areas; check with your service provider; dual SIM
The only thing above that may raise concerns is the 32 GB limit on the micro SD. We bet BLU is just playing it safe as the phone likely can handle much more with the Snapdragon 200 on board (the same CPU as found in the Lumia 530, which can take up to 128 GB).
Indeed, the BLU Win JR does have a leg up in some areas over the similarly priced Lumia 530. For instance, it has a front-facing camera and a rear camera with autofocus and flash. The phone lists dual SIM support, another benefit over the Lumia 530. Both phones lack 4G LTE with only max HSPA+ for the 3G data connection.
The BLU Win JR is carrier unlocked however, it does not ship beyond the 50 states for the US. BLU is based out of Miami, Florida.
Additionally, a more interesting 5-inch (480 x 854) model with a 1.2 GHz dual-core processor, 512MB of RAM, dual-SIM support that comes in a variety of bright colors should also be coming soon.
How does the BLU Win JR stack up to the Lumia 530 in terms of quality? It is too early to tell, but we did order one up for an unboxing and hands on come Tuesday. We will, of course, do a deep dive into comparing it to other Windows Phone to see just how well BLU compares.
Anyone in the US looking to pick up the BLU Win JR?
Source: Amazon (opens in new tab); via Windows Phone Apps.es
Windows Central Newsletter
Get the best of Windows Central in in your inbox, every day!
Daniel Rubino is the Editor-in-chief of Windows Central, head reviewer, podcast co-host, and analyst. He has been covering Microsoft since 2007 when this site was called WMExperts (and later Windows Phone Central). His interests include Windows, laptops, next-gen computing, and for some reason, watches. Before all this tech stuff, he worked on a Ph.D. in linguistics, watched people sleep (for medical purposes!), and ran the projectors at movie theaters because it was fun.
Never heard of this phone, but the fact it has flash, and front camera makes this pretty sweet for the cost.

So is screen 4 inches? I know it isn't 0. Well lumia 635 has bigger screen but the inclusion of flash and front camera on this makes it a better buy Posted via Windows Phone Central App

I still don't get why Nokia didn't put neither flash, nor ffc. 620 had flash -- don't know about the front facing camera, though.

So many people bought Lumia 521. Nokia discovered people would be willing to sacrafice ff camera and flash for a cheap phone that did everything else a smartphone does very well. And they were right. I am curious to see the sales numbers for the Lumia 630/635. I am interested in this as a back up phone. Does anyone know if the maps requires internet connection?

you can download heremaps on your phone...meaning you can open it w/o a wiFi<..>

However maps are about 4GB on their own for all of the US and unfortunately I've been unable to download the maps to the SD card. The only phones that can do that to my knowledge are the Lumias. I'd suggest you give other companies a try. But if you're planning on using as a GPS, get one with at least 16GB internal memory. Anything under that and you'll have trouble for US maps, unless they're LUMIAS. In which case you'll have no trouble downloading it to the SD card. Just look it up on the articles on how to do it.

The 630 is selling very well because it's free on cricket. It also gets recommended in my experiences at the new cricket

The 630 is free on Cricket and has great build quality & great speed.
Will do well as a backup phone, if your looking for a entertainment phone look elsewhere (730 - 830).

You got a good point there. And the 520/525/521/530 is the device for that. The 630/635 should've come with at least the ffc.

The 630 is flying of the shelves in Germany - at least for a WinPhone. Aduplex also suggests that it goes up the ranks fast. While I doubt it'll as successful as the 520 it does well in many places.

Never cared for front cameras on any of my phones. For selfies just set the timer and turn the phone around. Don't do videochat at all. FFC is pretty useless to me.

It had a front facing one

The answer is: Because Blu wanted to make this phone and MS wants more OEMs to be successful with Windows Phone

Yes the 620 has a front facing camera also.

I'm glad the screen is only 4.0 wish it were 3,.8. Not every phone needs to be huge. There are already plenty enough large screen phones. The only thing that concerns me is the 4GB internal. I would prefer at least 8GB. I'm desperately looking for a 3.8 - 4.0 WP device that has decent specs.

Society as a whole are moving away from smaller phones. Even Apple...

I bought 620 because it's 3.8 And i would upgrade to *30 Lumia with 3.8 or 4inch display rather than 4.7 or 5. Too big.


I liked the design... Then I saw 512MB and immediately quit reading. My Lumia 820 cost me $10 less (yes, off contract) and had 1GB. Does it really cost that much more to make the phone able to see everything on the Windows Store?

I got mine the same, but remember this is an new-off-the-shelf phone. A new 820 right now costs double what we got ours for. So actually when you really think about it, $89 for this is actually pretty good.

My issue with the 512mb is that is restricts app selection. It would not be a problem otherwise.

You would not have benefit from 1GB of memory with this processor. It will not be able to run any of the games that require 1GB smoothly.

Well I was going to say the lumia 635 is $79 from Fry's but this has it beat, rear flash And front camera, makes this a good deal. Posted via Windows Phone Central App

The question I'm curious about is the quality. One thing to make this, another to make it good. Mostly, the camera question and build quality are my top concerns. Still, at least the design looks great.

I'm getting it for my mom, my wife and my lover. I don't mind if is cheap or b bad quality. I'm so happy. My wife wanted a 930.

I hope your referring to 3 differnt people and not just 1

You win comment of the day!

Ha. That's the same thing I was thinking. At least two, as the wife and lover can and should be the same.

Three? That would be a pretty understanding wife if he had a lover as well. :)

LOL I wondered the same haha! The "and my lover" threw a wrench in the whole operation.

Redneck 101. Keep it in the family :)

Lol what please tell me you didn't just put that out there on the internet

Quality is a concern and will it get updates?

It looks sweet and the Blu Win HD is even better and will only be $150!
Check out videos for each one here: http://wmpoweruser.com/blus-unreleased-win-hd-and-win-jr-previewed-on-vi...

Thanks for the link. For my family, the Win HD is going to be hard to beat at 149$.

You're welcome and yes I agree

Daniel, I can vouch for the quality of Blu products. My wife's phone is a Studio 5.0 and I have a Life View tablet. My daily is a 1520 so it's not like I don't appreciate real quality. Many, like you, have never heard of Blu and that's the stigma attached with being the new kid on the block. Here in Miami they're all over the place and they're even sold at brick and mortars like Best Buy, Tiger Direct and Brands Mart. As Androids, they run vanilla Jelly Bean and perform as flawlessly as you can on Android. My wife's phone has only been reset twice in 3 months and my tab was only reset once because I needed to pull the SIM out.

And a S200 instead of a S400 in the Lumia 630... But everyone has other points, so all fine and good for WinPhone

Why would you NOT buy a Windows Phone at this point.

They aren't for everybody. They may work for you and I but there are people who want the latest and greatest app that we don't have.

Or a functioning music/podcast app.

If I didn't already have a WP this phone might be on my radar. I find iPodcast to be the best podcast app on WP. I've bought/tried many, and this one is by far the best imo. The built-in podcast app is so blah. Posted via Windows Phone Central App

Sad to say, Stevied1991 is right, they aren't for everybody, or at least that's what non-users think. I hear people say it seems so hard to use(!) compared to their Android/iOS phones.

Both of those apps "function" on my phone... And before you think I don't get it, I complain about the music app all the time. But it's much better and my playlists are working now so while it does need work, it certainly isn't non-functioning. You've found a way around it thus far, right? Furthermore, PM me with your gripes about it. I'll send them over to Microsoft through feedback, however, if you take the time to write me about it, I suggest you also send them feedback yourself. .

Agreed... this whole "non -functioning" nonsense really has to stop. They function fine. They may not be 100% up to the specifications YOU want, but that doesn't in any way make them "non-functioning". No where near.

I use Spotify, no complaints so far, though admittedly I am not an audiophile.

My brother-in-law gave up his Windows phone (which he liked), because he needed a rugged type phone. Android was his only option :(

Wonder how the quality is. I might pick one up just to try it and compare to my Lumia 635... Anyone have any idea how good they are about firmware and/or OS updates?

Against a Lumia 635, I would be shocked if it were better (well, it does have a flash and FF camera); but against that device, all things point to the 635 being better e.g. larger display, ClearBlack, better GPU, etc.

Guess we will see on Tuesday!

Daniel... just a suggestion... but maybe once a lot of these low-end/midrange devices launch from these various OEMs (there seem to be so many all of a sudden), it might be helpful if WPCentral created a kind of comparison chart--features, build quality, average price, availability, etc. Just so your readers could quickly size them up (spec-wise) before making a decision. There are just so many at the moment--Xolo, Blu, Prestigio, Harley-Davidson, Polaroid, 730, etc.--it's making my head spin.

Yeah I don't really expect it to be better, but the 635 is mostly used by my son and he loves shooting Vines and take selfies... So obviously the lack of FFC is a problem for him (though he's gotten very good at aiming with the rear camera!). If the phone is just good enough it might work better for him. The 635 is an excellent phone in all other respects (and has functionality with the SensorCore that my Icon still doesn't have, which amuses my son to no end) so I too would be surprised if the BLU can go toe to toe with it overall.

I think ffc and flash are very important to have... their quality on a low end phone is not that important, but they need to be there for Skype and flashlight apps. Unfortunately MS wants these to be a false differentiator and tries to make people think they belong only on mid range phones, when the parts are incredibly cheap. It's a bad strategy and I believe it hurts their competitiveness.

Is it just me, or do the buttons on the 635 feel kind of cheap? That's what I thought when I was playing with the display model at the store. Definitely different from the buttons on my 925.

Oh no question. The 635 is cheaper for a reason.

A lot was compromised in the 630/635 to reach the price point and maintain profit margins.

Looks nice. No info on its dimensions and weight?

Product Dimensions: 4.9 x 2.5 x 0.4 inches ; 4.3 ounces

This is what we should have gotten worth the Lumia 530.

I guess, but remember, everything has a cost, so there's a tradeoff somewhere in there...

I think it is criminal at this point to not include a front facing camera... i can understand not adding flash....with all the processing power we are getting with the phones.... the assembly cost not withstanding... adding a front facing camera is adding two dollars to the ledger...

$2 PER PHONE is alot of money. That could eat up all of Nokia's profit on the 520.

Is $2 an actual figure? I'd be really surprised if it's that much.

Side note...xbox music and video hub live tile?

...also old HTC Clock hub. Could be just Ps'd render shortcuts. We'll find out what it ships with later on Tuesday.

Also, the battery icon in the system tray is the wrong way (mirrored). Poor render as usual.

Or you can watch this video https://www.youtube.com/watch?v=bSTpTaW5sWw

No more 512mb RAM for me, regardless of price.

You have a point, but older people that do not live by the phone it should be good

Didn't work for my 70+ mom. I got her a refurbished 920 to use instead of the 520 she had.

Bull. 512 works just fine unless you want games that aren't compatible. Your mom is that big of a gamer?

I want to get the Blu win HD just to try it out. Wanted to get a low price phone for my niece with front facing camera but couldn't find one, the Blu win HD is only $149 great price.

it looks nice for anyone who wants to use a phone and know that it will more likely work fine even if it's really cheap. In a video it doesn't even look that small.
I wish my friend would have waited to get a phone like this and not the horrid android phone she got that can't seem to like skype or seem to discharge even if it's plugged while on a call, and it doesn't have front facing camera which this does, not the best but anything is better than what she already have.
I like phones like this, not the best but still amazing choices thanks to Windows Phone and how nice it works even on cheap phones.

I'll be anxiously waiting for the hands-on come Tuesday. I really need an unlocked, dual-sim device, and I don't think the 730 is coming to the States (only the single-sim 735).

'I don't think the 730 is coming to the States (only the single-sim 735)."

That would be my guess too, as dual SIM is not that big here at all.

Daniel...any update when those phones 735/830 are avail in the US and what carrier???

The spec is very competitive at the price point. Moto G 2014 is a disappointment! Lumia 530/520 still the champ of budget smart phones

Completely off-topic, but any news about 830 availability in the US? Really waiting for some info, need to replace my trusty, but old 920...

1. if its completely off topic then why post in here? put it in the forums where you'd get more exposure and annoy less people with off topicness. 2. We don't know, the phones were announced, no word on carriers just yet.

Nokiapoweruser site claimed to have some info about 735 coming to Verizon and 830 to at&t, possibly also the 735.

Nokia's site says "coming soon"

Wow I could buy this now. :D Posted via Windows Phone Central App

Can't wait to see their 5in version. Welcome aboard the Windows Phone Train Blu.

Does it have FM radio? Would maybe be a good simless MP3/radio/browsing device around the house on wifi.

All Windows Phones have FM Radio.

no not all, pretty sure the 620 doesn't. whether this does, I don't know

It's bigger sibling has it check at 3:40 https://www.youtube.com/watch?v=8NAXzuKFazA It is most likely will have it too considering all the phones that have been announced lately have it.

No, all windows phones have fm radio, including this and the 620.

Wait, so Windows Phone OEMs can purposefully limit the ammount of expandable storage? Thought that was up to the OS, which can universally accept up to 128GB? So I want to know if this is an actually limit, or just something they published without fully understanding the OS. Does someone care to enlighten me?

I think it depends on what card controller they use some are better then others

Ahh, that makes sense. Thank you!

Keep em coming! Flood the market to increase market share!

Hey, it works. That's how Android and (especially) Samsung rose to power.

I agree! In emerging markets, these brands helps push Android devices to the masses, gaining not just marketshare but also mindshare. The more OEMs making thee cheap and affordable smartphones in large quanity, the greater the chances of many consumer will consider it.
About Samsung though, they're strategy is quite different, I don't think they dominate in Android simply by flodding it, only recently they make tons of models.

I agree. And I think the advantage of wp against android is that wp runs well even with these specs.

That's a really nice design and pretty good specs for $89 flat out.

I know this is off topic but I had to tell you guys about this I was at a local cricket store and it was busy as hell like twenty or more people inside when I arrive well as I Wait in line I watch and they sell like 15 Nokia Lumia before I even get to counter not including my four I bought for my family you know 4 lines for 100 dollars a month well and since they got the deal of a free Nokia Lumia 630 on green or blue it was selling like hot cakes I mean its a hundred dollars with 50 dollars instant rebate and a 50 dollar mail in rebate Microsoft need to do this to more phone even if they lose money just to grow market share.

That's awesome! I'm on Cricket too, maybe up swing by one of the stores just to see if they are doing the same where I'm at.

i had a lady friend who is using a 635 and she told me that she's happy with the phone...

One or two full stops would be useful.

I'm glad to see more Windows phones, but are there going to be anymore high end models? The 830 sounds alright, but I wouldn't consider it a flagship, or a high end.

Yeah its called the HTC one m8 windows phone edition it is a true flagship divice even tho Nokia fanboys claim otherwise I like Nokia but HTC is very tempting and when it comes to att I might just have to get it cuz it is are flagship divice aleast till Microsoft put one out for themselves

I'd say the One (M8) is a flagship... Exclusivity turns me off. I ain't going Verizon and no one can make me. I'm not fond of the long wait for it to come to GSM either. The camera seems gimmicky to me and I'm counting on my phone's camera more and more. I'm concerned about the long term support on such an experimental crossover. The sales are liable to be slow due to the way it was released to only one US carrier initially and those slow sales will trickle over to other releases as newer and fresher products assault the consumer's senses while we gear up for the Holiday Shopping Season. The way the device was released seems to be a self-fulfilling prophecy of doom. If they would have had the gumption to release One (M8) for Windows Phone to the world, I'd feel better about it. There are reasons why One (M8) is not seen as a saviour, despite its flagship spec and haterism isn't the only cause.

If it's stuck to one carrier, then it's not a flagship. Period. There's a difference between being a high-end device and being a flagship device. Leftovers does not a flagship device make, in my opinion.

Did you two miss the part where AT&T and T-mobile are getting it?

I might have accidentally overlooked a detail or two, haha. It wouldn't be the first time, lol.

Blu appears to sell directly to the public, not through carriers. It supports frequencies that allow it to be used on both AT&T and T-Mobile, but I haven't seen a suggestion that either will be carrying it. Edit: I was reading from the bottom, up. I see you were talking about the HTC One M8 for Windows. My bad. :-)

Haha, it's all good. I was just about to clarify that we were talking about the M8. The comments section (via website or app) isn't very "reply-friendly," is it?

Not really interested in this one, but the Win HD looks very nice in pictures and video so I'm curious to see how that one turns out.

I wonder if there will ever be another 4" (or even 4.3") phone with good specs. I'm guessing no, unfortunately.

What good specs are you expecting?

HD screen, 1-2 GB RAM, higher end proc, and at least an 8 MP camera with OIS.

Will an HD display make any difference on 4" display? You can check out Xperia Z1 compact or iPhone 5s.

Yes, it will. Those don't have WP on them.

Another phone for people to complain about 512mb -.-

I love to see that entry level Windows Phone devices are proliferating. It brings in the tech curious and those who are truly on a budget and increases mindshare of the OS. I won't be getting a budget model anytime soon, but that is what lured me in... I saw a 521 and at that price thought, "How can I afford NOT to try Windows Phone?" Go Blu. Sell the heck out of that thang.

Getting this for my grandma so I can have an extra upgrade! *(Evil Laugh)

Does this come with an ambient light sensor? The thing that I hate most about about the Lumia 63x series is that Nokia left one out. If this phone has one, then it's a pretty amazing deal compared to current offerings.

Everyone just matches the hardware. 530, 630 will be updated to Lumia denim but this device will not get any great firmware update, at least not better than the DENIM. So, they only offer you hardware but the software quality is not that good. You don't get so many apps that really matters.

For a daily driver handset, I agree. For a phone to travel with, go out partying with, take to the beach, etc., you may wish to put your SIM in something like this instead.

I wonder until what year manufacturers will produce 512 MB RAM phones. Is there still a significant price difference between 512 MB and 1GB? Even smartwatches these days have quad core processors and 512MB RAM, and they're supposed to be companion devices to smartphones.

The unoptimized smartwatch OS/kernel/firmware need such a horse power to work ok or there are no choices of processsors that they can use on smartwatches.it's simple as that.

Yeah I don't get it either, 1 GB can't possibly cost much more than 512 MB at this point

I look forward to the unboxing on Tuesday.

Definitely a device with potential to be a good seller, the price is staggeringly low! My wife and I are both excited for the release of the 5" model though. She's getting pink and I haven't decided which color yet, thinking I'll probably get both a yellow and an orange model!

Unfortunately, I did not see either Verizon or Boost Mobile on the list of compatible carriers. Why is that none of these unlocked phones have the Verizon radios built in? Are the OEMs scared of them or what?

Verizon is a CDMA2000 carrier for voice and SMS, which increases component cost and reduces the potential customer base. It's Verizon's fault for backing the wrong horse, and for stubbornly doubling-down on that bad choice (unlike Canadian CDMA2000 carriers who embraced GSM in the 3G era, in comparison).

Watched a review video elsewhere and other than having a 520 sized screen, build quality looks great. Love the snap on cover. I'd say the 6XX and even 5XX has some serious competition at this price point.

I'm very interested but I would like to know a little bit more about the screen quality and visibility in direct sunlight. I think this would make a great gift for mom or anyone who is looking for an entry level device with excellent useability.

635 with just ffc would have sold like hot cakes. Only the 5x series should be without ffc

Maybe it is/will even without it?

Wonder also about the reception and call quality compared to say the 530?

Looks good, better than soapbar design of 530/ 630.

Interested in the 5" that is coming out. Keep the price at less than $150. Because you want a good price reason not to pick Lumia 730 over blu's 5"

Great to see blu getting into the windows phone world. Hope they are rewarded.

just ordered Blu phone ... but android version. It's Miami based company

the looks nice, something i would get for my son.

Still waiting to see what Sony can do with Windows Phone.

That's the strange thing, they could do a lot! Hopefully they just slap Windows Phone on their Experia Z and keep costs down and customers happy, that is if HTC are seeing results with their m8??

"4G HSPA+" what does it mean?

It means 3G. They are allowed to market it that way, but it's not accurate.

Looking forward to learning about the build quality on these phones. If only there was a dual-SIM handset with popular North American frequencies and LTE, it'd be a day-one buy for me.

They probably are not just "playing it safe" by only advertizing SD support up to 32GB. SDHC only supports up to 32GB. SDXC supports up to 2TB, but they only make cards up to 128GB currently. BLU probably only put a SDHC controller in this phone considering it is a budget phone.

http://webcache.googleusercontent.com/search?q=cache:D14l1BtADhQJ:www.km.... Appears to have specs for the win HD although the price there is $299

Looks like they have product pages up for both. Sales guide PDFs on each page compare each phone to a Nokia counterpart. They compare the Jr to a 530 and the HD to a 925. http://www.bluproducts.com/index.php/android-phones

nice dumb phone for kids or grandparents

For the price it is decent, honestly if this came out in the UK I would have got this as opposed the 620 :p. Nah I'm kidding, my dad loves the 620 :P.

For everyone worrying about having 512 mb of RAM check this article out. Not as bad as it seems at allhttp://www.neowin.net/news/997-of-windows-phone-8-apps-run-on-512mb-devices

Hold on. Wait a minute. Doesn't 4gb storage pretty much guarantee it won't see future updates? That was apparently the case with the HTC 8s. Posted via Windows Phone Central App
Windows Central Newsletter
Thank you for signing up to Windows Central. You will receive a verification email shortly.
There was a problem. Please refresh the page and try again.