Join the public beta for Booklet, a unique way to browse Facebook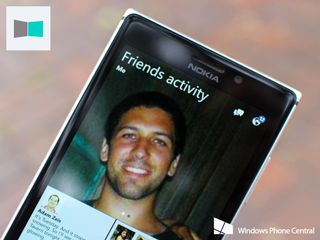 A few weeks ago Facebook launched a new app called Paper. As of right now it's only available for the iPhone right now, not iPad, Android or Windows Phone. Which is pretty disappointing considering many folks who have played it Paper prefer it to the official Facebook app on iOS. We probably won't see Paper for Windows Phone anytime soon, but we do have a new app that offers a comparable experience for those wanting Paper. Booklet is a new app for Windows Phone that's worth checking out. So let's check it out.
What's the big deal about Paper on the iPhone? First off, it's a mix between your regular Facebook news feed and a dedicated app that aggregates the news. With Paper you're offered a mix between updates from your friends, stories & articles they share and a dedicated section for your favorite topics.
Paper has been received favorably by both users and tech journalists. Its focus on presenting content in a clean, easy to digest format has been welcomed by many. The gesture based navigation model used in Paper has also been praised. The content itself is pretty great. It's a mix between curated content based on your interests and the content shared/created by your friends.
Booklet (currently in public beta) is a new app for Windows Phone that acts as a news and feed reader for Facebook. It appears and functions quite similar to Paper, but it's on Windows Phone and lacks curated content. That's actually not a bad thing, since you're probably more interested in your friends if you're logging into Facebook.
You can replicate the curated content from Paper by editing the sections you can view in Booklet. These are pages you've liked on Facebook grouped into their respective categories. Like House of Cards, ESPN, HBO and television shows? They'll automatically be grouped in a section titled "TV Show" that you can pin to the Booklet home to browse the latest updates and content available from those users.
Booklet is a pretty interesting app and worth checking out if you're a big Facebook user. It comes from JDB Pocketware, the dev behind other popular apps like Handyscan and their dedicated app for Facebook. In fact, you can find a Booklet mode in their Facebook app.
Want to check out Booklet? It's a free app and available in the Windows Phone Store .
Windows Central Newsletter
Get the best of Windows Central in in your inbox, every day!
Annnnd what about a app for bitstrips? :/

⬆⬆⬆⬆⬆⬆⬆⬆⬆⬆⬆⬆his⬆⬆⬆⬆⬆⬆⬆⬆⬆⬆⬆⬆⬆
Bitstrips❕

Sam you are so sexy daddy.

I pray that you are a girl lol

Why would you pray it's a girl? How is that any of your business? Sam's pretty sexy, a little young for me but pretty sexy. Pray away, dipshit.

Yep, count me in, Sam is definitely sexy.... Oh, yeah, I'm a guy. 2014 is rough, huh?

I've been thinking that forever!! Posted via the WPC App for Android!

6strip!!!! C'mon, Rudy! :)

Didn't you guys get the big tip, that MineChat is coming to windows phone? Is it a really big app on IOS if people play minecraft.

Should be fun to check out. I playes with My boyfriends' iphone and the paper app truly is lovely.

First reaction "Boyfriend?" then I saw the info.. First thought "What a brave man to be so open in site/forums full with idiots" :-))) Good for you buddy! :-)))

Actually, pointing it out is just as much a jerk move as just making negative comments about his preferences. Just let things be.

To say someone, he is brave is compliment, not jerk move. He is not hiding it.. So maybe you are one of those idiots on the web.. Don't talk, when you can't say something.. :-)

Lol I'm not too worried what strangers on the web think of me :) haha but thank you loo

I believe you meant fabulous (a)

Installed, noticed the web wrapper, uninstalled...

Screw fb, a bunch of people you know jack about not to mention about meeting up on regular basis.

Maybe you weren't using it right. You don't have to friend people you don't actually know, you know.

Reminds me a little of Flipboard showing your Facebook

Has a long way to go but is nice to know that someone is making something like Paper. Btw, Rudy mentioned recently that he's making another app, maybe he's working in 6Papr?

Definitely lots of potential, I wish it's double tap for liking, not tap and hold, tap and hold should be for sharing and commenting, etc.

Not too shabby. I know how these devs roll. When they get a head of steam they produce and they been on the platform a long time. It looks good but I can see its still fresh. I don't get images to load up and it just loads. Its going to be good.

Promising, would love a good paper app.

Off topic.. I want to auto update my apps on my L1520. I cant find the way.If anyone can guide me.I recently switched from android to windowsSUPERphone..

Currently there is no auto update but its coming in WP 8.1

I'm going to miss updating apps on my phone. Always get excited when the store tile has a number on it.

Lol true. If there's an option to turn that off, I would. I always like to know what's updated and what's with it.

Not yet, 8.1 will bring this.

This is looking pretty good. The only web wrapper is used to establish the Facebook connections and permissions. I dig it!

Not bad. I wonder if we will be seeing Paper with WP 8.1?

Just downloaded it. It's not bad!

You been drinking Sam? As of right now it's only available for the iPhone right now, not iPad, Android or Windows Phone. Which is pretty disappointing considering many folks who have played it Paper prefer it to the official Facebook app on iOS.

Why it doesn't show any section to drag and drop in edit sections ?

Guys what about telegram??? It was supposed to come in Jan for us right

I'm using Migram and it's good enough...

Naa it lacks features but. U cant view display pics,sending audio and there are many other bugs too. It was promised that telegram was coming in Jan to wp. But still its still not there

Looks good but Facebook beta is still better than this

This concept of fusing FB with personal interest news I'd amazing. I like it. The app is buggy (hence 'beta')

Lol, when Flipboard is finally comming on WP8 ? This Facebook app is not for me I dont like Facebook

Worked only once. Now it's just loading even though reinstalled the app.

It JDB facebook app with new skin

I can assure you I have 12 "friends" in total, which renders this site pretty much useless as I see these people nearly on daily basis. I bet all of you have no less than 100+ "friends"....what a joke, and you are telling me I'm using it wrong

Very judgmental, not all of us have over 100+ "friends" on facebook. But yeah you are soooooo cool for saying that

Why it must from jdb? Worst developers i met. No customer support and no updates for older apps. Better stayvwith trial, dont buy anything from them! 7dialer and appointile are especially crappy.

I had to uninstall because it kept notificating me of the same stuff over and over and over and it became annoying.

installed... uninstalled 5 mins later. tapping on a friend's photo to visit their profile is a "PRO" feature? ARE YOU KIDDING ME?

Just saw that myself,app WAS ok up until that.
Horrible move by devs

Downloaded for my iphone and not even tried it yet lol.

Nice app Booklet. Like the flow. Still working out how to update top bit though

It's not on WP, but I actually use Sony's app, Socialife, on my Android tablet (LG G pad). It's quick, smooth, has a great UI, and it's similar to the Google Now cards system. It also aggregates your Twitter and other RSS feeds from various sites and news aggregators. Best of all, it's Facebook without the ads and Candy Crush invitations.

after the latest update i am getting error as 'app not setup: the developers of this app have not setup this app properly for facebook login' WTH
Windows Central Newsletter
Thank you for signing up to Windows Central. You will receive a verification email shortly.
There was a problem. Please refresh the page and try again.