Box launches universal Windows 10 app for its business cloud storage service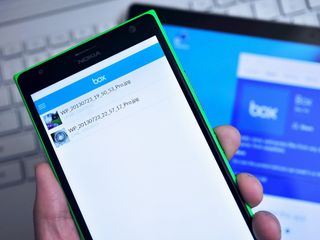 The business-themed cloud storage service Box has been a big supporter of Microsoft's Windows Phone and Windows 8 operating systems in the past, releasing apps for both platforms. Today, the company has released its universal app for Windows 10, which work with PCs and tablets as well as Windows 10 Mobile devices.
Here's a look at the features of the Box app:
Manage content across devices: Users have a seamless content experience across all of their Windows PCs, tablets and phones
Share files with anyone: Simply send shared links for a specific file or folder from the app without having to deal with large attachments
Preview Office content easily: Preview a variety of different file types including Office files, PDFs, images and more in the app without every having to download the content to your device
Create and collaborate on Office files: The app integrates with the Windows file picker so users can create and edit Office files such as Word, PowerPoint, or Excel and have those changes saved directly back to Box
Receive updates in real-time: You can work on Office files right from the app and get updates on changes with the newly enhanced Windows notification center
Multitask and use Box whenever you need it: Work on Box and other apps side by side with the Windows 10 multitasking feature – resize Box to make it as big or small as you need
Quickly find your favorites: Pin certain Box files and favorites right to your Start screen using Windows 10 Live Tiles so you can quickly access them whenever you need to
Be aware that this new universal Windows 10 app for Box is separate from its previously released apps for Windows Phone and for Windows 8/8.1.
Source: Box Blog
Download Box for Windows 10/Windows 10 Mobile (opens in new tab)
Windows Central Newsletter
Get the best of Windows Central in in your inbox, every day!
Free storage? Gotta be looking out for Onedrive alternative these days...

BOX never get much press, but they are good and gave me 50GB when I was on Android. Never had any issues with them. Recommended.

Yep, they probably don't get as much coverage because they're more aimed at businesses than everyday consumers

True, but 50GB is 50GB and I like that!

Same here, I got 50GB for free just for having an LG device. I mean, "having". Never used it though, I'm still forced to use Dropbox for work and OneDrive, Windows and my 240GB were ruling my personal life

Yes, I too got 50GB Box storage on Android years ago and it's still valid all these years later. Never had any problems with Box, but as most of my 'pairs' and API use Dropbox, I've never ventured much further. On a Lumia 520 W10M I was able to sign-in and use boxs' basic file management/storage. All good and completes another circle of apps available to extended device/OS range.

No automatic photo upload like Mega and OneDrive?

I can't understand how a cloud service can release an app without it.

They want business users. A way of sharing documents.

Is not compatible with Mobile, yet...

It is. Try now. Link was borked.

Sorry, MS blog's post said Mobile soon, so I tried the link and only saw the Desktop screenshots section. I'll give a try in my phone.

Odd MS releases the new Onedrive reductions and 2 cloud storage apps show up right after. I think they did it in order to not bleed the competitors.

My thought to a degree as well.

I love Box. Our university has a contract with them. Unlike pretty much every other service they can enable encryption and security that satisfies for the ability to store Protected Health Information (PHI). We get 50gb each user for free. And so platform agnostic that they are the bomb.

Since updating to 10, I've been unable to install apps on my phone via the website. The link for Get The App isn't a link. Is this a known issue?

Yes, known and they won't fix it till they release new app.

Ok, well at least I know it's not just me. Thank you!

It's nice to see universal apps creep into the store one by one. I just hope the apps are ready and optimized for mobile now. A lot of these apps were released only for the desktop version of the OS.

Great that the app went universal, but still no mp3 preview???? So ridiculous. Even the mobile web version allows you to preview an mp3.

Box works with Microsoft for their Universal Windows App yet no new Universal Windows Onedrive App.

Will this sync in the background on mobile?

What's the file size limit for Box? 5, 10, 50gb doesn't matter to me if the size limit is small. I need to be able to load up up to 10gb files (video) for someone else to pull down on other side of US.

i have 25 GB free that i got in promo few years back. File size limit for my account is 250 MB.
Windows Central Newsletter
Thank you for signing up to Windows Central. You will receive a verification email shortly.
There was a problem. Please refresh the page and try again.