Catch all your favorite Bravo shows with their new app for Windows Phone and Windows 8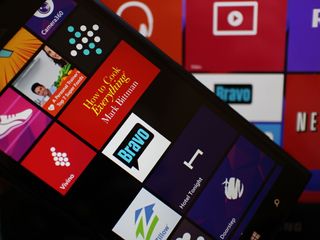 Official apps are raining down on the Windows Store and Windows Phone Store. Especially when it comes to those apps for popular television channels. Just this past week we saw A&E, Lifetime and History make their way to Windows 8.1. Then a few days later, those same apps appeared in the Windows Phone Store. Today we're getting Brava Now for both Windows Phone and Windows 8. Let's check these two apps out.
Bravo is a television channel from the United States that now focuses on reality series. You'll find shows like The Real Housewives, What What Happens: Live, Married to Medicine, Ladies of London and others.
Meander to the appropriate store and you'll find two new Universal Windows apps for fans of Bravo. Here's what you'll get feature-wise with Bravo Now:
Full episode viewing when you authenticate with your TV provider
Selected full episodes without authenticating, when available
Special clips, interviews, and Bravo video content
Program guide to check the Bravo on-air schedule
Again, like most television apps, you'll need to prove you're a paying satellite or cable customer by authenticating the app. Once you do that, you'll get access to all the content on Bravo.
Have any favorite shows on Bravo? Sound off below and let us know what you think of Bravo Now for Windows Phone and Windows 8!
Via: WinBeta
Ha ha for real though. I love this new trend.

WHEN IT RAINS... IT POURS! KEEP THE OFFICIAL APPS COMIN'!

Wife will like this app, It's a solution now when I want to watch ESPN on living room TV.

Excellent this is big. Now I can show off my widows phone. Watching movies on the big screen on the go.

Bravo used to be a junk channel in the UK until it was discontinued due to lack of interest/viewers. I didn't realise it still existed in other parts of the world.

It used to have ballet and classical music performances when it first started many years ago. Now its just reality trash. Give the people what they want I guess...

Indeed. "Give the people what they want." Applies to everything nowadays including religious sect, television, radio, software. Etc. There is nothing wrong with that. If anything it is a +++ for Windows Phone. This app could be the deal sealer for many. Happy to see this app here at Windows Phone.

Loving it. Downloading and analyzing right now. Update: Xfinity not available but still loads of full length videos to watch.

Is it time for diwali already? Or as Western Citizens wud say... Is it time for Christmas already? I hope this stream of official app goes on like this. I am not going to use this app but hey.... platform love.

For a second, I thought of Johny Bravo... ·__·

is that the Cartoon Network Johnny Bravo or the Greg Brady Johnny Bravo????

Ashamed to admit it, but I am giddy right now. My wife has got me addicted to all things Bravo. So this is a plus for me. Kudos to the flood of official apps. This has been an insane week and half to say the least

What's with the sudden love for windows phone? Well.. Cant complain.. Keep em coming!

It's almost time for official windows phone 8.1

Love the universal app idea. I think this is one of the main reasons why apps are pouring in. Buy one place , available on all your other devices.

Surface Pro 3 I think caught some major attention. :)

Awesome! Now we need HBO and AMC... I need me some that "The Walking Dead"

Windows Phone has no apps, and has no games.

Depends on about the apps you're talking about unless you're being sarcastic!

Why do I always have problems with you❔ .... Lol!

Lol! Call it coincidence!
Your comments look attractive and attracts my attention maybe? o.O

I better hide this from my lady (IOS user) or she'll be all over my phone. I'd be happy with Cartoon Network and Comedy Central. Them two and ESPN are all I need.

No directv so this, Lifetime and History can't be watched

History is awesome!! Wachu talkin bout Jean❗

Is official, it's WP, it's downloaded..... Try to pump d/l numbers. More apps = more better

Another app crippled by f'in content providers. Univision has it figured out with ad supported streaming. The other stations need to reclaim their ballz.

Well these are actually cable channels so I don't mind that requirement. Now with actual broadcast networks I do.

Ya. Even so, why not grab some cash from streaming ads and stop clinging to their old school business model.

Because not everyone wants streaming ads.

Understood. So they can have other options for pay. I.e. Cable/sat logon, or what I'd like to see is channel by channel subscription for streaming. So many worthless channels I don't need. A la carte streaming for favorite channels. Give discounts for 5 packs...so many options.

Can we please for the love of a terrific mobile platform get TIMEPLAY!!!!!

Won't let me download it, because it requires devices with one gig of ram. Isn't that weird for this type of app?

No it isnt I had that happen on a 512mb wp7 device lol

#1 toolkit removed from store?

I think the developer is up for something... He lately became tired of people complaining to remove ads after the latest update

Man I can't stand Bravo but, its good too see Windows Phone start getting more attention.

The company that holds the rights here in canada like other apps hasnt cared to release anything for wp

It's raining ☔ apps, hallelujah

Around these parts, I never stream anything (unless my life depended on it) oh & when I have to feed my youtube addiction, Its just too expensive. That said, I'm happy these official apps are flooding in but this does nothing for me, sadly :(

It's a laggy mess on the 1020. Oh well.

It is great to see so many official apps coming to Windows but I still need some banking apps..

Yeah, I'm still waiting for official axis bank app... I've tweeted and mailed them several times

Official apps have been hitting Windows Phone all week!! Keep'em coming baby!!!!

As I scroll I keep seeing the Fitbit icon and getting excited for a proper Fitbit app :(
Windows Central Newsletter
Get the best of Windows Central in in your inbox, every day!
Thank you for signing up to Windows Central. You will receive a verification email shortly.
There was a problem. Please refresh the page and try again.