The Encyclopedia Britannica official app launches for Windows Phone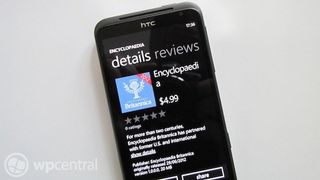 Are you into absorbing knowledge and facts? Would you like 80,000 articles in your Windows Phone to browse at your leisure? Well you can, with Encyclopaedia which is a Encyclopedia Britannica application now available in the Windows Marketplace.
The only downside I can see here is its price. At $4.99 and without a trial it isn't the cheapest app but it would appear you do get a lot for your money.
Features of the application include:
80,000 articles in a fully searchable database
Tens of thousands of images, diagrams and charts
Ability to download articles for offline viewing, store your favorites and access your search history
Research noteworthy events and birthdates from 'This day' in history
An A-Z browse allows users to browse the entire contents of the Encyclopedia Britannica
You can pick up the official Encyclopedia Britannica app for Windows Phone here in the Marketplace (opens in new tab).
via: WPSauce
I'd love this app personally, but $5 and no trial is rough. I'll hold off for now.

Yup no trial means no buy. I can just use my IE wp browser to search.

Ya, I didn't even think Britannica was still around. I use wiki for just about everything. As long as you're not looking up controversial stuff wiki is dead on, and even then Britannica would be placing their spin on the facts anyway.

It's apparently $5 yearly.

yeah that's not gonna work. that means they'll have to do something like PES2012 where they yank the old version each year and issue a new version, so any bugs with the app itself (not the content) won't get fixed if you are on an older version. No thanks. They need to figure out how to use the trial option or this will never fly.

Yup I already downloaded it. I just love pissing money away :)

No thanks, the price is too high. The annual fee is 5$. Bye!

I so won't pay $5 yearly. Especially since this year is half way over...

Nope not paying for it. Good to see another official app tho

Thanks but no thanks...is it a blood tonic that will give me life or what? After all I can get what it gives through IE, Bing, Wiki etc. They can keep their app.

I wonder if they have an entry for "utterly clueless about mobile marketplaces". $5 a year for a service that is widely availabvle for free and no trial.

From encyclopediacenter.com :
Written by Nobel laureates, historians, curators, professors, and other notable experts, the Encyclopaedia Britannica is a trusted resource with a balanced and global perspective. You can learn from the best and most qualified minds in the world.


I am sorry telling this, but you guys have no idea what knowledge is capable of. It brings unlimited power.
Wikipedia, bing, searching ? LOL. They are uncurated. You surely have a lot of time and sometime have deep knowledge regarding the specific knowledge you are searching for. The best place outside academic literature will be forum. However, there will be a lot of cross checks and spins. We also have to wait for the people interested in the matter to join the discussion in which many intellectual topics won't be available.
And guys, please don't compare that dump called wikipedia with something like Britannica. That dump has cost the world ignorance and misinformations. Use that wikipedia as reference for academic assignment in a reputable university and you are toasted. My friend and his friends often took it funny he can edit the article (scientific article) and no one will realize the misinformation for months. I even stumble upon an article which has been falsfied for at least one year.
Lastly, that 5 dollars is a form of support in futhering the preservation of world knowledge. Even wikimedia foundation begs for mercy in the form of donation at least 5 dollars (suggested amount). Britannica is way more professional and feature rich for education.

I recall a study actually where some group came to the conclusion that in the majority of cases, Wikipedia was actually just as reliable as the Encyclopedia Britannica, including the majority of it's science articles. As for your friends, your championing the preservation of world knowledge to us yet you sit idly by and let them vandalize pages on Wikipedia which are attempting to do the same thing? As for academic purposes, so far I've made the Dean's List at my University each semester and hold a 3.8 GPA average and I use Wikipedia all the time! The secret is to use the footnotes directing you to other sources in your citations, especially since those sources often have much more information not contained in the Wikipedia article. Enough with people saying Wikipedia is useless for academic purposes.

1. Well, which study ? I will look at it in sciencedirect and other scientific jounal library. I will look at the samples, the statistical method, formula, and conclusion. It will be especially interesting to look at the kind of science they are claiming.

2.We don't like vandalism. If it already has happened (yes I am using past tense before), what else can we do beside regretting it. Dictating to others that it is bad ? Wikimedia foundation should do their jobs.

3.Yeah, 3.8. So ? Your point ? We talk in general and not in exception. Apple is fruit, but you can say that it is a company. And don't get me saying that in academic there are many factors to get that GPA. If you can get by using wikipedia, others may not as in general. Should I use more than your GPA example ?

4.Footnote. Again, it strengthens my point that we must have time (sometimes a lot) crosschecking facts.

5. Wikipedia is not entirely useless. It is in general useless. Many reputable media claims that beside common people and professionals. Wikipedia has its uses, such as fast checking (temporary) for information and looking at footnotes (often which there is few for not so common topic).

No comments about that second line "a"? Lol on that one.

If you want to use their web version (full version, not the "lite" fre eone), it is $70 a year. If this app gives you full access to the premiumn information then $5 a year is a steal. Anyone know what level of access you get with the app?
And foe those worried that the year ois half over, you get a year of access from the time of the app purchse.


5 Bucks is at the top of the app price point for me but its not like I haven't blown 5 bucks on less than what this app has. I might spring for the 5 bucks because I'm old school into reading encyclopedia's like that. But what I do insist on is that the app keep strictly to the Metro design language. I would be over-cheesed off to see it looking like some BS android app. I hope someone here reviews it because I can tell you right now, I want it.

No trial version,.... So there is a big NO....
Windows Central Newsletter
Get the best of Windows Central in in your inbox, every day!
Thank you for signing up to Windows Central. You will receive a verification email shortly.
There was a problem. Please refresh the page and try again.