BT confirms acquisition of EE for £12.5 billion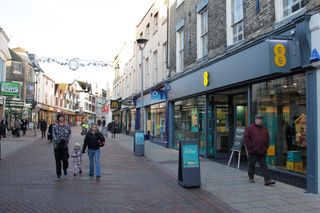 BT today announced that the company had agreed definitive terms to acquire UK mobile operator EE, the largest mobile network in the country, for £12.5 billion ($19 billion). Talks between the two parties have been well under way since late last year. A combination of cash and new ordinary shares will enable BT to make the purchase, absorbing 31 million subscribers in the UK.
Today's acquisition will not only bring BT back into the mobile operator market, but the move will also provide EE subscribers the chance to bundle BT services, including broadband, TV and fixed telephone, with their existing mobile packages. Telefonica remains in talks with Three owner Hutchison to acquire O2.
See the press release linked below for more details on BT's EE deal.
Source: BT
Rich Edmonds is a word conjurer at Windows Central, covering everything related to Windows, gaming, and hardware. He's been involved in technology for more than a decade and knows a thing or two about the magic inside a device chassis. You can follow him over on Twitter at @RichEdmonds.
Wow a totally wrong comment in a totally wrong topic

Well it was, that acquisition was fast.

The correct response would be seems more expensive!!!

Yeah, look at MS buying some calendar app for 100 million . Like we don't have enough of those mother fuckers already.

All these companies going for quad-core services, just wondering if there will be tears? BT has gone into substantial debt as well as a pension deficit of £7billion. As an EE customer I hope this works out and does not reduce current service.

And they're also bidding for the Premier League which means more debt, but I think consolidation is the way forward.

Ever went to a EE store? Ever called the Hotline? How could service get any worse? Or do you pay for the premium service on the hotline and the service is siginifantly better for even further paying customers

I have generally received very good service from EE. I would not pay extra for a service I'm already paying for. Plus I use 241 half price films a lot, so no complaints from me.

Customer service is secondary for me. The most important things are coverage, price and signal strength, and EE are better than their competitors in that regard (tried O2, Three, Tesco mobile, Vodafone, Sainsbury's mobile and Giff Gaff), at least in Edinburgh.

Don't agree with 3 not being good i am afraid, the coverage for me on O2 and EE was far worst than for me on 3. Left o2 because of signal problems, they were only good in town(London). went to 3 had no problems then chased a handset and went to EE the biggest mistake i made, now back at 3 on a cheaper line more minutes including 4g and happy as larry.

I currently have EE, and living in London the signal is poor. I work in central London and the signal quality is not great there either. I'm really considering getting a 3 sim-only contract when my current EE contract expires. Thanks for your advice!

Any ideas when this will go through? My contract with Tesco isn't far from being up, if they carry a W10 flagship I'll probably switch. Also anyone know whether they'll do a complete rebrand or run it as a subsidiary?

Hang on, ill be right back with that days worth of research...just for you. Xoxo

Confirmation in march 2015

Makes it easier to avoid two bad businesses.
Gutted that Sky & Vodafone didn't join forces. While Sky don't value loyalty, they excel at native content and giving viewers what they want. Vodafone I've found to be the best coverage where I use my phone, plus the soon to be smallest network has a pretty large holding of frequencies.

I'm still hoping that Vodafone and Virgin will merge as they're both being potentially left behind with all this consolidation

Nice when any virgin merges, spring is in the air.

Everyone loves a melding tuppence. I'm in season.

Sky does not give us Skygo on Windows phone...

EE is already terrible. Can't get any worse. Besides BT has its own fibre network and with emerging technologies such as Calls over WiFi, it may have been a very good move. Hope though BT have learnt from their previous mistakes in this sector .

What mistakes? Making 17.7 billion from O2s original sale to Telefonica? :/

I do not feel comfortable with BT owning EE. If things change, I'll probably buy out my contract.

So much for the competition comission eh? Eventually we'll probably end up with all the networks being owned by 2 companies.

I bloody hate BT. If they make any negative changes to EE, I'll definitely be switching to a rival carrier.

Ok, then. Duly noted, next...

They do act like they are still a state monopoly. They delayed the roll out of ADSL for years as they were happing raking in the cash from dialup and ISDN.

So EE are buying O2 and BT are buying EE? Did I get that right? So BT are getting two for the price of one???

No, Three is in discussions to buy O2.

Ah yes. Too many EEs about. EE, ThrEE. confusing.

So the new name is B TEE lol!

Or it could be BEE T !! Lol

Or BE TE, I see why they were interested now.

As an EE and BT customer I guess this should make sense. But I worry. Bringing fixed line telephones, broadband, TV and mobiles into one package seems to be the power four telecoms companies are driving for. However, it's the fixed line telephone bit that's the worry because it is potentially already out-dated. My kids, 25, 24 and 20 don't want fixed line telephones or line rental charges. And come to think of it, neither do I. This deal would seem to infer BT continue charging line rental, assuming we not only need a mobile phone but a fixed line phone as well.

Just had a thought. Maybe BT know fixed line telephones/line rental are a thing of the past hence the EE purchase. In which case the deal makes sense.

BT is expensive and EE is expensive and merged BTEE is even more expensive?

The rise and rise of BT. Higher prices all round surely?

BT.. EE.. O2.. They don't get too creative with names over there, eh?

Not like our Microsoft Surface XP 1545-24 Dual -Sim CV by Lumia.

Well, EE is short for Everything Everywhere, and BT is abbreviated for British Telecom. But yeah, there's not many creative names over here in the UK :/

BT rides on monopoly of landlines whereas EE took advantage of one year 4G coverage without competition. Both companies are expensive. They could bundle landline with mobile phone which would be the end of competition as customers will have choice of Vodafone and Three+O2 only. Lot of jobs specially high street will be lost. These deals shouldn't be approved by competition commission.

I've just resubscribed to EE for 12 months on a sim only deal. Keeping my Lumia 820 for now because, apart from terrible battery, it's an excellent phone. I now believe that getting a phone from your mobile supplier is a bad move. The last time I did this, my phone got soaked in a rain shower which utterly destroyed it 1 month into a 24 month contract. So I was straight onto ebay for a new (to me) phone and carried on with EE. From what I have seen, EE offers the best and most flexible deals around and the coverage is also better than the other networks. With investment from BT it can only get better, I hope.

True, but they have a £7billion pension deficit to address as well as spending £12billion to buy EE, will they have the money and commitment to make it the most advanced and best network?

Imagine if BT put that £12.5 billion into getting faster broadband into areas that virtually have nothing!

Imagine if they gave it to me :)

Jesus. One mess buys another mess. Ffs

Only bad experiences with BT, I've just upgraded with EE, damn!

As a T-Mobile Business customer I was always happy with the SME team and was glad to have them around with all the uncertainty surrounding the EE / T-mobile /Orange debacle. I hope I do not lose that service. Hopefully BT can offer me as a Home customer and me as Business user a much clearer picture of my services as EE to be honest totaly lost the plot when it came to brands.

Seems like that image of the high street in Ipswich (my home) is the standard now for anything EE related... on a more serious note, however, as an O2 customer I was able to log into BT WiFi hotspots (until that deal fell through, circa July 2013) - now an EE customer, will I (and, likely, millions of other customers) be able to log into BT WiFi hotspots in the near future? Would certainly be off-putting if BT pose restrictions for EE customers like myself who receive home internet through another ISP (and therefore a non-BT home & broadband customer). Posted via the Windows Phone Central App for Android
Windows Central Newsletter
Get the best of Windows Central in in your inbox, every day!
Thank you for signing up to Windows Central. You will receive a verification email shortly.
There was a problem. Please refresh the page and try again.