Build 2014 Keynote – Day 1 Live Blog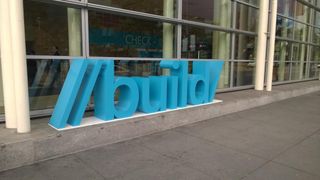 We're here, live at Microsoft's Build developer conference. On tap this morning on day one is the opening keynote, coming in at a butt numbing three hours in length. So you can bet Microsoft will have a lot to say in that time, including Windows Phone 8.1, Cortana and even a new app or two.
Head below to join in your own chat room to discuss the keynote as it happens, and watch our live commentary and photos as we cover the event live. We'll add the embed of the keynote as well.
The event kicks off at 8:30 AM PT / 11:30 am ET/ 4:30 PM GMT / 9:00 PM IST.
LIVE STREAM: https://channel9.msdn.com/
Daniel Rubino is the Executive Editor of Windows Central, head reviewer, podcast co-host, and analyst. He has been covering Microsoft here since 2007, back when this site was called WMExperts (and later Windows Phone Central). His interests include Windows, Microsoft Surface, laptops, next-gen computing, and arguing with people on the internet.
I can't wait!! I'm soo excited!! :DD

Its getting late here in Oz, not sure how long I'll hold out. Enjoy the show guys, I'll review the extensive supply of information when I wake up in the morning.

Come on man don't give up! Hang in there bro! Lol

tiktaktiktaktiktaktiktaktiktaktiktaktiktaktiktaktiktaktiktaktiktaktiktaktiktaktiktaktiktaktiktaktiktaktiktaktiktaktiktaktiktaktiktaktiktaktiktaktiktaktiktaktiktaktiktaktiktaktiktaktiktaktiktaktiktaktiktaktiktaktiktaktiktaktiktaktiktaktiktaktiktaktiktaktiktaktiktaktiktaktiktaktiktaktiktaktiktaktiktaktiktaktiktaktiktaktiktaktiktaktiktaktiktaktiktaktiktaktiktaktiktaktiktaktiktaktiktaktiktaktiktaktiktaktiktaktiktaktiktaktiktaktiktaktiktaktiktaktiktaktiktaktiktaktiktaktiktaktiktaktiktaktiktaktiktaktiktaktiktaktiktaktiktaktiktaktiktaktiktaktiktaktiktaktiktaktiktaktiktaktiktaktiktaktiktaktiktaktiktaktiktaktiktaktiktaktiktaktiktaktiktaktiktaktiktaktiktaktiktaktiktaktiktaktiktaktiktaktiktaktiktaktiktaktiktaktiktaktiktaktiktaktiktaktiktaktiktaktiktaktiktaktiktaktiktaktiktaktiktaktiktaktiktaktiktaktiktaktiktaktiktaktiktaktiktaktiktaktiktaktiktaktiktaktiktaktiktaktiktaktiktaktiktaktiktaktiktaktiktaktiktaktiktaktiktaktiktaktiktaktiktaktiktaktiktaktiktaktiktaktiktaktiktaktiktaktiktaktiktaktiktaktiktaktiktaktiktaktiktaktiktaktiktaktiktaktiktaktiktaktiktaktiktaktiktaktiktaktiktaktiktaktiktaktiktaktiktaktiktaktiktak

Hehe, looks like i found a bug :D

Whatwherehuhdoyouclaimtoseeabugcantbebecausetherearentanybugsheresoeveryonemovealongnowseemsfasterandwhereisthatwindowsphone8.1iwantitnow!


Which can be fixed by this piece of CSS: overflow-x: auto;
white-space: pre; Or this (if you don't care about old browsers): word-wrap: break-word; I really wish the make their website responsive...

your name hahah. watch out for the garbage collector :p

I stayed up late to watch the Nokia N9 unveiling, it was about 3AM before I went to bed. It was awesome and I was awesomly tired when I had to get up for work 3 hours later!!! :) You can do it man!!!! Make sure you set 2 alarms for the morning and that you have engergy supplying drinks so you don't turn into a grumpy old man in the morning!

Will it be streamed on Xbox 360!

1 more hours, its already 10pm, just got out from work

50 minutes (=1:30am here), I guess I can hold out :)

Or he can just go in late.

Yeah, think like this is the big party and that lady wants to talk to you all night! It works for me! ;)

She's totally going to leave me with blue balls until 04/10

Didn't Oz catch on fire? We are talking about the Oz prison. Be careful and whatever you do don't drop the soap.

Same here.
Still 1 hour left.

I'm so excited, but I'm stuck at some stupid team building event with work :( Sigh!! But my other half txt me to say that the xbox has had an update come through today... Wonder what it is! :D

Very excited! And windows phone 8.1 finally, yay!

Do we have the live streaming of the keynote, Daniel?

Pretty sure that's what that big box up above is there for but if you're on the WPC app, apologies.. :¬)

Think that's for the live blog only, stream will be availalbe here: http://channel9.msdn.com/

At what time is Nokia gonna start their event? Or are they going to announce it on the same live streaming and same stage?

I thought Nokia is holding an event later in the day. 5pm PST? Not sure

Will it be streamed on Xbox 360

I think GMT time shall be 3:30 PM, However remaining time countdown is enough to clear the doubt.

And what was your point in the first place :).... tooo excited?

Yeah, IST is +5:30 so GMT must be 3:30, assuming that IST is written correctly..

Nope, it's 4:30. Clocks went forward an hour a few days ago. :D

Can we stream live video?? If yes, where??

GMT clocks do not go forward or back.

Lolwut? I live in the GMT timezone and they just did.

i missed all the important things because of the stupid gmt timing!!!! thank you for the amazing mistake there

i missed all the important things because of the stupid gmt timing!!!! thank you for the amazing mistake there

I am really looking forward to all the WindowsPhone 8.1 official announcements (and the rest of course ). My team and I just released a new app to exchange pictures with other participants of an event in highest quality, Picturex (www.picturex.ch). The Microsoft Build Conference is an ideal place to exchange your pictures. We are happy for any feedback. You could join the album for free here: https://api.picturex.ch/api/v1/share/link/e4c76c2c-3605-432b-8705-ff9f11... (Windows Phone link) or find more information on www.picturex.ch. Thank you!

Will it be streamed on Xbox 360!!!

Somebody answer the guy. BTW, I dont have an answer

Very exited!!! Cant wait for build to start...

Does any one think that Microsoft should create a Lumia or microsoft smart watch? Do you think they may announce it during buld? I think it should happen. I'd also like to see them do something like the Samsung Smart watch with a heart rate monitor built in. I dont think that smart watches need cameras and I'd prefer one without a camera. I'd also like to see it integrate with my other windows devices i.e. it should be able to communicate with tablet, all in one and my windwsphone too.
I hope they do announce a smart watch during build. Please let me know what you think...

I don't but others will. Can't see the need.

I'm hanging for some Glasses!!!

I went for contacts- trust me .. glasses are not that great and handy :)

lol, idk after seeing what Microsoft picked up from Osterhout....

Am i the only one who thinks tech glasses are going to destroy the thinking power of our brains and humans would turn into tech-dependant beings due to them, and thus, high tech glasses must be stopped ?
Opinions ?

I think its possible, but done correctly can build on ones intelligence and open new avenues of thinking! I don't think it will help much with keeping people physically active though...

Cant wait... Wooooowww.. The most awaited day of my life has finally come......

Me too..I'm too excited for words.

Anyone know anything about why the store isn't working? No downloading? Maybe store update?

It's working for me here in India

Vishnu ambili - lets make wm group on fb or WhatsApp so that we can share info about Windows phone

I also want to participate in this group...!

You can find me on fb or mail me your email id in kunal.inamdar@gmail.com

No problem updating Viber ...

Well, i am waiting with bated breath.

100 internets to you for the correct use of bated breath. :)

Haha, as opposed to 'baited' breath? Have seen that a lot and cringed every single time. :P

Both my body and my Lumia 920 is ready!

I'm really excited about this. After waiting all this time the hour has finally arrived where in we would official get an insight of WP8.1 :)

Almost an hour and forty five minutes remaining.!.!.!.

Where can I stream live video??

http://channel9.msdn.com/?wt.mc_id=build_hp

930: https://twitter.com/evleaks/status/451356500888272896 I guess they meant it when they said they are moving towards all US carriers getting the same flagship devices :)

Yes and no, I think. Looks like the 930 is the exact same design, other than the extra colors. Probably the specs are the same too.

awww man ima be real mad if a green icon ever surfaces and i cant get it lol.

Mayneeee!!! That's an awesome Orange!!!!

Good to see IST listed as well. Thank you WPC.

Today feels like Christmas for me

11:30PM here in South East Asia...

If IST means (Indian Standard Time) then you got it wrong. The difference between GMT and IST is 5 hours and 30 mins.

no its correct now its around 19:50 in india and 1 hour 10 minutes left for keynote to start

I am merely pointing out that the difference between GMT and IST is 5 hours and 30 mins. I think the GMT time mentioned in the article is wrong.

Yeah it is. Might be the author left out DST while converting from his local time to GMT...

IST is indian standard time

it will start @ 9 pm 46 min 34 sec to go.

Yes that is correct and the article should say BST (British Summer Time) instead of GMT

Good morning Daniel, you might want to read that first paragraph again. I think you meant to say about.

I read it again, and now I know what you meant. lol

I can't sleep, so nervous/excited etc.... :/

Damn....I'm driving a bus.....gonna have to checkin every terminus.

Better late than never. Keep your eyes on the road.. 8-)

I'm driving a truck today... Might have to "feel fatigued" in a couple of hours and pull a rest break I think!! Lol

Sanctuary for all, community for all. Those who arrive survive ... Never Again. Never Trust. We First, Always.

Mine is blue, but in a good way! :D

Ready for a WP 8.1 double penetration??? XD

Due to a last minute change I have go to work... Must stay spoiler free until the keynote will be released to re-watch.... Why, god, why? :(

And I am actually travelling home from work right now! (Norway). It's going to be legen....wait for it....DARY!

Skip work.. Your boss will understand

His boss probably has an iPhone...
So he won't understand unless it was iPhone related

Sitting here like a little boy waiting for Santa on xmas.

Daniel, stop saying 4:30 PM GMT, it at 3:30 PM GMT and 4:30 PM BST (British Summer Time), which is what we are at now here in Britain, +1 h of GMT.

Confusing, ain't it? .. guess that's why it qualified as fourth dimension ...

Today is my day.. No hatters, neigh sayers, trolls, and overly biased fanbois can ruin it for me❕❕❕❕❕❕❕❕

Only a bad internet connection :p ahha

Will this video be uploaded on u tube? I cant watch the video now. Bad luck. Stuck in some work.

Can we stream through our Windows Phone 8 .

Man...I've never been this upbeat for a conference in my entire life. Gonna grab eateries to munch on while watching the live stream. Its already feeling like festival today. MS better live up to the hype.

I know exactly how you feel. Wish I watching it with a group of ppl and having a BBQ.
Almost as exciting as watching MMA events

Will get some tissues on the way home for the drool lol

9.30 pm in Bangladesh!! :D :D

3 hours!!!! Bloody hell, hope you took a packed lunch. Can't they condense it a bit......"H, I'm Satya, here's Windows Phone 8.1, it friggin rocks, have fun, bye!"

That would get the fun out ,, :)

I'm holding my fingers together for lots of hardware announcements, not just pertaining to WP8.1 :D

Has anyone heard if there is a fix for the other storage issue?

Curiously waiting for WP8.1....!

I need to take a dump! :P

Woke up early on my day off, just so I can see all the great news!

NOKIA LUMIA 930 LEAKED!!! https://twitter.com/evleaks/status/451356500888272896/photo/1

Wow! I need the Orange one!

Haha not announcing wp8.1 is the most evil thing MS can do right now xD

And wishing "Belated April fool day"

In the program guide, I can't find any mention of Windows Phone, or the 8.1 update. Program guide is here: http://channel9.msdn.com/?wt.mc_id=build_hp I hope the guide is just not complete. Also I hope they won't wait till the 3rd day to reveal the update -_- , I can't wait that long...

If everything is mentioned then no one will be excited too much. I think keynote will be the main highlight of the event.

Perhaps its in the keynotes.

I am so tired from work but I am staying late for this! 54 mins bring it ON!!!

Just wait by staring at the timer and listening to this: http://www.yourepeat.com/watch?v=wtqUGLbPgYM :D

Cool! I thought I read the WP 8.1 stuff wasn't till tomorrow?

What time would be it for GMT+2 ? Like 6:30 PM?

This should be good. Looking forward to several hundred angry comments, mad that MS didn't include a "feature" that was never supposed to be included to begin with. "OMG, no widgets?!? MS = failz! Going back to BBz10!!" ;-)

Lol, and all the reviews tomorrow, "this is the end of windows phone"

Awesome, bene waiting for WP8.1 a Long time

The third best day of my life lol

Have you seen this leak: Monster Windows Phone handset spotted with 2K display and impressive power http://www.techradar.com/news/phone-and-communications/mobile-phones/monster-windows-phone-handset-spotted-with-2k-display-and-impressive-power-1239149

There's No live chat.. Ryt..??


The link for build 2014 live stream http://msstudios-live2.wm.llnwd.net/msstudios_live2 waiting for it eagerly.

so much better than apple keynotes where its all the same everytime 1 new product and self praise..

The keynote seems fas.....

Music before stream began http://channel9.msdn.com/?wt.mc_id=build_hp&rnd=1396450714922

Yep watching it too sooo excited

BTW, it is 3:30 pm GMT, in about half an hour.

23 minutes more :3 I have an exam tomorrow. xD

"This changes everything"...

Its gonna start at 9:00 PM here in India!

Dying to see the first look of cortona.... a lod excited but i find the clock's tiking slowlyy.....EEEEEWWWWWWW

Clock IS ticking slow..... Got it open at work...Cool..

YES YES YES YES YES YES ! Build is starting !!

I hope they announce a couple of games as well (plants vs zombies 2 and candy crush) so I can scratch that off our list

WHERE IS THE LIVE STREAM OMG

Ohho..Can't wait.Turn my clocks' hands.I doubt itz twisted.Mom gonna kill me.

longest.........8.........minutes........ever................................... Oh, wait, now its 7 minutes :-)

OMG,This is like a happy new years countdown...Cant stop looking at the time... Bring it Windows Phone 8.1....

Just waiting to know when i can have WP8.1 on my device

10 april uf u have dev preview

Its over... Where is my windows phone 8.1?

Damned stream isn't working.

Lumia looks so sexy on video

Micromax is gonnna hit india market

For those of use on mobile devices is there anywhere to get highlights updates? I can't sit here and view the live blog, but I also dont want to go through the whole thing just to check the best things.

Please keep in mind that with the like the action center, it's just like live tiles... if something doesn't "work", look toward the developers. That gets ignored far too often.

Hmm seeing that green phone in Joes hand is starting to change my mind. I don't care for as much as I do blue and red but that phone looks great in his hands. EDIT: New Lock Screen. Mind blown!

YESYESSSSSS 3RD COLUMN OF TILES IS OFFICIAL

Wow, it announced and preview for developers will available from tommorow

What?!?! *-*
Please tell me you aren't kidding!

I cried a little bit...Cortana!

I WANT THAT CORTANA SHIRT!

Just waiting for the developer preview release date...

Cortana seems to be better then Siri !

And faster... See what I did there???

How many are able to watch the stream smoothly? Mine is chugging.

The watched the whole, smoothly. It must be your wi-fi connection i gues... If you missed anything important: http://live.theverge.com/microsoft-build-2014-live-blog/

this crowd seems dead. whats the story? they don't seem to receptive to any of this.

Guess most of them have huge hangover's... :P

No, heard applaud. Think they are alive :P

Guys I can't watch the stream (not at home) please can you answer my few questions please ;-;
When they are going to release preview for dev?
Is cortona only available in US? (hope not ;-;)
And how does WP 8.1 looks.
Seriously I am hyped as fuck, I am pretty sure I wasn't this hyper when I was going to have sex for the first time ;-; I am crying

Same here bro. But as far as i have seen the live blog, none of the authors have talked about it.

First US (beta...) then UK...China

I can't believe you mistaken the GMT time!!!!! I didn't see most of the amazing thinggggg!!!!

I'm so excited!! Wish I could be there instead of here working!!!

Whaaaat??? Wp 8.1 will become available in the next months?? Omg i forgot how to breathe for a few seconds...

Please tell me when preview for developers will be available??

I hav already installed windows 8.1 update

Sorry to say that they should have streamed the event on YouTube. They obviously don't have the capacity to handle everyone. It's not cool to sit here trying to refresh on Channel 9 all day. I quit.

Hope so file manager is still in the list...

Watching it now till now..... WP8.1 part is over.... W8.1.1 going on..... Damn I reached my wi-fi bandwidth... The stream took 2.1GB already :P

http://live.theverge.com/microsoft-build-2014-live-blog/

Is it just me or is there a woman chattering during treachmill's session?

It started 2 hours earlier, here in Saudi Arabia 4:30GMT is 7:30, but it started at 5:30 :'(

I wonder if he can hear it...

Not fully impressed. Had been looking forward to at least a file manager, c'mon MS. But the rest sounds amazing. Here's hoping we can get our hands on the dev preview soon. And Cortana please be available on every country, please oh please.

I'm thinking that too.Just can't seem to understand what problem does MS have with a file manager.

Will there be file manager for wp 8.1 ? I think this feature should have been added ..

Will there be a newly created Facebook app or the same old Facebook app present on wp 8.1??

No official file manager was mentioned, but you can search the entire phone through Cortana.

hmm did they just announce free windows?

Don't think it's for regular computers.

I'm so jealous of you WPC that are there at build!!! free XO and a $500 GC, lol

ooo 930 announced on the stream

Preview available on the 10th

If file manager was der it wud hv been perfect...but its ok hopin for it in the nxt updates

When it will be available for the developers??

i haven't seen anything thing about the 3 medium row tiles on the ativ s, im getting it next week so anyone has any information please!, don't want to get a phone with no update, and i have a developer account so i think i should get it but someone confirm please

Can anyone please tell me where to get that software to get windows 8.1 as preview???

miss live feed, any place i can watch again?

http://channel9.msdn.com/?wt.mc_id=build_hp just click the start of the video timeline

When is this update coming?
And how and when developers can get this update first..

No phone for devs. Fuck you Microsoft. CEO mocks us that he just got one. They used to give stuff for developers. If they aren't going to do that then charge less. Don't charge 2k and hand me back 1k of stuff I could have bought in best buy.

Nowhere close to even being a developer but we do need to see more links to Windows Phone apps in emails it is always for ios and android - having watched the presentation I see maybe I can get more people to give a Windows Phone a chance .

@danielrubino when is the preview of developers releasing?

I miss the live feed, any place I can watch it again?

Now, if they can advertised this the right way

Official support for moving apps to SD cards is the biggest reason why I'm considering switching back to WP from Android! WHOOOOOOOOO!!!
Windows Central Newsletter
Get the best of Windows Central in in your inbox, every day!
Thank you for signing up to Windows Central. You will receive a verification email shortly.
There was a problem. Please refresh the page and try again.