Build 2015 event app for Windows Phone is now available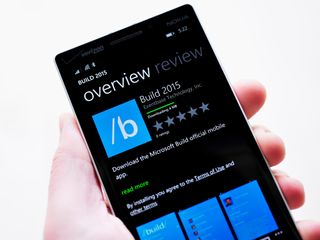 Next week, Microsoft is unveiling their annual developer event in San Francisco. Build 2015 looks to be a massive year as all eyes are on Windows 10 development, HoloLens, Xbox One, IoT, and more.
For those who are attending, there is now the official Build 2015 app. Listing all the sessions, maps, showcases, and ability to favorite talks to create your own schedule, the Build app is essential for attendees.
Build 2015 app
My Schedule: Access and modify the list of sessions, speakers, and exhibitors that you have added as favorites in the app or on the conference website Schedule Builder
Schedule Builder: View and search the full conference session list. Select a session to favorite it, view details, submit session evaluations, and take notes.
Showcase: Find the Microsoft groups and partners you want to meet.
Conference Info: Find important event information and read about key event highlights to enhance your on-site experience.
Maps: Find your way around the venue.
Social & News: Follow and join the conversation through our social channels
Right now, the schedule looks to be a mishmash of old and a few new things. Those listings will likely be refreshed when Microsoft unveils the full program, probably early next week.
Are you not attending? No worries. Windows Central will be on the ground to cover the two Keynote speeches, announcements, and hands-on of anything new. Although we are not expecting any new hardware or phones, it should still be exciting to see the future of Windows.
Besides Windows Phone, you can also download the Build 2015 app on iOS and Android in their respective stores too (now linked below).
Daniel Rubino is the Editor-in-chief of Windows Central, head reviewer, podcast co-host, and analyst. He has been here covering Microsoft since 2007 when this site was called WMExperts (and later Windows Phone Central). His interests include Windows, Microsoft Surface, laptops, next-gen computing, and for some reason, watches. Before all this tech stuff, he worked on a Ph.D. in linguistics and ran the projectors at movie theaters, which has done absolutely nothing for his career.
I read it as 2015 build of Office :P

Haha I could understand that happening.

Suddenly, I thought that the app was related to the final build of Windows 10

Distantly it literally is.

I hope there is an announcement for Skype turning into a Google Fi competitor, or at least an imessage one.

Ha, that would be cool, even a skype phone would be cool

It would be cool for Microsoft to do,something completely unique and wowing to get ppl over to windows mobile. I hope some new apps to showoff, a reason for so many apps disappearing or at least some sort of way to band aid the thing from loosing more

Too many expectations. Are you new here?

Microsoft and Nokia use to feature new, big name apps at their events. Facebook for Windows 8, Instagram, and BBM were all featured at events.

Lmao @ Facebook and Instagram! Wow....

lol, try not to "Dash" peoples hopes and dreams. For some people Windows 10 is akin to the "Resurrection"...shrouded in Mystery and great Expectations.

Did you hear about Hololens? Talking about wowing ppl.......

Hololens has nothing to do with the phone part

I can tell you I will be working hard at effort with apps for Windows Phone, Windows, and I plan to port them to the Xbox One and HoloLens as well when available :). Trying the hardest I can right now to bring WP to the heights: Bringing needed apps and conversing with the community daily. I am always motivated by everyone giving me such great support, thanks guys!

No apps in Europe have disappeared. Only in the US. But sure, something is unique is always cool. But first let us get some Hololens pricing.

From someone I know at Microsoft, they jumped on the HoloLens reveal too soon.

When else would they have revealed it?? Except at BUILD. I think it was good timing... But anytime would have been good since it was a total surprise :P

What does that mean? Is it because they won't be releasing anytime soon?

It was definitely better to reveal it before it leaked. The longer they held back, the more likely that would have been.

"Build ... for Windows Phone is now available"
That happy feeling and the crushing realization later.. :D

They have an app for us BEFORE iOS? Impressed and grateful like a dog needing its back scratched.

No, iOS app is already out too. Same with Android.

Yes! What terrible tragedy that developers on other platforms attending BUILD will have a pleasant experience!!!

I thought it was an update for the Technical preview. lol

Yeah, Microsoft will hold the session schedule close to vest until right before the event.

I thought it seems faster

Where is the hamburger menu and why does it have pivot?!

@iamakii:
You are a very bad person. This hurts more than twisting the skin on my arm.

Was hoping it would be an app to stream the event. Darn.

That's what I was hoping too. Idk if they still use it, but I remember them having an app for streaming Xbox events.

I am so happy with Lumia Denim that I forgot about Build// 2015 lol

App needs more hamburgers.

Agreed. I love hamburgers.

More hamburgers can be found in The Tenderloin, pivots in Alcatraz.

Will there be a live stream of the event?

Hope they reveal more of the next version of the MS Band SDK

How about the next version of the MSB❓

And, Lumia 2540, 2040, 1840, and 1740.....

@Rodneyej. Releasing the next gen model when the previous just hit markets outside the US would be just hilariously stupid lol. I hope for their sake they do not release it (until late this year or early next), can you imagine the aggro and miffed threads that would flood the forum and the amount off people that would berate them on twitter?
Plus you will have people trying to get a refund to get the next model or people being so miffed that they would just give up and switch.

Wellllllll, when did the SP3 debut in 2014❓

I wonder if windows 10 will be officially announced ... But I don't think so , it's GDR 2 event! , I wonder what is its name too

Windows 10 IS officially announced.. since the end of September xP Just not officially released yet.

Lol... It was already officially announced back in January... Remember the W10 event where we found out about Hololens❓ And, WP10❓ That was officially held by MS.....
.........
Maybe you mean final build❓

Yup I guess I meant that :P

Will they take down the app after it's over? Seems like they could've made one build app and update it every year.

I'm going to Ignite first week of May in Chicago, hope they put out an app for that.

Hamburgerless!!! How did they do that?

And most such companies want to avoid ruffling feathers when feedback is heavily against something.

...and this is why I don't typically comment.

We don't have hamburger option in windows app studio.(I think they used it to build this app)

Windows 10 will be awesome. If you think about it... The core will remain same and the apps are the only thing getting updates. So service providers won't be able to delay most of the updates because it's just in the app level.

The "core" may get more updates than you think

Did you here about Facebook's new "Hello" call screening app❓
..........
Here we go again with MS having to change one of its products names... Surely, we can't have two popular services branded "Hello".... Someone is gonna sue.

I have an app: "Hello World" lol

Hum... Well, how much is it❓

Just for you Rod, it will cost $9,99 with no Trial, and some IAP.

Wish I could go but will be watching on channel 9!

Let's hope Microsoft does NOT announce its intent to enable Windows Phone 10 to support native Android applications - as the rumors continue to spin.

So will they be announcing literally every single thing that is coming to the phones in win10?

Phones, PC, Xbox One and Tablets.

Actually when is the press conference anyway? Their "Agenda" didn't really give out a specific time or date. I mean they're Keynotes but I don't think they count.

I'd really like an app that would allow me to stream the keynotes on my phone so I can keep 'working' while I watch. Sometimes a website doesn't fit the bill.

The big announcement of Windows 10 reinvented?

NOW I'm excited. Dan, are you headed to Build this year or are you just writing about it?

May I know when is the next Lumia flagship going to announce?

The screenshot of the list of people has Satya Nadella, but the picture beside it is not his.

Screen shows that the phone is on charging, but no cable is connected. Wireless charging, NO, simulated screen,YES

Why refer to it as keynote? PowerPoint anyone?

So the app for Microsoft's major public event is developed by a third Party?!?!?!?! WTD!
Windows Central Newsletter