Build and Play in a world you create by bringing together your favorite Disney characters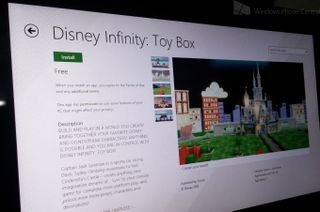 All through this year, Disney has been upping the ante on Windows and Windows Phone. They've brought popular titles from other platforms, introduced new games, and offered great deals.
The company has now announced the Disney Infinity: Toy Box app that allows you to apply your imagination to a digital canvas. The app is also available for iPad. You can create your own worlds and games using favorite characters from popular Disney movies like 'The Incredibles', 'Cars', 'Tangled', 'Wreck-It Ralph', 'Frozen', 'Monsters University', and more.
Disney promises endless possibilities like putting Captain Jack Sparrow in sports car racing Dash or Sulley climbing mountains to find Cinderella's Castle. There are more than 80 free items to build your world – including terrain, racetrack pieces and decorations. You can use web codes included with toys at retail or make purchases in-app to unlock even more props, characters and decorations.
It's also easy to transfer your creations cross-platform, so you can pick up where you left off, and use multi-touch controls for building and playing.
Download the free app from Windows Store (opens in new tab), and let us know what you're building. Also, check out www.disney.com/infinity for more information.
Source: The Fire Hose
Get the Windows Central Newsletter
All the latest news, reviews, and guides for Windows and Xbox diehards.
I downloaded it on my Lumia 2520 my daughter loves but I found it kinda slow

Snes 8x and vba 8 and vgbc 8 have been released by a new developer

Sounds great ! Gonna try this out.

Love the idea, thinking of getting this game for my daughter, glad Disney is showing the support

Seems cute but the toys you have to buy from the store are way too expensive.

Tried out this, and it is amazing. I have to say: Amazing job Disney.

awsome but I'll keep playing project spark

I don't know that you can compare them. Infinity is a sandbox game with prebuilt mechanics. Project Spark is essentially a WYSIWYG programming language that allows you to completely build your own experiences.

I was just excited mike leascult personally sent me a key

really, Project Spark doesnt even run on RT, so how can you play project spark on a Windows RT tablet like Surface, Surface 2 and now Nokia 2520? well guess what? at least you can play infiity toy box thing if you had a RT tablet. In a Windows 7,8, 900... PC I can just put unity or udk or anything like that, even something like boringminecraft, or Second Life, would make the job in making a world, with characters and make a game or add nice mechanics and stuff and make a nice experience... and of course, you can also install Lightwave, 3dsmax, Maya or anything like that and make your own assets, learn how to be a real designer. so how is Project Spark needed if it doesnt even run on RT? how is it needed if you can install on a windows machine any software which would do the same or more? even Kodu the original project cant be installed in a Windows 7 and anyone can enjoy it. But enjoy your beta, I guess for some people project spark is the ultimate creation thing and now they believe they are game developers or something. lets hope xbox one beta wont be delayed 30 months like it seems it would be, and I hope you have time or money to get the content packs so your games wont look the same, because you know, you cant just upload your own assets (for logical reasons). of course you cant just play other people games so you have fun, and then you give them free content with the silly credits system, while you have only 20 minutes if you dont have the content packs they do. and of course good luck playing PS if you got a RT device, thats the best part of some windows games developers, but who cares about tablets, nobody uses them /s

My kid is insane for Disney Infinity, he'll love this!

Aargh. Story implies available for WP8, but seems to be only available for tablets.